By Brian Murphy
Special to Page 2
Here at the Hangover, we believe in the supernatural.
We believe in things you can't explain. Such as:
The Miami Dolphins offense.
How Candlestick Park has escaped condemnation.
How Jeff Garcia ever dated a Playmate.

Which brings us to Week 6, and the New England Anti-Curse.

Which is, what, an "Esruc"? Opposite of a curse, you know.

Red Sox fans, no need to torture you with the obvious. You know it, you see it, you feel it. Even setting aside David Ortiz's closing-time heroics early Monday morning, we know where that series with the hated Yankees is headed: Straight into the "C" file for one more year.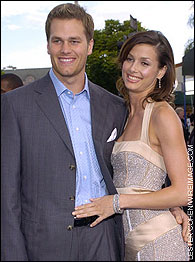 Be honest. This pick-up is more impressive than Tom's two rings.
But how, I ask, can you explain the Anti-Curse afflicting the New England Patriots? The evidence is beginning to pile up that not only are the Patriots freakishly good, they're magic, too. Think about it:
The Tuck Rule.
Vinatieri's Super Bowl kicks.
Edgerrin James' failures to score from the 1-yard line, like, a million times.
Tom Brady dating Bridget Moynahan.
And now, 20 consecutive wins.

Every conceivable break in the past three seasons has gone to New England, the very opposite of the woebegone fate of the Olde Towne Team, the baseball club that cannot buy a break even with a $130 million payroll.

The latest example: Seattle at New England, fourth quarter, late. The Seahawks have closed to 23-20, and have all the momentum of late-'90s Microsoft stock. They have the Pats down to third-and-7 with 2:45 left, and Tom Brady is rolling to his left and heaving a ball downfield, intended for a guy named Bethel Johnson who is so obscure that Bill Belichick didn't even know he was still on the team. Johnson had all of two catches this year, and Belichick had rendered him inactive the previous week for disciplinary reasons.

The ball is overthrown, the Pats are toast and the streak is over ... only Johnson, lifted by a supernatural force, makes The Greatest Catch You've Ever Seen for a 48-yard gain.

First down.

Pats win.

I don't have to go through a litany of what-woulda-happeneds if the Red Sox had faced a similar situation. You can imagine them all. Heck, you've seen them all.

And yet, there's old Bethel Johnson, being lifted by Clarence the Guardian Angel as Paul Revere's ghost runs alongside on his steed, helping Johnson to that ball.

Has anybody checked to see what Gillette Stadium is built on?

And what's the opposite of an Native American burial ground?

A Native American party hall?

There might be sacks and sacks of untaxed 18th-century tea under that turf. Maybe Stephen King buried a typewriter there during construction. Or perhaps Ted Kennedy laid an unopened bottle of Bushmill's under the sod at the 50-yard line.

All I know is, it's the Anti-Curse.

It's a sports team in New England in October, and it's on top of the world.

I'm a believer.

And I'm totally spooked.

Players and Things We Love, Week 6
Mike Vick, Vegas and Mother Nature.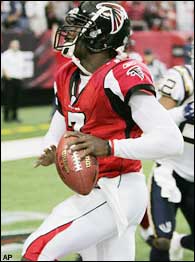 Do the Chargers regret passing on Michael Vick?

Free at last, free at last! Thank Tagliabue Almighty, Mike Vick is Free at Last!

That fourth-quarter effort by Our Man Number Seven was what we've been waiting for: Feints, runs, pump-fakes, pretty lobs, game-changing Mike Vick! You heard it in the awed words of the San Diego Chargers. "The sleeping giant awoke," said Tim Dwight.

You know you're good when Tim Dwight channels Japan's Admiral Yamamoto from World War II. Mike Vick as post-Pearl Harbor America: I like it.

Tonight, fellow Mike Vick Fans, we celebrate.

As for Vegas: My morning paper had New England a 3.5-point favorite over Seattle. So it's 30-20, Pats, Seattle driving in the final seconds, ball inside the 10-yard line. And on the game's final play, Matt Hasselbeck throws an incomplete pass ... only to see a flag fall.

Pass interference, New England.

"Seattle will have an untimed down," referee Terry Mcaulay tells us.

An untimed down! With zeroes on the clock! From the 2-yard line! With New England giving 3.5 and leading by 10!

It was, for those of us fascinated by the pathos of gambling, The Perfect Storm.

I needed -- absolutely NEEDED -- a split-screen of the happenings in Foxboro, along with a live shot from the sports book at the Mirage. Imagine the scene. Hindenberg-like reactions.

Oh, the humanity!

As for Mother Nature, well, she gets a nod this week. Count it: Oct. 17, 2004 -- the Day the Weather Turned to Football Season. A flip around the DirecTV dial showed as much. Herm Edwards in a fleece-lined jacket at the Meadowlands. Parkas in Buffalo. Ski caps on the sidelines in Chicago. And in Oakland, the familiar sight of Northern California rain on an NFL Sunday.

Football Weather. It's a thing. It's a great thing. We even pondered starting a fire in the fireplace to go with my NFL Sunday Ticket bonanza, a portrait made complete by the sleeping dog next to the TV set. I was so fired up, I made and ate a boatload of pancakes, leading to a little-known phenomenon: Pancake Headache.

It's a thing. It's not a great thing.

Anyway, thanks, Mother Nature. The season hath begun!

Assault with a deadly hand
I woke up in a cold sweat last night, dreaming that Jets center Kevin Mawae was standing over my bed, about to crush my skull with the toaster oven of a cast he has on his right hand.

Did you see that thing? Looked like something Furio could have used during his run as a leg-breaker on "The Sopranos."

As it was, Mawae was pounding 49ers linemen senseless with it, a bludgeoning so savage that the officiating crew had to step in and warn Mawae that he faced ejection if he kept using it. After the game, the officials recommended he register it with the state of New Jersey as an assault weapon.

There's your easy Halloween costume: Throw a few rolls of toilet paper on your right hand, carry a football in your left hand and sport a No. 68 Jets gamer. Threaten all trick-or-treat households with the right hand unless you get tons of those killer little bite-size Snickers bars -- and no apples or loose change accepted.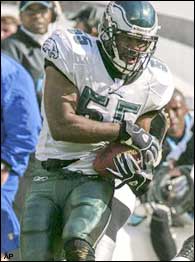 Poetry? Free thinking? Hey, that wasn't in "Playmakers."
Worst outgoing message ever
Listen, I appreciate the NFL iconoclast. We like the original thinker. We embrace the athlete who dares think outside the box of auto dealership endorsements and reading Penthouse on the can.
So Eagles LB Dhani Jones, the wacky pundit of the Birds locker room who actually reads, is solid in my book. Really.
It's just unfortunate that Fox, in an effort to illustrate Jones' nuttiness, chose to air his cell phone's outgoing message during the Eagles-Panthers game. It went something like this:
"Change ... the inevitable ... a point in one's life where all that exists begins again ... and the historical enigma presents itself ... don't be afraid, (and here Jones goes 'sotto voce,' the better to minimize the logistics and maximize the philosophy) as you leave a message for Dhani Jones (and here Jones ends his 'sotto voce') ... for life is change, and change is life."
You try to call an NFL linebacker, and you get a reading from Jewel's poetry book. Imagine how tired that would get if you had to call Jones three or four times in a day. Jones might hear this in his Inbox:
BEEP! "Yeah, this is Juan, the mechanic down at Dan's Mufflers. Your timing belt is out, so that's going to need to go through some inevitable change. And speaking of change, parts plus labor will probably cost around 900 bucks."
I write. You clarify
Because I am a firm believer in what I once heard from a great Irish writer while I lived in Dublin -- "Never let the facts get in the way of a good story," he said with relish and sincerity -- I will sometimes write something in this space that my readers find, ahem, well, factually objectionable. And I'm not even talking about the third-grade math I broke out a couple of weeks ago.
Hence, a new addition to the Hangover: I Write, You Clarify.
For starters, the good people of Pittsburgh, Pa. -- and I do mean "good," as in my years traveling this great land as a sportswriter, I have consistently rated Pittsburgh as my Most Underrated City -- lent a helping hand regarding the MLS Curse afflicting Heinz Field. The soccer markings on the Stillers' home turf were the result of a recent U.S. Women's Soccer clash against our traditional rival, Iceland.
Undoubtedly, the national anthems were performed by Bjork.
Sudden thought: If Iceland's most famous rocker met and married everybody's favorite rookie QB, she could walk around the Steel City as Mrs. Bjork Roethlisberger, potentially the greatest and most misspelled name in history.
Our second entry in "I Write, You Clarify" comes from the many of you who pointed out that Arsenal of the English Premier League has a 50-match unbeaten streak, including ties. New England's mighty Patriots, on the other hand, have won 20 straight without ever pondering what their collective sister kisses like. In addition, Arsenal got some heat from the tough crowd for spitting the bit in F.A. Cup play and Champions League play, making it necessary to note that the Gunners' 50-match unbeaten streak is in league play only. As reader Scott from Hudson, N.H. points out, this makes Arsenal like their transatlantic cousins -- the Colts, the Atlanta Braves and the Red Sox.
This wasn't an error, but merely a clarification from some Eagles fans who noted the anecdotes about Birds fans who chose to relieve themselves in the sinks at the old Vet. That genteel tradition is no more.
"The Linc's new bathrooms," writes reader Todd Schuman from Washington D.C., "include raised sinks that were purposely built to be much taller than those at the Vet, to deter drunk fans from urinating in them." Another reader reports the same fact, and says he mentioned it to Eagles fans during a pit stop at a recent home game. "Yeah, yeah," one fan shot back, "just wait till the second half."
On the long-running, never-ending topic of Meat Sweats, the "Friends" Mafia roared when I quoted my Bulgarian reader who said Joey's "Meat Sweats" were, in fact, Phoebe's maternity pants. Not so, say the "Friends" Mafia. The fact of the matter is this: On Nov. 22, 2001 (thank you, reader Dave Moskin, for the air date), Joey ate a bunch of turkey and proclaimed, for all of America to hear and for America to continue to hear in endless re-runs: "Here come the meat sweats." As Alex Bentley of Denton, Texas, points out, speaking for the entirety of the "Friends" Mafia: "Not to besmirch our Bulgarian friend, but ... "
There. You didn't think when you woke up this morning that you would be confronted with the possibility of besmirching a Bulgarian, did you?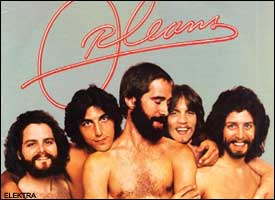 Not that there's anything wrong with this ...

A reader named Nate Huston is a captain in the U.S. Air Force, lending him immediate credibility. After all, people call him "Captain" when they want his attention. Most people just call me "Chief." Anyway, Huston took it a step further when he found a cover band somewhere in America actually called "The Meat Sweats." I swear. You can Google it. (Second sudden thought: If Casey Stengel were alive today, the famous quote "You could look it up" would never have entered American lore. He'd have said: "You could Google it." Not quite as homey.)

And speaking of bands, a reader whose name I accidentally deleted checked in on the mention of the band Orleans and their hit "Still the One," which peaked at No. 5 on the Billboard charts in August, 1976. He found this amazing link. Check out No. 5 on the album list, and you might get a better idea of what Orleans means when they sing: "You're still the one/Who can scratch my itch."

Not that there's anything wrong with that.

And, yes, the weekly meat sweat email
Is the topic tired? Some readers think so. That's why we're down to one Meat Sweat Email per week.

That way, if you don't like it, you can skip ahead. Ain't America grand?

Anyway, this week's Meat Sweat Email comes from Dave Nordlund of Wausau, Wisc. A Packer fan, naturally, he writes: "While tailgating at Lambeau, we indulge in a Wisconsin delicacy called 'Wild Cat.' Wild Cat is nothing more than raw ground mixed with a raw egg and onions, smeared on a piece of rye bread and doused with salt and pepper. Many Wisconsinites not only consider this a delicacy, but its status is so revered that this mix garnishes our tables during our favorite holidays and most special occasions. Everyone around the nation thinks the people in the stands at Lambeau are dressed with enough layers of blaze-orange clothing to ward off the cold. Not true. In fact, if you consume enough Wild Cat (say, eight or more pieces of bread), you can actually break out in a sweat during a December game. Shirtless people at Lambeau in December: Too much beer? Nope! Meat Sweats."

Barkeep -- a round of Wild Cats, chased with some Old Style. I do so love the Heartland of this country.

Clinton Portis/Champ Bailey Scales of Justice


I left out Week 5's judgment owing to space, time and other bogus reasons. It prompted reader Jason Hornberger to say that the Hangover should simply retire the Scales of Justice. His argument: Reuben Droughns had run for over 100 yards in Denver's win over Carolina. I guess what he was trying to argue was that Mike Shanahan could turn Luciano Pavarotti into a 100 yard-per-game rusher. Hornberger argued Portis was a product of the system, so Denver and Bailey win the trade.

Not so fast, my Mile High friend.

In Week 6, Portis finally sang for his supper in Washington, toting the rock for a Jim Brown-like 36 carries for 171 yards in a 'Skins win.

Then again, Droughns rushed for 176 yards at Oakland, on a Jim Brown-like-plus-two 38 carries, leading one to believe Shanahan's next trick will be to make Louie Anderson a 100 yard-per-game rusher.

Bailey, meanwhile, was part of a Denver defense that held the Raiders to 114 yards passing, and is part of a Denver team that is now 5-1 and defying Jake Plummer's bad NFL karma to become a factor in the league this year.

Week 6? Caesar rises and gives Bailey and Denver . . . thumbs up!

Ricky Williams/THC Watch
A mention last week that Ricky Williams and Jamal Lewis might end an evening's partying at White Castle was met with a rebuke from a California reader who requested anonymity: "Since the late '80s," Anonymous California Stoner wrote, "the Stoner's choice of meat and bread is a Plain (no cheese, no sauce) Fish Filet from McDonald's."

Here at the Hangover, we strive, seek and never yield in the effort to entertain and inform.

The Philly Corner
At 5-0, Eagles fans are in danger of losing their status of Lovable Underdog-with-Mullet. They're turning into a bully of a team, kicking tail and not bothering to take names, not even later. At the risk of my crew from Philly getting too big of an inflatable helmet-head, we'll reduce the weekly trio of Philly emails to one.

Not to say the material isn't strong. As could be expected, the anger over the anti-Philly emails was palpable, so I'll let things cool down for a while. I even got an email from Barry P.'s roommate at a local college. Barry P. was the original Philly Hater, and I won't say where he is, for fear the kid will have some bodily harm inflicted on him. Rest assured, Barry P.'s roomie, Hal G., said Barry P. himself is a fair-weather fan and said he routinely tortures Barry P. by wearing Philly gamers around the house. So, Philly fans can relax.

The City of Brotherly Love continues to amaze with the quality and wit of some of its fans. It's like Bob Waddington from Silver Spring, Md., says of his beloved Philly: "Think of it as America's largest small town. Think of the setting for the movie 'All the Right Moves,' and just add really tall buildings and a subway."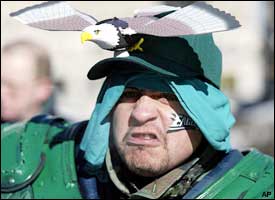 Angry drunken favorite doesn't have the same ring as angry drunken underdog.

And surely, the town that has become the first to fully turn on a "Real World" cast deserves our attention.

Reader Scott McAuliffe says the "Real World: Philadelphia" cast is being terrorized by locals. They've had bottles thrown at them, been shouted down by foul-mouthed Philadelphians, and, in one memorable incident, had a chair thrown at a character by a Philly resident who merely resented the existence of the MTV cameras. Tough town, man.

It's like reader Thayer Gallison says about a childhood experience at a Flyers game. He watched as the Flyers crowd mercilessly booed a fan who tried to score a goal in a mid-period promotion. "When I asked my grandfather why the fans treated the guy that way," Gallison writes, "he responded: 'In Philadelphia, nobody's truly happy unless somebody else is hurting. And the worse they hurt, the happier everyone else is.'"

This might explain my favorite Philly sports headline, sent on by another reader whose name I also accidentally deleted. When the Flyers were eliminated on May 5 one year, he remembered the Daily News with a full back-page photo of an enemy goal hitting the back of the Flyers' net, with the blazing headline: STINKO DE FLYO.

Anyway, on to our Philly Email of the Week, from reader Chris G.: "During one of the last games at the Vet, my incredibly drunk friends were screaming at various visiting fans while trudging up the endless ramps leading to the upper reaches of the stadium. One of them spotted a group of unusually attractive girls and decided to show off for them by high-stepping down the ramp. Unfortunately, he tripped over himself and became completely horizontal in the air before crashing down on the concrete and breaking two of his ribs. Another friend who witnessed this display of drunken athletic prowess laughed so hard that he vomited a mixture of vendor food, warm Budweiser and Jagermeister all over the place. Needless to say, this ghastly puddle wasn't cleaned or even watered down by the time the game was over."

Setting aside the far-too-graphic description of the puddle, I have to admit I laughed out loud at the High-Stepping Anecdote. Who high-steps to impress girls? Who sees a gaggle of good-looking chicks and thinks: I'm going Walter-Payton-high-step? And what about the High Step, in general?

Rich.

Random philosophical rants
Reader Tim Brown in Rochester, N.Y., says the sight of Trent Dilfer in a recent cameo during a Seattle game prompted the question: Was Trent Dilfer the worst QB to ever win a Super Bowl? Brown and his pal agreed he had to be among the final two, the other being Jeff Hostetler -- with Brown giving Hostetler a "nod for personal hygiene, based on the neatly trimmed 'stache that has become a relic among today's pretty quarterbacks."

Agree? Disagree?

For bonus points, we suggest a sub-theme of worst coach ever to win a Super Bowl. Brown figures it's Barry Switzer in a slam dunk. I counter: Brian Billick, anyone? ...

Meanwhile, Dan Soffer from Philadelphia wonders: How old do you have to be to say that you, as a fan, were part of a championship run? Soffer and his pal settled on the age of six as "the absolute youngest." Good question, Danny. I'd tend to agree. The 1975 Warriors won the NBA title when I was seven and a half years old, and I have clear memories of me and my pals drinking Cherry Kool-Aid and calling it "Warriors Super Juice." Of course, Ricky Williams and Jamal Lewis have new definitions for "Warriors Super Juice," substituting the word "Leaf" for "Juice." But you get the larger point.

Agree? Disagree?

I love random philosophical rants.

Final Week 6 Thoughts
Should Chad Johnson lose his ownership rights to one of the Greatest NFL Quotes of All Time? Remember, three weeks ago during a win over the Dolphins, he said in response to a question from QB Carson Palmer as to which DB they should exploit: "Man, they all suck" Johnson followed that with the uproarious shenanigan of sending Pepto-Bismol to Cleveland's DBs last week -- and then turned in a three-catch, 37-yard stink bomb in a loss to the Browns. We may have to put Johnson on Quote/Shenanigan Probation . . .

I see Najeh Davenport scored his first TD of the year for Green Bay. Thankfully, he refrained from a special end-zone celebration he sometimes likes to call "The Dorm Closet" . . .

And finally, are we sure that was David Ortiz smoking that home run at 1:20 a.m. at Fenway? Somebody make sure it wasn't Bethel Johnson in disguise.

E-mail Brian Murphy at page2murphy@yahoo.com with thoughts, questions and unanswerable philosophical rants..