By Brian Murphy
Special to Page 2
Today's idle thought at The Hangover: When appearing at Indianapolis charity functions for local sports celebrities around the holidays, what do Colts QB Peyton Manning and Pacers F Ron Artest say to each other?
Peyton: "Ron, why don't we bounce these little kids on our knee and give 'em some Nerf footballs for Christmas?"
Ron: "Sure thing, Peyton. You do that, and I'll keep an eye out for 5-foot-7, 220-pound cats in Pistons jerseys. I've got your back, my man."
Ah, life. Sweet, sweet life. To think that Peyton (Choirboy) Manning and Ron (Berry Gordy/Charles Bronson) Artest exist in the same sports town is just too rich.
And to think, Eli Manning knows just how Ron Artest feels.
Peyton makes Artest look bad by being such a do-gooder; and Peyton makes Eli look bad by being such a do-gooder.
Plus, he throws so many damn touchdowns.
Eli Manning is the NFL's Jan Brady. You can hear him now, tossing his shoulder pads against the wall: "Peyton, Peyton, Peyton!"
Now, let's be real. Eli's debut in Gotham wasn't half-terrible. It's one game. In three years, he might be Peyton, with a dash of Archie thrown in for good measure.
Then again, there are no guarantees in life. One day you're lying on a scorer's table, minding your own business. Next thing you know, you're trying to cold-cock a skinny kid in a black polo shirt.
Point is, in three years, Eli Manning could be Akili Smith, too.
So the adventure begins in New York. It's going to be a rollicking ride, football fans.
In Indy, Peyton probably gets fruit baskets brought to his door by neighbors. Old ladies likely leave him baked goods at team headquarters.
In New York, and I swear this is true, I heard a fan shout loud enough to be heard on the broadcast: "ELI, WHAT THE (EXPLETIVE) ARE YOU DOING, MAN?"
There were five minutes left in the first quarter. Eli Manning's NFL career was two series old.
The Hangover has said this before, but it bears repeating: Eli, you passed up America's Finest City, fish tacos on a regular basis, and San Diego fans who alternate between sun-drenched love and lightweight apathy.
Instead, you get scrutiny, New York Post headlines and F-bombs from tax-paying citizens.
Peyton, meanwhile, gets Valentine's Day cards from little girls in second grade.
Godspeed, Eli. Godspeed.
Players we love, Week 11
Mike Vick, Champ Bailey, Jerry Rice.
With all the love headed Eli's way, did anybody notice The Hangover's favorite NFL player bringing his team to an 8-2 record, running like Michael Johnson with a plane to catch, and throwing spirals like a fresh, teenage Dan Marino in a Pittsburgh-area Punt, Pass and Kick competition?
I thought so.
Shine your light on Eli, if you must, national media.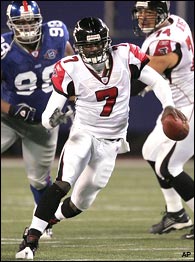 Mike Vick ran the G-Men ragged on Sunday.
All I know is, the most exciting player in the league used the first quarter at New York to lay down a very Mike Vick-like statement: I run, I pass, I win. Sort of like Caesar, only without the Latin part.
Vick used his legs judiciously, then athletically. And when deciding to pass, he threw those buttery spirals to Alge Crumpler as if nature demanded same.
All I know is, The Hangover's good friends in Philadelphia can't be feeling very excellent about the idea of an Atlanta-Philly NFC title game at the Linc.
Vick has the look of a guy who could pen another chapter of bitter winter woe for the diehards by the Delaware River.
As for Bailey, well, surely you saw his interception in New Orleans. I had one of those DirecTV Perfect Storms, when you change to a game just as the key play of the day occurs. So it was that I caught Bailey's out-of-nowhere end-zone pick, in which he got his feet down with the sort of precision only known to the feline species.
"Too beautiful," said Dan Dierdorf, doing the game for CBS. "Too beautiful."
It was as if he were gazing upon a Van Gogh at the Musee d'Orsay, almost too overcome to speak.
Enberg likened it to "ballet," which conjured up two thoughts: 1. Has anybody actually ever seen "The Nutcracker," or do we all just know it as an obvious holiday show that nobody ever sees? And 2. How would Bailey look in a tutu?
Better than Tony LaRussa, one presumes.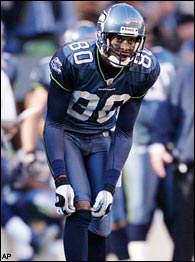 Jerry Rice can still score, in 2004.
Long ago, The Hangover declared the Broncos the winner in the Champ Bailey/Clinton Portis Scales of Justice, partly because it is too difficult to quantify each man's play in the larger scheme of things, and mostly because I am also wholly unqualified to do so. I declared Denver the winner because, after much research, I determined their win-loss record is better.
Now, after Bailey's interception, brought to you by Balanchine, I feel much better about my half-baked proclamation.
As for Rice? Well, holy mother of George Blanda, who ever thought he'd score another touchdown? Ever? Two million TDs since 1985, and we all knew he was done.
The end zone mocked him. He heard voices. Cue harp music. "Jerrrrrrrrry, remember me? Remember me, Jerrrrrrrry? Life is so good down here. There are daffodils and goal posts made of lollipops and all the women look like Laura Petry from the early 'Dick Van Dyke Show.' Jerrrrrrry, you will never see me again, Jerrrrrrrry ... "
And just like that, No. 80 scored again. Jerry Rice, in the end zone, year 2004.
I'll be damned. What a thing.
I write, you clarify
Say, anybody want a pop? A soda? A coke?
Heck with that. Anybody up for a pint?
The topic is germane because of last week's Hangover geography litmus test. I stirred up the good people of Pittsburgh with the suggestion, birthed by my Reading, Pa.-raised pal Steiny, that Pittsburgh is in the Midwest -- if not geographically, then socially and culturally. The e-mails flooded in. We decided to go with a reader who offers this quiz: If you say "pop" instead of "soda", you are in the Midwest.
Cue the hue and cry of Midwestern Outrage.
That whole Red State/Blue State, Bush/Kerry blather earlier this month has nothing on the Pop vs. Soda debate. Whoo! The passions unearthed: Talk about somebody's mother before you talk about their Pop/Soda preference.
Wisconsin readers called in to disavow any connection to the word "pop." So did some from St. Louis. They said it's the sissies in Chicago who use the word "pop." and don't ever -- EVER -- confuse the two.
And then there are those who were Unclear on the Concept: the western New Yorkers. Reader Mike in D.C. says he lived in Rochester, and the word "pop" was used by half the crowd there. And surely, Mike wrote, Rochester is not in the Midwest.
Reader Ryan Z. says the Wegman's in Ithaca featured "pop" as an aisle-header; and, surely, Ithaca is not in the Midwest. And reader Paula Fronckowiak, a Buffalo-raised lass, says they say "pop" in Buffalo and, writes Paula, "No WAY is Buffalo in the Midwest!"
I say to Mike, Ryan and Paula, in the spirit of friendship: Take a long look in the mirror, my friends. The next Midwesterner's face you see may be your own.
Not that there's anything wrong with that.
The best thing to come of all this are the readers who directed me to my new favorite Web site, popvssoda.com. Who said the Internet is filled with so much useless beauty? I continually marvel at the things that the Internet produces, and popvssoda.com might be the ultimate example of the never-ending wellspring of human curiosity and creativity.
Check out some of these bizarre geo-social developments: How did the Pacific Northwest fall under the "pop" spell? It's like the word was a bad caraway seed, blown into the upper left corner of our map by some evil breeze. And what's up with the South? It's all "Coke?" Reader Sam King disagrees, saying the phrase of choice is "soft drink" in the region that gave birth to Coke and Pepsi. Then again, reader Dan Kidder swears that, in Kentucky once, he heard someone order a "Dr. Pepper Coke." Go figure.
Moving on to the Roethlisberger-to-Riemersma connection as Longest Name Hookup in NFL TD History, a creative reader has finally trumped us. Art Maki of Mobile, Ala. wonders: Have you considered the Immaculate Reception? "If so," Maki writes, "then Bradshaw (8) to Fuqua (5) to Tatum (5) to Harris (6) would number 24 letters and be the longest combination."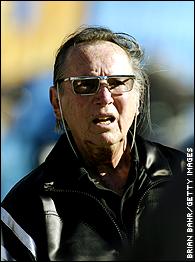 Who would have thought Al Davis went to the same high school as Streisand?
Beautiful.
I will officially put the kibosh on any more High School Alum lists, after these notable exceptions. How did the list overlook Philadelphia Central: Bill Cosby, Larry (3 Stooges) Fine and Norman Fell. Or New York's LaGuardia High: Jennifer Aniston, Al Pacino, Billy Dee Williams. And, the greatest of them all, Brooklyn's Erasmus Hall High: Al Davis, Moses Hurwitz, Barbra Streisand.
That's right: Al (White Sweatpants) Davis went to the same high school as Moses (Clothespin on Larry's Lip) Hurwitz, otherwise known as Moe from the 3 Stooges.
Streisand, at that point, is a throwaway, along with other Erasmus Hall alums Neil Diamond and Bobby Fischer.
Random philosophical rant, and a Meat Sweat query
I like the way reader Danny Jacobs from Maryland thinks. He notes that offensive linemen sit on the bench in order of their position -- left tackle next to left guard, next to center, next to right guard, next to right tackle -- and finds the gesture touching and inspiring, in a male-bonding sort of way. "I wonder if they do it off the field," Jacobs writes, "like when they watch game film, or stand in line for something.
"It's like having a permanent wingman."
 Imagine the comedy possibilities: The O-Line, striding five-wide into the men's room, as the center needs to use a urinal. Or The O-Line, striding five-wide, then falling, gracefully, into a five-deep mode as they line up at a movie box office. One by one, they strut up: "One for 'Seed of Chucky,' please."
I'm a sentimentalist at heart.
On an entirely unrelated note, as pointed out by reader Capt. Huston, the past weekend included a remarkable look-alike call. The cat who confronted Ron Artest on the court during Friday night's outrageous brawl at the Palace bears an uncanny resemblance to the character Turtle from HBO's "Entourage."
Moving on.
As for the infernal topic of Meat Sweats, reader Karen L. from Boston asks the Unaskable: "Do you think," Karen L. writes, "menopausal tailgaters get both the Meat Sweats and hot flashes at the same time? I bet that would be mighty unpleasant."
Based on that e-mail, I have to ask: Karen, what's it like being an Eagles fan in New England?
Tuba, or not tuba
The Hangover never thought it would come to this, but it has: We're tight with the University of Wisconsin Tuba Brigade. They're half-geek, half-gangsta. The Badger Tubas warranted mention in the Nov. 15 Hangover after their on-field taunt at Lambeau, spelled in masking tape on their tubas, asked an injured Minnesota Viking receiver: "WHERE YOU AT, MOSS?"
It was inspired stuff, and worth a tip of the Hangover bottle.
True to their polite Midwestern roots, the Badger Tubas write their thanks -- and also offer more insight into their craft.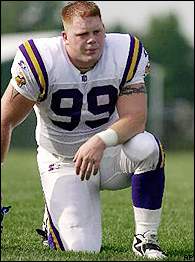 Apparently, Chris Hovan's not a big tuba fan.
Turns out Vikings lineman Chris Hovan nearly punched a Wisconsin band member during the pre-game show, when Hovan thought the brass instrument invaded his personal space. Tuba player Brendan (Blimpie) Young wrote in to say the Badger Tubas nearly dedicated their fourth-quarter salute to Hovan, and pondered spelling out "HOVAN KICKS PUPPIES."
Another Badger Tuba, Chris Hanson, says another option was the more graphic: "HOVAN EATS BABIES." Cooler heads prevailed, and the Tubas went after Moss.
It's all part of their ongoing comedy routine. Years ago, the Badger Tubas spelled out "BEARS STILL SUCK" during a Green Bay-Chicago game, causing a statewide furor when then-Gov. Tommy Thompson registered a complaint from Illinois neighbors to then-UW Chancellor Donna Shalala.
Legend has it that Shalala replied: "Well, it's true, isn't it?"
As for any suggestion that the Band Geek reinforces all of its stereotypes -- you know, pasty, chubby, likely a virgin -- former Badger Band member Rudy Kuss (trumpet, '94-'97) says band practice in Madison (3:45 to 5:30 on Tuesday through Friday in the autumn) is a grind nobody wants: "Think Herb Brooks after the U.S. team lost in Norway," Kuss writes, "only without the humanitarian assistants there to pull the plug."
Play on, lads.
Philly corner
Eagles Nation remains front and center as T.O.'s crew continues to terrorize the NFL. And let's admit it: The guy's end zone dances never fail to merit a must-see rating. His High School Calisthenic Dance on Sunday against Washington was strong, conjuring up all sorts of ninth-grade memories for those of us who remember gym class -- or as we called it, as I'm sure most of you did, "P.E."
Nothing like the incongruous rhythm of, say, going to second-period science class, abruptly changing into stanky, school-issue shorts and T-shirt for third period P.E., suddenly doing burpies for the clipboard-holding P.E. teacher, then playing 30 minutes of dodgeball. And just as abruptly, you'd put your school clothes back on and head to Spanish for fourth period.
Strange stuff, man.
At any rate, The Hangover's duty is to make sure Philly never forgets its humble roots, to keep the C.O.B.L. grounded and focused for a long playoff run.
As such, we turn to our Philly E-mail of the Week, which comes from reader Greg Seher from Abescon, N.J.
Seher recalls the halcyon days of the Vet, and remembers the "Fan-O-Vision" camera that would pan the crowd and match fans' mugs with those of famous people. On this day, the look-alikes were matched with the cast from "The Wizard of Oz." Writes Seher: "When they got to the Scarecrow, the look-alike was not too happy, and gave the camera a certain salute involving a certain finger. Later in the game, they show the Dorothy look-alike, and this girl was no older than 12. This time, the camera got a Double Salute. Needless to say, the Fan-O-Vision crew retired this idea."
A pre-teen Dorothy look-alike dropping double versions of "half the peace sign?" I give you Philadelphia, the cradle of democracy. I am beginning to think William Penn's daughter must have dropped the salute on a horse-and-buggy driver who cut her off on her way to school hundreds of years ago.
Meanwhile, Philly Hater Bill Teufel writes in to give a report of his one-week old e-mail address, phillychokes@gmail.com. He got all of 11 postings, and one of them was an old college pal who just wanted to say hello. This could speak to the inch-deep depth of my readership pool, or to a general snub of Teufel.
Teufel's take: "Once again, presented with a challenge, Philly fails to show up."
Go get 'em, boys.
Final Week 11 thoughts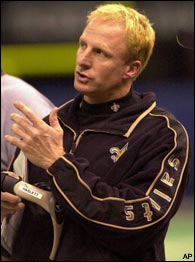 How does Jim Haslett get his hair like that?
What is it about the sight of Saints games in the Superdome that depresses me so? Is it the color of Jim Haslett's hair, that unnatural hue made more unnatural by the glare of harsh indoor lighting? Or is it my memories of NFC West roadies in New Orleans when I was a 49ers beat writer from 1994-98 and I never entered the Superdome without a raging headache and eyes that looked like road maps? Could be I was having Hangover flashbacks -- while writing the Hangover. Hmm.
I'm sure Buffalo Bills center Jon Dorenbos is a nice guy and all. But when Fox chose to show clips of him performing his magic tricks at Bills camp -- deck of cards disappearing, nickels turning into dimes, that sort of nonsense -- you had to wonder: How do the card tricks go down when the team is 3-6? I see him in the midst of some elaborate trick in which he makes the king of clubs show up on the overhead projector during Mike Mularkey's Wednesday game-plan session, only to have Bills DT Sam Adams stoically pick up Dorenbos and silently dump his head in a nearby toilet.
There is comedy, and then there is the comedy of the Rear End Injury. There's no way around it. Anytime somebody hurts their butt, it's funny. I know A.J. Feeley hurt his right hip, and I know it's not funny to fly from Seattle to Miami with an injured right hip; but the way he was limping, it appeared to all of us that he had, plainly, hurt his bum. So when Dolphins DE David Bowens slapped him on the booty for encouragement, and Feeley howled as if pierced by a crossbow from Ted Nugent ... well, it was funny. I mean, really funny. Listen, don't call me sophomoric. Chaucer relied on comedy like that for "The Canterbury Tales." He had a guy blowing gas in "The Miller's Tale."

Trust me. If it's good enough for 14th-century English literature, it's good enough for the Hangover.

E-mail Brian Murphy at page2murphy@yahoo.com with thoughts, questions and unanswerable philosophical rants..