By Brian Murphy
Special to Page 2
"All that said, thank goodness the Eagles didn't make the Super Bowl. Can you, in the depths of your mind at its most macabre, imagine a Super Bowl with Philly fans and Boston fans in New Orleans? Holy Mother of God. It would be like the Middle Ages. People roaming the streets, carrying torches, acting out their most base instincts while fueled by mead. Bodies being carted off, passed over a sea of heads. Brawls to make the crowd at a Liverpool-Ajax Amsterdam match look like a PBS mixer."
-- ESPN.com, Jan. 28, 2002.
I was a younger, more innocent man who had yet to learn the poetry of the 700 Level at the Vet back then. I wrote those words, the very day after a second-year QB named Tom Brady gave way to a healthier Drew Bledsoe and the New England Patriots stunned Kordell Stewart and the Pittsburgh Steelers in the AFC championship game; and the very day after the Eagles came up short against then-juggernaut Kurt Warner and the St. Louis Rams.
Many things have changed since that day, and not just the employment status of Stewart and Warner:
The Patriots have won two Super Bowls, and their formerly-insane fans have taken on the air of the landed gentry, expecting greatness from their team, as if a birthright given to those who wear smoking jackets and enjoy a good pipe. Yes, Pats fans are still beauts, Hall of Famers in the Fan World and good for some brain-stem passion and comedy -- witness the "Cut that Meat!" serenade to Peyton Manning -- but it's a different vibe than three years ago. That's undeniable. Take it from a guy whose team has won five Super Bowls -- they're all sweet and every different NFL Films recap you stumble upon at 2 a.m. years from now will reduce you to gooseflesh, but nothing beats the first. Nothing.
If anything, the opposite has happened to the Eagles and their fans. Three years later, they're fueled by the indignant rage/helpless sadness that comes with three consecutive NFC championship game losses. And, after last week's fourth-try-is-the-charm win, are now fueled by the wind-chilled delusions/bulletproof euphoria that has every 250-pound-and-up Eagles fan in a Brian Dawkins gamer trying to recount, in his head, how many fellow males he has bearhugged and/or kissed in the last seven days.
Perhaps the most important thing that has changed is this: The Super Bowl this year is not in New Orleans. Repeat: The Super Bowl this year is not in New Orleans.

If the denizens of this nation's two most passionate sports towns were left to mingle on Bourbon Street for a week ... well, the above italicized passage would just be a starter set.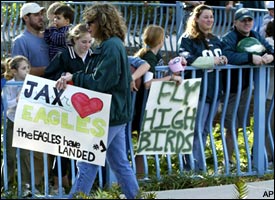 The Eagles have landed in Jacksonville -- and so have some Philly fans.
Instead, we turn to Jacksonville, and Vegas is already posting the over/under on how many Pats and Eagles fans will skinny-dip in the St. John's River between the hours of midnight and 3 a.m. each night this week. Should be some culture clash: Nude and inebriated New Englanders and Philadelphians doing a nocturnal cannonball into a river that, by day, surely hosts those adult baptisms so common to the born-again Christian movement.
Jacksonville, my friends, is a Bible Belt town, through and through.
Eagles and Pats fans, meanwhile, only know about loosening their belt after a night of wings, beer and nachos.
It is Super Bowl week, after all, and here at The Hangover, we endorse it all: Wings, beer, nachos, cannonballs and -- shoot, why not? -- adult baptisms. One man's religion is the word of the Lord; another man's religion is the word of Bill Belichick. Whatever gets you through the night, right?
Forthwith, then, a few things on The Hangover's mind before the week begins:
LOVE IS A MANY-SPLENDORED THING, ESPECIALLY WITH FREE STUFF
If you allow me, my friends, I will digress into a personal note. It was 10 years ago this week when I met and courted the future and lovely bride -- at Super Bowl XXIX, of all places. She was a comely lass working for Sports Illustrated; I a frumpy dude working for the Santa Rosa (Calif.) Press Democrat. Over a week's worth of NFL-sponsored bacchanalia, I won her over -- though to this day, I suspect she just used me as her excuse to fulfill her dream of living in the Golden State, and our fair City by the Bay.
When we think of our future family, we will swell with pride when we tell Junior and Juniorette that Mommy and Daddy flirted and wooed at parties marked by rowboats filled with chilled shrimp, open bars spilling Red Dog beer, and the ever-present paper wristband, in a primary color, signifying our credential was valid enough to allow us entry into this world of alcohol and graft -- gratis.
To think of the romantic moments as we sifted through our complimentary Super Bowl XXIX gift bags at Media Check-In: the free calling card with 10 minutes to anywhere in the country, the seat cushion that will never be used, the Super Bowl XXIX ball cap that is sadly outdated a mere fortnight after the final gun -- the same cap you will see, years later, worn by elderly Asian men on city buses who don't know Jerry Rice from Rice Pilaf.
Bogie and Bergman will always have Paris; Candace and I will always have the Commissioner's Party -- and the memory of that endless rowboat of shrimp.
Did I mention the shrimp was free?
The moral of the story: Romance awaits some unsuspecting Philly and New England fans, and perhaps a Super Bowl XXXIX baby will come out of the union -- Donovan Brady (fill in last name here).
CLASS WARFARE
How best to sum up the stakes of this game, in true Hangover fashion?
It's a four-letter word: Beer.
Reader Colin Farrell (not the actor, he notes in his e-mail, with what seemed a tinge of regret) of Palmyra, PA was on the phone discussing the particulars of a bet with some relatives in New England. The New Englander offered a case of Sam Adams as his prize, and Farrell recoiled. Farrell's e-mail intimated that Sam Adams was the beer of the Audi-driving, Faconnable-wearing elite. He saw the Philly equivalent -- Yuengling -- as the beer of the common man: the train-using, game jersey-wearing Eagles fan too drunk and happy to remember to wear underwear.
You think I'm kidding -- one of the many e-mails from last week's Philly Corner came from a reader named Big Mike, who described his bliss on NFC Championship Sunday as being expressed two ways: By doing donuts in a deserted parking lot to work off pregame nerves, and doing naked snow angels in his front yard to work off postgame euphoria.
(Remember, Eagles fans -- another All-Philly Corner Hangover comes later this week. Keep your memories coming to the e-mail address below.)
PHILLY CORNER, THE BACKLASH
You knew this was coming, Eagles fans. New Englanders are far too proud a lot to let reams and reams of Philly love letters, barely disguised as a Hangover, to pass without comment. Unfortunately, some are also an angry lot and didn't like the Ode-to-Philly poems.
The first sign came from a reader named Lymus Y., who dismissed the Philly Dream this way: "They are an average, overrated team, with Homer Simpson fans."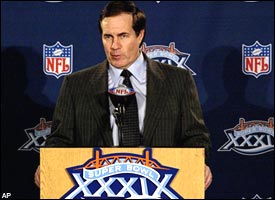 Pats fan should feel confident knowing they've got this guy on their side.
Doh!
Lymus, my man -- a little beer and donut diet never hurt anyone, did it?
It got uglier when Gabe in Boston lashed out: "After they get bludgeoned by the Pats, Eagles fans will only get more disillusioned with their marginal city and marginal existences."
I can hear the 700 Level Philly Fan now: Yo! I use real butter, not marginal!
I found Gabe's hostility disturbing, especially during the Holy Week that is Super Bowl Week in America, and have to fall back on the grade-school lesson: Happy people don't say mean things.
Philly question: What about drunk and happy people? What do they say?
Philly answer: Go Birds!
A MORE REASONABLE SENSE OF PATS FANS
We can't let Gabe's hatred soil the spirit of The Hangover, in which camaraderie is second only to keg beer. The more mature responses from Pats fans came along these lines: Philly, good for you. We're just sorry we have to crush your dream like a cigarette butt on a wet sidewalk.
This was best summed up by New Englander Josh M., who said: "Now, in this scenario, we are the Yankees -- without abusing the salary structure -- and it is awkward. We love Philly fans. We wish them well, and appreciate their plight. We love the cheesesteaks, excessive drinking and irrational fears. Unfortunately, we can't root for them and they are facing a superior team."
Even a hardened Philly fan has to be touched by that sentiment. More came from reader Evan M. from Newton, MA, who actually admitted to a tiny dose of being green-eyed over the Green Machine: "Despite the unfortunate reality that the Patriots will methodically dismantle the Eagles' feel-good story in what shapes up as something of a mismatch," Evan writes, "I say: Good for you, Philly. We know the glow and the buzz of finally, finally breaking through; it is unique and fleeting and can only be experienced once, per team, in your lifetime.
"In some small way," he writes, "I am envious."
Awww. That's sort of touching, isn't it?
Not to get too gooey, we switch to a Pats fan named Sully who says the world needs Philadelphia to lose. "I love ya, Philly," Sully writes, "but your anger and torment is what makes you so lovable and charming."
Awww. Anger and torment equals love and charm -- I'm getting a case of the Super Bowl XXXIX Warm Fuzzies.
I think they come free, with your seat cushion, at Media Check-In.
E-mail Brian Murphy at page2murphy@yahoo.com with thoughts, questions and unanswerable philosophical rants -- and Philly stories, especially from Jacksonville.