By Brian Murphy
Special to Page 2
Today, a Cooler salute to March Madness, the only thing in American culture that never disappoints.
The Super Bowl can disappoint.
The World Series can disappoint.
The NBA Finals can disappoint.
Let's not restrict it to the sports world.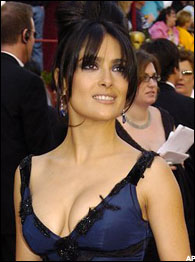 Some things disappoint -- but Salma never does.
The Oscars can disappoint, especially if Salma Hayek decides to no-show.
TV can disappoint, not unlike the turn of events when Alan Alda wrested creative control over "M*A*S*H."
But March Madness can never disappoint. I knew this to be true when Bob Knight was seen on the sidelines of the Big 12 tournament final wearing a sweater festooned with logos, as if he were a PGA Tour player, a NASCAR driver or just a large, black object that spewed profanity whilst endorsing an auto parts store. It was a sight to behold and augured that the NCAA Tournament this year will be packed with surprises.
I also knew the truism of March's beauty when the University of Utah team was seen awaiting its selection while resting on beanbag chairs.
Beanbags! In Utah! Who would have thought the Beehive State could be retro-hip, especially when its state nickname is the same as a woman's hairstyle that will never be retro-hip. Excepting, of course, B-52s album covers, where the beehive is retro-hip. But the B-52s are from Athens, Ga., and the Georgia Bulldogs didn't even make the NCAA tourney, so that's that.
See? The Madness isn't confined to the court. It seeps into The Cooler, where irrelevant tangents are as common as buzzer-beating 3s.
I love it all: The fear a No. 12 seed strikes into a No. 5 seed's heart; the way a neutral crowd in Boise or Syracuse or Charlotte suddenly adopts the underdog who hangs into the second half; and, in a nod to my age's creeping into the late 30s, I also love fresh-faced cheerleaders with bulldog paws painted on their cheeks, bouncing ponytails and ... well, I'd better stop there. I am beginning to sound like the Official Lecher of March Madness.
In a nod to the beautiful season, let's turn the Weekend List of Five into the Top Five Seeds of the Weekend:
Top Seed: Green Basketballs for Everyone
Ancient pagan cultures are responsible for our seasonal holidays, right? Wintertime, they celebrated with lights to combat the darkness. In the autumn, they celebrated with feasts to celebrate the harvest. Nice touches.
There can be, however, no pagan equivalent for the majesty of the vernal celebration set to ensue this Thursday: The First Day of March Madness, On the Same Day as St. Patrick's Day.
This is the Halley's Comet of party situations. I know it's happened a few times in the recent past, and it always elicits in me the same feeling – unfettered, orgasmic joy. I've spoken of "Cooler Day" in the past, and it's always the Monday that encompasses Opening Day in baseball, the NCAA championship game and the first day of Masters week. But when St. Patty's falls on the same day as the first day of March Madness, that's Uber-Cooler Day.
If you do not somehow lie your way out of work that day; if you do not retire to a local Irish pub that features multiple TV sets; if you do not soak in the glory of this day to its fullness ... well, then, dear friend, your life will be a poorer thing.
Carpe diem, dear reader. Make your lives extraordinary.
Two Seed: Sometimes, Talking the Talk is OK, Too
So Washington got a No. 1 seed. Good for the Pac-10, good for the Pacific Northwest, good for coach Lorenzo Romar's Huskies, who play some of the most entertaining ball in the land.
Now, Larry, some unsolicited advice: Act the part, my man!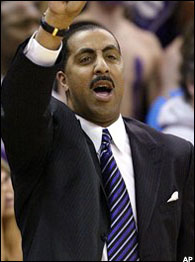 Yo, coach ... No. 1 seeds aren't supposed to be scared of Montana.
I caught Romar on ESPN's "Bracketology" coverage, and he said, not once, but twice, "We have to get past Montana first." Thing is, there was even a legitimate, 1 percent tone of uncertainty in his voice. Mind you, a No. 16 seed has never beaten a No. 1 since the current format took place 20 years ago.
I know the constant Seattle drizzle can bring a man down. I know the cloud cover can dampen the most ardent of optimists. And I know we live in a politically correct society that could have Romar issuing formal apologies to the faculty, student body and all the bison in Montana if he said the wrong thing. All that said: Dude! Walk tall! Don't even suggest you might lose to Montana. You know what you just did? You just ensured that somewhere out there, a tiny yet noticeable portion of office-pool entries will have the magic word "MONTANA" in the second round.
Sure, it won't happen on the court. But how tall will the cubicle-dweller walk who makes that pick and sees it through? He'll be king of the office, assured of royalty status at Happy Hour at the local Bennigan's.
Third Seed: The Needle – The 15th Club in the Bag?
Let's examine Mark McGwire's lot in life for just a moment.
Breaks Roger Maris' home-run record seven years ago. Is national hero. Hugs everyone, including Sammy, Joe Buck and the Maris family. Hangs it up. Sure Hall of Famer. Retires to life of golf. Aspires to play professionally. Life is as follows: Wake up, kiss beautiful wife, play golf.
Until Jose Canseco throws an M-80 through his front door.
Now, Big Mac's daily planner has this written down for Thursday, March 17: 7:11 A.M. TEE TIME AT SHADY CANYON, UNLESS SUBPOENAED; IF SUBPOENAED, SEE ABOUT POSSIBLE TEE TIME AT CONGRESSIONAL, OR BURNING TREE AFTER TESTIMONY.
Now the guy's life is a mess. Like someone broke into his house, took out all the drawers from his dresser, turned them upside down, dumped the contents on the floor, then split. He had a bad weekend, with the New York Daily News breaking a story that contained painful buzzwords like "FBI" and "needles" and "buttocks."
Question, then: Does Joe Buck's hug from Big Mac get an asterisk? Another question: While nursing your pint of Guinness in your Irish pub/sports bar on Thursday, do you watch the Oklahoma-Niagara game? Or do you watch Big Mac on C-SPAN repeatedly pour glasses of ice water from that Capitol Hill Pitcher of Ice Water always seen at all House and Senate investigation interviews, trying to combat his flop sweat? Thank God for TiVo.
Fourth Seed: From Tiger and Phil to ... Brett Wetterich?
Lest we be fooled, remember the PGA Tour is always one week away from Brett Wetterich. Nothing against Brett Wetterich, the human being. I'm sure he loves his mom and dad, was best man at his buddy's wedding, and enjoys "The Simpsons" – just like the rest of us beer-swilling, sports-loving Americans.
It's just that last week, we had Tiger and Phil at Doral in the best tourney in years. This week, we had Brett Wetterich threatening to win the Honda Classic. Or Pat Perez. Or Geoff Ogilvy. Thank goodness for Vijay Singh and Padraig Harrington playing the role of parents at the slumber party, entering the kids' room around 10 p.m. and shouting at them to turn off the TV, get in their sleeping bags and go to sleep.
I sort of lost track of the Honda during the weekend, then tuned in late thinking I'd see Wetterich's final hole, to try to get into the guy's story. No dice: Kids' swim time at the pool was over, and Vijay and Padraig were on the playoff hole. It works like that in golf sometimes. Veej and Padraig hang around, decide to shoot 64 and 63 on Sunday, then bicker amongst themselves for $990,000.
Good to see the guy who won will be up for buying a round this Thursday.
Fifth Seed: The Cooler's Favorite Tourney Teams
Quick, then, our final Bracket Thoughts, or Teams We Love as the tourney begins:
Georgia Tech: For some reason, I enjoy Will Bynum as much as any player in the land; plus, coach Paul Hewitt is unafraid to break out the long-forgotten camel's-hair blazer, a staple from my dad's wardrobe in the 1970s.
Vermont: Taylor Coppenrath is the big-man version of Teen Wolf; plus, any coach with a morning radio show is OK by Cooler standards.
Nevada: The Reno-based Wolfpack are one of a slew of little schools from the West who will get thoroughly dissed by the insufferable ACC-heads and Big East-o-philes who believe basketball dies somewhere around the greater Champaign-Urbana area. That bile spewed, let's take a moment to salute Pacific, St. Mary's, Utah State and, naturally, Gonzaga. As the Cooler's favorite surfer-stoner fan said at the Michigan-UCLA football game in '89: We play some ball on the West Coast!
Oklahoma State: The Cowboys were the first team in the history of CBS' Team-Cam to not erupt in joy at the sight of their name on the TV screen. They knew they were a lock, even a No. 2 or 3 seed, so they were enjoying a team meal after winning the Big 12 tourney. Why CBS chose to give them a Team-Cam shot, when those things should strictly be reserved for the Northern Iowas of the world, is beyond me, but it was worth it to see only half the team look up, and one of them, a big white guy, give a half-hearted fist pump, before returning to his ribs and chicken. Plus, I believe Eddie Sutton once coached against James Naismith.
Illinois: I believe, Illini! Your ball movement, your defense, your guard play and Bruce Weber's you-can't-root-against-him story line make you The Cooler favorite.

Like March Madness, you can't possibly disappoint.

E-mail Brian Murphy at page2murphy@yahoo.com.