Carpe diem, dear reader. Make your lives extraordinary.
Two Seed: Sometimes, Talking the Talk is OK, Too
So Washington got a No. 1 seed. Good for the Pac-10, good for the Pacific Northwest, good for coach Lorenzo Romar's Huskies, who play some of the most entertaining ball in the land.
Now, Larry, some unsolicited advice: Act the part, my man!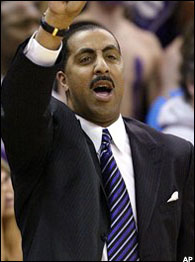 Yo, coach ... No. 1 seeds aren't supposed to be scared of Montana.
I caught Romar on ESPN's "Bracketology" coverage, and he said, not once, but twice, "We have to get past Montana first." Thing is, there was even a legitimate, 1 percent tone of uncertainty in his voice. Mind you, a No. 16 seed has never beaten a No. 1 since the current format took place 20 years ago.
I know the constant Seattle drizzle can bring a man down. I know the cloud cover can dampen the most ardent of optimists. And I know we live in a politically correct society that could have Romar issuing formal apologies to the faculty, student body and all the bison in Montana if he said the wrong thing. All that said: Dude! Walk tall! Don't even suggest you might lose to Montana. You know what you just did? You just ensured that somewhere out there, a tiny yet noticeable portion of office-pool entries will have the magic word "MONTANA" in the second round.
Sure, it won't happen on the court. But how tall will the cubicle-dweller walk who makes that pick and sees it through? He'll be king of the office, assured of royalty status at Happy Hour at the local Bennigan's.
Third Seed: The Needle – The 15th Club in the Bag?
Let's examine Mark McGwire's lot in life for just a moment.
Breaks Roger Maris' home-run record seven years ago. Is national hero. Hugs everyone, including Sammy, Joe Buck and the Maris family. Hangs it up. Sure Hall of Famer. Retires to life of golf. Aspires to play professionally. Life is as follows: Wake up, kiss beautiful wife, play golf.
Until Jose Canseco throws an M-80 through his front door.
Now, Big Mac's daily planner has this written down for Thursday, March 17: 7:11 A.M. TEE TIME AT SHADY CANYON, UNLESS SUBPOENAED; IF SUBPOENAED, SEE ABOUT POSSIBLE TEE TIME AT CONGRESSIONAL, OR BURNING TREE AFTER TESTIMONY.
Now the guy's life is a mess. Like someone broke into his house, took out all the drawers from his dresser, turned them upside down, dumped the contents on the floor, then split. He had a bad weekend, with the New York Daily News breaking a story that contained painful buzzwords like "FBI" and "needles" and "buttocks."
Question, then: Does Joe Buck's hug from Big Mac get an asterisk? Another question: While nursing your pint of Guinness in your Irish pub/sports bar on Thursday, do you watch the Oklahoma-Niagara game? Or do you watch Big Mac on C-SPAN repeatedly pour glasses of ice water from that Capitol Hill Pitcher of Ice Water always seen at all House and Senate investigation interviews, trying to combat his flop sweat? Thank God for TiVo.
Fourth Seed: From Tiger and Phil to ... Brett Wetterich?
Lest we be fooled, remember the PGA Tour is always one week away from Brett Wetterich. Nothing against Brett Wetterich, the human being. I'm sure he loves his mom and dad, was best man at his buddy's wedding, and enjoys "The Simpsons" – just like the rest of us beer-swilling, sports-loving Americans.