Welcome to ESPN.com's 2007 Interactive NBA Mock Draft.
NBA Insider Chad Ford and Page 2 columnist Bill Simmons made their lottery picks. Unlike the disastrous results of the NBA draft lottery on May 22, the Ping-Pong balls bounced Simmons' way this time, and he made the No. 1 pick and all the subsequent odd-numbered choices (including his beloved Celtics at No. 5). Ford made all the even-numbered selections. Our experts made selections based on who they think teams
should
pick -- not necessarily who they think teams
will
pick. And check out
Ford's latest rankings of the top 100 prospects
and
Simmons' common-sense advice
for the 14 lottery teams.
1. PORTLAND TRAIL BLAZERS
Bill Simmons selects: Kevin Durant, SF, Texas
If I'm Portland's GM, I just spent the last five weeks wondering about Greg Oden. What's his ceiling? Can he be better than Patrick Ewing? Alonzo Mourning? Can he become as dominant as Tim Duncan? Should I be worried about his surgically repaired wrist, or the fact that he might suffer back problems some day because his legs are different sizes? What about the fact that he likes basketball, but doesn't love it? The thing is, all these franchise centers are basically the same -- it just comes down to their inherent will to dominate a game. Hakeem had that will, Duncan has it, Moses had it, Shaq had it in 2000 and 2001 ... for whatever reason, Ewing didn't have it, and neither did Mourning or Robinson. Can you see Oden stepping onto a basketball court and saying, "There's no way we're losing this f-ing game. I'm destroying the other team tonight." For some reason, I can't.


Well, Durant plays that way every game. He's a cold-blooded killer. I hate pre-draft workouts, but didn't you find it interesting that Oden was nervous, awkward and apologetic during his workout in Portland, but a confident Durant strolled in there two days later and blew everyone away? You know what's funny about that? I knew that was going to happen. One guy plays basketball because he was created to play basketball; the other plays because he was bigger than everyone else and it seemed like the logical thing to do. If there was a pickup game and Oden was on one side, Durant was on the other, and your life depended on the game, you'd pick Durant. You would.


So if Portland takes Oden, it will happen because of conventional NBA logic (you always take the franchise center), because their fans are pushing for him (obviously, nobody watches college basketball in Portland) and because he's a personable, gregarious, likable big guy for a city that's desperately needed a personable, gregarious, likable big guy ever since Bill Walton ditched Portland for San Diego. I'm not saying those reasons are wrong. In fact, I understand them completely. But if I'm Portland's GM, I'm taking the guy with a legitimate chance to go down with Bird, Magic, MJ, Baylor, Oscar, West, Duncan, Pettit, Havlicek and every other great non-center who ever played in the National Basketball Association. I'm taking Kevin Durant.
Chad: If I was a sports columnist, I'd take Durant too. If I'm wrong, and Greg Oden is Tim Duncan, I crack a joke about it and move on. If Kevin Pritchard is wrong, he's selling programs for the ABA Kansas City Knights.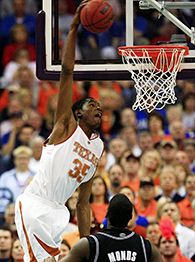 Jamie Squire/Getty Images
Simmons says Kevin Durant doesn't need anyone to stoke his competitive fire.
Here's the analogy I use. Taking Kevin Durant is like dating a supermodel. She's hot. Everyone thinks you're cool for being next to her. For a few years everything is great. But when it's time to settle down, have kids, start a life ... she's eyeing younger guys. Partying late at night. Leaving you in the dust the next time a good thing comes along.
Taking Oden is like marrying the girl you don't want to date, but the girl you want to spend the rest of your life with. She's responsible. She looks out for you. She helps you be the best person you can be. She's not hot on the outside. But inside she makes your life worth living.
The teenage kid in Kevin Pritchard is in love with Durant. He'll be amazing. I really believe that. But if things go sour in Portland, he's also the most likely to pull a Kobe and demand to be in a big market like LA or Chicago.
The adult in Kevin Pritchard says that Oden is loyal. He makes everyone around him better. He wins championships (the kid has lost like 17 games his entire career) and at the end of the day -- the winning will be much sexier than the sizzle that Durant provides.
There are no wrong choices here. But Pritchard is an adult and I'm very, very confident Oden will be the No. 1 pick.
Bill: Chad, I'm disappointed. You and I have been driving the Durant Bandwagon for five months, and now we're at the final stoplight of our long journey, and you just hopped out of the car and jumped into Greg Oden's hummer. I hope you can sleep tonight, you traitor.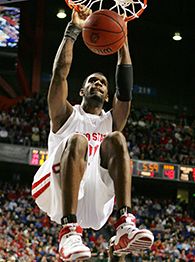 Andy Lyons/Getty Images
Ford says he'd be happy with Greg Oden, who has lost only 17 games during his basketball career.
Anyway, I agree with you on one thing: In real life (not mock life), Portland will take Oden. It's the safe, logical choice, and he'd never ditch them for New York or Chicago. But we disagree on Durant. He's a sure thing. I think he's the surest thing that's come into the league since Jordan. Barring injury, he's going to be the league's next dominant forward. I have no doubts. If Pritchard's reason for taking Oden is that he's too loyal to ever leave Portland, that's a lousy reason -- especially when Durant is destroying the conference for the Las Vegas Sonics in three years. By all accounts, Durant is a good kid. He'd be a hero in Portland, Nike's right there, and he wouldn't want to leave if they were winning. Which they would.
Chad, you wrote: "If I was a sports columnist, I'd take Durant too. If I'm wrong, and Greg Oden is Tim Duncan, I crack a joke about it and move on. If Kevin Pritchard is wrong, he's selling programs for the ABA Kansas City Knights."
In theory, you're correct. But this is the NBA! Chris Wallace helped ruin the Celtics and got a GM job in Memphis four years later.
Wait ...
Hold on, Chad ... I have Kevin Durant on the line ... he's wondering if you could help him pull out the knife that you just plunged in his back.
2. SEATTLE SUPERSONICS
Chad Ford selects: Greg Oden, C, Ohio State
Bill, on behalf of the citizens of Seattle, Sam Presti, Ray Allen, Rashard Lewis and all eight remaining Sonics season ticket holders, I want to thank you. Not only did you pass on the best big man to come in the draft since Tim Duncan in 1997 ... you handed him on a silver platter to your biggest rivals.
Before your move, basketball in Seattle was on the rocks. The moving vans were packed for Oklahoma City. The NBA in Seattle was dead. Now ... with Greg Oden on board everything changes. We'll get our arena now. Season tickets will be as hot as the iPhone. And ... we're going to be a lot better than Portland.
Look at our roster. We've always been one of the best offensive teams in the league. We've just had no defense. That's because Rick Sund spent the last three years wasting draft picks on stiffs like Robert Swift and super projects like Mouhamed Saer Sene.
We have the best shooter in the league in Ray Allen. We have one of the top small forwards in the league in Rashard Lewis -- who we are going to sign to big bucks now. We're even close to getting the Hawks to take Luke Ridnour off our hands for the No. 11 pick, where we'll get either Mike Conley, Acie Law or Rodney Stuckey.
All we needed to be a contender, was a dominant defensive big man. You draft Oden and we're screwed. We don't have the assets to get a guy like that. We continue to be a team that scores 110 a night and gives up 120. Now? With Oden patrolling the paint on the defensive end and commanding double teams on the offensive end Allen and Lewis are left wide open. We are not only going to dominate our division for the next five to 10 years. We are going to compete for a NBA championship for the next two or three.
Thank you. Thank you. Thank you.
Bill: Chad, you're welcome -- just make sure the Sonics' trainer keeps putting in those one and a half inch lifts in Oden's left sneaker so his legs are the same size. Also, you might want to have him wear a splint during practice so he doesn't reinjure that bum wrist. Oh, and he's going to be nervous on Opening Night, for every Portland game and every playoff game -- just prescribe him a drug called Valerian, it calms the nerves and shouldn't affect his play too much. Good luck and congrats on getting the next Patrick Ewing.
Chad: So that's how we're going to roll? Pick No. 2 and you're already going to the mattresses? Why not throw a line in there about Greg Oden looking like Bill Russell's older brother while we're at it?
As long as Oden has five healthy fingers to put those championship rings on ... I can live with it.
3. ATLANTA HAWKS
Bill Simmons selects: Al Horford, PF, Florida

Right now, the Hawks fans couldn't be more excited -- they finally have a real GM! Thank you, thank you, city of Atlanta. No, please, sit down, you're too kind. Thank you. Thank you, please. Have a seat, this is embarrassing.
Anyway, this is an easy choice: There's a top two in this draft; then there's a No. 3; then there's the next eight guys. My knock on Al Horford was his size -- I always assumed he was in the 6-foot-8 range, and Florida was lying about his height, only because he looked short for a power forward (not sure why, maybe it was because he was playing with Noah and Richard?). Then he measured out to be a solid 6-foot-9 1/2 at the pseudo-combines and that became a non-issue. I'd liken him to a right-handed, infinitely less crazy Zach Randolph, someone who will command a double-team by the middle of his second season. He gives Atlanta an appealing foundation of Joe Johnson, Josh Smith and Horford -- you don't even need a real center there because both Horford and Smith can protect the rim -- and they have enough pieces around them (including the No. 11) to become a contender by 2009.
This pick is a no-brainer. (Note: I can't wait to see how the Real Hawks screw this up.)
Chad: OK ... I have to concede that Al Horford is the next best player in the draft. So, in an unimaginative way, I like this pick. He's better than Shelden Williams (but so are 20 other guys in the draft), and he also is the most tradeable asset in the draft (Memphis, Milwaukee, Minnesota and Chicago all want him).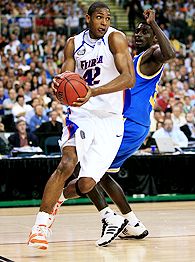 Streeter Lecka/Getty Images
Al Horford is the third-best player on the board ... but, unfortunately for Atlanta, he can't play point.
But I can't help but think that they're missing the boat on Conley. Great teams need great point guards. I understand the knocks. He's small and he needs to learn how to shoot. But he reminds me a lot of Tony Parker coming into the league. He plays at a super fast pace, but always seems to be in control. He's also going to be a great defender, and though he's small, his long wingspan makes up for some of that.
Great point guards are hard to find, and I think Conley can be great some day -- especially when paired with all of the athletes on the Hawks roster. I know they are talking to the Sonics about getting Luke Ridnour for the No. 11 pick -- but I think Conley will be much better. If it was me, I'd swap picks with the Grizzlies or Bucks, pick up an asset and take Conley.
With that said ... knowing Billy Knight, he's reading all the statistical stuff out there on the Internet and will take Nick Fazekas at No. 3.
Bill: We agree on this, even though I still think you're a traitor for the Durant thing. Why couldn't the Hawks swap picks with Memphis and get Hakim Warrick for their troubles? Conley and Warrick for Horford is a fair basketball trade. Hell, even if they they picked up Memphis's No. 31 pick and the right to swap No. 1s at any point over the next four years (top-three protected), that's fair. I just love the thought of Chris Wallace and Billy Knight talking trade -- those talks should be simulcast on the Nitwit Channel. By the way, when you say Billy Knight is trying to acquire Luke Ridnour for the 11th pick ... you're talking about the 11th pick of the second round, right?
4. MEMPHIS GRIZZLIES
Chad Ford selects: Mike Conley Jr., PG, Ohio State
The Hawks may be the most screwed-up team in the league, but the Grizzlies aren't that far behind. Under Jerry West's leadership, the team went from cellar dweller to a playoff team. But when owner Michael Heisley decided to sell the team last year, everything went to hell in Memphis.
It got so bad that the Grizzlies -- after interviewing every unemployed GM under the sun -- ended up hiring the GM from the second worst team in the league to save the worst one. Only in the NBA.
There are too many holes. Too many things to fix at once. I want a recount on the lottery. I want my Greg Oden or at least Al Horford. I guess I'll take Conley here. I don't know he fits with Kyle Lowry. But you need talent and leadership, and Conley has that.
You know what, I wish on second thought that the Grizzlies (and the Hawks for that matter) would just go away. Without Jerry West, I don't see what the point is. And with Billy Knight in Atlanta, I've never understood the point.
Couldn't David Stern just shut these teams down?
Bill: I agree with you, Conley makes the most sense in every respect. Although with Chris Wallace involved, the Grizzlies might just end up taking the guy with the best chance to become a full-fledged alcoholic or substance abuser, so I wouldn't rule out a certain big man from the ACC here. As for your other point, the Grizzlies should be contracted immediately or merged with another team. It's been a jinxed franchise ever since they came into the league, they've been the Fredo of the NBA.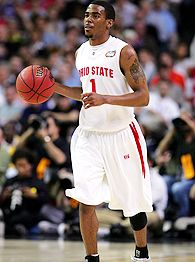 Andy Lyons/Getty Images
Mike Conley Jr. makes perfect sense for the Grizzlies. So, don't expect to see him in Memphis.
Important note: If you were the Grizzlies, wouldn't you offer this pick to Golden State for something like No. 18, Monta Ellis and two future No. 1's? If the Warriors really want Yi that bad, why not make them pay for it? I'm also a big Ellis fan. Just a thought.
Chad: I'd do that deal. Definitely. And I agree that Golden State is the PERFECT home for Yi Jianlian. David Stern needs to intervene here. He has to find a way to get Yi to Golden State.
One more thing for the Grizzlies. Why doesn't Chris Wallace do Danny Ainge a favor for keeping him on the staff all these years? Send Gasol to Boston for Theo Ratliff and No. 5. I'm not saying Gasol saves the franchise ... but the Celtics aren't giving up much in that deal.
Bill: Chad, I couldn't agree more. Wallace owes every Celtics fan for screwing up the 2001 draft and sticking us with Vin And Tonic -- we should be getting Gasol for the No. 5 and Ratliff and we shouldn't even have to throw in Gerald Green. Thank you for bringing this up. I'm beginning to like you again.
Chad: This went from a slamfest to a lovefest in a hurry. Say something stupid (the Celtics have that effect on many) ... quick ... so we can start arguing again.
---
Moderator: Rob in Seattle asks:
In regards to Oden vs. Durant, can you remind me of the last small forward who led his team to a NBA title?
Bill: First of all, Durant isn't a small forward, just like Bird wasn't a small forward -- he's a forward who can play either position, and with the way the NBA is going, he's definitely going to play at the 4 when his body fills out. Hell, he protects the rim well enough and rebounds well enough that you could even play him at the 5. Anyway, to answer your question, the last small forward to lead his team to the title was Larry Bird in 1986. But here's a list of the non-centers who led their teams to titles in the last 25 years: Bird, Magic, Jordan, Isiah, Wade, Billups/Hamilton. So put that in your pipe and smoke it.
Moderator:
Eddy in East Rutherford, N.J. asks:
Considering that Vince Carter is going to re-sign with his beloved Nets, don't you think it is a need to draft a defensive force like Sean Williams, who is also a great rebounder? Isn't the strategy to win now?
Chad: Yes and no. What they need is a veteran big man. They can try to package Richard Jefferson and Nenad Krstic for a guy like Jermaine O'Neal. Otherwise I think they have to take Williams. Most picks that late in the draft (No. 17) flop. Why not shoot for the moon? He's worth the risk?
---
5. BOSTON CELTICS
Bill Simmons selects: Corey Brewer, SG, Florida
At long last, I get to realize my lifelong dream of running the Celtics. For my first act, I'm firing Doc Rivers and hiring Rick Carlisle. That was fun. For my second act, I'm giving courtside ticketholders Marty Joyce and Mike Rotondi their own reality show on FSN called "Marty and Mike," where they follow the Celtics around the country, get involved in wacky misadventures and every show ends with both of them passed out on a private jet. For my third act, I'm trying like hell to either ...
A.) Swap this pick with Theo Ratliff and Gerald Green for Shawn Marion (in the three-team KG deal).
B.) Swap this pick to Philly along with Delonte West for No. 12, No. 21 and No. 30, then grabbing Al Thornton at No. 12 (the one guy in this draft other than Durant and Oden who will be effective immediately).
C.) Moving down a couple spots (either to No. 7, 8 or 9) and picking up something extra from whomever wants Yi, so I can get whomever's left from the Brewer-Green-Noah group.
But since we can't make trades in a mock draft, I'm taking Corey Brewer at No. 5 -- he's in that Pippen/Howard mold. He's a great character guy, he's a winner, I need someone to guard LeBron, Wade and Arenas for the next 10 years, and most importantly, John Hollinger's statistical engine doesn't approve. After that, I'm offering Utah the following package: Wally Szczerbiak, Gerald Green, Tony Allen and a top-five protected 2008 pick for Andrei Kirilenko. Done and done.
The pick: Corey Brewer.
Chad: I knew this was coming. You lose your mind with the Celtics.
Here we go: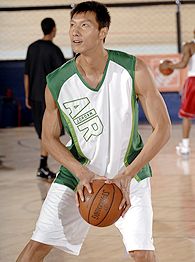 Andrew D. Bernstein/NBAE via Getty Images
This is Yi Jianlian ... but you can just call him Simmons' worst nightmare.
1.
Rick Carlisle is NOT an upgrade over Doc Rivers.
2. No way Minnesota takes Gerald Green and Theo Ratliff for KG. No way. You've lost it, haven't you?
3. Even if they did get Marion, is he really going to make things better? Without Steve Nash throwing him lobs, I don't think he'll be great. The Celtics become a seventh or eighth seed in the East under your plan. Congrats.
4. Al Thornton is two years older than LeBron James, and he just started dominating in college this year. Aren't we going a little overboard? At No. 21, you're stuck drafting Josh McRoberts. No way those two guys are better than what you can get at No. 5 plus Delonte West.
5. Moving down a few spots doesn't save the franchise or make your team better.
6. Corey Brewer is OK. Great defender. Not sure what type of offensive player he'll be. But Yi is the best player available. I don't know if Danny has the courage to make this pick . . . but he should.
7. Talked to [Jazz exec] Kevin O'Connor on the Kirilenko thing. They say one man's trash is another man's treasure. In this case, your trash is ... trash.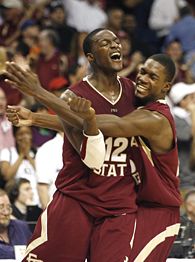 Bob Donnan-US PRESSWIRE
Simmons expects big things from Al Thornton. Ford ... uh, likes Florida State's uniforms.
Bill:
Really? A guy with a career .571 winning percentage and two trips to the Conference Finals isn't an upgrade over a guy with a career .467 winning percentage who never won a playoff series? I wasn't aware of that. Thanks for clearing that up for me. Also, I never said they'd get KG for Green and Telfair -- in that alleged three-team deal that Jim Gray reported, they'd end up with Marion and give up the No. 5, Telfair, Green, Ratliff and probably a 2008 No. 1. I'd do this deal in a millisecond.
As for Yi, I fully expected you to tell us that he's the best player available at No. 5 -- you're the same guy that once touted the virtues of Darko Milicic and Pavel Podkolzine. You'll have to excuse me if I'm dubious of a Chinese star who A.) refused to workout against anyone, and B.) dominated the 19-and-under championships when he was lying about his age and happened to be 22 at the time. But hey, I've never seen anyone look better offensively while posting up a chair. So you might be onto something.
By the way, you will regret questioning Al Thornton. I'm just telling you now.
One more thing: Marion averaged 21/9.5 in '03 and 19/9.3 in '04 playing without Nash. I think he'll be fine on his own. The East sucks -- you could win the conference with Pierce, Jefferson, Marion and nine guys off the street. You really could. Hell, look at the Nets last spring -- they took the Cavs to six games with a three-man team and one of those three was the Tin Man (Vince).
Chad: 1. Ask anyone who has employed Carlisle over the last few years for a letter of reference. Even his best friend, Larry Bird, dumped him.
2. I knew the Darko comment was coming. When he signs that $50 million to $60 million dollar deal with the Magic this summer ... I hope he moves in with me.
3. Darko is three years younger than your boy Al Thornton. You think Darko averages 19 ppg on Florida State in three more years?
4. Yi looked great against the chair. Your boy in last year's draft, Adam Morrison, could've been guarded by the chair this year.
5. You're destroying the team you love, Bill. Don't do it.
Bill: You can keep selling Darko until the cows come home ... it doesn't change the fact that he looks like he's half asleep at all times. But I'm sure giving him $50 million and reducing any urgency he had to become a good player will solve the problem.
I would never destroy my favorite team. But the reality is this -- if we don't trade that No. 5 pick for a veteran, then Pierce will sulk his way through next season, and we'll be looking at 55 cents on the dollar for him in January. That's an unequivocal disaster. On paper, it makes the most sense to build around Pierce, Jefferson, Rondo and either Noah or Brewer, then use the Ratliff contract in February for a trade. But Pierce is already on record as saying he's not on board with this plan. Basically, we're screwed either way. I can't wait for the Patriots season to start.
Chad: We both agree on this. At this point ... the Celtics look screwed.
---
Moderator: Dan from Manchester, N.H. asks: If the Celtics don't make a trade for a veteran by the end of the draft, will Paul Pierce demand a trade request by the end of the draft?
Bill: Pierce would have demanded a trade last winter if he didn't get hurt. All of this was totally and completely inevitable, I'm not sure why it became a story this week. I have a huge problem with the Celtics bending over backwards to appease a borderline All-Star who's being paid like a franchise player. He signed the big extension last summer, he knew what he was getting into. Some of these guys want to get paid like franchise players, but they don't want the responsibility of carrying a franchise -- I mean, there are far worse things than playing on a basketball team that features Al Jefferson, Rajon Rondo, Tony Allen, Ryan Gomes, Kendrick Perkins and the No. 5 pick in a loaded draft. The Celtics should be telling him to screw off. Instead, they're catering to him. This is what happens when your owner has a gigantic framed Pierce jersey in his office.
---
6. MILWAUKEE BUCKS
Chad Ford selects: Jeff Green, SF, Georgetown
The Bucks are starting, literally, an international incident by suggesting that they'll take Yi Jianlian even though he doesn't want to play in a city that has only six Chinese people.
Milwaukee GM Larry Harris has even suggested that their owner, a U.S. Senator [Herb Kohl], would deliver Yi diplomatically if he refuses to come. Are we sure we want to go that far? So now we're bringing governments into this?
Do we really want to piss off China over Yi Jianlian? Really?
Not when Jeff Green is on the board. I think he's one of the more underrated guys in the draft. The Bucks have a lot of shot-happy players. He's one guy who's more concerned about making the right play than scoring.
The Bucks need a glue guy like Green, not another jump shooter in Yi.
Bill: I love Yi Jianlian -- he doesn't have the balls to work out against anyone, he lied about his age and he'll only accept four possible NBA destinations. This guy sounds like a real prize. By the way, if you're worried about an international incident, you should be more concerned about what would happen if the Celtics took him at No. 5 and Tommy Heinsohn was announcing 82 of Yi's games next season.
Chad: Has there ever been an international player you did like, Bill? You're the Lou Dobbs of NBA sportswriters. I'm waiting for your new book "War on American Hoops."
Too bad they can't build a wall around every NBA arena.
Bill: I'm very xenophobic when it comes to the NBA draft -- too many foreign guys have bombed miserably, everyone underestimates the cultural adjustment. For every Nowitzki, there's been four Darkos. For every Tony Parker, there's been four Beno Udrihs. We overrate the younger foreigners, even though they're playing against crappy competition, and we underrate the older foreigners (like Oberto, Hermann, Garbajosa and others), even though they're tough and know how to play the game. I don't get it. What a screwed-up league.
Chad: Really? Couldn't you say the same thing about Americans? For every Ben Gordon there's a Dajuan Wagner. For every Chris Bosh there's a Michael Sweetney. For every Brandon Roy there's an Adam Morrison.
There are too many busts in the NBA period. It has nothing to do with where you're born and everything to do with a team's ability to judge talent. That's why Parker slips to No. 29 and Americans like Kedrick Brown go No. 11 in the same draft.
Bill: Wait, you just inadvertently made my point. Foreigners don't "slip" in the draft anymore. After Nowitzki, Gasol and Parker from '98 to '01, the NBA overreacted in the other direction, leading us to the likes of Darko, Pavel, Tskitishvili, Delfino and everyone else. Now I think it's balanced again -- Bargnani was evaluated fairly last year, and he turned out to be the right choice at No. 1. I just don't see how anyone can think Yi is a better bet than some of the studs in this draft when people literally have NO IDEA what will happen when he's playing an 82-game schedule. In last year's draft, fine -- I can see rolling the dice with a top-five pick for him. But not this year. It's too big of a risk.
---
Moderator: Nick from St. Louis asks:
Look, the Bucks don't need another scorer; they need defense, athleticism, rebounding and someone who can pass. Brewer is the guy at No. 6 if he is still there, isn't he? Green could be a good player in the NBA, but is there any real All-Star potential there? I don't think so.
Chad: I think they trade the pick to the highest bidder. Several teams are trying to move into this spot to draft Yi Jianlian. I think they get a veteran or more assets for it. Philly and Golden State seem to be the two teams most interested in moving up. If they do keep the pick, I think their order is Horford, Conley, Yi and then Jeff Green.
---
7. MINNESOTA TIMBERWOLVES
Bill Simmons selects: Yi Jianlian, PF, China
(Hold on, I'm slipping on an ugly cardigan sweater and adding five inches of armpit hair under either arm so I can tap into my inner McHale.)
A tough pick to figure because we don't know if Minny will A.) keep Garnett, or B.) trade KG and end up with another top-10 pick. If the Wolves keep KG, then Jeff Green or Joakim Noah would be the logical choice -- two winners who could play right away. If they're dumping KG and getting two top picks, wouldn't it make sense to double up on the Florida guys and take Noah and Brewer -- two character guys from a winning program heading to a perennial loser with no character? On the other hand, those guys would probably have to go on anti-depressants after spending three years in Florida on a two-time national champion, then moving to Minnesota to play with Ricky Davis and Troy Hudson. This would be terrible.
Anyway, I'm giving them Yi at No. 7 -- he has the most value of anyone on the board (so they could always trade his rights), and we all know they're trading KG at some point (either this summer or during the season). I'm hoping this happens because the thought of a 7-foot-1 Chinese guy living in Minnesota and playing with Mark Blount, Ricky Davis and Rashad McCants absolutely kills me. Let's make this happen. Hey Chad, when Yi practices during the season, will his NBA team have to play 5-on-4 and use a chair as the fifth guy, or will they use a real human being as the fifth guy? Can you clear this up for me?
The Pick: Yi Jianlian.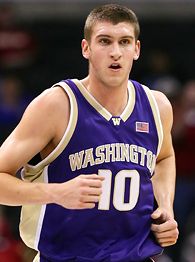 Lisa Blumenfeld/Getty Images
If Kevin McHale sees himself in Spencer Hawes, you can bet the 7-footer is headed to Minnesota.
Chad:
If you're really going to evoke McHale ... don't you need to include Spencer Hawes and Nick Fazekas into the equation?
Isn't it a given that most former NBA players who become GMs always try to draft guys who remind themselves of themselves. Aren't their egos so big that they believe if their team had a player just like them -- every thing will turn around?
Yi reminds me nothing of McHale so it has to be Hawes, right? He'll fix everything.
Bill: I agree with you, McHale seems like Hawes waiting to happen. I didn't want to give him Hawes, only because it seemed too logical and easy, and Minnesota hasn't been logical and easy in eight years.
Chad: Don't you think that if the Wolves do the three-way trade that has Kevin Garnett going to the Suns, Amare Stoudemire to the Hawks and the No. 3 and No. 11 picks to the Wolves that it's the final nail in McHale's coffin?
I mean, here's what no one is saying. If Stoudemire is available, why wouldn't the Wolves just take him, instead of routing him to Atlanta for two first-round picks. It's Amare Stoudemire!!!!
Bill: Here's what I don't get about that trade: Why would the Suns want to stock the Hawks with Stoudemire when they own Atlanta's 2008 No. 1 pick? Doesn't that seem shortsighted? Steve Kerr is too smart to do that. Also, what are the odds of Atlanta's owners agreeing on a takeout order, much less a three-team trade?
8. CHARLOTTE BOBCATS
Chad Ford selects: Brandan Wright, PF, North Carolina

Michael Jordan is on the clock.
"Michael? Michael?"
Someone call the golf course ...
"Oh, Michael there you are. Who are you taking in the NBA draft?"
"The what?"
"The NBA draft tomorrow."
"It's tomorrow?"
"Yeah. Who do you like?"
"I like the big, athletic kid who's really raw, refuses to rebound and has his motor running on idle for 30 minutes a night."
"You mean Brandan Wright or Kwame Brown?"
Bill: That's perfect -- the Bobcats are the only NBA franchise that operates like a WNBA franchise, right down to the sweeping lack of interest from their fans. I think they're going to draft Joe Wolf with their second-round pick, then trade their 2008 No. 1 to the Bucks for David Noel.
Chad: I'm not sure we need any more follows with the Bobcats. From all indications they are trading this pick. Memphis, Philly, Phoenix and Golden State are all in the mix.
Bill: Hey, NBA TV is showing the 1995 draft right now ... Milwaukee just took Gary Trent. I predict this ends badly.
Chad, it's a good thing you didn't have a column in 1995 -- George Zidek and Dragan Tarlac would have gone in the top 10.
Chad: And you would've been driving the Ed O'Bannon and Shawn Respert wagon.
9. CHICAGO BULLS
Bill Simmons selects: Joakim Noah, PF, Florida

This has to be the easiest pick of the draft: Joakim Noah.
If they re-sign P.J. Brown, that gives them one of the deepest 4/5 groups in the league (Noah, Brown, Wallace and Thomas), and opens the door for them to move Wallace down the road if they want to use his contract to acquire a big-money guy (Kobe, KG, Pierce, whomever). I also thought the Bulls were a little too business-like last year. It killed them in the Detroit series. They have too many lead-by-example guys and stoic guys ... Noah would solve that problem right away. Imagine the energy of a group with Noah, Thomas, Deng, Gordon and Hinrich?
You know what else is interesting? Noah would have been the first or second pick in last year's draft ... so basically, the Bulls would end up with two of the top three from the 2006 draft for the right not to pay Eddy Curry way too much money. Thank you, Isiah!
Chad: OK. We know that Noah is a Scott Skiles-type player. He plays hard every night. Hustles. I get it.
But for a team that has zero low-post scoring, this makes perfect sense. Pick the one guy in the top 15 that can't average 10 points a game in the NBA.
Energy is one thing. But if the Bulls don't find a way to get some easy buckets around the basket ... I don't think it will matter.
I think Zach Randolph is the right fit here. I think the No. 9 and P.J. Brown in a sign-and-trade gets it done.
Bill: Wow, announcing this '95 draft for TNT -- Ernie Johnson, Hubie Brown and Rick Pitino! Both Hubie and Pitino liked Dallas's pick of Cherokee Parks at No. 12. I don't even have a joke here.
Chad, how could Chicago trade for Zach Randolph when he makes $13.3 million next season? Explain this to me. Portland gets stuck with P.J. Brown for $10 million a year so they can acquire the ninth pick? Why would they do that? Why not keep Randolph or trade him to the Nets for Richard Jefferson?
Chad: Their owner is Paul Allen. That's lunch money for him.
The Blazers get a young small forward like Green, Julian Wright or your boy Al Thornton with No. 9. They save a TON of money over the next four years ($52 million if you must know). And it frees up LaMarcus Aldridge to start. That's why.
Richard Jefferson is good, too, but he's overpaid.
Bill: They're still giving up a monster low-post scorer who averaged a 24-10 last season and commands a double team at all times. And why would they care about saving money on one hand (by trading Randolph) but throwing money around on the other hand (by overpaying P.J. Brown)? You just refuted your own argument. I continue to be confused as to why Portland would trade Zach Randolph. Oh, wait, he's crazy. I forgot.
By the way, Chad, I just got off the phone with Maciej Lampe, he's furious that I keep neglecting to include him in the group of failed foreigners that you touted as lottery picks over the past few years. Also, he's waitering at the Sizzler in Hartford if you want to stop over there tonight and say hello.
10. SACRAMENTO KINGS
Chad Ford selects: Julian Wright, SF, Kansas
I know Wright is not a cool pick here. But I still love his potential. Most nights at Kansas you'd scratch your head and wonder if he even belonged in the NBA. Then he'd have games like the one against Florida, where he looked like the consensus No. 3 pick in the draft.
If I'm the Kings, I try to get the Heat to take Mike Bibby and Ron Artest for the No. 20, Dorrell Wright, Udonis Haslem and the expiring contract of Jason Williams.
Miami is desperate. The Kings are going nowhere. Why not cut bait and rebuild?
Bill: I'm with you on Julian Wright. He's a big-time talent who played in a bunch of big games ... and then Kansas stunk in the NCAAs, and everyone cooled off on him. At No. 10, he's a steal. I have to say, he's the one guy I could see slipping ... we haven't factored in any of these teams doing anything dumb yet. Minnesota could be dumb. Charlotte could be dumb. Hell, Boston could be dumb. I'm prepared for anything.
11. ATLANTA HAWKS (from Indiana)
Bill Simmons selects: Acie Law IV, PG, Texas A&M
Easiest pick of the day -- they have to take Acie Law. He's perfect for them. Did you read Penn forward Steve Danley's surprisingly good take on some of the draft prospects? Here's what he said about Law:
"When we were preparing to play Texas A&M in the tournament, the scouting report pointed out an amazing stat. In the last two minutes of close basketball games, Law outscored the entire opposing team. It wasn't until we actually played him that I understood what that stat meant. For most of the game Law was content to set up his teammates, trying to involve everyone in the game. Coming down the stretch in the second half he went for the jugular and ran off a couple of quick buckets to put us away. Say what you want about his skills or his quickness, but if you have to win a game, you want this kid on the court."
Exactly. Couldn't have said it better myself. They have to take Law. Naturally, they probably won't. But in the world of mock drafts, everything makes sense.
Chad: OK ... so you passed on Chris Paul. You passed on Deron Williams and Rajon Rondo. But Acie Law is going to make everything OK?
I love him as a college player. He was a stud. But I'm not sold he's a NBA starting point guard. I think he's better coming off the bench. He's not a great shooter, isn't a great athlete and looks to score more than distribute. That's not what the Hawks need.
Why wouldn't the Hawks trade this pick to the Raptors for Jose Calderon? I think he was better than T.J. Ford this year, and he's more of a floor leader. The Hawks have plenty of scorers. They need a distributor.
Oh and since you brought up Maciej Lampe ... here's one of your past quotes on one of the proven American kids.
"Joe Forte falls to the Celts at No. 21! Dad and I are fired up right now. Even the dogs are fired up -- Maggie just belly-flopped on Abbie and they're rolling around on the ground. Good times . . . good times."
Bill: Absolutely, I'd do that deal if I were Atlanta. Here's my counter: Why would Toronto want to trade Calderon? Why wouldn't they try to push T.J. Ford on the Hawks and get back the 11 and someone else? I'm a big Calderon fan, I wouldn't trade him ... I'm less high on Ford, who can't shoot and makes everyone hold their collective breath every time he gets knocked down. What about Ford for Childress and No. 11?
And do you really want to play the quote game when your love for a certain giant with a pituitary gland problem is in the ESPN.com archives?
"Emeka Okafor may be more battle tested. Dwight Howard is certainly more athletic and skilled at the same age. But there is no one in the draft with a bigger upside than Pavel. At 7-foot-5 and 300 pounds (his measurements in Treviso), Pavel has the potential to dominate physically in the league some day. He is huge, strong, fairly athletic for a player his size and bursting with energy."
Chad: I like Calderon better too. I can't understand why Bryan Colangelo doesn't see it. Makes me wonder if, because he traded Villanueva for Ford and then gave him a big extension, he can't turn around and move Ford for Calderon, who was a Rob Babcock find. That's the only explanation I can come up with.
I love the logic of this deal. You like Calderon better than Ford, but you want the Hawks to include Childress if Ford is in the deal.
Billy Knight wants to hire you. I would do Ford for the No. 11, so of course, Billy wouldn't.
Bill: I think Ford has more quote-unquote "trade value." But I'd rather have Calderon for the price. Wouldn't you?
Chad: Podkolzine would've dominated the league had he:

A. Been able to avoid brain surgery his rookie season
B. Had actually played basketball in a real, organized game before being drafted in the first round
C. Been drafted by the Hawks
Bill: Joe Forte would have been good if he didn't suck.
Let's face it: The draft is a freaking crapshoot. With that said, Durant will end up being the best player in the 2007 draft when everything's said and done and I'll argue this to the death. Up until today, you were right there with me. Then you jumped into Greg Oden's hybrid Lexus SUV. This is terrible. I don't know if we can recover from this, Chad.
Chad: I almost forgot ... this should be the Pacers pick. However, they gave it up in what turned out to be a disasterous Al Harrington sign-and-trade. Somehow that morphed into Mike Dunleavy and Troy Murphy and $95 million worth of contracts.
And the Pacers, who desperately need a point guard with a heart, have to watch the Hawks take Acie Law. Not a happy day in Indiana.
12. PHILADELPHIA 76ERS
Chad Ford selects: Al Thornton, SF, Florida State
Philly takes the first NBA rookie that may have to announce his retirement before his rookie contract expires. I've been joking around about Thornton's age. It does matter. But at this point in the draft, he's the best scorer, can play some four, can play right away and has great energy.
Of course, none of this does much to move the needle in Philly. The Atlantic still looks hopeless to me.
Bill: Hallelujah! I love Thornton on the Sixers. He's going to be a star there, and the Sixers fans should be giddy about this happening. I'd say more, but I'm totally distracted by a sobbing Stephon Marbury wearing a Bucks hat on NBA TV right now. Hey, here's a question: When did Craig Sager start wearing ludicrous suits? He wasn't wearing one in 1996. Was there a tipping point here? Was this covered in Malcolm Gladwell's book?
Chad: Thornton's a star. Iguodala's a star. And I'm still not sure the Sixers make the playoffs anytime soon.
I want to revise my statement about Pavel. He'd have been a star had he played in the Atlantic.
13. NEW ORLEANS HORNETS
Bill Simmons selects: Spencer Hawes, C, Washington

The Hornets need a 2-guard, and USC's Nick Young makes a ton of sense for them. For the record, I'm a Young fan and feel like he's tougher and more battle-tested than the typical NBA prospect because of everything that's happened to him. I don't see him flaking out or not living up to his potential. With that said, I can't imagine how Spencer Hawes lasted this long, and it's not like the Hornets don't need help at center. Either they'll move down a couple spots to land Young, or they'll just take Hawes here so Peja Stojakovic has someone to go to the movies with. I actually think Hawes is pretty good for a white guy. In fact, I hope the Hornets use that quote in their 2007-08 media guide.
The pick: Hawes.
Chad: No ... don't do it Bill. You were doing so well. Young is a perfect fit for them, and I agree with you that he's going to be good. They have Tyson Chandler and Hilton Armstrong at the five. I don't love those guys, but I can't see Hawes replacing either one.
Plus, we were getting close to pushing Hawes out of the lottery. I thought that would make you happy.
With all of that said, I hear they're taking Thaddeus Young, not Nick Young, at No. 13.
Bill: I don't see any chain of events where Hawes drops out of the top 13 -- someone will trade up for this pic, and the Hornets can still get one of the Youngs a couple spots later, right? By the way, I like Tyson Chandler, and Hilton Armstrong isn't a bad backup guy, but I'm not looking at that Hornets roster and thinking, "Wow, they're set up front!" Especially in the West. They have no low-post scoring at all -- even David West does his best work from the 12- to 14-foot range. I see Hawes as being the next Chris Mihm, only if Chris Mihm was good. I was pleasantly surprised by Hawes in college, his footwork was really good for a young center and it seemed like he gave a crap.
(Uh-oh, somebody will be throwing that quote in my face in five years. Can I take it back?)
Chad: I think we've switched minds here. Earlier in the year, you were killing me for having Spencer Hawes ranked high. I finally got religion and dropped him, and now you're advocating taking him over Nick Young.
What's happening to us?
Bill: I don't think he's a top-seven pick, which is where you had him at one point during the season. But remember your "tiers" column (which I liked)? Hawes was the last guy from Tier 3 in the top 12 -- not including Acie Law, who was Tier 4, but Atlanta needed him at 11. In this draft, he has more inherent value than Stuckey or either of the Youngs, no? I can't imagine him slipping past 13. NBA teams love white guys too much. Especially big goofy ones.
14. L.A. CLIPPERS
Chad Ford selects: Nick Young, SG, Southern California

I'm not sure how Young handles this. He's a dyed-in-the-wool Lakers fan. But at least he gets to play in the Staples Center. The Clippers' two guard is Cuttino Mobley, so ... this is a huge upgrade right?
By the way, I can't bear to watch the Clippers since my boy Shaun Livingston went down. That's the fragility of the draft. Even when you make the right pick, sometimes it's the wrong one.
Bill: Intriguing. Take it from someone who sat through about 30 ugly Clippers home games last year -- they need shooting. Desperately. But I don't think there's anyone at this spot who makes them better next year unless they take BC's Sean Williams. The one thing they were missing was an energy guy off the bench who could rebound and block shots -- it was supposed to be James Singleton, but naturally, Mike Dunleavy buried him. Williams could do some damage for them off the bench. Of course, he can do even more damage off the court, but whatever. I'd rather see them take Williams and play Quinton Ross more.
Chad: Sean Williams is the most interesting player to me after the lottery guys. He has lottery talent and is the best shot blocker in the draft. I'm not even that concerned with some of his off-the-court activities. We'd disqualify half the draft if we busted all the guys that smoke. But it seems like the guy gets caught for everything.
That's what NBA GMs are afraid of. They aren't worried about the stupid things he does. It's that he's stupid enough to get caught.
He's either a star or a disaster. I don't think there can be a middle ground.
Bill: I'm glad we're ending this in agreement on something. Hey, I gotta run over to the hospital to see Durant -- he's recovering from five stab wounds in his back, and Austin police are looking for an assailant with this photo.
Chad: Are we doing this again next year? You're going to love Kevin Love. He'll be the Adam Morrison of the 2008 NBA draft.
Bill: Of course we're doing this next year! I look forward to seeing what foreign big man you'll be supporting -- supposedly there's a 7-foot-1, 19-year-old South Korean who scored 120 points in a workout against a leather recliner last week. Keep an eye out for him.
Chad: I'm on it, Bill! Come visit me in Hawaii. The basketball players there look international, but they're actually American! Maybe that's a space both of us can be happy in!
NBA DRAFT


Check out our full coverage of the 2007 NBA Draft.
DRAFT NIGHT
• Ford: Pick-by-pick analysis


• Ford: Team-by-team draft grades
• Sheridan: Night belongs to Oden, Durant
• Blazers make Oden the No. 1 pick
• TrueHoop's draft coverage
• Katz: Upperclassmen the hip pick this year
• Dickie V's draft thoughts
• Updated list: Draft day trades
• Fantasy: Draft night advice
• SportsNation: Draft night poll
• Zoom Gallery: Draft night fashion

CHAD FORD
• Mock Draft, Version 6.2 -- Picks: 1-14 | 15-30


• Ford: Is Yi worth the risk? ... The tier system



MORE DRAFT COVERAGE
• Hollinger: Rating pro potential of college players
• Official list: Who's in/out
• Ford's Top 100 prospects
• Sports Guy's lottery picks
• Ford: 10 int'l players to watch


• Ford: Oden No. 1? … Or Durant?


• 2007 NBA Draft Index
EUROCAMP

•
Ford: Prospects to watch in '08
•
Ford: Five who could be drafted in '07
FORD'S BLOG

•
Durant workout impresses Blazers
•
Odom so-so in Portland session
•
Oden's wrist, and other red flags
•
Draft notes and rumors
•
Is Durant's stock slipping?
•
Combine results: Who's the best athlete?
PREDRAFT CAMP

•
Ford: Draft rumors
•
Ford: Day 1
|
Day 2
|
Wrap-up
DRAFT LOTTERY
•
Podcast: Kevin Pritchard, Dominique Wilkins

•
Poll: Who should Blazers pick?
•
TrueHoop: Secaucus heaven
Blazer bliss
•
Katz: Oden wowed
Unhappy C's scene
•
Broussard: Nice Trail mix

•
Ford's blog: Lottery aftermath

•
Conversation:
Blazers
|
Sonics
|
C's
|
NBA
WORKOUT WATCH

•
Greg Oden -- is he Mr. Upside?
•
Mike Conley, Daequan Cook, Carl Landry
•
Julian Wright, Thaddeus Young, Alando Tucker
•
China's Yi Jianlian
|
No. 3 pick?
|
Rock star
•
Florida's Corey Brewer and Joakim Noah
•
Nick Young, Jason Smith, Bobby Brown
PODCASTS


• Greg Oden and Mike Conley
• Tim Grover and Thaddeus Young
• Florida's Noah and Brewer
• USC's Nick Young
• Colorado State's Jason Smith
ESPN Top Headlines