By Eric Neel
Page 2 columnist
LeBron's Cavs and Carmelo's Nuggets are playoff bound.
Count on it.
The league can't afford to have it any other way. The league won't have it any other way. You get me?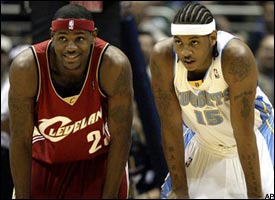 These guys aren't making vacation plans.
You're dubious. I was too.
But then I took a good look at the footage from last Saturday night's Cavs-Nets game, the one where James went for 41 and iced the game with a steal and a breakaway slam.
Go to the videotape. Look at frames 4323, 4324, and 4325 -- the steal sequence.
It's almost imperceptible, but it's there. It's most apparent if you're looking at digital video on a plasma screen and wearing magnifying goggles, but if you don't have that kind of equipment, you can also see it by way of infrared mapping of body temperature and aura.
Richard Jefferson nods his head ever so slightly just before he throws a softball pass -- a pass my grandma could pick off, by the way -- and James reaches up and tips it away to teammate Kedrick Brown.
Slam dunk. The legend grows. The Cavs move into a tie with Boston for the eighth spot in the East.
Jefferson gave him a sign. He made sure LeBron intercepted that pass. And somebody made sure Jefferson made sure, you know what I'm saying?
It's all part of the master plan to get the phenom kids some tickets to the big show. If they don't make the postseason, they're just a couple of nice young players. If they don't make the postseason, they're not Magic and Bird, and it's Magic and Bird the Commish wants. And the Commish gets what the Commish wants, capische?
How else do you explain Danny Ainge's mad scientist routine in Boston this year? You think he wanted to trade for Ricky Davis and Chucky Atkins? You think Jim O'Brien was looking to walk?
You're seeing it now, right?
Somebody suggested those trades. Somebody showed O'Brien the door.
Now Boston's weak, and Cleveland is looking like a contender.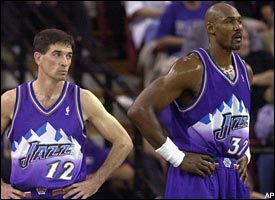 John Stockton and Karl Malone have been on the wrong end of many conspiracies.
Ratings, baby.
It's the same story in the West. Karl Malone, a known Laker-Hater and public enemy No. 1 in Southern California until recently, just happens to leave the Jazz, and a fat pile of dough, for the Lakers and something close to the minimum? John Stockton just happens to retire without taking one more shot at a ring?
Don't think so.
The bottom half of the Western Conference playoff ladder needed to be softened up a bit, you dig?
Portland trades Bonzi Wells for Wes Person, a super decoder ring, and a year's supply of dishwashing detergent?
They move Rasheed, their one superstar, to Atlanta?
And all this has nothing to do with clearing a path for the Nuggets to take the eighth spot?
Uh, yeah. OK.
And Area 51 is just a sandlot ballfield, the grassy knoll is just a nice spot for a picnic, and there aren't hundreds of unmarked boxes containing commemorative LeBron and Carmelo playoff bobblehead dolls stacked from floor to ceiling in Stern's office right now.
As of this morning, the Cavs are a game and a half out of a playoff spot and the Nuggets are a half-game out, with less than 10 games to go.
They could play their way in from here. But if things get tight, don't be surprised if you see all kinds of little, shall we say, "encouragements" to help them get where they're going. It has been subtle, untraceable stuff so far, but things will pick up down the stretch.
Look for Ainge to invoke Bill Russell's privilege and suit up as a player coach for the last eight Celtics games of the season.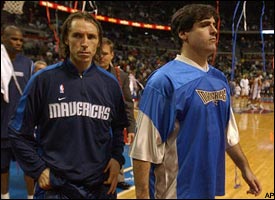 You're saying these guys don't look suspicious?
Watch while the Mavs' Dirk Nowitzki, Steve Finley, and Steve Nash all foul out in third quarter Tuesday night against the Cavs. (This one has the added bonus of infuriating Mark Cuban, an old friend of the commissioner's.)
Be on the lookout for the Sonics to play their mascot, Squatch, in crunch time Tuesday night against Denver. "I just felt like he gave us our best shot to win," coach Nate McMillan will say with a straight face afterward. "He has been looking real good in practice, and most teams have a hard time with him down on the blocks. Do they hug him? Do they D him up? It's a tough call."
The Cavs close the season on the road against the Knicks, but those in the know won't be shocked when Homeland Security Advisor Tom Ridge declares New York City a stage-orange alert area and orders the game moved to Cleveland.
The Nuggets finish at San Antonio, and they'll be dreading the trip, until they get word of the Spurs promotional night plans: "Be A Spur Night," in which all fans in attendance under 12 get to suit up and play in a real live San Antonio Spurs game! "Our fans have been so great again this year," the head of media relations will say. "We just wanted to do something special to let them know how much we appreciated them."
Two words: Phantom fouls.
Three more words: Dade County recounts.
Cleveland has two games left against Miami, a team barely ahead of the Cavs in the playoff hunt. They should be tough games. Tough that is, until the league announces Miami has to forfeit all of its wins this season. "It's recently come to our attention that their nickname is in the singular: Heat," Rod Thorn will say. "This is in violation of our policies on uniformity. All the other teams in the league are in the plural, including, let me just say, the Cavaliers. The Heat? What is that? Are they trying to be different? We can't let this kind of flagrant disregard for standards stand. This is no different than wearing a jersey outside the shorts. A message has to be sent."
Denver has two games left with Houston, two games that will forever after be known as Yao's Mysterious On Again Off Again Stomach Flu Games.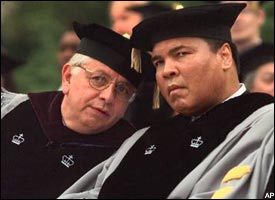 David Stern and top henchman, Muhammad Ali.
And if things get truly desperate, keep an eye out for an animatronic Brad Daugherty in Cleveland and a CG David Thompson in Denver. "We have strict rules about the number of human players on the active roster," Stern will say later. "But there are no specific stipulations as to the number of biomechanical entities a club can carry. I applaud the creativity Cleveland and Denver have shown on this one."
And so it will go.
Aaron Pryor's magic black water bottle will find its way onto the Cleveland bench. Bill Romanowski's vitamin box will mysteriously appear in Earl Boykins' locker.
Whatever it takes to make Melo and Bron-Bron playoff babies.
Years from now, when they're putting the caps on Hall of Fame careers, everyone will remember the way they both led their moribund franchises to the postseason in their rookie years.
Only a few of us will remember how it happened.
Eric Neel is a regular columnist for Page 2. His "On Baseball" column will appear weekly during the baseball season.