By Eric Neel
Page 2
In baseball, as in life, misery is cheap and plentiful. As David Schoenfield points out, everybody's had some, everybody's got some, and everybody's due for a little bit more before it's all said and done. But, as Jim Caple knows, in baseball, as in life, all misery is not created equal.
Here now, a list of the top, er, bottom, 25 most miserable baseball moments in the last 25 years.
25. Ken Burns' "Baseball" sucks the life out the game and bores even diehard fans to tears.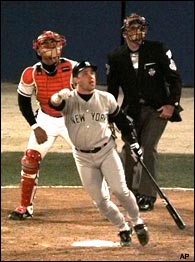 One swing by Jim Leyritz may have altered the course of baseball history.
24. The 2002 All-Star Game ends in a tie. It's been almost two years, and it still sounds too stupid to be true.
23. The Toronto Blue Jays defeat the Detroit Tigers, 8-6 on September 5, 2003 -- Mike Maroth's 20th loss. It's hard to pick one moment from a full season spent walking the Green Mile. And with expectations as low as they were last year in Detroit, it's also hard to know whether to call this misery or just, you know, the way things are.
22. Once upon a time, the 1990s looked like they'd belong to the Atlanta Braves. Then Jim Leyritz got an off-speed pitch from Mark Wohlers he kind of liked the look of ...
21. Mitch Williams deals ... Joe Carter swings ... The bat goes crack and the hills echo the name Bill Mazeroski, which is an OK thing if you're from Toronto or even Pittsburgh. But if you're from Philly, not so much.
20. When Jose Mesa threw a can of gas on the Marlins little campfire late in Game 7 of the '97 series, the expansion kids were a burning house of love and the Tribe faithful, still smoldering with decades worth of down-and-out, were just a pile of ashes.
Page 2's Misery Collection
19. The White Sox White Flag. Just three games back in the AL Central on July 31, 1997, Chicago's owner Jerry Reinsdorf trades off key pitchers Wilson Alvarez, Roberto Hernandez and Danny Darwin for prospects. He tries to move Greg Luzinski, Dick Allen, Lamar Hoyt, and Shoeless Joe Jackson, as well, but finds no takers.
18. Tommy Lasorda makes Tom Niedenfuer pitch to Jack Clark in the bottom of the ninth with a one-run lead and first base open. Mr. Clark makes Mr. Lasorda wish he had a do-over. It's one of those slow-motion car-crash home runs. You know what's coming and you know it's going to be ugly but you can't look away, so you just stare at the screen shaking your head, and when it comes, when the wood hits the leather, the sound of contact is accompanied by the low, sorrowful sound of Dodger fans moaning everywhere and all at once.
17. Kenny Rogers walks in the NLCS-winning run in the 11th inning of Game 6 in 1999. ''Everything you've done in the past, they'll forget about and remember this," he said afterwards. You want to tell him that isn't true. You want to, but you can't.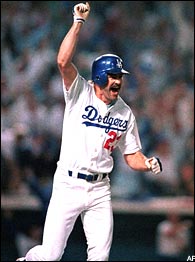 Who will ever forget Kirk Gibson hobbling around the bases?
16. The Houston Astros lose 7-6 in 16 innings worth of Game 6, and lose the 1986 NLCS to the New York Mets in the process. This would rank higher, but the Astros played so well throughout the series, and so heroically in Game 6, when Billy Hatcher hit a two-out, game-tying home run in the 14th inning, that you have to feel good for them even as you feel bad for them.
15. Kirk Gibson hits a home run off Dennis Eckersley in the 9th inning of Game 1 of the 1988 World Series. Unlike Houston in '86, Oakland played so far beneath themselves they made a gimp, a bulldog, and a band of lightweights look like giant killers. A's fans, even after winning the world title the next year, never really recover.
14. The Florida Marlins hold a fire sale in the winter and spring of 1998. Owner Wayne Huizenga, just months after his team won the World Series, slashes the payroll from $53 to $13 million. We'd say something clever here, but we don't know any good jokes about greedy, cynical, captains of industry. Somebody get Michael Moore ...
13. Jeremy Giambi stays standing. Two big problems: One, he ruins a perfectly nice story about the small-market A's vanquishing the deep-pocket Yanks. Two, he adds fuel to the fire of the insufferable Derek Jeter legend.
12. Don Denkinger calls Jorge Orta safe. This would rank higher, but it took place during Game 6 of the State Championship of Missouri, so you know, for a long time, nobody had any idea it had happened.
11. Scott Spiezio hits a home run in the seventh inning of Game 6 of the 2002 World Series. A 5-0 lead with the World Series on the line is a terrible thing to waste. Just ask anyone in San Francisco, where they're 0-for-45 in the years since the Giants moved from New York.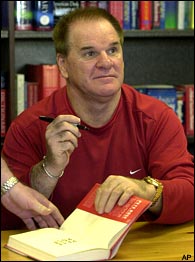 Pete Rose's ban from baseball is still a much-discussed topic in the sports world.
10. Before there was Mookie and a slow roller in Fenway, there was Tim Flannery and a slow roller in the Friendly Confines. Bill Buckner's part was played by Leon Durham, and the role of the snakebitten was played by the Cubs.
9. The Baltimore Orioles lose to the Minnesota Twins, 4-2. And for those of you scoring at home, that's loss number 21. In a row. To start the 1988 season.
8. Pete Rose being banned from baseball. It isn't the falling of an icon (we're used to that sort of thing now) and it isn't even the sad, nagging absence of the hit king in the Hall. No, it's the way he's been whining, bitching and moaning for 15 years that makes us all so bloody miserable.
7. Sid Bream sliding under Mike Lavalliere's tag to win Game 7 of the 1992 NLCS. What gets Pirates fans more? The fact that Francisco Cabrera, who had only three regular-season hits and only 89 hits in his entire career, drove the dagger? Or the fact that Sid "Slower Than Molasses" Bream was the blade?
6. The Montreal Expos and Minnesota Twins threatened with contraction a few days after the 2001 World Series. Here's how bad this was: MLB and Bud Selig now owning the Expos is the good news.
5. Aaron Boone going yard in the 11th off Tim Wakefield on October 17, 2003. Or in other words, Aaron Boone going yard just about 15 days after the statute of limitations ran out on the suffering Bucky Dent's misery stick inflicted on Red Sox fans 25 years earlier.
4. The dropped ball in Wrigley, October 14, 2003. Not that ball, the one Alex Gonzalez booted that should have been a double play. The one that opened the gates to a river of Marlins runs and a flood of Cubs fans' tears.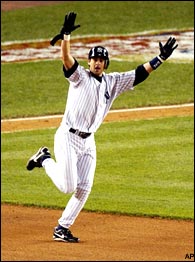 Aaron Boone broke Boston fans' hearts yet again last year.
3. Dave Henderson, Donnie Moore, and a 2-2 splitter. Henderson's gap-toothed, home-plate smile was the height of baseball joy, and with Moore's tragic suicide two and a half years later, it was also the truest measure of the depth of the Angels' sorrow.
2. Game 6 of the '86 Series: Buckner in high tops and the ball skidding low. Even now, if you can bear to look at the footage of him hobbling after the ball, you better go shopping for a heart.
1. September 14, 1994. "We have reached the point where it is no longer practical to complete the remainder of the season or to preserve the integrity of postseason play," Bud Selig said. "It's probably the darkest day I know in baseball," former Marlins manager Rene Lachemann said. We're with Rene.
Eric Neel is a regular columnist for Page 2. His "On Baseball" column will appear weekly during the baseball season.