By Eric Neel
Page 2
Forget Hank and the Babe. Never mind 714 and 755.
Think Teddy Ballgame and .406.
We're all in a lather about the home runs but you watch, Barry's going to backdoor us with a .400 season.
Through 15 games, he's got a line straight out of Little League. He's hitting .500, nine homers, 20 walks, 19 RBI, a .672 on-base percentage, and a 1.342 slugging average.
We shouldn't be asking him about steroids, we should be asking him what life is like on his home planet.
The safe bet says he'll cool off some between now and October. The pragmatist will tell you it's only 15 games, and great as Bonds is, he'll eventually dip below the Splinter-line and stay there.
But my momma didn't raise no pragmatist.
I say he's gonna do it, and here's why:
One, he walks about as often as a hummingbird flaps its wings, strikes out about as often as Dick Cheney makes a public appearance, and never, ever misses a mistake pitch.
Like Williams, his official AB numbers stay in the 400s, and like Williams, he don't waste 'em.
Two, with the possible exception of the equally freakish Jore-El Clemens down in Houston, every pitcher in the league bugs out a bit when Bonds digs in.
Some guys are afraid and miss their spots, and other guys feel bold and challenge him. Either way, like Costanza's girlfriend, Barry's got "hand" every night, and like Costanza, the pitchers facing him are just hoping to avoid humiliation.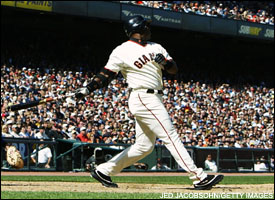 Barry Bonds is showing no signs of slowing down and could probably until he is 50.
Three, I saw him pull a 99-mph Eric Gagne fastball 500 feet foul at SBC Park last Friday night. Then I saw him hit the next pitch, which was traveling just a little it faster, deep into the center-field seats.
And those two pitches marked my official and permanent retirement from the business of underestimating Barry Bonds.
Four, he hit .404 after the All-Star break in 2002 and .388 last year.
Five, he knows a whole lot of people would hate to see him do it. And motivation matters.
Six, he knows a .400 season, and a blow-by of Hank in 2006, would pretty much put the greatest-player-of-all-time debate to bed. And like I said, motivation matters.
Seven, every spray single, inside-out double against the shift, and ball to the gap works like a BALCO-rumor smackdown.
Eight, after his birthday in July, he'll like the sound of ".400 at 40 in '04," and he'll picture logo T-shirts and hats, and that'll be all she wrote.
Nine, the home runs are so yesterday.
A run at .400 is a fresh challenge, and the perfect distraction from the pressures of chasing down the Babe and the Hammer.
Ten, that cushy chair in the clubhouse is the X-factor.
And finally, .400 is just a number, just like 70 and 660 and 755 are just numbers, and nobody knows that better than Barry. He won't tighten up in the home stretch, and he won't be afraid to tramp on sacred ground.
It all adds up -- .400 is going down. I'm sure of it.
In fact, I'm so sure, that even as a lifelong Dodger fan, I'll make this promise:
If it doesn't happen, I'll attend the last series of the season, three games between the Dodgers and Giants in L.A., wearing black and orange face paint, a San Francisco cap, and a Barry Bonds jersey.
You have my word. And if you happen to be in L.A. that weekend, you can come have your picture taken with me.
Late returns
Notes from last night's games ...
... Can't wait to see Eddie Perez and Sean Casey settle things down the road. I'm hoping for a pillow fight in the weight room, or maybe a tightrope showdown with some of those big foam-ended poles you see at a carnival. I'd come early for that. I think we all would.
... Reggie Sanders hit a ball so far up and over the railroad tracks in Houston he couldn't help but smile just a little as he rounded first. It wasn't a showy thing, he wasn't mocking pitcher Tim Redding, he was just grinning like, "Well I'll be damned."
... Freak stat: Tim Hudson hit three batters in the first seven innings. He hit 10 in 240 innings last year.
... Hey Peavy, home runs with the bases empty are worth precisely one run.
... Erubiel Durazo looks lost in the early going. His head and his butt are flying out of the box like clay pigeons coming out of traps. The A's are run-hungry, and figure to be, and so far Durazo's managed just one extra-base hit, 0 home runs, and 0 RBI.
... Ladies and Gentlemen, give it up one time for Mister Dave Hansen.
NOTES FROM ERIC'S SCORECARD
MEMO
To: My old friend, Danny, diehard Orioles fan
From: Eric

Dear Danny,

Enjoy it while you can.

To: Me and my Dodgers
From: Danny

Dear E,

Right back at ya.

HALL OF FAMER?
Last week, you said Yea to Mike Mussina. Now what say you to Craig Biggio, who Bill James says "has the best 'little stats' of any player in baseball history," and who I say has batting helmet muck that is nothing if not legendary?
THE OVER/UNDER

On games until the Phillies go Mutiny on the Bowa: 10
On days Mike Schmidt will last as Bowa's replacement: 22
On days after his firing until Bowa announces a bareknuckle prize fight at a roadhouse outside Allentown with Tyler Houston: 1
On games until Carlos Tosca goes looking for work in Toronto: 8
On people outside the team and the Tosca family who when surveyed said they knew he had the Jays job in the first place: 11
BUY UP
Stock in Sean Burroughs. One, he's just 23. Two, he hit four straight balls to the opposite field the other night against the Giants like he was dealing cards at Binion's. And three, I once saw him do the same kind of thing at Class A Fort Wayne, and I had a feeling about him then, and I've still got that feeling now.

SELL OFF
Your shares of Jeff Weaver. The it-was-just-the-bright-lights-of-New-York-City theory is taking on water and sinking fast.

BRIAN GILES ALL-STAR


A spot reserved for unheralded greatness

Scott Rolen, 3B, St. Louis Cardinals

Over eight full seasons, a .283/.374/.514 hitter. When is a guy this good unheralded? Only when he plays alongside Albert Pujols. (Oh yeah, Rolen is hitting .387 with eight HRs.)

HELTON: CLOSE CALL
Two Todd Helton nicknames led the pack last week. Todd "Joe Dirt" Helton got 16.1 percent of the vote, and Todd "Highway To" Helton got 15.3 percent.

Thomas Jefferson said "it is the people to whom all authority belongs," and democratic principles dictate that we go with "Joe Dirt," but I gotta say, I'm wary of the name. It strikes me as too fleeting. What if he cuts the mullet? What if David Spade's career passes from cultural memory? Wait, that's already happened. See? Shouldn't we make an exception and go with the second-place pick? After all, rhymes are evergreen and you know AC/DC will live forever. Speaking of which, maybe we should just call him Angus Helton ...

HEY BATTER BATTER SUUU-WEEEEEENEY
Meanwhile, your Mike Sweeney poll is to the right, featuring references to Kansas City's great bar-b-q tradition, Mike's faith, Sweeney Todd, a T.S. Eliot poem, and more.

This week: Adam Dunn awaits your wit and wisdom. He ain't waiting on much else, though. The kid is a monster. In fact, he inspires thoughts of a new Scorecard Note ...

ENVY
After Bonds, who's the one player you most wish played for your team right now? Take into account what your team needs, what you'd be willing to give up to get him, what the other team needs, and don't be obvious. In other words, sure we'd all want Albert Pujols. But that's not creative.

I'm jonesing for Dunn in Dodger Blue right now, and I'd be willing to part with top pitching prospect Greg Miller to get him. What about you? Play a little GM with me by clicking here.

MY GUYS
Brewer Ben Sheets, obviously inspired by the vote of confidence received in these here pages, went out and kicked some Diamondback butt Tuesday. (I suppose Diamondbacks, as found in the wilds of the Arizona desert don't actually have butts, but Elmer Dessens has one, and rest assured, it was kicked every which way by young Ben Sheets Tuesday night.) So he's at 3-0 so far, with a tidy 3.10 ERA. But those aren't my favorite numbers. My favorite numbers are 20 K's and just 3 walks. Yeah, Baby. Go Brewers!

As for mon Expo, Nick Johnson, well, Nick's still feeling a twinge in the back so he hasn't actually played yet. No sweat, Nick. Hang tough. Do the exercises. We'll be thinking about you.

MUST SEES
If you can't be in Pittsburgh Saturday night for Chuck Tanner Figurine giveaway night, uh, I believe the Sox and Yanks are playing again this weekend, so you might want to tune in for that.

Of course, if the thought of one more Beantown v. Gotham highlight makes you wanna hurl, check out the A's and Angels or Giants and Dodgers instead. Highlights include Vlad Guerrero going after Barry Zito's bender like De Niro's Capone taking aim at heads around the table, and maybe ... oh, please, God, let it be true: Bonds-Gagne II.

THOSE WERE THE DAYS
On the off chance the Tigers' renaissance thing doesn't work out as the season wears on, this guy has just the ticket for Detroit faithful: a daily Web log recounting the games of the Tigers' 1984 championship season. It's not just nostalgia, it's a day-by-day reliving of the good times, a long, warm bath in the waters of glory.
Eric Neel is a regular columnist for Page 2. His "On Baseball" column will appear weekly during the baseball season.