By Eric Neel
Page 2
AUBURN HILLS, Mich. -- It's 2-1 Pistons now, and the 100 different reasons for it all boil down to this: Detroit's got soul.
I know my Jr. Walker and the All-Stars, and I can lip-synch along with the Supremes, so I knew this. But last night in The Palace, it wasn't a thing I knew, it was a thing I could feel, from the floorboards to the rafters and everywhere in between.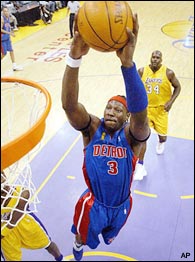 Shaq? Kobe? Forget it. Ben Wallace owns the paint.
The joint was jumping from the get. The crowd came early and they were loud long before the tip. By the time Anita Baker was plumbing the depths and scaling the heights of the National Anthem, hopping up and down like a young James Brown on the "Home of the brave" line, they were apoplectic.
In L.A., the fans, even the famous ones, are appreciative, and they get riled right on cue. But in Detroit, things are of a different order. In Detroit, they seem to sing and shout out of some fundamental, gut-bucket need. They make noise like they were born to it, like it's the full expression of who and where they are.
The din is unbelievable. It's percussive. Even if you're sitting still on press row, it accelerates your heart rate and the rhythm of your breathing.
Everything's different in an environment like this. Everything's heart and hunger in a room like this. Pretty and polish, professionalism and poise -- they're beside the point. It's all Brando aching for Stella in "On The Waterfront" and Rocky shouting for Adrian after the first fight with Apollo.
It's out-there, naked, free-form, full of individual want and collective desire.
It can be ugly and ragged, but it's got soul, baby. It's super-bad.
And the Pistons are the perfect basketball expression of it.
Larry Brown tells reporters he feels for Kobe and Karl. He speaks openly about his admiration and love for his players. He gets red-faced from anger and affection in equal measure. He runs the huddle like he's in a foxhole. He's not cagey or magisterial. He's not giving lectures or striking a philosophical pose. He's not acting cool or indifferent. He's coaching. He's being a coach.
Soul.
Ben Wallace's 'do and his arms-and-the-man patrol of the key?
NBA FINALS ON ABC
Game 1 : Pistons 87, Lakers 75
Game 2 : Lakers 99, Pistons 91 (OT)
Game 3 : Pistons 88, Lakers 68
Game 4 : Pistons 88, Lakers 80
Game 5: (Tuesday, June 15): 8:30 p.m. ET
Game 6: (Thursday, June 17 if nec.): 8:30 p.m. ET
Game 7: (Sunday, June 20 if nec.): 8:30 p.m. ET
Soul.
Rip's mask and the way he throws his lanky frame into traffic?
The way Rasheed bounces onto the court like he's stepping off the Mothership and Bootsy's backing him up?
Soul.
And you know it's in Tayshaun, in the boney way he gets up in Kobe's grill, sprints to the spot and holds his ground. Again and again and again and again.
And it's in Billups, too, when he withstands Kobe's pressure and somehow repeatedly finds room to breathe and to shoot.
Hell, it's the essence of the whole Detroit team, if you think about it. Look at these guys: They're cast-offs, they're players other teams didn't want or gave up on. "Trouble-makers," "under-achievers," 'tweeners, and guys who never quite developed somewhere else. And now they're a band of brothers who rally to and for each other from tip-off to final buzzer.
That's some sweet, hard-won harmony right there.
The Lakers have soul, too. Malone is laying it all out there. Kobe draws on deep reserves, to be sure. But their heart is a fractured thing. You can see it during timeouts. They don't huddle. They barely speak. Phil stands at a distance. Even in the most crucial moments of a game, the players seem disconnected.
They were no match for the deep-down way the Pistons got after it Thursday night. And that doesn't figure to change between now and the end of the series. Six days ago, most people outside of Detroit thought there was no way they could contain Devean and the Hall of Famers. Now it seems impossible that the Lakers will be able to stand up to the soul tide rolling through this series.
The Pistons killed on second-chance points (16-3) last night. They owned the offensive glass (15-7).
Those are the will numbers, the heart numbers, the numbers that inspire and feed off the frenzy of the fans.
It's a cliche to say the team that wants it more will win, but there are times when clichés are the truth, Ruth. And right now, the difference in this series is that the Pistons are scrambling and jumping on D, busting it in transition, boxing out, shouting out, and generally playing, as LT once said, "like a pack of wild dogs."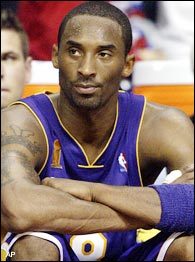 Two more games like this and Kobe will be looking for a new address.
They go on long shooting droughts (the second quarter of Game 3 was a harrowing 4-of-15) and they make bad decisions that stir the bile in Larry's belly from time to time -- ill-advised alley-oops from Billups to Ben, bounce passes from Hunter into traffic that ricochet off ankles and knees, and so on. But they never sit and they never settle.
Not ever.
I'm a big fan of the West Coast game, of the dazzling runs of the Mavs and the smooth cuts and passes of the Kings. For months now, I've been telling anyone who'd listen that theirs was the essence of the game and that the Eastern style was a sluggish, rim-rattling travesty by comparison.
But last night, listening to a horn ensemble called the Sun Messengers breaking down "Bustin' Loose" alongside The Palace floor, watching skinny little kids and fat old ladies, black, white, and brown, dance with abandon in red-white-and-blue Afro wigs, feeling the noise, and seeing the Piston players shake, rattle, and roll, I realized I've been wrong.
Their edges are never as smooth as a Kobe J, and their punch is never as powerful as a Shaq dunk. But this team shares the ball. They work the pick-and-roll. They play as one. They do what Brown calls "playing the game right," not because they're perfect but because they're perfectly committed.
Like someone once said about jazz, and like I'm saying here and now about the soulful show the players and the patrons put on here in Auburn Hills, "it's not beautiful, but it is."
And this team from the East, this team that's beating up on the team I've spent a lifetime loving ... I gotta say, they're a joy to watch.
Eric Neel is a regular columnist for Page 2. He will file daily from the NBA Finals, and his "On Baseball" column appears weekly during the baseball season.