By Eric Neel
Page 2
AUBURN HILLS, Mich. -- Defense is a mother.
Defense hurts.
There's no glory in it. There's no rest. There's no air in your lungs and there are all kinds of burn in your legs.
Defense measures you, from scrambling feet to searching eyes to beating heart. It takes all you have and asks for more, and it won't reward you until you're spent, and sometimes not even then.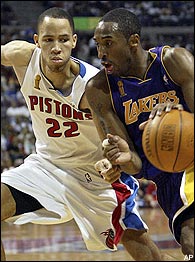 Feet moving, eyes on the ball, Prince's D on Kobe has been a thing of beauty.
You want to play defense -- I mean really play it -- then you have to make like the old-time saints, maintaining faith and be willing to sacrifice and endure anything and everything with nothing but the promise, the hope, of deliverance.
Scoring says what you can do. Shutting the other team down, closing lanes, contesting passes and shots, and letting them know, by the way you breathe up into them and stare right through them, that you're in it for the long haul ... that says who you are.
The Pistons are defenders. First, last, and always.
"We don't give nobody the night off," Ben Wallace says.
In fact, they come so strong and so consistently it's easy to take their D for granted.
But don't. Respect it. Admire it. Wonder when you watch it whether you would be capable of the same. Ask yourself whether you've ever worked at anything as hard as they're working the defensive end of the floor right now.
Notice Tayshaun Prince moving his feet to stay in front of the greatest scoring guard in the league, not just for a tough stretch, not just for a game, but for four of them.
Take a look at Ben Wallace last night, bellying up to Shaq on every pass into the post, even when he knows he's not going to stop him seven times out of 10.
Watch players come off the bench in waves in Game 4 -- Mike James, Corliss Williamson, Lindsay Hunter -- all of them looking to run and willing to jump. Count the number of times you see their hands in the air and their bodies on the floor.
See Rasheed slap the ball out of Shaq's hands and into James'. See James run. See James turn defense into offense with a layup for two of the Pistons' 21 fastbreak points.
And understand that this is a rare thing. This intense defense, without frills and without interruption, and with all kinds of blood, sweat, and tears.
There's no lip service to D here. This is the genuine article.
Where does it come from?
You get this when a team is young and the guys have fuel to burn. You get it when a team is hungry and proud. The players yearn for the glory and validation that come with four W's and the NBA championship trophy. You get it when players play together. Not alongside each other. Not in synch with each other. Together, like brothers in arms.
Most of all, you get it when a coach has a philosophy and guys play for their coach.
The shorthand about the Pistons is that Larry Brown teams share the ball and play tough defense. The long version is that these things are a commitment played out minute by minute and night after night. And for that, for the show this team is putting on, for the way they're turning Kobe into a frustrated 8-for-25 gunner and everybody else but Shaq into an afterthought, you've got to have a coach guys will give it up for.
Larry Brown is that kind of coach.
"He does a great job of preparing us," Prince says. "We're in great shape, physically and mentally, because of what he asks of us every day all season long."
"There's only one way to do it," Rip Hamilton says. "And that's go hard, and coach stresses that, and we all know that."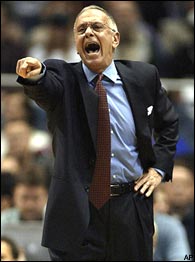 Larry Brown should be given credit for doing more with less.
Joe Dumars brought Brown to Detroit because he felt the players, already a winning team, needed to be pushed one step further. In the modern-day NBA, when you're talking about players who were already winning (remember the Pistons won 50 each of the last two years under Rick Carlisle), that's a tall order.
Brown made it work, but not just through fire and brimstone, though Larry's got plenty of that. ("He rides us hard sometimes," Chauncey Billups says.)
It was respect. The man came to town with an NCAA title, an Olympic gold medal, an appearance in the '01 Finals, and a whole truck full of rebuilding cred.
"They had to respect what he said," Dumars said. "He could drive them and be demanding, but they had to respect the man who was asking so much of them, and with Larry they did that without question."
Billups needed to shift his game from scoring guard to point. Rasheed Wallace needed to straighten up and fly right. Rip Hamilton had to evolve from shooter to all-around player. Ben Wallace had to be willing to work on his shot. And everybody had to sell themselves to the D.
"It's tough to come out of your comfort zone," Dumars says. "We all live in a box in this world. We are who we are for the most part, and to have somebody come in and say, 'I want you to do, and to be, something different and I want you to do it in front of 20 thousand people every night,' that's not easy, man."
The players believed and trusted in Brown. His pedigree told them he knew things they didn't know. When he called them out, made them run harder and more than they wanted to, made them surrender some of what they already did well, they ignored the voices of habit and ego in their heads and listened.
But the man patrolling the gym and the sidelines gave as good he got. He listened.
"He didn't just come in and change everything," Ben Wallace says. "He asked for our input, and asked if we felt comfortable with some of what he wanted to run. Any time you have a coach asking you what you think and what you want to do, it makes it easy for you to go out there and do your thing."
"He respects us as players and as men," Corliss Williamson says.
He also gives them a model to follow. He's single-minded, the way defense demands.
The man doesn't open his mouth without talking about "playing the game the right way," and there isn't a minute he isn't thinking about developing and refining his team's style and execution.
Between Games 3 and 4, knowing full well he's not going to use Darko, Brown still spends time at practice working on the rookie on his post pivots and his handling of the entry pass.
"Good, Darko! Nice job," he says, skipping a quick, low bounce pass into the big rookie.
"He loves teaching," his brother and Pistons assistant coach Herb Brown says. "It's part of his mission in life to be the best coach he can possibly be. And he'll never stop. He'd have to be comatose to give it up."
Listen to that and now listen again to Ben Wallace: "We don't give nobody the night off."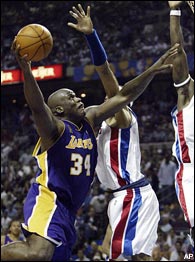 The Pistons defense is long, athletic and everywhere.
The last element is heart. Brown wears his on his sleeve.
"He's hard on Chauncey, let's say," says Herb. "But he's also the first one to give him a hug and tell him he cares about him."
Even in the midst of the NBA Finals, with the whole enchilada on the line, and his lifelong dream at stake, Brown ends practices with a shooting game between the backcourt and frontcourt players (First group to 25 from beyond the arc wins), just to keep things loose, just to remind them that the game is fun before it's anything else.
And in the press room Sunday night, after his guys defended the Lakers back into the womb, all Brown wanted to talk about was his feeling for his team. He wanted everyone to know how proud he is of his guys. He wanted everyone to appreciate them the way he does.
Coaching is teaching and teaching is a kind of leadership, but it's also a kind of empathy. Brown imagines this title run through his players' eyes. He thinks about what it will be like for Billups, Rip, and the Wallaces to taste the fruit of their labors. He's feeling them.
The players rally to that. They defend for him.
Well, for LB, and a good look at that trophy.
One more night like Game 4 and they'll be able to D it up close, no sweat.
Eric Neel is a regular columnist for Page 2. He will file daily from the NBA Finals, and his "On Baseball" column appears weekly during the baseball season.