By Eric Neel
Page 2
If you had to win one game, tonight, who would you choose? If the fate of the free world, if a date with Keira Knightley, hung in the balance and you could hand the ball to any one starter on any team and say, "All right, Hoss, go get 'em" ... who would be your guy?
Assume no one's on the DL, but in every other way (including past experience, erosion of skills, emerging potential, and makeup) the pool of candidates looks exactly as it does today.
Assume relievers, even ones with names like Eric, Mariano, and K-Rod, are out of bounds.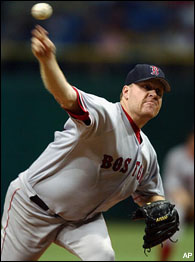 Curt Schilling has no fear, not even of the Curse of the Bambino.
And remember that Greg Maddux and Mike Mussina are aging, Orel Hershiser has retired, and "Big Game" Livan Hernandez is lugging around a World Series ERA of 7.91 after the debacle in 2002.
If you're thinking you need an extra bat in the lineup, maybe you go with Mike Hampton. But not on the hill. On the hill, you have to look at these guys:
Curt Schilling, Boston Red Sox
The armor: The numbers this year are strong (10-4, 3.24 ERA, 5/1 KK/BB ratio), as usual. Throw in some bonus points for a guy who wanted to be part of the New York-Boston rivalry on the Sox side, because he liked the fans' hungry hearts and because he wanted to make history. And remember that he comes with a 1.61 postseason ERA, including three cast-his-bust-in-bronze complete games in 2001. You can't put a price tag on his bring-it. You can't go wrong giving him the ball.
The chinks in the armor: Maybe that he's 37, though it's a good bet he and Randy Johnson use the same shaman-blended anti-aging cream. The one other number that could worry you is his Ks-per-nine rate, which is down about two compared to each of the last three years.
Roger Clemens, Houston Astros
The armor: In a little over two months, he's going to be 42. Forget that he's 10-2 with a 2.73 ERA as we speak. Forget that he strikes out better than nine batters per nine. Forget that he throws the ball in the 90s. Forget his scowl, his home-with-my-boys calm, and his pedigree. He's almost forty-freakin-two years old. Just imagine what it's like for a lineup full of 20-something hitters to stand in and get their lunch handed to them by Granpappy Clemens. He's so deep in hitters' heads right now that teams are hiring post-traumatic stress clinicians just to try to convince their kids to take swings in the on-deck circle again.
The chink in the armor: One shouting fit in Oakland, long about October of 1990, and one wild night of pin-the-bat-on-Piazza in NYC a few years back. He keeps it under wraps most nights, but there is a tick-tick-tick factor with The Raj, and, you know, fate of the free world ... whatever. But you'd hate for it to go boom on the night you send him out there to win the date with Keira.
Pedro Martinez, Boston Red Sox
The armor: He's the Jimmy V of pitchers. He won't give up. He won't ever give up. His HOF game is Game 5 in the Division Series against Cleveland in 1999: 6 innings, 0 hits, 3 walks, and 8 strikeouts on half an arm and a every bit of an oversized heart. Add to that some stuff that squiggles in and out of the zone like the line on an Etch-A-Sketch, an ability to change speeds and arm angles the way Tommy Smothers works a yo-yo, and a willingness -- nay, a proclivity -- to throw up, in, and at guys, and you have the makings of a winner. (By the way, you think it worries George just a little that the Sox have two guys on a list like this and his best shots are a Mike Mussina who doesn't exist any more and a healthy Kevin Brown ... which is to say a Kevin Brown who doesn't exist any more, either? God I hope so.)
The chink in the armor: There have been nights this season when he's looked like the Pedro of old. But there have also been nights when he's looked more like an older, more ornery, Kyle Lohse. The wheels are coming off.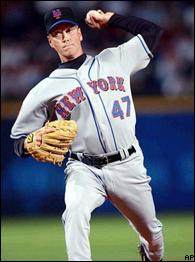 If Michelangelo was a pitcher, he'd be Tom Glavine.
Tom Glavine, New York Mets
The armor: A year ago, he's nowhere near this list. A year ago, he's a lefty Josh Fogg. A year ago, he's on the scrap heap of history and a QuesTec machine is dancing a jig on his deflated chest. But as Emilio Estévez and Jason Marquis know so well, that was then and this is now. He's 85th in the majors in run support right now and he's still managed seven wins. A 2.11 ERA will do that for you. We tend to think of guys with heat as the big-gamers, but Glavine's icy cool and nibbling on the black has been good for 258 career wins, plus a dozen more in the postseason. And remember, even without an obvious "out" pitch, the man notched two wins while giving up only four hits and two earned runs in the 1995 Series. So you can check the boxes marked crafty, wily, and smart next to his name.
The chinks in the armor: One, 1995 was a long, long time ago. (How long? Let's just say that in 1995, Michael Jackson had a song in the top 10 and Bill Clinton had a chance to be remembered for something other than sex. Long time.) Two, Tommy works too close to the edge. He's too likely to start handing out singles like they're flyers for a rave. Like any good southpaw, he can frustrate the hell out of the other fighter, disrupt his rhythm and come at him from weird angles. But he can also get peppered on points, and be left standing in the center of the ring with bruises and welts all over his face.
Randy Johnson, Arizona Diamondbacks
The armor: The play-in game for the Mariners in '95, the clinching relief appearance against the Yankees, Game 6 and Game 7 against the Yankees in 2001, a 20-strikeout night, a perfect game earlier this year. He's got big-game notches up and down his belt. The fastball, the side-arm delivery, the height, the 4,000 Ks, the five Cys, the history of complete-game rides and high pitch-counts that never seem to make him sweat, and a slider so wicked it makes Wolfgang Hoppe green with envy. He's got all the weapons. And at 40, his deal with the devil seems to be binding for at least another year (9-6, 3.04 ERA, .188 opponents' batting average).
The chink in the armor: I don't know. The mullet? The fact that you'd have to put the Diamondbacks' defense behind him? The fact that he doesn't field too well himself? The law of averages?
Those are the old lions.
What about the young guns?
What about ...
Ryan Franklin, Seattle Mariners
Just kidding. That's just a little something I threw in for Kevin Jackson and David Schoenfield, my editors -- both of whom are very big, and currently very, very sad, Mariners fans.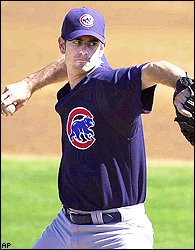 Mark Prior's a safe bet ... if Steve Bartman isn't in the stands.
Mark Prior, Chicago Cubs
The armor: Sometimes, you roll out the numbers to talk about a pitcher. Sometimes, you paint a word picture. Sometimes, you recount anecdotes and describe situations. Sometimes, you say the combination of stuff and location he brings seems impossible and impossibly beautiful, like a Zen koan. And sometimes, you just say what my friend Andy said to me after he came home from Wrigley one day last summer: "You got to see this guy."
The chink in the armor: The fact that he's young and relatively inexperienced should worry me, but it doesn't. The fact that he pitches for the Cubs and so might come with a bit of whammy attached to him should worry me, but it doesn't. The Achilles? That worries me a little; but only because, kind of like Treach, I'm nervous by nature.
Jason Schmidt, San Francisco Giants
The armor: Right this minute, he's the best pitcher in baseball: 10-2, 2.43 ERA, two one-hitters before July 1, speed to burn, and more and more guile all the time.
The chink in the armor: When I say right this minute, I mean right this minute. The threat of the DL hangs around him like Myra Fleener hovering over Jimmy Chitwood, always threatening to ruin the fun.
Ben Sheets, Milwaukee Brewers
The armor: Every once in a while, a pitcher is born fully-formed, like Athena sprung from Zeus' head, like the first season of "Cheers" sprung from the minds of Glen and Les Charles, like Mark Prior or Doc Gooden come out of nowhere. More often, though, a pitcher comes into his own gradually, goes through some early struggles, makes some small-but-telling improvements, and then, bam, arrives.
That's how it was with The Big Unit, and that's how it is now with Big Ben. He gets no run support, so his won-loss record is no great shakes. But the peripheral numbers tell the story, like Mason told Garland, like Kristofferson told Streisand, of a star being born. His 0.89 WHIP (Walks+Hits divided by innings pitched) is second in the Bigs only behind the Unit. He's striking guys out, he's showing great command, and he's shrugging off the fact that he's pitching for the Brewers. Give him a chance to pitch in a game that really matters and he's going to be eager to please and ready to roll.
Chink in the armor: ... And that may be the biggest problem with him. The last game he pitched that really mattered was for Tommy Lasorda and Team USA four years back. If he were to be given the ball tonight, he might be too hungry. He might let one go and knock one of those running brats clean on its derriere.
Josh Beckett, Florida Marlins
The armor: Carl Pavano and Brad Penny are posting better numbers right now. But any 23-year-old who stares down pinstripes and Pettitte in a clincher and goes the whole nine in the process, makes the list.
The chink in the armor: Before late last summer, he was promising, but not spectacular; and since then, he's been solid, but not brilliant. Is he the second coming or is he Pervis Ellison? You have to ask.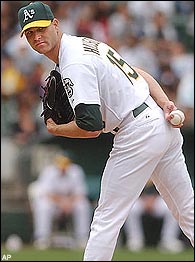 Tim Hudson has a career 3.30 ERA in six seasons in the majors.
Tim Hudson, Oakland A's
The armor: One of the best pitchers in baseball the last four years, posting ERA numbers of 4.14, 3.37, 2.98, and 2.70 in Oakland's postseason streak. Zito's curve is prettier. Mulder's slashing scythe of a delivery is smoother, and his numbers this year are a little better. But Hudson is the grunting, pumping heart of the Oakland engine, and there's a class-action suit pending on behalf of hitters throughout the AL who argue that his splitter is cruel and unusual.
The chink in the armor: Just this: 37 hits in 34 postseason innings and a 1-2 record in seven playoff starts. It's a cliché, but until he does it in October the way he does it in June ...
So who gets the call?
Cast your vote in the poll to the right.
For me, if we're sure I can't just stretch the game out so I can have Gagne go an inning a night for nine nights, it goes like this:
Schmidt is in the conversation.
I believe in the roll and the hot hand. More than that, I believe in a man whose fastball-slider combination is making old men cry like babies and young men consider the golden parachute.
But good as Schmidt is right now, I'd take Schilling and Prior ahead of him, with maybe a slight edge to Schill because Prior is still in the last stages of comeback mode. (Ask me again in August and my guess is that Prior will have the edge.) Schilling's determination and focus are Jordanesque. Prior's mechanics are so clean and his demeanor is so cool he's like a CG representation of perfect pitching. You watch him and you can hear the guy in the lab coat in your ear saying, "We've combined the skills of the greatest pitchers in all the world to arrive at this simulation. This is not a real pitcher, of course. There could be no such pitcher. This is pitching."
Give me either of these guys and I'd feel great. I'd be thinking up ice-breakers and humming lines from "Top Hat, White Tie, and Tails." Give me either of these guys and I couldn't imagine feeling better.
Unless you gave me RJ.
Maybe it's because I'm nearing 40 now myself. Maybe I think experience counts for more than I used to. Maybe I've just come to think of him as an unstoppable freak of nature. I don't know.
There's no way I ought to be going with an old man on this. But Johnson and Clemens, these guys are redefining what old is. Old is some other guy. It ain't Roger and it sure ain't Randy.
And if we take old out of the equation, Johnson has no real flaws.
Experience? Check.
Velocity? Yup.
"Out" pitch? Affirmative.
Pitching well as we speak? Yes, Sir.
That wacky left-handed heat thing that makes hitters fear and respect him? Indeed.
Give me the old man. For one night and then some.
Eric Neel is a regular columnist for Page 2. His "On Baseball" column will appear weekly during the baseball season.