By Eric Neel
Page 2
Remember buying something at Toys R Us with your allowance money? You wanted the 12-inch GI Joe action figure with the Kung Fu grip because your pal Johnny had one. But Johnny's dad was an investment broker and his mommy was a lawyer and money was nothing to them.
When you got to the store it turned out Joe was pricey and you didn't have the coin to bring him home. So you settled for those little hard-plastic commandos with the thin parachutes attached to their backs, the ones you'd throw from the garage roof and then watch while they floated into the grass below. The little guys weren't as exciting as Joe, maybe, but they were fun enough, and you could afford them. After a while you came to love them like they were every bit as cool as the fancy Joe, and Johnny didn't have nothing on you.
This is an all-star team full of those commandos, guys on the bottom shelf, good players on the cheap, the best team that allowance money can buy. The rule is everybody under a million (which, you know, passes for cheap these days).
Catcher: Victor Martinez, Cleveland Indians; $304,500
Pudge is the spendy pick, and he's worthy enough, but Victor, who's currently fifth in All-Star voting, is a steal. The numbers: .304/.373/.540, 11 HRs, 57 RBI, and 24 doubles. Read that again. 24 doubles. For a catcher. He's young, he's a switch-hitter, he's on the team.
Backup: Johnny Estrada, Atlanta Braves; $312,500
First Base: Lyle Overbay, Milwaukee Brewers; $326,000
Lyle hits doubles just falling out of bed. He's shown good plate discipline, and surprising power this year. The Diamondbacks gave up on him and shipped him in the Sexson deal. Now Sexson's sitting and Overbay's rounding second, again and again. The numbers: .331/.396/.541, 9 HRs, 56 RBI and a league-leading 30 doubles.
Backup: Travis Hafner, Cleveland Indians; $316,300. (I know he's mainly a DH, but the price is right, so I'm putting him at first on the All-Allowance Team.)
Second Base: Juan Uribe, Chicago White Sox; $350,000
They got him for his glove -- he's terrific all over the infield (45 games at second, nine at third, and 17 at short) -- but his bat's been a pleasant surprise so far this year. The numbers: .291/.346/.507, 11 HRs, 35 RBI, and only 24 years old.
Backup: He's hurt right now, but Marcus Giles, Atlanta Braves, is a bargain at $430,000.
Third Base: Hank Blalock, Texas Rangers; $550,000
If he can figure out how to hit lefties (he's improving some this year), Hank's due for a big, big raise and will someday be courted by deep-pocketed suitors from coast to coast. While he's still cheap and still a Ranger, he's our Allowance All-Star third baseman. The numbers: .313/.377/.597, 21 HRs, 57 RBI, and 52 runs.
The backup: Chone Figgins, Anaheim Angels; $320,000 ... as if your name being spelled "Chone" wasn't already good enough.
Shortstop: Michael Young, Texas Rangers; $450,000
If you'd been looking, you might have seen him coming last year, but you would have to have been looking. This year he's been impossible to ignore, raising his rate in home runs, walks, and RBI, and, oh by the way, changing his position and filling the shoes of a certain departed Hall of Famer. The numbers: .326/.365/.496, 10 HRs, 46 RBI, and 110 hits.
Backup: Bobby Crosby, Oakland Athletics; $300,000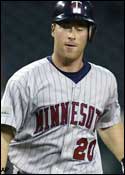 Lew Ford has the Twins smiling for many reasons.
Left Field: Lew Ford, Minnesota Twins; $300,000
He got called up when Torii Hunter went down and they couldn't get him out of the lineup. Everybody likes his game and everybody loves saying "Leeeeeewwwww." The numbers: .319/.384/.493, 9 HRs, 39 RBI, and 9 SB.
Backup: Carl Crawford, Tampa Bay Devil Rays; $320,000
Center Field: Scott Podsednik, Milwaukee Brewers; $400,000
The "D" is silent. Everything else is pretty loud. The numbers: .260/.341/.418, 9 HRs, 26 RBI, 50 runs, and 31 stolen bases.
Backup: Vernon Wells, Toronto Blue Jays; $870,000
Right Field: Miguel Cabrera, Florida Marlins; $320,000
I'm going to keep this simple. He's 21 years old, he has 19 home runs, and he comes to the park for $1975 a night. Mark it a bargain. Make him an All-Star. (By the way, he's currently 10th in the real All-Star balloting. What the heck?)
Backup: Jody Gerut, Cleveland Indians; $325,600. The Indians and Rangers are getting a lot for their money in the field these days. Now, if they can only find some arms ...
Starting Pitcher: Carlos Zambrano, Chicago Cubs; $450,000

In a year when the northsiders have lost Prior and Wood for long stretches, Zambrano's been an anchor. The numbers: 8-3, 2.56 ERA, 8.38 K/9, and a batting average against of .221.
Backup: Nate Robertson, Detroit Tigers; $305,000
Relief Pitcher: Francisco Rodriguez, Anaheim Angels; $375,000
There was a hiccup early last season, but he's basically been the same unhittable pitcher you saw in the 2002 Series week in and week out. If anything, he's actually more confident than he was then. The numbers: 1.06 ERA, 0.87 WHIP, .171 batting average against, and a legion of hitters lining up to say the kid should be banned from the league for violating the laws of physics.
Backup: How about Akinori Otsuka, San Diego Padres; $700,000?
Seeing Red
I upset some people in St. Louis last week. Actually, by the looks of my email in-box, I upset all the people in St. Louis last week. I said I didn't think the Cards would win the NL Central. For the polite Cardinals fans this meant I was an unqualified idiot. For the not-so-civil members of Redbird Nation, this meant I should shrivel up and die, but not before committing unspeakable acts with my dog, my mother, and, I'm afraid, myself. As always, thanks for the feedback. It's great to hear from you.
Anyway, buried in these niceties was the consistent argument that the Cards pitching staff, which I questioned, was second in the league in quality starts. Good point, and true enough. I missed that number and I should have caught it. Still, if I'm a Cardinals fan, I'm worried about the ERA numbers of Woody Williams (4.35) and Matt Morris (4.30), and I'm concerned about Jason Marquis' seven wins coming with the help of 6.31 runs of support a game, and Morris' eight wins riding on the back of 6.20. I'm psyched that Chris Carpenter and Jeff Suppan are exceeding expectations so far, but I can't seem to shake the feeling that they are, after all, Chris Carpenter and Jeff Suppan, and that there's a chance that maybe they'll revert to form some time in the next 80-odd games.
And while Scott Rolen's season has been amazing, and the team has suffered very few injuries, if I'm a Cardinals fan, it bothers me just a little to think that it's all added up to only a 3-game lead over the Cubs, who've been without Wood, Prior, and Sosa for much of the way so far. Rolen, great as he is, has never been a .342 hitter (he's hitting 56 points and slugging 103 points above his career averages right now), and the team is going to have to face some significant injuries at some point, isn't it? If they do, and if the Cubs or the Astros are still lurking, aren't they in trouble? I think they are. But, as anyone on the streets of St. Louis will tell you, I'm an idiot. So you can't really go by me.
MEMO
To: Terry Ryan
From: Kenny Williams

Your move, Bub.

JUST ASKING
I know he loves Randy and all, but shouldn't Colangelo be taking any and all calls from teams with young talent and a shot at their division races? Teams like Cleveland, Texas, maybe Anaheim, or San Diego? And while we're on the topic, shouldn't Theo be making a run at reuniting RJ with Curt?
GOOD LEFTOVERS
Adrian Beltre, hitting .328 with 19 big ones, sits fifth in the All-Star balloting for NL third basemen right now. Rolen's going to be the starter, and you can figure Aramis Ramirez or maybe Mike Lowell as reserves. The Dodgers' rep will certainly be Gagne, and maybe Lo Duca. So my guess is Beltre will be watching from home. But don't miss what he's doing this year, and don't just chalk it up to a contract-year explosion either. The Beltrennaisance really began after last year's All-Star game, when he hit 17 HRs in his last 253 at-bats, slugging .506 and driving in 47 in the second half.
BUY UP
Stock in A's shortstop Bobby Crosby. He replaced Miguel Tejada, and at the beginning of the season, he looked overmatched, especially at the plate. But he's coming around now: April = .200/.269/.383, May = .261/.313/.455, and June = .343/.398/.556. His 10 errors aren't so hot, but finding himself at the plate may make everything easier as the season goes along.

SELL OFF
Your shares in Toronto's DH Josh Phelps. It's hard to say what exactly has happened between what looked like a bust-out 2002 at age 24 and what looks like a splat-on-his-face fall from grace in the two years since.

JUST ASKING, PART II
How does Morgan Ensberg go from hitting 25 home runs last year to 0, that's right, 0, or as my high school chemistry teacher Mr. Schafer used to say, "Zeeeeeeeeeero," blasts so far this year? And while we're at it, how does he end up ahead of Lowell and Beltre in the All-Star balloting?
THE IMPALER STRIKES FEAR IN THE HEARTS OF MEN
By an overwhelming margin, and with a record number of votes (even with all those Cardinals fans abstaining out of disdain for the author of the column), Vlad is officially The Impaler. Call him that, call him Vladi Dadi, call him the AL MVP.

This week's vote is for Derrek Lee. Poll to the right.

And then, you tell me. We need some nickname ideas for the smokin'-hot Jason Schmidt. Also, who should we put up for a vote the week after that? Send your nicknames for Jason and nominees for the next guy here.

YANKEE HATER NUMBERS
Everyone is talking like this Yanks-Sox race is settled, but it's only July 1, folks. And if you hate the Yanks the way Jim Caple does and love the Red Sox as much as Bill Simmons does you'll want to hold onto these numbers: The Yankees have scored 415 runs through Wednesday, the Red Sox have scored 409; The Yankees have given up 357 runs, the Red Sox have allowed 358. Yes, there's a 7.5-game gap in the standings, but the gap rests on only seven runs difference in terms of performance. This thing is tight. The difference now is a little luck, and a little better job by the Red Sox of driving in runners in scoring position. Luck could decide to take a dance with Boston any time, and the gap in the standings could close right back up.
Eric Neel is a regular columnist for Page 2. His "On Baseball" column appears weekly.