By Eric Neel
Page 2
It's late last Wednesday night and you're Kobe Bryant.
Behind Door No. 1 is an offer from the Lakers for $136 million. Behind Door No. 2 is an offer from the Clippers for $106 million.
The Lakers are coming apart at the seams. The Clippers are a team on the rise. With the Lakers, you can only be measured against your past accomplishments and the past accomplishments of a storied franchise. With the Clippers, you get a fresh start and the chance to be a savior.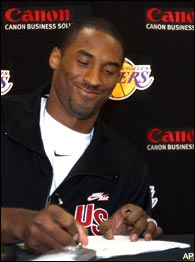 There's a reason why Kobe was smiling when he re-signed with the Lakers.
It's a tough call. You hem, you haw. You definitively make up your mind one way, and then definitively go the other way.
In the end, though, you realize there is only one possible decision: You re-up with the Lakers.
What seals it? Is it loyalty to your colors and to the only owner you've ever known? Is it the $30 million difference between the two offers? Is it the chance to prove that the Lakers were your team all along, Shaq be damned?
No.
It is just this one thing: We're talking about the Clippers. In other words, what the hell are we talking about?
You do not play for the Clippers. Not by choice. Not ever. They are the damned. They carry the virus of doom. You can sympathize with them, but you cannot save them. If you get too close, they will ruin you, even if you're Kobe Bryant, sure Hall of Famer.
Neither Kobe nor anyone else is a match for the Clippers curse, for the pure badness, for the mountains of stupidity and oceans of misfortune that surround them. The Clippers thing is too big, the roots are too deep.
Here now, a reminder of the painful details:
Like so many stories of suffering, this one begins in Buffalo. In the fall of 1977, the Buffalo Braves (who would later become the San Diego Clippers), trade George Johnson to the Nets for Tiny Archibald. It's a good deal on paper; but in real life, Tiny tears his Achilles in training camp. The Braves go 27-55, and the curse is born.
June, 1978: Celtics owner Irv Levin, in perhaps the greatest brain fart since the Red Sox agreed to sell the Babe for 19K and a song-and-dance show, swaps his franchise, otherwise known as the greatest team in NBA history, for Buffalo owner John Y. Brown's franchise, otherwise known as a team that wished Bob McAdoo was still around. (Seven players also change squads in the deal, but the rights to Larry Bird stay with Brown and the Celtics.) Then Levin moves his new team to San Diego, CA, and changes their name from the stout, fearsome "Braves" to the whispy, inanimate "Clippers." (Seriously, how is this not among the top five dumbest moves in professional sports history? Where are the HBO specials on this? Can somebody get Ben Affleck on the horn?)
The trade for Bill Walton. Walton was on crutches when the deal went down in the summer of 1979. His feet had actually been removed from his body and were lying on a table in a cold, steely operating room at the Oregon Health Sciences University. As his hands were signing his name to a multi-year deal to come home to San Diego, his peds were being declared dead by a team of the country's finest orthopedic surgeons. Walton played 169 games over four years with the Clips, averaging 12.5 ppg and 9.1 rpg. Nice numbers for a guy with no feet. Nice numbers, if you're a role player. Not so nice, though, if the team gave up Kermit Washington, Randy Smith, Kevin Kunnert, cash, and future draft picks for you.
The trade of World (nee Lloyd) B. Free to Golden State for Phil Smith before the start of the 1980-81 season. This, and the concurrent firing of Gene Shue (who, despite some very glossy, black-ice hair, could coach a little), showed that Levin wasn't content to sit back and let bad luck ruin his team. He wanted to get some of the credit for its demise himself. All Free had done the year before was score 30.2 ppg. So you can see why the team had to unload him for mid-level talent like Phil Smith.
The Donald before "The Donald." That's "Mr. Sterling" to you, boys and girls. The man who never met a salary dump he didn't like bought the team on June 16, 1981. To this day, the date is actually blacked out on calendars in San Diego and Los Angeles. Children get the day off from school to contemplate the evil of Sterling and the suffering of Clippers players throughout history. It's kind of like a Passover thing.
The trade of Tom Chambers and the trade of Byron Scott. Chambers, who had averaged 17 points and almost seven rebounds a game in his first two seasons, was a comer. Scott was a highly-regarded point out of ASU. In Chambers, the Sonics (and later the Suns) got a consistent All-Star. In Scott, the Lakers got a key cog to the NBA Title Machine. The Clips, meanwhile, got James Donaldson and Norm Nixon.
Pack up your troubles in an old kit bag. Maybe they had to move. After all, they were only drawing about 3,000 a night in San Diego. But don't take them to L.A. The angels in the city of angels were already spoken for when Sterling hauled the Clippers into Los Angeles in 1984. Way spoken for. So, instead of coming to rest in a town where they might actually get some love, the Clippers signed up for years of obscurity and pity. Throw in the fact that Sterling sent Terry Cummings, Ricky Pierce and Craig Hodges to the Milwaukee Bucks for Marques Johnson, Junior Bridgeman, Harvey Catchings, Whistler's Mother, The Old Man and the Sea, and some cash, and you have the makings of a joke. The Clippers were instantly an L.A. punch line and an afterthought, and every player who's ever put on the uniform has known it from the get-go.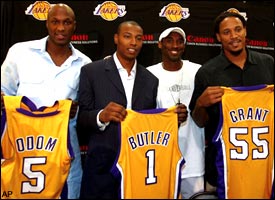 One of Kobe's new teammates, Lamar Odom, is one of many former Clippers who's found more success elsewhere.
And speaking of uniforms, there is reason to doubt that the organization will ever be able to outrun the bad hoodoo associated with their first team colors: sky blue, burnt orange, and white. When you dress your boys in J. Crew colors, you're asking for trouble. Twenty-six-years-and-counting worth of trouble.
Just for kicks, a list of players the Clippers have had over the years who've gone on to be good or very good for other teams, beginning with the Big Redhead himself. Bill Walton, World Free, Tom Chambers, Terry Cummings, Byron Scott, Michael Cage, Hersey Hawkins, Ron Harper, Antonio McDyess, Lorenzen Wright, Rodney Rogers, Lamar Odom, Derek Anderson, Troy Hudson, Brent Barry, and Darius Miles.
Just for a kick in the gut, a list of players the Clippers could have drafted but passed on over the years, from 2003 on back: T.J. Ford, Josh Howard, Luke Walton, Amare Stoudemire, Caron Butler, Tayshaun Prince, Carlos Boozer, Pau Gasol, Jason Richardson, Richard Jefferson, Tony Parker, Shawn Marion, Ron Artest, Andrei Kirilenko, Mike Bibby, Vince Carter, Dirk Nowitzki, Paul Pierce, Kobe Bryant, Steve Nash, Peja Stojakovic, Jermaine O'Neal, Rasheed Wallace, Kevin Garnett, Eddie Jones, Jalen Rose, Latrell Sprewell, Sean Elliott, Glen Rice, Shawn Kemp, Vlade Divac, Scottie Pippen, Kevin Johnson, Xavier McDaniel, Chris Mullin, Detlef Schrempf, Joe Dumars, A.C. Green, John Stockton, Dominique Wilkins (who they actually eventually got, long after it mattered), Rolando Blackman, Larry Nance, and the immortal Kiki Vandeweghe.
Wasted currency. Since 1980, the Clippers have had 33 first-round picks in the NBA draft. Twice, they have had the No. 1 pick.

In 1988, they took Danny Manning. Moments later, the basketball gods took Manning's knee far, far away. Bad luck. In 1998, they took Michael Olowokandi, who was last seen trying to avoid Kevin Garnett's fierce, step-it-up stare. Bad judgment.

In 1985, after trading Walton to Boston for the No. 3 pick in the draft, they selected Benoit Benjamin from Creighton University. And I say again, where are the HBO specials on this? Can somebody get Ben Affleck on the horn?

In 1987, stocked with three, count 'em, three first-round picks, the Clippers took Reggie Williams, Joe Wolf, and Ken Norman. That's the guys-who-look-decent-in-college-but-their-games-will-never-translate trifecta, for chrissakes. You could have my little girl swing blindfolded at a piņata and get more candy than that. Scottie Pippen, Kenny Smith, and Kevin Johnson were up for grabs in that draft. How do you not get one of those three by accident?
The dumping of Michael Cage. Cage was one of those guys -- like Larry Smith, Otis Thorpe, A.C. Green and Dennis Rodman -- that good teams always have. A grinder, a glass-cleaner. He kept the ball in the Clippers' end of the floor, and he asked for no glory or credit in doing so. He just busted his butt.

On the last day of the 1987-88 season, needing 30 boards to win the league rebounding title over Charles Oakley, he went out and got 30 boards. Sterling and GM Elgin Baylor rewarded him by shipping his hardworking butt out of town to Seattle for Gary Grant, who pulled down about three rebounds a game, two of them by accident.
The Ferry slapdown. With what looked like another boneheaded pick, the Clippers selected Dukie Danny Ferry with the No. 2 pick in the 1989 draft. When it happened, Ferry, who is officially too small, too slow, and too soft to play in the league, should have been jumping up and down at his good fortune. But instead, he pulled an Elway, refused to play for the Clippers, and skipped off to Italy. (Like Kobe 15 years later, he knew there was no righting the ship.)

Baylor managed to trade Ferry's rights and Reggie Williams to Cleveland for Ron Harper. At last, a good player and a good move. Cue the fates ... In January, 1990, Harper's knee goes Kellen Winslow and another Clippers season goes in the tank.

And in a still-crueler twist of fate, Ferry returns to the Cavs the next season and manages, against all reasonable expectations, to have a long and effective NBA career, every start of which is a slap in the faces of Sterling, Baylor and Clippers fans (all 17 of them) everywhere.
Larry Brown gets a better offer. You want to know the best measure of how great a coach Brown is? Don't look at his Kansas job. Ignore the Olympics. Forget what happened in Detroit last month. The single most powerful bit of testimony on his behalf, the one thing he'll tell St. Peter at the gates to coaching heaven, is this: Larry Brown led the Clippers to the playoffs two years in a row in the early 1990s. And that team even had Stanley Roberts and John Williams, the Hardy and Hardy of frontcourt pairs, in the starting lineup one of those years. I know. Crazy. But true. And then he leaves over the summer of 1993, and Clippers' order was restored with a 27-55 record the following year.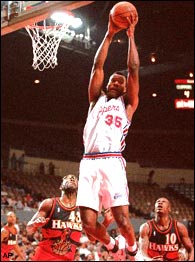 Loy Vaught was a workhorse for the Clippers -- before his back gave out.
Loy Vaught's back gives out. Vaught is, and this isn't even a debate, the greatest player in Clippers history. That's a dubious honor, but Vaught's play wasn't dubious; it was heroic. He scored 15 a night and pulled down 10, hit over half his shots, played hard, played hurt, played strong and quiet like being a Clipper actually meant something. (And when he was on the floor, it kind of did.) In the 1996-97 season, Vaught was the leader on a team that made the playoffs (albeit with a losing record). At the start of the next season, with hard work and hope in the air, Loy's back went sproing! He was never the same. The Clippers, on the other hand, were exactly the same, going 17-65 in 1997-98.

All right, I'm going to stop there.

I'm not going to talk about the fact that they drafted Elmore Spencer, Lancaster Gordon, and Bo Kimble over the years.

And I won't mention the fact that the hits keep coming, that the Clippers took Chris Wilcox and Melvin Ely the same night Cleveland took Carlos Boozer in 2002. I won't. And I won't say that when you start getting trumped by Cleveland on draft night, you ought to start thinking about contraction.

And to wrap things up, I won't say that the move to Staples Center, while it gave them more money and a chance to hold on to some talent for the first time in their history, is still an ugly-kid-sister move. They play every home game now in a room nobody but nobody thinks of as his own.

I'll just say this: Kobe might have hesitated, but there was never any choice.

The Clippers are the Love Canal of the NBA. Toxic. Tragic.

You don't move into that neighborhood. You drive right on by and shake your head.

Eric Neel is a regular columnist for Page 2. His "On Baseball" column appears weekly.