By Eric Neel
Page 2
My friends Kevin and Ted and I are at the Angels-Red Sox game in Anaheim the other night and a video tribute to Rod Carew comes on the big screen in center field.
"Look at that stance," I say. "I miss that stance. I miss the bat rocking in his hands the way a buoy dances in the water. He's barely holding on to the thing. Nobody has a stance like that. That's one of the great stances."
"Who else is on that list?" Kevin asks. "We're talking stance, we're talking anything before the swing. Who are your all-timers?"
A column is born.
Give me Stan Musial, with his hands apart, and his back to the pitcher, looking like the bat was a secret, like it was a bouquet of flowers he'd brought home to surprise his girl.
Give me Joe Morgan's flapping wing.
Give me ... Rickey Henderson, down low, with his hips swung back and his left leg stretched forward, like he wasn't hitting so much as assuming a yoga pose.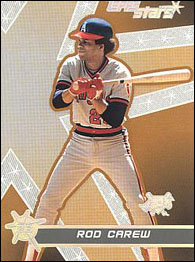 Carew finished with a .328 career average and 3,053 hits.
Ichiro, and his divining rod of a bat, seeking vibrations in the air and sensing holes in the defense.
The way Reggie pushed his helmet down, the way it seemed to say, "Otherwise, I'm afraid my head might fly clean off my shoulders on this next swing."
That little thing Matt Williams did, that sheepish nose wipe on his sleeve.
Sheffield and the metronome waggle.
Sadaharu Oh making like the Karate Kid standing on a pylon in the bay.
Brian Downing, looking like a high-speed collision of Christopher Reeve and Naim Süleymanoglu ... in Erik Estrada's shades, of course. Brian Downing doing a modified Al Simmons, with his front foot in a deep 'ol bucket, and a modified Leo Mazzone rock back and forth in the box.
The Babe, standing upright, with his caboose rattling in the back.
Photo Gallery:
Strangest Batting Stances
We've selected 14 of the most unique batting stances of all time. Take a look and then vote for your favorite oddball pre-hitting ritual.
And I'll take Steve Garvey, too, just because it was so stiff, such a goof, so much like he's hoping, should Chad Everett back out, that maybe the folks at the San Diego Civic Light Opera will call him to play the lead in their upcoming production of "Casey at the Bat."
And I'll take Reggie Smith reaching for the sky.
And ...
Julio Franco, with his knees bent, bending the bat straight over his head so the pitcher can see the cue tip.
Jeff Bagwell, the crotchety old man sitting on the steps of the stoop, complaining about the heat, and scowling at those damn kids splashing around in the fire hydrant across the street.
Stargell's swivel.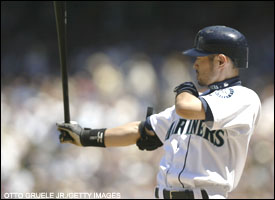 The Zen Master of hitting.
Bobby Tolan making like Lady Liberty.
And Nomar working out his obsessive compulsive issues in front of god and everybody.
My old LBC friend Matt says I can't forget the way "Bobby Bonds kinda leaned over forward a bit, hands tucked into his waist with the 40-ounce bat pointing to the upper deck down on the first-base side, doing tight little circles sans batting gloves while cocking his head -- a 'You Have No Idea How Strong My Wrists Are' move."
He's right.
Bill James and Rob Neyer remember a guy named Frank Cipriano, who played just 13 games for the Kansas City A's in the early 1960s, and who dangled the bat way down over his shoulder, parallel to his back, like it was an arrow in a quiver.
Loyal reader Scott Ross, a big-time Red Sox man, says this list isn't complete without Yaz, "standing with his hands so high he almost cut a straight line in the batter's box."
And our baseball editor, Scott Ridge, loves the hole Willie Horton dug in the back of the box and the evil glare he shot out toward the mound, like he was saying, "I dare you."
I love Willie, too.
And I also love Tony Batista, whose right side is here to hit and whose left side is late for dinner.
And though I have little love for the man, I do dig Pete Rose's bunker-mentality crouch.
Which brings me to my last stance: George Brett's Lau lean. You know the way a slingshot looks, poised to launch a stone into your neighbor's window? That's Brett.
And that's my list.
I'm sure I'm forgetting some, and I'm even more sure there are some great ones I just don't know about.
So now it's your turn. Send me your nominees, and if you would, include a 25-word description of what makes them cool.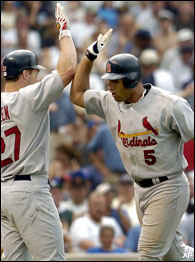 Albert Pujols and Scott Rolen celebrate their stunning win over the Cubs.
I am wrong
The night I got married my friend Fred took me aside for some words of advice. "Listen," he said. "There are going to be times when you are absolutely certain you are right. There are going to be times when you believe, deep down in your heart, that she's wrong. But I swear to you, if you never listen to another thing I say, listen to this: You are wrong. She is right. And you are wrong. Say it. Say it right now. Say, 'I am wrong. I am very wrong.' Remember what I say. There will be nights where it will be your only shot at redemption. It will save your marriage. It will save your life."
I thought about what Fred said when I was watching the Cardinals dismantle the Cubs at Wrigley Tuesday afternoon, rallying from that 8-2 deficit. I saw Albert Pujols yank so many pitches over the wall I thought I was watching a tape loop, and I thought, Fred was right. So I'm going to say it right now. I am wrong. I am wrong to have doubted the Cardinals. I am wrong, very wrong, to have thought the Cubs could hang with this team. I am wrong, very, very wrong to have said that Houston even belonged in the same conversation with this team.
The Cardinals are right. Right as rain. Right as a rail, riding straight through to the playoffs.
And you want to know where I'll be on the Cardinals from here on out? Right in front of the television, saying "I am wrong," over and over and over again, like a mantra, like a desperate plea for forgiveness.
* * * * *

NOTES FROM ERIC'S SCORECARD
HALL OF FAMER
Last week, given the choice between Pudge and Piazza, the majority of you took Pudge. I'd have gone the other way, and I'll have more to say about that vote in the weeks to come.

In the meantime, let's make it another knife-to-the-throat choice. If you can only let either Sammy Sosa or Ken Griffey Jr. in the doors, who do you choose?

ON THE WEB
The only thing better than a truly devoted fan is a truly devoted fan who can write.

Check out Batgirl (www.bat-girl.com):

"Two days ago, Grant Balfour walked the bases loaded in the tenth, knocking five years off Ron Gardenhire's life and causing Batgirl to commit attempted hari kari with a bamboo skewer. (She didn't have anything sharper at the time.) So when Balfour took the mound in the seventh with the game tied at 4, after a typically spastic performance from Kyle "Has Anyone Seen My Xanax?" Lohse, we did not know what to expect-beyond the fact that no Tiger hitter would actually make contact with the ball, for better or for worse."

She's both.

ON THE BOOKSHELF
Basketball is over, football isn't here yet, and hockey is gone forever. Now is the time for baseball and nothing but baseball. Now is the time to pour over statistics, get in heated debates, quiz your friends about the career home run totals for Jonestown, Mississippi native "Luscious" Luke Easter and Blackstone, Massachusetts homeboy John David "Goose" Easton. (The answers are 93 and 0, by the way).

All of which is to say, it's time to get yourself a copy of the new, fresh-for--04 "Total Baseball." It's a massive, beautiful beast of a book (weighing in at roughly the same weight as Cecil Fielder circa 1990). The pages are smooth, like a good Bible; there are terrific color photos, including a poignant one of Roy Campenella in the crouch and a wacky one of Tom Seaver in a beret; every year since 1871 is encapsulated with a tight little essay of highs and lows, and every year since 1901 has an essay and a page full of standings, leaderboards, and notable moments; and all that is before you get around to reading the master John Thorn on the enduring appeal of baseball or our own Rob Neyer on the greatness of the 1939 Yanks.

And all that is before you get around to wasting 37 consecutive hours flipping through the player register. I'm telling you, it's good fun. If you can lift it, you should own it, and you should go off in a corner with it somewhere and think a spell on Luke Easter's three good years and John Easton's three short at-bats.

BLACK-AND-ORANGE FACE PAINT UPDATE
Overall, it's been a good month (.447/.651/.842) for me and Barry. (Though I should say, he's done most of the work ...) He's hitting .362 now, and I'm almost, not quite but almost, letting myself believe I'll be sitting at Dodger Stadium on the last weekend of the season with a clean face and an L.A. jersey on.

Thanks, by the way, to those of you who've offered a ticket to games in that series. I'll be in touch ...

THROWBACK
According to 25.8 percent of the 15,139 of you who voted last week, Alfonso Soriano shall now be known as "The Fonz."

I'm torn on this one. On the one hand, this seems goofy and obvious, and, to be honest, I thought it was the one name on last week's list that didn't have a shot. On the other hand, you know, it's maybe a nod from one cool cat to another, and maybe it would inspire one of those old Nike posters (remember George Gervin sitting on blocks of ice? Remember Doc Gooden throwing a flaming ball?). We could have Soriano in a leather jacket leaning on a car outside Arnold's. That would be cool. That I'd be down with.

This week, we mix it up a bit with a look back at the nicknames we've assigned so far this season. Vote for your favorite. The low score gets a do-over.

And for next week, please send suggestions for Twins ace Johan Santana (11 runs allowed, 84 K's last eight starts).
Eric Neel is a regular columnist for Page 2. His "On Baseball" column appears weekly.