By Eric Neel
Page 2
So Randy Johnson wants to be a Yankee ...
He says NO to the Dodgers, NO to the Angels, NO to anyone but the Bombers.
That's weak. That's just a whorish glory grab. Why not go to work for Microsoft while you're at it? Why not jump in with Goliath and teach little David a lesson? Why not join the armada for a storm of the Falklands?
Don't talk to me about the ring. He's got one. Don't talk to me about the trophy. He's got something more valuable.
He's got a rep. He's a Yankee-killer. It's late October, 2001, and the Dynasty Boys are coming to town, and there's the Unit, looking like Yojimbo, standing tall, cutting down one pinstriped hitter after another. Remember the numbers?
Game 2: Complete-game shutout, nine innings, 11 strikeouts, one walk.
Game 6: Seven innings, seven strikeouts, two runs, two walks.
Game 7: One-and-a-third innings, one strikeout, and the win.
The D-Backs won four games in the Series. RJ won three of them.
Take it further back. Take it back to early October, 1995, and the AL Division Series between the Yankees and Mariners. He wins two games in the series, including the clincher -- a three-inning, one-hit, six-strikeout relief stint matched only by Orel Hershiser's Superman routine in 1988.
Up to that point, the Mariners are a no-account bunch of pluggers, with only Gaylord Perry's 300th win in their baseball history scrapbooks. The Unit makes them legit. And he takes down the legendary Yankees in doing it.
Because of those two series, Johnson is a folk hero. Because he pitched for Arizona and Seattle, and because he didn't pitch for New York, he's a folk hero. He's Buford Pusser, he's Robin Hood, he's Spider-Man, he's a man of and for the people.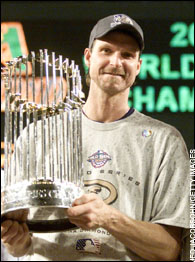 Back in the day, Randy was beloved after knocking off the Yankees.
We love his stringy hair and his weathered face. We love the slider that dives like a swallow and pops like an M-80. But most of all, we love his willingness to be the man against The Man. He takes the flight to Gotham ... hell, just the fact that he wants to take the flight to Gotham ... and he ruins all that. He throws his rep down the drain for a shot at another ring -- a ring that, even if he gets it, will look Cracker-Jacky on his finger. And why does he need it? This isn't Gary Payton and Karl Malone. This isn't Ray Bourque. This is a made guy.
The guy has won a World Series. He's been on division winners. He's got five Cys, he's a first-ballot Hall of Famer and he's arguably one of the top five left-handed pitchers of all time.
What more could he want?
And if he wanted more, I'll tell you how he could have had more. He could have added to his legend this fall. He could have played William Wallace to Steinbrenner's King Edward the First.
Can't you just see him, lifting the Angels up and knocking the Yankees down? Maybe a little Dodger Blue, turning the tide on the ghosts of '77 and '78?
(And yeah, I'm a Dodgers guy, but it doesn't have to be the Dodgers. I'm not talking about a rooting thing, I'm talking about a legacy thing. The Cardinals, the Red Sox, the Padres ... it would be good to see him do it for any team, any team but the Yankees.)
Or what if he'd said, "Yeah, these are lean times, but the Diamondbacks are my team, and this is where I want to be." What if he'd stayed with the ship, honored his contract, stuck by his word? He plays one of those parts and we're not just putting him in the Hall when it's all said and done. We're putting his mug on Rushmore. We're talking about a solid-gold dollar coin known simply as The Big Unit rolling off the line at the Franklin Mint. But no. That's not how Randy sees himself. He'd apparently rather wear pinstripes. Well, you better look again, RJ, because you look cheap in them.
* * * * *

NOTES FROM ERIC'S SCORECARD
MEMO
To: The Minnesota Twins

From: Cooler Heads

Aren't you going after the wrong Benson?

JUST ASKING
After Steve Stone, has anyone ever made more of a reputation out of one season's worth of good pitching than Esteban Loaiza? The guy makes Mark Buehrle look like an ace.

RARE AIR
Aaron Gleeman over at The Hardball Times (who always has good stuff) reminds us that Greg Maddux's 300th win will be a very big deal. A much bigger deal, in fact, than any hitter getting to 3,000 hits or 500 home runs. "In the case of the number 300, it is no longer effective in identifying great pitchers -- it is good at identifying extraordinary pitchers," Gleeman writes.

The big-number hitting clubs have taken on new members at about twice the rate of the sacred pitching club in the last 40 years. Since 1990, 10 hitters have reached the 3,000 milestone and six have made the 500-homer mark; but only Nolan Ryan, Clemens, and soon Maddux have hit 300 wins. (Check out the full piece here.)

RAISE A GLASS
The D-Rays let Fred McGriff go, again, this week. It was time. It was, in fact, way past time. But take a moment tonight to remember that high, sweet tennis swing, coming through the zone like he was Poncho Gonzalez, whipping balls like they were made of rubber and felt. And while you're at it, try hard to forget Tom Emanski's Defensive Drills video.

KEEP A GOOD THOUGHT
For Jason Giambi.

HALL OF FAME?
Griffey Jr. nearly doubled up Sammy in last week's round of HOF Survivor. This week, there's only room for either Jeff Bagwell or Gary Sheffield. Who comes in out of the rain, and who is left out in the cold? Vote here

BRIAN GILES ALL-STAR


A spot reserved for unheralded greatness

J.D. Drew, RF, Atlanta Braves

He's come full circle, from can't-miss phenom to washout to bring-home-the-bacon performer.

Everybody's crediting Schuerholz and Cox (and my friend Joe at Baseball Prospectus suspects the Devil has a hand in it), but the Braves' run at the playoffs has a whole lot to do with math, J.D. Drew math, where .308/.425/.610 = 1.5 games up.

LIKE NEIL DIAMOND SANG, HOLY, HOLY ...
Jason "Holy" Schmidt is the winner of our nickname winners bracket for the first half. Vlad "The Impaler" Guererro finished a close second. And sadly, inexplicably, Garret "Lunchbox" Anderson wasn't even in the running.

All right, now we begin anew, with Twins lefty Johan Santana who is, dealing like the guy in the puffy sleeves in Vegas, easy and ruthless -- .095 opponents average allowed in July. The nominees are in the poll to the right. Vote responsibly.

And for next week, drum up some names for A's third baseman Eric Chavez, by clicking here.

LYNCHPINS
If the White Sox stay in the AL Central race, they'll have Shingo Takatsu to thank for it: 37.2 innings, 20 hits, 9 walks, 27 strikeouts, .155 BAA, 1.19 ERA, and a junkball delivery so funky it comes with a horn section and a glittery cape.

And if San Diego has a shot at the NL West lead late in the year, they better give Akinori Otsuka some love: 48.1 innings, 32 hits, 16 walks, 53 strikeouts, .185 BAA, 2.23 ERA, and a cool stare usually found on statues in the park and almost never found on rookie relievers.
Eric Neel is a regular columnist for Page 2. His "On Baseball" column appears weekly.