By Eric Neel
Page 2
Jim Edmonds is a superstar. He's a highlight waiting to happen in center, with great range, and a strong arm. And at 34 years old, he's putting together maybe his best season ever at the plate, ranking in the top 10 in the National League right now in every major offensive category, including a third-best .629 slugging percentage.
If the Baseball Writers Association of America decides to give Edmonds the NL MVP award this fall, it will have made a good call.
Scott Rolen is a marvelous player having the season of his life. Perhaps the best third baseman in baseball (five errors and 264 assists through 990-plus innings so far this season), he moves with grace and economy, picking balls off the turf and out of the air like he's picking flowers, easy and with a smile on his face. And he's just as pretty with a bat in his hand, featuring a brisk, compact swing and some delicious pop that adds up to 28 doubles, 28 home runs, 104 RBI, and a 1.026 OPS that's the fifth-best in baseball today.
So if you want to say Rolen is the 2004 NL MVP, I won't complain.
But let's not misunderstand. As good as these guys are, neither one of them is Albert Pujols.
Edmonds and Rolen are stars. Pujols is a Monster.
In fact, after Barry Bonds (and until he's done, everything and everyone come "after Barry Bonds"), he's The Monster. The one and only. The baaaaad muther. The Man.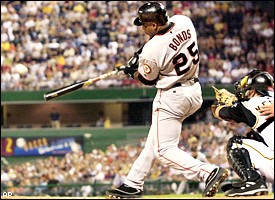 AP
Every Bonds at-bat is more of an experience than an appearance.
It's a subtle distinction -- the line between great and monstrous -- but you know it when you see it, right?
It's the difference between Keitel and DeNiro. It's the difference between Coldplay and Radiohead. It's the difference, frankly, between 'Melo and Lebron. The one is undoubtedly brilliant. The other is all that, and a bag of chips. The one is not to be missed, the other is tell-your-kids-you-saw-him-once-upon-a-time.
Williams was a monster. Mantle and Mays were monsters. So were Morgan and Schmidt, the mid-'80s Rickey, the young Darryl, and the young Junior Griffey. McGwire and Sosa had it going on. Sheffield has had his moments. And Bonds, of course, is an absolute beast.
Pujols rides with them.
At just 24 years old, and through a little more than three-and-a-half seasons, he's racked up 127 Win Shares on the strength of 151 home runs, 171 doubles, 734 hits, 474 RBI, and some fine D, first at third and now at first.
According to Lee Sinins' Runs Created Above Average (a number that measures how many more runs a player contributes to his team than an average player would, allowing for park effects and league average offensive performance), he ranks in the top 10 all-time of players through age 23. That list includes Teddy Ballgame, Mantle, Jimmie Foxx, Ty Cobb, Mel Ott and Joe Jackson, among others. (Thanks to Aaron Gleeman at The Hardball Times for this.)
So far this year, Pujols has hit 37 over the wall, driven 35 doubles into the gaps and corners, and put up a .324/.405/.651 line that, crazy as this sounds, is just about the norm for him.
Look out now, he's coming to get ya. He's doing the big green Ferrigno thing. The denim shirt is coming apart at the seams ...
You know this stuff. You're a fan of the game; you haven't been living in a cave. You know Pujols is a whale of a player. But this is the Bonds Era. These are the days of Barry and the nights of balls splashing in the Cove. It can be hard to see Albert lurking in Bonds' shadow. In another time, maybe even in the other league, the ripples in his arms and bolts in his neck would be more obvious.
But look ahead a season or two. Look past Bonds, if you can. Who defines the next era? Who is the magnetic center of the new world?
Some would say A-Rod. He's racked up 123 Win Shares in these last three-plus years (and 289 in his career so far). He has 374 career home runs, 300 doubles, 1,658 hits, and 1,061 RBI at age 29.
Getty Images
After Barry, there's Albert and everyone else.
He's brilliant. He's a Famer. The numbers are dazzling.
But is he a monster? Does he intimidate? Do you TiVo Yankee games just to watch his ABs? Is there a charge -- the pitcher's sense of dread mixed with the fans' sense of anticipation -- in the air whenever he steps in?
I don't see it. I don't feel it. Not the way I do with Pujols.
Because it isn't just a numbers thing I'm talking about.
It's the way he leans back at the plate and bobs the bat and his fists ever so slightly awaiting the pitch. It's the way his body, from shoulders to quads, seems built for mashing. It's the stare he levels at pitchers from the dugout steps. It's the fact that he sprays the ball when he has to and pulls it when he can, and is patient, and smart, and strong in the box. It's his finish, with the bat low, like it's all used up. It's his giant head and jaw line. It's the sense I get (and I don't know any other way to talk about this than to talk about a feeling) that he could do serious damage at any moment, that I could see something unprecedented, something that would make me laugh out loud and shake my head, something I'd struggle to describe. It's the fact that he's still so young, and that there's still so much more to come from him.
It must have been like this watching Brando when "On the Waterfront" was first released.
I remember it was like this listening to the early Prince, when every beat he laid down was a funky, muscular trip to some far-off place you already knew by heart.
No matter how much you got of it, you wanted more.
That's the way it is with monsters, with guys full of power and potential, with guys who seem larger than life.
I once wrote of Bonds that he "appears in complete control of each at-bat," and that "I fully expect him to get a hit, and not just a hit, but a rip" every time up. I'd say the same thing about Pujols.
After Bonds, he's the one guy I can think of who feels ominous at the plate.
After Bonds, he's the player most likely to stagger me.
After Bonds, comes Albert.
And after Albert, comes everybody else.
* * * * *

NOTES FROM ERIC'S SCORECARD -- NL Wild Card Race Edition
CORNERSTONES
The Cubs are one game back in the wild-card hunt because Zambrano, Clement, and (since the All-Star break) Maddux have come through when Prior and Wood have been down and out. But when you tell the story of the '04 Cubs, don't overlook the contributions of Derrek Lee and Aramis Ramirez, who've had Sammy's back all year long.

SPEAKING OF SAMMY
The next guy who boos him ought to be thrown headfirst out onto the outfield grass, like an unwanted out-of-towner's home run ball.

SAD TO SEE
... Rod Beck go.
GLAD TO SEE
... Khalil Greene with nine home runs and 47 walks.
MEMO
To: The Baseball Gods
From: Jason Schmidt's groin

In the words of the immortal James Brown (who knows a thing or two about groins, if you know what I'm saying) ... "Please, Please, Please!"

GOOD NEWS, BAD NEWS
Twenty of the Giants' remaining 39 games, are against teams (the Mets, Colorado, Arizona, Milwaukee and Houston) with losing records as of today.

However, they close with nine games against Los Angeles and San Diego, including the last six of the season on the road.

BRIAN GILES ALL-STAR
A spot reserved for unheralded greatness

Jake Peavy, RHP, San Diego Padres (Nominated by reader Jason R. in San Diego)

9-3, with a 2.08 ERA, a 1.21 WHIP, and a .239 average against at this moment.

He's under the minimum number of innings pitched, so he doesn't qualify for the ERA title at this point. But if he stays healthy and effective (his August ERA is 0.95), he might be right up there with Sheets and Schmidt when we start talking Cy.

BLOGGING
Best bits from the faithful ... none of whom are especially optimistic right about now.

At Only Baseball Matters: "Since the Giants and Brian Sabean decided to re-sign Reuter and trade Russ Ortiz, the performance of the two pitchers has been markedly different. While Reuter can barely get pitchers out (tonight, the opposing pitcher, John Patterson, coming in at 1 for 20, has a run-scoring single right up the middle), Ortiz was just awarded the NL pitcher of the month for July:

Ortiz: 13-6 156 IP 145 H 60 ER 116 SO 81 BB .687 OPS against
Reuter: 6-9 136 IP 173 H 78 ER 43 SO 49 BB .841 OPS against

At Cub Reporter: "It's a good thing that I have the Olympics and its Yurchenkos entries, straddled Shaposhnikovas, and double-twisting Khorkinas to distract me. The Eastern Europeans aren't the only ones to have sporting maneuvers named after them; the Cubs are quickly catching up.

A Sammy Swinging Release
A baseball swing that is so hard and violent it threatens to create a small windstorm; occasional contact can result in long home runs, but the usual result is a humbling walk back to the dugout.

A Twisting Farnsworth
When you throw your flattened-out heater to the plate and have to twist around to watch the resulting fly ball clear the outfield fence.

A Diving Grudciaparralek
When a middle infielder shows off his "range" by hitting the dirt in a vain effort to snag a weak dribbler through the infield."

And, my favorite, at Petco Padres after Monday night's loss: "Being a Padre fan is like having a nest full of hornets in your shorts. The buzzing feels kind of all right for a while, you might even enjoy it for a bit. But then the stinging sets in and you realize how painful it really is and you just want it to stop with all of your might."

PREDICTION
Tom Pappas will win the Olympic decathlon.
Eric Neel is a regular columnist for Page 2. His "On Baseball" column appears weekly.