By Eric Neel
Page 2
It's begun. The anybody-but-Barry campaigns have been launched. People are starting to talk about Adrian Beltre as the National League MVP. And they're putting forward Scott Rolen, as well. (In a poll on ESPN.com Wednesday, Beltre led all vote-getters with over 40 percent of the 12,000+ votes cast, and in another one conducted by ESPNews Monday night, Rolen was the leader of the pack.)
It's crazy talk. It's pretzel logic. It's Shannon Stewart time.
(I know I said in last week's column that Rolen and Jim Edmonds were viable MVP candidates, but upon reflection those lines look like inexplicable brain farts to me, tales told by an idiot. Did I write them? Were there monkeys with typewriters involved? I literally don't know what happened. Did someone slip me a mickey? I have vague recollections of swirling lights, bright colors and Bruce Dern standing over me, talking through a wicked-bad mustache. And I keep humming Jefferson Airplane tunes. Could these things have played some part?)
There is one and only one candidate in the NL MVP race: He plays left field for the San Francisco Giants and his name is Barry Bonds.
Beltre is a house of fire these days, and he's put together a fantastic breakout season. He drives balls to the opposite field like never before, and he's been so unusually patient with the low-and-away breaking ball (a pitch that killed him in years past) that Dodger faithful secretly wonder if maybe an Invasion-of-the-Body-Snatchers sort of switcheroo went down when they weren't looking. He's cashing in his superstar potential chips, playing smart, drumming doubts out of his detractors' heads, and chasing the memory of the Duke Snider.
Tim Kurkjian on Bonds
Tim Kurkjian explains why he picks Barry Bonds as his NL MVP right now. Kurkjian
He's a force. He's a joy to watch and a great story.
But he's not the MVP.
Rolen is the heart of a modern-day Murderer's Row, the brightest star this year in the star-studded Cardinals lineup. He's having one of those near-perfect seasons, a wondrous thing, a year when every hit seems to come with runners in scoring position, and every RBI seems the difference between winning and losing.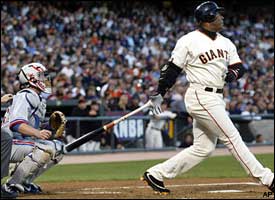 AP
With a .612 on-base percentage, Bonds is set to break his major-league record of .582, set in 2002.
He's been huge on a team heading to the playoffs. But he's not the MVP.
Barry is.
Barry is hitting .367. Barry is sitting on 181 walks and just 25 strikeouts as we speak. Barry is on base more than six times out of every 10 plate appearances (200-plus points higher than either Beltre's or Rolen's on-base percentage). Barry strikes fear in the hearts of the heartiest pitchers and sends their managers screaming into therapy and begging for Xanax. Barry's OPS is 1.425, roughly 400 points higher than Beltre and Rolen, and higher than any of his previous MVP seasons. Barry has pulled a lineup made up of old men and young lightweights within a game of the wild-card lead. Barry hits .429 when there are runners in scoring position and two outs. Barry slugs .813 (150-odd points better than Beltre and almost 200 better than Rolen). Barry maintains his focus through a season-long intentional walkfest. Barry pokes balls up and out of his pitcher-friendly home ballpark. Barry has 35 home runs, 106 hits, 101 runs scored, and 22 doubles ... in just 287 at-bats.
Read that again. Read any part of that again. And then close the book.
Give Beltre kudos. Give Rolen your admiration. But give Bonds the hardware. They are valuable (Beltre's Win Shares total projects at 36 and Rolen's at 47), and their defense is superior to Barry's, but Bonds is still the Most Valuable (with a Win Share projection of 51). They stand out (both have a Value Over Replacement total of 69.8 runs), but Bonds stands above them (with a VORP total of 113.8 runs).
This is obvious stuff. We know all this. But still, some of us talk of Beltre.
This is an overwhelming mountain of data. But still, there are those who say it should be Rolen.
How? Why?
Because we love the home run. Beltre goes on a tear we get carried away. There's a rush. We can't help ourselves. Like breathless toddlers telling stories, we exaggerate.
Because the laws of (mis)perception are in play: The Dodgers' and Cardinals' first-place perches seem to reflect bonus value on their numbers, and the chance that the Giants might not make the postseason seems to cast the value of Bonds' otherworldly line in doubt.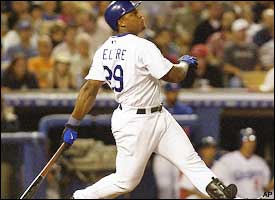 AP
Sure, Adrian is among the NL elite, but he's not an MVP yet.
Because the Beltre redemption story is feel-good stuff and the St. Louis juggernaut seems deserving of some sort of prize.
Because the Bonds case isn't built on the traditional MVP numbers -- the RBI total in particular is unspectacular (tied for 15th in the NL). It's the "new" numbers, the "Moneyball" numbers, that send him into the stratosphere.
Because walks are boring.
Because Bonds has been so good for so long, even his historic numbers seem routine.
Because going back at least as far as Twain and Mencken, we're a culture full of contrarians.
Because, in the words of the immortal contralto Peter Brady, "When it's time to change you've got to rearrange."
But Mr. Bonds is making history. Again. And no matter what you hear in the weeks to come, hold onto this straight truth: He's our 2004 MVP. Period.
* * * * *

NOTES FROM ERIC'S SCORECARD -- AL Wild Card Race Edition
SCARY NUMBER
Kenny Rogers' 2004 ERA: 4.72; Kenny Rogers' career postseason ERA: 8.85

The 15 wins are nice, but should they get to the playoffs, you know Buck will hand Kenny the ball with some mighty sweaty palms.

JUST CURIOUS
If the Angels make the postseason, do they bring back the rally monkey and the thunder stix? What if the little guy's jumped the shark? What if the stix just sound annoying? Is there a danger that the mojo was all used up in 2002? Were those elements of a budding tradition or just fads?

FOR MY MONEY
Vlad Guerrero's on the short list of most entertaining players in baseball. From helmet scrunge to old-man walk to pi~ata swing, he's got it all.

Also on the list, and in the wild-card hunt: David Ortiz, David Eckstein, Pedro, and Alfonso Soriano.

BRIAN GILES ALL-STAR
A spot reserved for unheralded greatness

Keith Foulke, RHP, Boston Red Sox

He's not really unheralded, but it's easy to lose track of him in the shadow of Sandman.

The greatness part? He's got that covered: 8.42 K/9, .199 BAA, 0.95 WHIP, and a 1.87 ERA.

If you pray for Red Sox postseason magic, you light a candle in praise of Keith.

IF THE RACE WERE SETTLED
... with a home run derby between the managers:

My money's on Mike Scioscia and his 68 career dingers.

PREDICTION
Boston eeks it out on the last weekend, and Larry Brown takes Mario Pesquera by technical knockout in six.
Eric Neel is a regular columnist for Page 2. His "On Baseball" column appears weekly.