By Eric Neel
Page 2
Attention Undecided Voters:
The hour is upon you.
No more hemming and hawing. No more flipping and flopping.
Let's run 'em down.
It's time to choose up sides. Who are you rooting for? Who gets your love for the stretch run?
It's no small thing, right? The collective hope and will of committed fans can mean the difference between a team that goes on a hot streak and one that misses the playoffs by one game. Everybody knows that. Every vote counts.
So don't rush it. And don't worry, I've got a breakdown for you.
That's right. It's time for ...
THE FIRST ANNUAL "ON BASEBALL" NATIONAL LEAGUE WILD CARD RACE VOTER'S GUIDE
Candidate: San Francisco Giants (first in wild-card standings)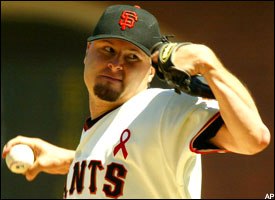 Do you want to see Cy Young contender Burl Ives in October?
Pros: If they make it, you get more Bonds at-bats, more lovely, Bacchanalian shots of McCovey Cove on TV, more of Burl Ives on the hill, more of Felipe Alou standing up for the rights of the little people in the Bonds walkathon ("People living in a capitalistic country like this, they want their money's worth," he said Sunday), the two most potent National League offenses (Giants and Cardinals) going head-to-head in the first round of the playoffs, and the pleasure of hearing national-broadcast announcers struggle with, "Now catching for A.J. Pierzynski, Yorvit Torrealba."
Cons: More unintentional intentional walks, and the very real possibility that the heart of the Cardinals order might drill Kirk Rueter and young Noah Lowry off the mound and straight into some sort of past-life regression therapy, in which Rueter discovers that he was actually once a big-eared bull sent to the slaughter at the fights in Seville, and Lowry suffers horrifying flashbacks to a moment when he was lying on the dirt with a boot on his chest and looked up to see the grizzled, unforgiving face of General William Tecumseh Sherman.
Wild Cards: Ray Durham is warming up (.364/.500/.515 so far in September), and the rubber chicken thing is bringing about a much-needed, post-rally-monkey correction back in the direction of mean-spirited mocking of the opponent.
Candidate: Chicago Cubs (half-game back)

Pros: If they make it, they come with a relatively unknown third baseman who hits a ton and deserves your love, with the tantalizing hope of turning history on its ear, and with the likelihood that such hope will be dashed (because it always is), complete with anguished fans wailing on Waveland and tortured players doing The Freddie Patek in the dugout.
Con: You just know, given the chance, that Dusty's going to ride Prior, Wood, and Zambrano in the postseason the way Slim Pickens rode the bomb in "Strangelove," hell-bent and doomed. And at some point, one of their arms is going to rip clean off, like a bloody, spurting stump straight out of Japanese anime (this is one of those cons that, depending on your disposition, might also be considered a pro). And you have to ask yourself whether you really want to be a party to this kind of thing.
Wild Cards: Moises Alou's calluses, of course, and there's also the little matter that this team is the NL half of the Dream World Series.
Candidate: Houston Astros (2 games back)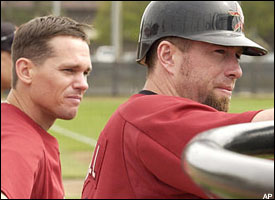 Maybe this could be the year Biggio and Bagwell finally reach the World Series.
Pros: If they make it, you've got the best comeback story since GW went from DUI to CiC, you've got Carlos Beltran continuing his hit run as the star of the Houston Civic Light Opera's adaptation of "Have Gun -- Will Travel," you've got "Win it For Hatcher" and "Remember Mike Scott" posters cropping up everywhere, you've got the prospect of a truly meaningful game being decided by that stupid hill out in center field at Minute Maid (this is one of those pros that, depending on your disposition, might also be considered a con), you've got hope of a Clemens-versus-Jeter or, better yet, Clemens-versus-Manny showdown in the World Series, and you've got maybe the last good shot for Bags and Biggs.
Con: The team is 0-7 in postseason series all time. I know this year's squad is its own squad, and I know that what happened to Enos Cabell and Jose Cruz once upon a time doesn't have any bearing on the present-day Astros. I know this. I just don't quite believe it.
Wild Card: You're either a Jeff Kent fan or a Barry Bonds fan. Kent's coming on (slugging .548 since the All-Star break), and if you're one of his guys, can you imagine anything sweeter than seeing Barry sitting sideline come early October?
Candidate: San Diego Padres (3 games back)

Pros: If they make it, we're treated to the young Jake Peavy bringing it fast and the old David Wells bringing it slow to the Cardinals' big boppers, we're treated to some Garry Templeton and Dave Winfield highlights on the big screen, and we're treated to the original Brian Giles All-Star, Mr. Been In The Storm Too Long, Mr. Brian Stephen Giles himself, playing on the national stage.
Cons: New studies suggest the Padres' sandy road uniforms and breezy team logo actually work, like Kryptonite, like pink walls in the visiting team's locker room, to sap the energy and strength of players and fans alike. So even if you wanted to root for them ...
Wild Card: A playoff appearance for the Padres means an extended run for Rubio's Fish Tacos and Randy Jones' BBQ at the ballpark in San Diego.
Candidate: Florida Marlins (3½ games back)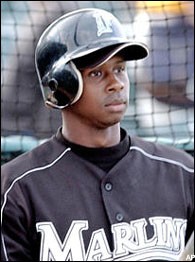 Juan Pierre and the Marlins could be a dynasty in the making.
Pros: If they make it, it means we're treated to Chapter Two in "Touched By The Gods: The Miguel Cabrera Story," it means heartwarming, little-engine-that-could dynasty talk, it means good stuff from Josh "Wake Me In September" Beckett, close-up shots of Juan Pierre and his two-sizes-too-big helmet, the chance that Armando Benitez and Jason Isringhausen could duel, late one night, like Heat Miser and Snow Miser, for all the marbles, and maybe best of all, the satisfying feeling that the Marlins once again ripped something from the clutches of Cubs fans everywhere.
Con: The postgame-celebration interviews, full of "Nobody believed in us, but we hung together, and we believed in ourselves" stuff, which will be insufferable the second time around.
Wild Card: Florida is, of course, a swing state, with a history, and if you cast your vote for the Marlins this fall, there's no telling exactly where it will end up.
All right, there it is. Now make your pick. Throw your head and heart behind one team or another. Get into it the fight. Click here to make your vote.
And if you're still waffling, here's my "On Baseball" official endorsement: You should root for the Cubs. High risk, high reward; just like a long weekend in Vegas, Baby.
* * * * *

NOTES FROM ERIC'S SCORECARD
BLACK-AND-ORANGE FACE PAINT UPDATE


Forget 700 home runs. Mix in some base hits, for cripesakes!

It's not looking good. I mean, it's looking great if you're Bonds, I guess, but if you're me, it's not looking good (.368/.609/.816) at all.

And speaking of not looking good, I've made arrangements to be at Dodger Stadium, in the right-field pavilion section on Friday night, October 1. I'll be easy to spot. Come on by and say hello.

OUT OF THE MOUTHS OF BABES
I was watching the Giants-Brewers game with my daughter T last night. She's 2. The game is new to her. But she had the following bit of wisdom for me when I said we should, "Watch Barry hit now."

"That's not Barry, Daddy. That's 'Barry Bonds.' We call him 'Barry Bonds,' Daddy."

Amen, T.

WORDS TO LIVE BY
If you haven't been keeping track of Ozzie Guillen clips in the local Chicago papers, you've been missing out.

Last Friday's postgame talk included this slice of diplomacy in regards to a conflict with Rangers manager Buck Showalter:

"When the 'best manager' in the history of baseball talks about you, that means you're on somebody's mind. And when you're beating the crap out of the best manager in baseball, and we beat the (bleep) out of them, it makes me feel a lot better."

I'm seriously thinking about collecting this stuff, like in a little prayer book or something, just to read each morning as I begin my day.

CY AMENDMENTS
Several readers wrote last week to say that my NL Cy Young poll was short a name or two. Folks thought both Carl Pavano (17-6, 3.02 ERA) and Jake Peavy (12-5, 2.26 ERA) belonged on the list. I agree. I should have included them.

Jason Schmidt won the popular vote last week, which is understandable, though his September's been a bit sketchy.

My mythical vote goes to Randy Johnson, and I don't care what his win-loss number is, I don't think it's even close.

MEA CULPA
A weblogging reader from Boston who calls himself Jose Melendez (after a one-time Mariners and Red Sox pitcher) and refers to himself (at least in e-mail) in the third person, wrote this week to complain that I had "ripped him off" by referring to Red Sox pitcher Bronson Arroyo as "Balki" (a reference to the character played by Bronson Pinchot on the long-dead ABC series "Perfect Strangers") in last week's column.

He says he got there first, referring to Bronson as "Balki Arroyo" in a May 21, 2004, posting at his site.

"What hurts Jose's feelings," Jose writes, "is that everyone except for Jose's small cadre of loyal fanatics will think you thought it up. This joke is Jose's legacy!"

My sincere apologies, Jose. Far be it for me to tramp on a man's legacy. I honestly didn't know you'd been down the Balki road before me. Still, I wish now that I had gone with the other Bronson reference I was thinking of at the time, and called him Death Wish Arroyo. My bad.

I'd also like to apologize for my reckless use of the terms "Boston," "Red Sox," "pitcher," "starts," "offense," "GM," and "Theo," any one of which you may also have used on or about May 21, 2004, or at any time since.

WHO WAS GEORGE SISLER?
Maybe the best thing about Ichiro's run for the hits record is the chance to look back at George Sisler's amazing career. My buddy Jim Caple has some good stuff on him in his "Off Base" column. Check it out.

My three favorite Sisler facts, courtesy of the you-cannot-live-without-it "Baseball: The Biographical Encyclopedia," are these:

1. He was first discovered by University of Michigan manager Branch Rickey.

2. He was a career .340 hitter, but as a rookie in 1915 he played first base and pitched, and as a pitcher, he once outdueled the great Walter Johnson, 2-1.

3. In January, 1923, a flu attack aggravated Sisler's sinuses so severely that he was left with a permanent case of double vision. He sat out the entire 1923 season, trained himself to hit the two balls crossing the plate, and managed to hit better than .300 in six of his last seven seasons.

NAME OF THE LANCE


An interesting thing happens when you eliminate the punny nickname nominees: Things get a little nasty. People start sending in mean names. They talk about a guy's weight, his scruffy face, the fact that his momma named him "Lance." It gets ugly.

But that's part of the tradition, right? A nickname is a sign of respect (you only take time out to give a guy one when his game makes him worthy of special attention), but it isn't exactly a hug or a pat on the back.

So, all right, give Lance Berkman your respect. Vote in the poll to the right.

IN HONOR OF AMBIORIX
A couple weeks back, my friend Jon and I were at a Brooklyn Cyclones game on Coney Island. The Cyclones feature a right fielder named Ambiorix Concepcion, who was once featured in a "Baseball Tonight's" "Web Gems" segment.

Ambiorix Concepcion. Is that not one of the best names in all of sports right now?

Which leads me to my next question: Who's on your 2004 All-Name team, majors or minors?

I'll take Coco Crisp. Who you got?

Make your nominations here. We'll vote next week to determine the very best of them.

BRIAN GILES ALL-STAR
A spot reserved for unheralded greatness

Aaron Rowand, CF, Chicago White Sox

In 2002 and 2003, his line against right-handers was .253/.286/.405. This season, through 264 ABs against righties, he's hitting .322/.361/.530. Hello.

And his overall numbers, through 419 total at-bats, look even better. With a .317/.369/.551 line, a Value Over Replacement total of 50.6 runs, 6 Win Shares above average at his position, and a .991 OPS since the All-Star break, like Hawk says, you gotta make this guy your "pick to click."
Eric Neel is a regular columnist for Page 2. His "On Baseball" column appears weekly.