By Eric Neel
Page 2
Late September is a special time. For some people, it's the brightly colored leaves in the trees and the crisp edge to the evening air. For others, it's candidates for public office opening up can after can of amoral whup-ass on each other in the run-up to Election Day.
For me, it's the chance to introduce the second annual Page 2 MLB All-Star team.
Now remember, just like points on "Whose Line Is It Anyway?," and awards given out by the Baseball Writers of America, this thing is decided almost entirely on whim and prejudice, without any real rhyme or reason. A guy's got to be good. Numbers count. But like judging Olympic divers, deciding on candidates for "Dream Job," and knowing the difference between good snarky (Jon Stewart) and bad snarky (Dennis Miller), it's a je ne sai qua thing in the end.

All right, let's begin.
Behind the plate: Michael Barrett, Chicago Cubs. He was once an Expo doing Dan Wilson impressions on the Montreal comedy club circuit. Now he's a Cub making like an upper-middle-class-man's Javy Lopez. Who saw this coming? This is a truly miraculous transformation. This is like Courtney Love going from rehab and a shredded gauze skirt to the Oscars and a white silk gown.
And as long as Barrett promises never to let anyone suckle his breast in public, this is good enough to make him the Page 2 All-Star catcher.
At first: Mark Teixeira, Texas Rangers. His last name was the knockout word at the 2004 Greater Arlington Area Unified School District Spelling Bee. Thirteen straight kids forgot the old rule: I before E, except after C, between T and X, and between X and R.
Anyway, he's just 24; and I'm playing this one like it's a hold-over pick on my fantasy roster. He'll be here again next year. So you'd best study up on the name, kids.
Second base: Mark Bellhorn, Boston Red Sox. I like the 'burns and I love the year coming out of the clear blue sky. If I have my way, Ruffalo, another under-rated, patient Mark with some pop, plays him in "Screw the Bambino: The Story of the 2004 Boston Red Sox."
In the hot corner: Adrian Beltre, Los Angeles Dodgers. It's not the Lemondian resurrection. It's not the gaudy numbers or the clutch hitting in August and September. It's the twinkle-toes thing he does in the batter's box when he backs off pitches out of the zone.
It reminds me of Sylvester sneaking up on Tweety Bird, only better, because when the right pitch does come, Beltre is one cat who doesn't miss. When the right pitch does come, Beltre lays the sweet spot of the bat upside the little yellow putz's head and sends feathers flying all over the room. (I'm sorry, was that out loud?)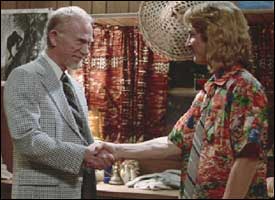 Khalil Greene talks with Dodgers bench coach Mr. Hand.
From the hole: Khalil Greene, San Diego Padres. He looks like Spicoli and moves like Ray Bolger. His name means "friend of God," and he makes diving, twisting, flipping plays that give people religion.
If this All-Star team had a media guide, he'd be on the cover.
Out in left field: I thought about going with Manny Ramirez or Jose Guillen; but to be honest, they just aren't tough enough. I considered Adam Dunn, but he lacks a certain juice.
So please, ladies and gentlemen, put your hands together -- uh, just once -- for Moises Alou, Chicago Cubs.
Roaming center: In the closest vote in the short and undistinguished history of the Page 2 MLB All-Star team, Johnny Damon, Boston Red Sox, edges Jim Edmonds, St. Louis Cardinals.
Edmonds' agent has demanded a recount (a spot on the Page 2 MLB All-Star team is tied to bonuses in his contract, of course) and is faxing over a highlight reel.
Damon was unavailable for comment as we went to press, though his agent issued the following statement: "Just look at the guy. What is there to talk about?! I mean seriously, it isn't even close."
Meanwhile, the Page 2 MLB All-Star team organizing committee (which is pretty much just me) has made it clear that a recount is out of the question, unless, of course, Edmonds' guy can arrange for members of the committee to receive all kinds of cool Jim Edmonds shwag, including a grass-stained jersey, a signed bat, and a package of game-used eye blacks, in which case they might reconsider. After all, the committee says, "above reproach" is just another way of saying, "make me an offer."
Down the line in right: This ought to be Ichiro's spot. He's got the incredible Jack-Lalane-is-my-sensei stretching routine in the on-deck circle; he's got the 47 different swings and the scampering feet; he's got a legend and a record square in his sights; and he's got it all working for a team that's gone down in flames all around him. It ought to be his spot.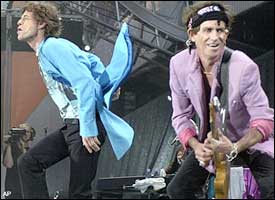 Randy Johnson and Roger Clemens jam at the post-Page 2 All-Star Awards party.
But here's the thing: The same way Beltre, Pujols, Edmonds, and Rolen are snakebit by a baseball fate that puts their great seasons up against that of "Barry Bonds -- we call him Barry Bonds, Daddy," Ichiro's sweet little Page 2 All-Star teamish package is dwarfed by The Daddy, The Vladi Daddy, whose every thing, from bow-legged walk to tar-burnished batting helmet, is a Page 2 All-Star teamish sort of thing par excellence.
Now batting, designated hitter: Travis Hafner, Cleveland Indians. I still get emotional when I think about how he got aced out by Hideki Matsui for the last spot on the American League All-Star team this summer.
The guy had the endorsement of North Dakota's governor, for crying out loud. Who else can say that? Could Matsui claim any sort of gubernatorial endorsement whatsoever? I think not.
Man, it just makes me crazy with rage that Pronk got jobbed the way he did. That's right, Pronk. Half Project, Half Donkey. That's his nickname. And that's a nickname straight out of American mythology, brothers and sisters. That's the stuff of Coover, Roth, and Twain. That's gold.
And that's before we get to the fact that this guy is maybe the best hitter in the league nobody ever talks about.
Well, they'll be talking about you now, Pronk.
Starting pitchers: One lefty, one righty, both over 40. Mick Jagger, Arizona Diamondbacks, and Keith Richards, Houston Astros.
Reliever: Armando Benitez, Florida Marlins. I was going to leave him off, because the guy turns like a three-day-old bottle of wine in the heat of October and I didn't want the pick to do the same. But the Marlins went and tanked this last week, so he's free and clear and ready to assume his title as Page 2 All-Star team reliever and guy the Yankees most wish they'd held on to in the off-season.
* * * * *

NOTES FROM ERIC'S SCORECARD
GANGBUSTERS
In May, it looked like maybe Chipper was aging and the wheels were coming off the Carlos train. But look again. Jones and Delgado have been second-half superstars, putting up lines that have one of them in the post-season and the other in the catbird seat come hot-stove time. Chipper slugged .683 in August, and .581 since the break, including 17 home runs and 54 RBI. Carlos has been even better, slugging .634, with 20 homers and 55 driven in since then.
BIG WEEKEND
The only thing more agonizing than sitting home alone in front of the TV and watching your team fritter away what's left of its slim division lead is sitting smack dab in the middle of the opposing team's ballpark, surrounded by revved-up fans who, if given the chance, will rip your heart out of your chest and grill it with onions, butter and a touch of garlic.

Of course, the only thing more fun than sitting home alone in front of the TV and watching your team stomp on the hopes of its fiercest rivals is sitting front and center in a seat at their house, surrounded by the wails and lamentations of their anguished faithful.

All of which is a long-winded way of saying I'll be at the Dodgers-Giants games in San Francisco this weekend, and I'll have stories to tell come Monday. Stay tuned.

IF IT'S GOOD ENOUGH FOR MONTY PYTHON ...
That's right, you can now call him Lumberjack Berkman, folks. He sleeps all night and he works all day.

This week's vote is an AL Cy Young thing. I thought this was done. But despite Schilling's own classy claims that Santana deserves the award, rumors keep swirling that that's not how it's going to go. So let's settle it here. Vote in the poll to the right.

And as for names, well, your response to last week's call for All-Name team nominees was so strong, we're going to do a whole thing on it Friday, complete with multiple candidates at every position and the power of the mouse-click in your hands. Check back.

TIP OF THE CAP
From me, and, more importantly, from Sandy Koufax, to Shawn Green, who's announced he'll sit out Saturday's game in observance of Yom Kippur. Conviction never goes out of style.

MEMO I
To: Yankee Bullpen
From: The Starters

Stay warm.

The team ERA is 4.66 heading into the playoffs. That's 19th in the Majors. And as for the A's and Cubs, whose starters looked rock-solid once upon a time: Can they trust their aces right now? Do you start Zambrano, instead of Prior or Wood, in Game One if you're Dusty? Do you go with Harden, instead of Mulder or Zito, in Game Two if you're Ken Macha?

MEMO II
To: Yankee Starters
From: The Bullpen

Get off us, man. We've been carrying your sorry butts all year.

EASY STREET
Here's the Cubs schedule the rest of the way: one game at Pittsburgh, three at the Mets, four home against Cincinnati, and three home against an Atlanta team that will look an awful lot like the Richmond Braves.

If they don't win the Wild Card, it's an upset and a joke.
Eric Neel is a regular columnist for Page 2. His "On Baseball" column appears weekly.