By Eric Neel
Page 2
In 1974, because I loved the double-jointed genius of Spencer Haywood and the splay-legged flair of Fred Brown, I was a huge Sonics fan.
I clipped their box scores out of the morning paper and taped each one into a little black notebook. I quoted player points-assists-and-rebounds lines like I was reading chapter and verse. I figured home-and-away splits, fourth-quarter shooting percentages, and matchup results (how Spence tended to do against Rick Barry, etc.) on columnar sheets like the ones my dad used to keep the household budget.
The numbers were an extension of my devotion. Like a monk transcribing sacred texts in some cloistered bell tower, I scribbled and figured as a measure of commitment.
It wasn't about analysis, really. I just wanted to gather little points for contemplation. I was looking for small, sometimes funky, windows on the game, for the chance to connect on some more elemental level.
It's not just the Sonics now, but not much else has changed. The NBA season is just two weeks old, and I'm already happily lost in early numbers like these:
Andrei Kirilenko: 5.17 blocks per game (along with 16 points and 6 rebounds)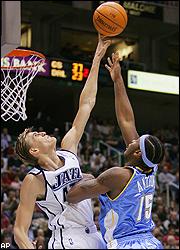 The long arms of Kirilenko have contributed to Carmelo's slow start.
If you live, work, and root for your favorite NBA team anywhere outside of Salt Lake City, you ought to be very afraid. Don't talk to me about his pterodactyl wings. Don't give me the spiel about his freaky built-for-D body. This is twice his career average. This is a small forward we're talking about. This is a pure heart number, a big, ol' Secretariat-sized heart number. This is a number that says, "I'm not resting on my max-deal extension. I'm earning it. Every penny of it." And if you don't love this about him, if you don't love the way he jumps around the gym like Tigger, like an angel-headed hipster, burning for the ancient heavenly connection to the starry dynamo in the machinery of night, then, man, you don't love the basketball, period.
Yao Ming: 1 assist per game
How does this happen? Look at him. The man is nothing but angles and passing lanes. He's got touch and handle. He's got T-Mac to finish. He's got Shaq living down in South Beach. One assist? He's 7-foot-6 for crying out loud. They've played the Grizz (who start Lorenzen Wright in the post) twice so far. C'mon, he ought to be getting three dimes a night just throwing passes to himself off the backboard. This is deeply distressing. This is the "well, good as he is, maybe he's just never going to be special" number. This number upsets me. Can I blame Van Gundy? Can I blame the grueling promotional-tour calendar the big man keeps? Is Yao not hitting Tracy out of the double? Is he the one with the ego we're going to have to worry about in this marriage? I'm sorry, I'm rambling, but I'm mystified.
Grant Hill: two 3-pointers (in five attempts)
He hit them both in the final two minutes of the Magic's win against the Lakers on Friday night. Why are they interesting? Because he'd hit just two in the previous four seasons with Orlando (47 games) combined. Why else are they interesting? Because they're not a fluke. The man with crumbling clay feet looks good, real good, in the early going.
... Although these two numbers, as a matter of pride, should bother him just a bit: Earl Boykins: 0.5 bpg vs. GHill, 0.3 bpg. (And, by the way, they should keep Shawn Bradley and his 0.4 bpg up nights.)
Carmelo Anthony: 41-for-116; on pace to clang 1,000 shots or more by season's end
On the one hand, you feel for the kid. So much came so easily and so quickly; he had every reason to believe it would always be as such. You don't want to see him benched. You took his side in the Larry-vs.-Carmelo cage match, and you blame the coach for getting in his head just to prove he could. So every miss is a bit of torture while you wait for him to find the stroke and the strut again.
On the other hand, you have to admit, there's something sickly satisfying in watching the wunderkind struggle. It's not that you wish him ill. It's just that you take a little comfort, as you launch your own thousandth miss (of the week) toward the hoop out in your driveway, in feeling like you and 'Melo are going through the same thing, in thinking that he's a little bit human and you're a little bit NBA.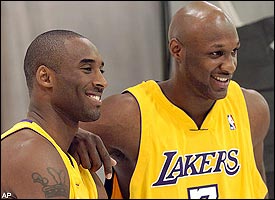 Hey, Kobe, over here ... Kobe ... Kobe??
Kobe Bryant: 38.9 FG percentage
He's taking the lion's share (and then some) of the shots (19.6 per game) and leading the league in scoring (28.3 ppg). We knew he would. He's getting to the line more than anyone else in basketball (38 more free-throw attempts than Dirk Nowitzki in the No. 2 spot); and we could figured on that, too, because he's got the ball a lot, he's double-teamed a lot, he's a made guy, and the refs are going to give him his props. But the sickly shooting percentage number is a problem. He's forcing. He's giving in to that little demon who sits on his shoulders and tells him he can do everything on his own.
He isn't using Chucky Atkins (who's shooting .500 from beyond the arc) enough. He's forgetting the kind of game Chris Mihm had on opening night. He's a kid at the beach trying to dig a sand tunnel straight through to China; and the faster he digs, the faster the hole collapses on itself. He's got to change his approach. He needs to pass on more shots and pass to more teammates. Because what's happening now isn't working. What's happening now has the Lakers 4-4, with wins against Atlanta, New Orleans, Athletes in Action, and a YBA team from West Covina. What's happening now has them on the outside of the playoffs looking in.
100-plus points a night
The Suns, Sonics, Jazz, and Mavs are all over the century mark, and the Bucks and Heat are right on it. It isn't the days of Pistons-and-Nuggets, but it's almost enough to make a fella start to hum a little Sam Cooke ... "It's been a long, a long time coming but I know a change gon' come oh yes it will." I'm talking about a revolution in thought and action, people. I'm talking you turn the TiVo away from Rachel Ray and "30 Minute Meals" on the Food Network and toward Marquis Daniels, Josh Howard, and Nelly down in Dallas. I'm talking crazy talk. I'm talking inviting your friends over to watch games and stuff.
Every single Manu Ginobili number
There's that rare and wonderful moment when a player expands, like a book left out in the rain, like my daughter's spongy bath toy dinosaurs, to something like 100 times his original size. There's that moment when he goes from being good to insanely good, when he makes the Pedro Martinez leap from Los Angeles to Montreal, the Denzel jump from "Glory" to "Malcolm X." This is that moment. Manu Ginobili is that player. Check the stats here. Check all of them -- I'm especially fond of the three steals a night -- and then remember just this one number: 20. That's the number on the jersey everybody will be wearing this summer after Manu and his mates lift the championship trophy.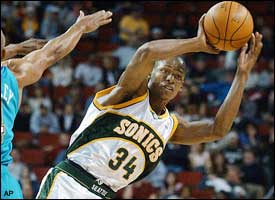 If the Sonics keep racking up wins, Ray Allen may get the contract extension he's seeking.
Ray Allen: .600 from 3
Ray-Ray's numbers are sweet, but you can't read them on their own. They come paired with the Sonics win-loss mark. As long as Seattle's doing this, they're MVP-style numbers. But as soon the swoon comes (and it's going to come, isn't it?), they're trading block-style, the numbers that get Allen out of town and get the Sonics some players and picks.
Chicago Bulls: 0 wins
The Hornets have gone 0-fer, as well, but it's the Bulls who feel like maybe they have the young nucleus, the fiery coach, and the faithful fans to make a real run at the '73 76ers all-time futility mark of nine wins. It'd be poetic, right? They've got the 72 wins on one end. They could bookend them with a nice seven or eight now. It seems crazy, I know. I thought it was a stretch at first. But then I saw them blow a 24-point lead to the Clippers Saturday night, and I started to think they just might have what it takes.
New York Knicks and New Jersey Nets: 1987
Janet Jackson's "Control" was the No. 1 album. Cher won an Oscar for "Moonstruck." Mark McGwire was MLB Rookie of the Year. A first-class postage stamp cost 22 cents. And it was the last time both the Knicks and Nets missed the playoffs. Until now.
Dwight Howard's 7.9 points, 11.7 rebounds, and 2 blocks per game vs. Emeka Okafor's 9 points, 10 rebounds, and 1 block
Both very nice lines. The kid doing it on a team full of vets off to a surprising start. The valedictorian doing it under the weight of losses that are just beginning to mount up. ROY? It'll be Howard. He'll play in more meaningful games. But if Okafor manages not to wilt, give him credit, and say a prayer for him, because it'll be a long while before it gets better with the Bobcats.
Allen Iverson: 7.5 assists per game
Once upon a time, they told Wilt he didn't pass enough, so he promptly went out and led the league in assists. Once upon a time, AI was just a shooter without a conscience. Now comes 7.5. On a team whose next best players are Marc Jackson, Kyle Korver, and Andre Iguodala, this is impressive. Kobe should be taking notes.
Drew Gooden: 21 rebounds
He pulled the blackjack number last Wednesday night against the Suns. Career best. Pulled it out of thin air. Pulled it after just four boards the night before against the Hawks (against whom I, myself, from the comfort of my own home, with a remote in one hand and a beer in the other, have collected four rebounds). We're looking here at the convergence of two very important principles.
First, the LeBron Tide Raises All Boats Principle, which holds that all mediocre NBA professionals will, by the sheer force of LeBron's will and talent, improve themselves so as to avoid looking like rusted-out jalopies on the front lawn of the King's castle.
Second, the Wright Brothers Principle, by which the very definition of what is possible is fundamentally and forever altered. Just as humankind progresses from its earthbound limitations to wings-up over Kitty Hawk, to a manned orbit of the earth, to a walk on the moon, to the Space Shuttle, to the prospect of colonies on Mars, so does Drew Gooden take flight.
Drew Gooden was not a 21-rebound player before Wednesday night. That reality did not exist for him. His limits were very well known and they were very limited. Now the lid's been ripped off. Now he has no idea what he's capable of, except that he's capable of more than he ever dreamed. Check the next game's box score. Did he crash to earth? No, sir. He continued to fly. Fifteen more boards against the Wiz. And tonight against the Warriors, who miss shots like there is honor in it, like it's the objective of the game? Well, tonight, as Drew will tell you, the sky's the limit.
Eric Neel is a columnist for Page 2 and contributor to ESPN The Magazine.