By Eric Neel
Page 2
The Sonics are 15 and 3 as we speak; and if you saw this coming, Basketball Jones wants to hear about your pick in the third race at Hollywood Park this afternoon.
The Sonics are 15 and 3; and if you're wise in the ways of Spencer Haywood and Slick Watts, if you've got a framed copy of the Gus Williams "Sonic Boom" SI cover hanging in your office, or if you still say a little prayer for GP every night before bed, you should be laying down with your heart hooked up to a monitor, because the little bugger might burst with joy any minute.
The Sonics are 15 and 3 heading into tonight's game against the Spurs; and if you're any kind of a basketball fan, even if you've never liked them, even if you've never thought about them before, you've got to be a Sonics fan right now.
They're 9-0 at home, and they're 11-1 against teams that made the playoffs last year.
They're good.
The Jones doesn't know yet if they're "contenders." There are still 64 games to go, and it's hard to say how they'll hold up over the long haul. He doesn't know how they'll adjust to the adjustments the league will make against them in the games and weeks to come, and he can't say whether their game will translate to postseason success.
But to tell you the truth, The Jones doesn't really care. It's December. He'll worry about June when June comes along.
In the meantime, The Jones knows this: At this time, in this moment, the Sonics are up to something real good.
*****
15-3? Seriously, how are they doing it?
Glad you asked.
1. They're hitting the long ball.
They shoot 22 three-pointers a night and they hit a league-best .396 as a team from beyond the arc. Ray Allen leads the way with six, but there are five guys taking at least two threes a night.
Team consultant Dean Oliver, the author of the must-read hoops numbers book, "Basketball on Paper," says, "We have some very good shooters. It's not a goal of ours to hit a certain number every night; but if you have the talent to hit the three, you should take it. You should go out there more, and we do."
2. They're spreading the floor.
Screen-roll options, drives and dishes, extra passes, open spaces and guys who know what to do with 'em.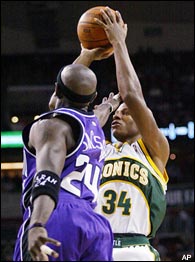 Ray Allen's been shooting lights out so far this season -- even with a hand in his face.
"They put shooters all over the place," says NBA scout and ESPN Insider contributor Brian James. "At the end of games, in crucial situations, they can put five people on the floor who can score, which is rare in this league."
Ray-Ray works the perimeter ("They run him off every pinch-down imaginable," James says); Rashard Lewis and Vlad Radmanovic go inside and out (wherever the mismatch is); either Antonio Daniels or Luke Ridnour flows through cracks in the defense like water running over and around stones in the crick bed; and Danny Fortson holds down the block like he's a part of it.
They're deep (nine players average double-digit minutes) and they come at you in Dolby surround sound.
Check the scoring averages and admire the balance: Allen 24.1, Lewis 21.2, Daniels 12.7, Radmanovic 11.9, Ridnour 9.6, and Fortson 9.2.
3. Smoochie is on the loose, rampaging through the villages and striking fear in the hearts of the people.
Fortson has battled weight, injuries, overcrowded benches, and his own ego in the past, but the man has found a home with the Supes. The big man who wears his 'rows in pigtails and has his nickname -- "Smoochie" -- tattooed on his back plays just 18 minutes a night (splitting time with starter Reggie Evans); but every one of them is a spark minute, the kind you have to have to stop opponents' runs and start your own.
After Allen cashing in a smooth little runner, or Lewis backpedaling with a smile after hitting a three, the defining image of the Sonics' season so far, the picture in your head after every game, is of Danny with his arms wrapped up around the ball the way a toddler clutches a teddy bear. He's spinning away from Duncan or Zach Randolph, and he's smiling, because he knows he just out-willed them.
Which is what he does. He rebounds (six-plus a night, and half of them offensive), he keeps balls alive, he dives on the floor, he defends the other team's bigger big man with lower-body leverage and determined legs, he muscles shots back up and in (.521 FG percentage), and he gets to the line (No. 1 in the league in offensive rebounds and free throws made per 48).
"He has been an incredible positive influence on this team," James says. "He's added toughness and he's made the people around him tougher. He's challenged them to be strong every night."
4. They're defending.
They're under-sized all over the floor and at a real disadvantage inside (team rebounding numbers are near the bottom of the league); but they've emphasized team defense from the get-go this season, and it seems to be paying off. They give up just 93.1 ppg, which is a little more than seven less than they score (fifth-best differential in the league).
There's nothing fancy about their approach. They have no KG roaming the baseline or Tayshaun spreading his wings in the passing lanes, but they keep people in front of them, move their feet, and generally bust it from line to line and spot to spot.
"People think in terms of our offense, but shooting comes out of everything else we're doing," says Oliver. "In the past, we've relied on shooting to win games. This year, we turned it around. We're trying to do the other things, like defending, that will feed into the shooting, and that will make our shots stand up."
Team defense is a philosophy, a buy-in. It's the part of the game where the great intangibles -- heart and chemistry -- are truly measured. You want to know if a team has chemistry, don't look at what they're putting up. Look at what they're holding back or shutting down. "I think they're holding each other accountable," James says. "I think they're taking great pride in it, the chemistry is obviously there right now."
The Sonics don't scare anybody on paper; they're lanky and too short. But they're getting it done. People ought to remember that when they take a guess at how long this team can last. This is a high-scoring group, no doubt; but their defense is carrying a big part of the load too, and defense shows up even on the nights when the shots don't fall.
5. Ridnour looks for-real and Daniels looks great coming off the bench.
Ridnour approaches the half-court set the way Hawkeye Pierce handled triage, with quickness and efficiency. Watch him get into the offense tonight. Watch him get rid of the ball, make the first pass.
Dribbling would be death to this team; they're neither strong nor fast enough to create shots one-on-one all night. So Ridnour pushes into a gap between Damon Stoudamire and Darius Miles in the win over Portland the other night, just long and far enough to make them adjust, make them lean his way a bit. And then he kicks it to an open Lewis for a jumper.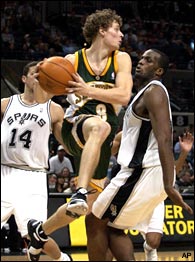 Luke Ridnour and the rest are almost always looking for the open man.
He's basically a rook, but he can bring the old-time pure-point stuff, the stuff that says the ball is community property, and points and wins benefit everyone.
You can see the same attitude (and even better raw production) in Daniels playing the part of the microwave.
"It could have been a sensitive situation," James says, "with guys having to understand their roles," with Daniels getting the two-spot on the point guard depth chart. But instead, "guys like Daniels are flourishing." He's putting up 12-plus, dishing like a short-order cook (No. 2 in the NBA in assist-to-turnover ratio at 4.71 per game), and hasn't said "boo" about coming in off the bench.
"Everybody is doing what they're good at," Oliver says. "People are fulfilling their roles, sticking to them, and doing them well."
There are no superstars on this Sonics team. Allen is very good, but he isn't a superstar. The team is a gumbo: a dash of this, a splash of that; a pinch here, a bit there. The parts are complementing one another: Evans and Fortson make it possible for Lewis to get extra shots and cleaner looks; and by shooting so well, Lewis frees those guys up to focus on cleaning up down low. It's not rocket science, but it's rare.
It's hard to achieve the right balance. Egos are fragile things, and nothing feeds them quite like PT and PPG. But if you can get guys who understand the value of their contributions and who will work to bring their particular talents to the floor every night, then you've got something.
"We're a cohesive group right now," Oliver says. "There are tests ahead. We've yet to face Dallas and Phoenix ... but these guys are working for each other."
And some part of that has to stem from the fact that ...
6. They're hungry.
Six players are in their contract years, including starters Allen, Evans, and Radmanovic.
Two guys (Collison and Ridnour) are coming off injuries, and ineffective rookie campaigns.
Daniels is on his fourth team in eight years. Fortson is on his fifth.
Head coach Nate McMillan came into the season as the architect of two straight losing seasons. In October, he looked like a good bet to be the first coach fired before Christmas.
Plus, the team got no respect in the preseason, they're getting almost no attention now, and what little they get is of the "Yeah, this is cute what they're doing, but they'll cool off, and they'll fall hard" variety.
All of which is to say, the Sonics have an edge about them. They're playing to prop themselves up and shout their doubters down.
"We have a lot of guys who feel like they have an opportunity here," Oliver says. "We're all trying to prove something."
*****
It all adds up.
They've gone from a team nobody was thinking about to a team you really you have to watch.
And not just watch, but cheer.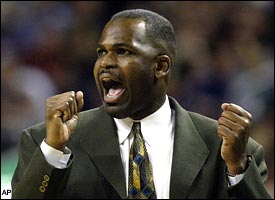 Nate McMillan has gone from the hot seat to the catbird seat.
Maybe they don't run like the Suns or the Mavs. Maybe they're not as meticulous as the Spurs, or as imposing as the Wolves or Pistons can be. But they're winning, and they're playing a brand of ball you can get with.
They're quick, smart, opportunistic and sharp-eyed on the offensive end. They go hard on D. They play together. They surprise you. They defy expectations. They make you wonder at what you're seeing and at how long it will last.
"We're kind of European," Oliver says. "We're similar to those teams in the Olympics. We move the ball well. We shoot from outside because we have the range to deal with the line where it is. We play hard on defense. We push the ball when we can. We take what's there. We've got a number of tools that allows us to take advantage of a number of situations."
The Jones is a romantic, but he's no fool. So he's not going to tell you the Sonics represent a paradigm shift just yet, or that they've solved the riddle of the Larry O'Brien Sphynx or anything.
He's just gonna say this: Doesn't Sonic basketball sound good?
Doesn't it sound like the Pistons plus 20 points a night? Like something Yao and Tracy can only dream about right now? Like a concept with which maybe Kobe is not familiar? Like an antidote for what ails your hooping, hoping heart? Like a little back-to-the-future style team ball?
You know it does.
Eric Neel is a columnist for Page 2. His Basketball Jones column will appear each Wednesday during the NBA season.