Single page view
By Eric Neel
Page 2
When the All-Star Game rolls around, we think in terms of averages; a spot on the team is a reward for overall performance. But it's fun to keep an eye on the season's peaks and bust-outs at the break, too.
I like to check the "Season Bests" page from time to time; it's more dramatic than stats and splits.
A week before Christmas, on the road in Milwaukee, after losing at home in overtime to the Knicks the night before, Allen Iverson went for 54 points. Kicked in five assists, eight rebounds, and two steals, too. Shot 58% from the floor and hit four-out-of-seven threes.
Jermaine O'Neal, in his fifth game back after the suspension, scored 55 points in just 36 minutes at home against the Bucks. He pulled down 11 rebounds that night, and got to the line for 25 free throws (he averages 9.5). And, oh by the way, he'd scored 31 the game before and he racked up 32 each of the next two games he played.
Fresh off a stinging loss to the Spurs in early December, Dirk Nowitzki officially kicked off his MVP campaign in an overtime win over Houston with a Chamberlainesque line of 53 points, 16 boards, two assists, three steals, and four blocked shots.
On the road in Dallas in November, with all the favorite-son-returns lights beating down hot on him, Steve Nash handed out 18 cool assists and put up 17 points. And he was just warming up: Later that same week in LA against the Clippers he delivered 18 assists and 22 points. All very impressive numbers, but nothing compared to last night's 33 points and 17 assists in a two-point victory over the division rival Kings.
At the tail end of a heinous 2-8 tailspin for the Wolves, Kevin Garnett put his hard hat on in an 87-80 loss to the Magic and came up out of the hole with 19 points, 8 assists, and a downright heroic 25 rebounds (on a night when no other player on either team managed double digit boards).
Think on these nights (or others like them) for a minute. Don't think of them like the ironic, cynical tough guy you are. Think of them like the kid you once were. Be blown away by them.
These are the nights when a guy gets burned into your consciousness, right? They're the nights when you swear, even just sitting on your couch, that you're moving in time with him, riding his wave.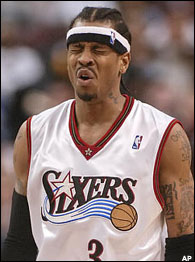 "I can't believe I just passed it. What was I thinking?"
On nights like these, the game has a kind of delirious edge to it, like the laws of averages and physics are just a little more arbitrary than you've been led to believe, like there's a kind of magic in the air. The steady 20-plus point lines, and the 10 like-clockwork assists and rebounds numbers, are impressive, but it's the games when a player goes off like an alarm that make us fans.
When AI manages 54 we're reminded what a crazy thing it is that someone so small can be so fierce, and we realize all over again how miraculous his stuttered, slipstream game really is.
When Nowitzki and Garnett blow up all over the scorebook it hits us fresh that these two guys, and not Shaq, are the ones who have forever revolutionized the big man's game.
Greatness gets amplified; it takes on weight and depth. We go from being interested to being awe-struck.
But, of course, it isn't just the superstars who shine bright. Check the list of standout performances for the season so far and you see some star turns from unexpected players, too.
Brevin Knight has the three best assist games of the season. He's gone for 18, 19, and 20. And the 20, in an overtime loss at the Cavs, he had 15 points, three rebounds, and two steals, thank you very much. Want to win a bar bet? Ask your buddies who has the three highest assist totals for the season. They'll say Nash. You'll take their cash.
Three weeks back, with Kenyon Martin out sick and Nene suspended, Marcus Camby, a solid nine-and-nine guy, went Moses Malone on the Sonics, racking up 25 points and 24 rebounds. Remember that the Sonics are among the best rebounding teams in the league. Remember too, that Camby looks like something somebody'd use to stir a tall glass of iced tea.
Dan Dickau didn't play but 16 minutes of the first month of this season (as a Maverick). On January 28th (as a Hornet), at home against the Sixers, he posted one assist for every one of those minutes in November, and added 19 points, just for good measure.