Single page view
By Eric Neel
Page 2
Why aren't we talking about the Mavericks?
They're 38-18. They've gone 19-8 since New Year's Day.
So why aren't we talking about them?
Don't let Friday night's 108-103 home loss to the Lakers stop you.
In the last few weeks, Dallas has beaten Miami, Seattle and Phoenix, all the teams du jour. But we're not talking about the Mavs?
Are we still lugging around memories of the 2002 Western semis, when the Kings rolled them like a threadbare rug and beat their defenseless (and I do mean defenseless) butts up, down, and sideways?
Are our minds' eyes still fixed on the image of a busted-up Nowitzki and a worn-down Nash shuffling off the 2003 Western finals stage down there in San Antone? Is it Nellie's ties? Avery's voice? Are we just too tired of Cuban's DQ stints and blog entries?
Is there a feeling, maybe going all the way back to John MacLeod's loose, lavender curl and Derek Harper's pinched, anguished expression, that this team just never has been for real?
It wasn't so long ago, the Mavs were an "it" team, racking up points like the pinball wizard and fans like the young Elvis. They were the Suns before the Suns, a freewheeling club playing the beautiful game, a group responsible for some of the great offensive numbers of all-time (Check out page 33 of Dean Oliver's "Basketball on Paper." But these days, they're pretty much off the radar.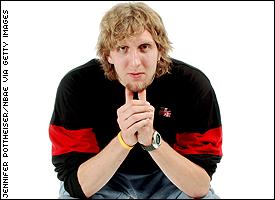 Any wonder why some people don't take Dirk's hoops skills seriously?
Is it losing Nash? Is it the long, steady shadow cast by Duncan's Spurs?
It isn't like they can't play. In fact, they've got a very legitimate MVP candidate in Nowitzki (27.1, 10.1, 3.1 and a PER of 26.41) right now, a guy who's come up big time again and again for them in big games this season, a guy who's grown his hair long, and shaved his hair off, and debased himself for your love selling "NBA League Pass." And still, you hear almost no buzz.
This happens. Teams go out of fashion. Like Marty Scorsese, they hang around doing dazzling work but never winning the big prize; and after a while, we just kind of take them for granted. It isn't that we don't enjoy their work, when someone points it out. It's just that we don't think about it much any more.
It doesn't help that their superstar is hard to get a handle on. His numbers are stunning, but you can't sum him up. He's a giant, but not a post threat. He's an amazing shooter, but not a pretty one. All his moves, creative and effective as they are, come off a bit, raggedy, like he's Detective McNulty stumbling out of a Baltimore bar. He plays with fire, but not quite the way KG does. He's incredibly versatile, but you don't think of him the way you think of LeBron. And he doesn't really have any mythic moments to underwrite his game.
The Mavs get our attention, but they don't do quite enough to keep it. There is no stirring, gut-check win in modern Mavs history (their biggest win, Game 7 of the 2003 Western semifinals, was a 13-point close-out that nobody remembers); no Robert Horry dagger; no Kobe-to-Shaq alley-oopish comeback in a Game 7; and no rewrite-the-lede upset a la last year's Pistons, either. They're a club largely without drama (if you don't count their owner's sideline histrionics). And worse than that, they're a club that's lost the biggest games they've been in, including Game 6 to the Spurs two years ago.
So what happens is, we close the book on them. We figure, nice as the view's been, the window of opportunity has closed. We don't bother ourselves with little details like Nowitzki's getting hurt in the third game of that Spurs series. We decide they're not tough enough. And we decide it doesn't really matter anyway, because we know they can't defend (though that 2003 team was ninth in the league in terms of defensive efficiency), and we know defense wins championships.