Single page view
By Eric Neel
Page 2
"I will meet you anywhere the western sun meets the air"
--Son Volt
It's not my first impulse, but I gotta say straight off, props to the East. The East has been a beast these last two seasons. The bias has been completely legit. From Boone to the bloody sock, it has been tremendous theater, start to finish.
But when Johnny Damon cozies up to Regis peddling Jack Handey wisdom on the "game of life," I see motorcycles and shark tanks.
And when Mo Rivera hands out cheerful waves to the Fenway crowd and hanging cutters to Boston hitters, I swear the Fonz is flying slo-mo straight overhead.
I'm afraid the East might be played out, my friends.
I think maybe it's time to look out West for a while, don't you?
OUT WEST, where story lines are fresh and full of promise, where the division races are wide-open, where Derek Jeter's just a guy swinging through town on a road trip and Theo Epstein is the kid who got the job only after Billy Beane turned it down.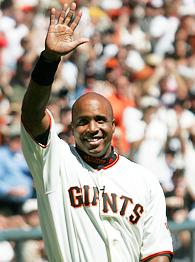 AP Photo/Eric Risberg
Bonds should get a rousing reception from the fans at SBC Park on Monday night.
OUT WEST, where not one but four teams entered the season hoping, wishing and praying to end decades of trophyless frustration and sorrow. The Mariners (28 years, 0 rings) probably have no shot, but the Padres (36 years, 0 rings) and the Giants (47 years since the team moved West, 0 rings) are postseason contenders in a wide-open NL West. The Giants are old and full of history (great players, from Cepeda, McCovey and Marichal to Clark, Bonds and Schmidt, never won a title), and they come complete with cold-sweat memories of Scott Spiezio. Every player in the clubhouse has the proverbial "sense of urgency," otherwise known as the craven sense of desperation. Talk about good theater.
OUT WEST, where the reigning AL MVP, a guy who plays with swagger and abandon, a guy capable of making you shake your head in wonder and delight every time he takes the field, punches the clock.
OUT WEST, where Milton Bradley is making a game effort to reinvent himself. For the earnest and hopeful among us, this has tremendous feel-good upside, and for the cynical and jaded in the crowd, there's the enduring possibility of a high-quality, objects-flying meltdown.
OUT WEST, where Bartolo Colon clearly plans to continue his (slow-) moving tribute to William "The Refrigerator" Perry.
OUT WEST, where a healthy Troy Glaus (and shouldn't we always refer to him this way – "A Healthy Troy Glaus" – just as a way of offering support, as a way of trying to make it so? A friend of mine sometimes asks people to meditate on a certain healing color – I think it's green – in the name of someone who's not well. I feel strange about it, but if the cause is right, what the hey?) is going to hit a whole lot of balls out into the high, dry desert air.
OUT WEST, where the Dodgers and Giants will play 14 more times over the course of the season (they've put five in the books in the first two weeks), renewing what Jim Caple has called the best rivalry in baseball, and almost certainly gearing up to once again screw each other over when it matters most.