Single page view
By Eric Neel
Page 2
Some people will tell you power comes from on high, with stone tablet theatrics.
Some say it's all about earthly resources, the muscle underwriting the bossman's will and whim.
I prefer to think of it as springing from some internal source, some half-hidden well of oomph. Phil Ivy's eyes when he calls your bluff, Beatrix Kiddo's fingers when she pulls out the five-point-palm exploding-heart technique, the little old ant thinking he can move that rubber tree plant, that kind of thing.
Here now, the season's first Page 2 Baseball Power Rankings: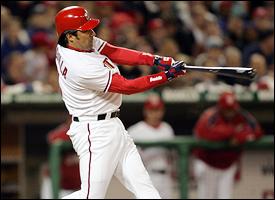 AP Photo/Susan Walsh
Vinny Castilla and the Nats had a promising start in their new city.
1. Washington Nationals (8-6). Despite a curiously strong (can't you just see the Altoids endorsement opportunities?) first couple of weeks, in which the club slugged .472, Frank Robinson ain't happy. Seems ESPN's not giving his boys enough love. "Last night, our highlight on ESPN lasted one swing of a bat. One. And that was it," he told the Associated Press on Monday. The network and the site have done everything but throw a parade for the Nats, but you have to appreciate the paranoid-Robert Conrad edge he's bringing to things. Playoff-caliber stuff in April.
2. Los Angeles Dodgers (11-2). There was some talk around the office suggesting I only wanted to write this piece so I could put the Dodgers at the top of the list. As you can see, that sort of talk was absurd.
3. Boston Red Sox (8-6). They might have ranked higher, but there wasn't a single mention of Crispus Attucks at the home-opener World Series celebration. Either you're paying tribute to those who've come before you or you're not ... there is no middle ground.
4. Baltimore Orioles (9-5). Whatever happened to The Cartoon Bird, by the way? The Cartoon Bird was good enough for Brooks, Palmer and the young Cal. Are we to believe it's not good enough for Sidney Ponson? The Cartoon Bird graced the caps and jerseys of Orioles teams from 1966 to 1989. During that time, the Orioles won three World Series titles, six American League pennants and seven division titles. They won more than 100 games five times and averaged (not including the 1981 strike season) 89.5 wins per season.
Since replacing The Cartoon Bird with first The Ornithologically Correct Bird (I kid you not) and then The Lifelike Bird, the team has won, count 'em, zero World Series titles, zero American League pennants and just one division title and one wild card. The O's have never won 100 games and have averaged (not including the 1994 strike season) 77.4 wins per season. Am I saying The Cartoon Bird is worth roughly 12 extra wins and maybe the prospect of finally climbing up and over the Red Sox and Yankees? I'm saying this: Put one on Brian Roberts' cap and let's find out.
5. Chicago White Sox (10-4). Smallball is weak. Carl Everett is strong, however. And the chances of Ozzie Guillen (Frank has a "bad attitude") and Frank Thomas (Ozzie is "loose-lipped") wrestling in the dugout like Billy and Reggie sometime before spring turns to summer are very strong.
6. Minnesota Twins (8-6). The Twins have the vicious Johan Santana, they have the promising Joe Mauer, and they have the devastating Joe Nathan. These things are good. But without question, the Twins' greatest resource is Batgirl. Only Batgirl has the stones to call Ozzie's club the "B---- Sox." Only Batgirl has the focus required to go all game-face on her own kitties: "That I'm-so-cute-I'm-a-kitten thing is getting way old, you hear me? Way old." When the Twins win the AL West, there'd better be a seat at the glory table for Batgirl.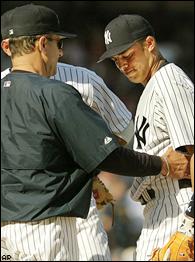 Sure, Mo and the Yankees are struggling in the wins department. But everything else says good karma.
7. New York Yankees (5-9). Yes, it's true, the pitching has sputtered, the offense has been inconsistent and the Womack has reverted to Version 2003. But it's also true that the players stood on the dugout steps and applauded the Red Sox, that Alex Rodriguez pulled a kid out of the path of an oncoming car and that Gary Sheffield took the high road when someone took a swipe at him. This club isn't settling for hits, runs and wins. The Yankees are stockpiling karma.
8. Toronto Blue Jays (9-6). Behold Gustavo Chacin's specs; a little bit of Tekulve, a little bit of Britney, and a whole lot of bold.
9. Florida Marlins A (8-0). A team that averages over seven runs a game in support of a devastating trio of young arms. There is singing on Miami streets; there are "celebrations" in Miami bedrooms. Sh-boom, sh-boom, life can be a dream, sh-boom, sh-boom.
10. Oakland Athletics (7-7). Rich Harden: 0.68 ERA/0.98 WHIP, Danny Haren: 2.37 ERA/1.16 WHIP, Joe Blanton: 2.04 ERA/0.96 WHIP. It's early, but it sure ain't ugly.