By Eric Neel
Page 2
Some people will tell you power comes from on high, with stone tablet theatrics.
Some say it's all about earthly resources, the muscle underwriting the bossman's will and whim.
I prefer to think of it as springing from some internal source, some half-hidden well of oomph. Phil Ivy's eyes when he calls your bluff, Beatrix Kiddo's fingers when she pulls out the five-point-palm exploding-heart technique, the little old ant thinking he can move that rubber tree plant, that kind of thing.
Here now, the season's first Page 2 Baseball Power Rankings: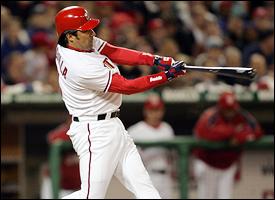 AP Photo/Susan Walsh
Vinny Castilla and the Nats had a promising start in their new city.
1. Washington Nationals (8-6). Despite a curiously strong (can't you just see the Altoids endorsement opportunities?) first couple of weeks, in which the club slugged .472, Frank Robinson ain't happy. Seems ESPN's not giving his boys enough love. "Last night, our highlight on ESPN lasted one swing of a bat. One. And that was it," he told the Associated Press on Monday. The network and the site have done everything but throw a parade for the Nats, but you have to appreciate the paranoid-Robert Conrad edge he's bringing to things. Playoff-caliber stuff in April.
2. Los Angeles Dodgers (11-2). There was some talk around the office suggesting I only wanted to write this piece so I could put the Dodgers at the top of the list. As you can see, that sort of talk was absurd.
3. Boston Red Sox (8-6). They might have ranked higher, but there wasn't a single mention of Crispus Attucks at the home-opener World Series celebration. Either you're paying tribute to those who've come before you or you're not ... there is no middle ground.
4. Baltimore Orioles (9-5). Whatever happened to The Cartoon Bird, by the way? The Cartoon Bird was good enough for Brooks, Palmer and the young Cal. Are we to believe it's not good enough for Sidney Ponson? The Cartoon Bird graced the caps and jerseys of Orioles teams from 1966 to 1989. During that time, the Orioles won three World Series titles, six American League pennants and seven division titles. They won more than 100 games five times and averaged (not including the 1981 strike season) 89.5 wins per season.
Since replacing The Cartoon Bird with first The Ornithologically Correct Bird (I kid you not) and then The Lifelike Bird, the team has won, count 'em, zero World Series titles, zero American League pennants and just one division title and one wild card. The O's have never won 100 games and have averaged (not including the 1994 strike season) 77.4 wins per season. Am I saying The Cartoon Bird is worth roughly 12 extra wins and maybe the prospect of finally climbing up and over the Red Sox and Yankees? I'm saying this: Put one on Brian Roberts' cap and let's find out.
5. Chicago White Sox (10-4). Smallball is weak. Carl Everett is strong, however. And the chances of Ozzie Guillen (Frank has a "bad attitude") and Frank Thomas (Ozzie is "loose-lipped") wrestling in the dugout like Billy and Reggie sometime before spring turns to summer are very strong.
6. Minnesota Twins (8-6). The Twins have the vicious Johan Santana, they have the promising Joe Mauer, and they have the devastating Joe Nathan. These things are good. But without question, the Twins' greatest resource is Batgirl. Only Batgirl has the stones to call Ozzie's club the "B---- Sox." Only Batgirl has the focus required to go all game-face on her own kitties: "That I'm-so-cute-I'm-a-kitten thing is getting way old, you hear me? Way old." When the Twins win the AL West, there'd better be a seat at the glory table for Batgirl.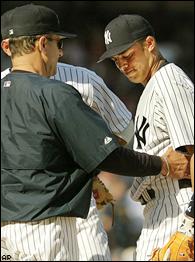 Sure, Mo and the Yankees are struggling in the wins department. But everything else says good karma.
7. New York Yankees (5-9). Yes, it's true, the pitching has sputtered, the offense has been inconsistent and the Womack has reverted to Version 2003. But it's also true that the players stood on the dugout steps and applauded the Red Sox, that Alex Rodriguez pulled a kid out of the path of an oncoming car and that Gary Sheffield took the high road when someone took a swipe at him. This club isn't settling for hits, runs and wins. The Yankees are stockpiling karma.
8. Toronto Blue Jays (9-6). Behold Gustavo Chacin's specs; a little bit of Tekulve, a little bit of Britney, and a whole lot of bold.
9. Florida Marlins A (8-0). A team that averages over seven runs a game in support of a devastating trio of young arms. There is singing on Miami streets; there are "celebrations" in Miami bedrooms. Sh-boom, sh-boom, life can be a dream, sh-boom, sh-boom.
10. Oakland Athletics (7-7). Rich Harden: 0.68 ERA/0.98 WHIP, Danny Haren: 2.37 ERA/1.16 WHIP, Joe Blanton: 2.04 ERA/0.96 WHIP. It's early, but it sure ain't ugly.
11. Atlanta Braves (7-7). In the second game of the season, Marcus Giles jammed his knee sliding into second base and missed two games. In the fifth game of the season, he fouled a ball off his foot, bruising it severely, and missed four more. Upon his return, Giles wore a protective guard over his lower leg and foot. This isn't good enough. If you're Bobby Cox, you need to think about padding his whole body, on and off the field, like Maria Conchita Alonzo in "Running Man," like Costanza with hand-model oven mitts, or maybe even like those guys who get jumped by attack dogs in training, wrapped from head to foot in protective canvas and stuffing. It's unorthodox, sure, but if you're Cox, you can't afford to take any more chances. You're already counting on Raul Mondesi for god's sakes.
12. Philadelphia Phillies (7-7). If you're a casual Yankees hater, you content yourself with jokes about A-Rod's metrosexuality and chants of "Yankees suck!" But if you're hard-core, you simply quote, quietly, almost under your breath, but to everyone you meet, Jon Lieber's early line: 3-0, 2.49 ERA, 4.00 K/BB ratio.
13. San Diego Padres (7-7). The Padres got Dave Roberts back Monday night. He drew a walk, laid down a bunt for a hit, beat out an infield single, scored a run and started two rallies that turned a painful Jake Peavy loss into a righteous Jake Peavy victory. Ask Jake (ask Mo Rivera, for that matter) what Roberts' groin is worth. (Don't ask it straight-out; put it delicately, use a euphemism, like "jump" or "first step," or even "heart." They'll get your drift. And they'll tell you, without even a hint of irony, that it can't be measured.)
Is Wily Mo getting his power from his hair?
14. Cincinnati Reds (7-6). Memo to Wily Mo Pena: Read your "Samson and Delilah." Don't ever cut the hair. Don't ever tell your secrets.
15. St. Louis Cardinals (8-4). I'm not worried about Mulder and Rolen getting off to shaky starts (well, maybe a little). I'm worried that maybe 1991 is the reason why. In April of that year, George Will published "Men at Work," a major portion of which was dedicated to the genius of then-Athletics manager Tony La Russa. The A's, who had won 103 games the previous season and made it to the World Series, won just 84 games in 1991 and finished fourth in their division. Now it's 2005 and Buzz Bissinger has just published "Three Nights in August," a great deal of which is dedicated to the genius of Cardinals manager Tony La Russa. The Cardinals won 105 games last year and made it to the World Series, so, umm, you see where this is going ...
16. Arizona Diamondbacks (7-7). Remember analogies on the old SAT? Troy Glaus:Grant Hill as Encouraging:Heartwarming.
17. Chicago Cubs (7-7). Beware the curse of Steve Stone.
18. Milwaukee Brewers (5-8). Understand that Ben Sheets is just about a lock to become the greatest pitcher in Brewers history. A dubious (no offense to Teddy Higuera) distinction perhaps, but still, mighty impressive in that Mark Langston sort of way.
19. Houston Astros (6-7). Mark your calendars. The biggest news out of Houston these first two weeks is the announcement that the Astros will retire Jimmy Wynn's number July 8. All hail The Toy Cannon. I'm telling you, like the Beltran signing last summer, this could be the thing that sparks a run.
20. Cleveland Indians (6-8). This is a probationary spot because they're not hitting at all, but I'm cutting them some slack because they have a bunch of guys who sound like good ballplayers: Coco Crisp, Travis Hafner, Casey Blake, Jake Westbrook, C.C. Sabathia, Grady Sizemore. How bad can they be with a crew like that?
21. Seattle Mariners (7-7). Jamie Moyer met the Devil at the crossroads. "What do you desire?" The Angel of Darkness inquired. "One more inexplicably effective season for a man my age," Moyer answered. "Then you shall have it," Satan said. "What will it cost me?" Moyer asked. "Just the bats of every player in your lineup ... except that limber one from Japan; I already have a standing deal with him," the Devil replied.
22. Detroit Tigers (6-8). Where have Pudge's 30 pounds gone? We're hearing rumors that in a behind-closed-doors spring training meeting, in what would have to be considered the greatest demonstration of leadership and most meaningful sacrifice in the interest of chemistry in the history of the organization, the All-Star backstop simply gave one pound of his own flesh to each of 30 teammates.
23. New York Mets (7-7). I had them in the 16-spot, then Braden Looper came in and took over my keyboard.
24. Texas Rangers (7-8). Two guys taking in a game in Arlington:
Guy one: "If you took the $30 million you're going to spend on Chan Ho Park the next two years, and the $34 million you've paid him the last three years, and gave it instead to scientists in some research lab in northern California, what do you think the chances are they just might be able to come up with an anti-aging cream we could use on Orel?"
Guy two: "What if we just paid the present-day Orel and took our chances?"
25. San Francisco Giants (6-7). They've lost four of five against the Dodgers. Those count extra. Their adjusted won-loss record is actually 3-10.
26. Tampa Bay Devil Rays (5-9). If you're the A's, are you maybe thinking about Daric Barton and Octavio Dotel for Danys Baez right now? Or if you're Cashman worrying about your bullpen, you're making some calls, right?
27. Pittsburgh Pirates (4-10). 1-6 at home? Good thing that walk across the bridge is so purty.
28. Kansas City Royals (5-9). The good news is, this is an odd-numbered year, so you know Saberhagen's going to come up big.
29. Colorado Rockies (3-10). Free Todd Helton.
30. Florida Marlins B (0-6). A team that averages 1.5 runs per game in support of a devastating trio of young arms. There is wailing in Miami streets; there are "headaches" in Miami bedrooms. Life is a tale told by an idiot, full of sound and fury, signifying nothing.
31. Los Angeles Angels of Anaheim (7-7). Until you change the name back, Arte, this is where your team sits.
Eric Neel is a columnist for Page 2.