Single page view
By Eric Neel
Page 2
"I was so much older then. I'm younger than that now."
– Bob Dylan, "My Back Pages"
There was a time, in my mild and impetuous youth, when I might have sneered at Rickey Henderson lacing up for the San Diego Surf Dawgs, or had a laugh at Oil Can Boyd's thoughts of a comeback. But that time, like my affection for Van Halen's "1984," is long gone.
Seems like as long as Rickey is playing for somebody, he's happy.
Now, when I hear tales of Rickey and Oil Can, I say, "More power to them." I say, "Let this be the beginning of a turn-back-the-clock revolution."
Don't let it stop with these two. May these other seasoned vets come back, too:
Dave Kingman, because, OBP be damned, it does a man's heart good to see another man swing so hard you think his head might fly clean off and land in the waiting glove of an eager young fan in the seats up along third.
Lamarr Hoyt, because in an age of self-conscious preening and narcissistic mirror-gazing, the game could use a healthy dose of his prêt-à-porter chic.
Willie McGee, because beauty is fleeting but beautifully ugly lasts forever.
Oscar Gamble, because Wily Mo Pena is on the DL.
Bill "Spaceman" Lee, because if "Can" doesn't make it, we're still going to need someone to provide juicy, indecipherable quotes laced with paranoid pixie dust.
Cecil Fielder, not so much because I want to see the seething tension between him and Prince (though I'd like that fine), but because I can't think of anything we need more than to see a ball, even if it's only one ball, go deep, deep into the night, and to never for a moment doubt whether the power was, um, natural, if you know what I'm saying.
Tony Gwynn, because he could still rap singles to the opposite field all day, because he could someday rap singles to the opposite field sitting in a rocker, and because I'd like to see him do it, just so I could watch the expression on the face of some young flamethrower who was sure he'd get it by the old man.
Randy Johnson … just kidding, just a little something for Nervous Yankee Fan.
Bo Jackson, but only if he could persuade Rick Reuschel to come with him. Seriously, why aren't these two guys making like Thompson and Branca, reminiscing about the big blast, signing autographs together, making a killing at card shows? Gibby and Eck should be doing this, too, shouldn't they?
Bake McBride, because while Carlos Delgado may have the name, Bake has always had the legs.
Bob Feller, because he can still strike these spoiled punks out. Just ask him.
Oddibe McDowell, because, narrowly edging out Bert "Be Home" Blyleven, Oddibe "Young Again" McDowell is the best Berman-ism of all time, and one of the better puns you're ever going to hear.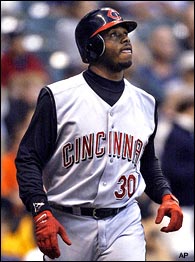 C'mon ... this is not the Junior we once knew.
Bucky Dent, because I want to hear Red Sox Nation scream like Jamie Lee.
Ken Griffey Jr. I know, I know, he's still playing – but I'm talking about the early model, version 1.0. I swear, every time I hear Cher doing "If I Could Turn Back Time" (which happens more often than it should, in grocery stores and elevators and such), I think she's singing about Junior.
Jeffrey Leonard, because I ask you, where is the stone-cold goofiness of the one-flap-down home run trot now? Who even comes close to that in terms of intended toughness that is actually just hilarious? He stands alone on this, right?