Single page view
By Eric Neel
Page 2
We think tonight has to be about the big hero being heroic.
Blame it on MJ, John Wayne, the Greeks, or even Bonnie Tyler. It's just how we think. It's a Game 7 thing.
The pressure is at its peak, the cameras are rolling, and we assume things ride on the shoulders of the superstar. So we think in terms of Duncan – will he rise up and dominate when it matters most? And we view things through a Chauncey prism – can he grab this game-of-games by the throat?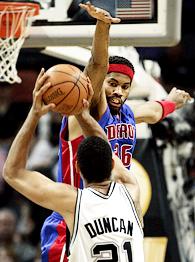 The Duncan-'Sheed showdown will be all-important. Unless it's not.
But this isn't that Game 7. Not with those stars. Not with these teams. We shouldn't cookie-cutter this thing or frame it before it plays out, because it's a different beast, another kind of drama.
As great a player as Tim Duncan is, the Spurs aren't built to feature him in any kind of Jordanesque or Olajuwonic way. That's not who they are and that's not who he is for them. He's a 15-18 shots/game guy, who's going to shoot a high percentage, rebound in the mid-double digits and be about average (roughly a career 70 percent shooter) from the line. And the Spurs are great with all that. He's been spectacularly steady, productive, and successful for them over the years, in both the regular season and in the playoffs.
And while Chauncey Billups has been tremendous in this series (and the whole postseason), his stuff is still, almost always, within the flow of the Pistons' ball-movement, screen-and-roll approaches. He's putting a hurt on Tony Parker, no doubt, but not to the exclusion of trying to keep Rip, Rasheed, and Tayshaun in the mix (Billups' assist number in the series is at 6, right where it's been all year).
You've heard it a hundred times by now but it bears repeating heading into tonight: These teams are TEAMs, and as such, they kind of break the Game 7 mold. We can't just look at any one guy on either side and say: He's the man, it rests on him, it all hinges on his talent and will. We've got no Magic vs. Larry tonight, no Michael vs. Charles (yeah, that was a Game 6, but you get my point).
And maybe that's why we're lukewarm on this series. The style of play is deliberate, and the first four games were yawners, and that didn't help, but what we miss most right now is the drama of a showdown, or the exhilarating prospect of a superstar completely taking over and taking no prisoners.
But the thing is, we shouldn't miss that stuff. We should let it go.
Because there's another kind of drama coming tonight; a more authentic variety, actually. And "variety" is the key term here. We have no clue what's going to happen in this game. We do not know who's going to make the difference. We can't reasonably anticipate the man who will be The Man. We can't even make a real good case that there will be any such figure at all.
This isn't a reason to be down on this game, it's a reason to be high on it. Maybe things aren't as fun as they were when it was Spurs-Suns or Suns-Mavs, but we've got some real live, honest-to-goodness suspense in the air right now, folks, and that's a rare thing indeed.