By Eric Neel
Page 2
Don't tell my lifelong Methodist grandmother I said so, but I've always admired the Baptists. It's the full-body immersion thing. Complete surrender; not just sprinkled, but surrounded. That's the way to do it.
Don't tell my lifelong Methodist grandmother who, despite whatever Annie Savoy might say in my defense, would call me a blasphemer if she heard me say it, but I feel like a Baptist when it comes to baseball in September. I want to be washed in it.
So last night, with the Angels and Red Sox previewing a possible division series matchup, Pedro Martinez going heads up with John Smoltz in Atlanta, the Astros and Phils battling for control of the NL wild card, and Los Angeles and San Francisco playing yet another grudge match, I settled in, and bathed in the light of the television.
It was a good night for baseball, and a good night for a notebook:
• First things first, you have to make a call: What is the toggle game in the 4 p.m. Pacific slot? The Angels-Red Sox game is the base; two first-place teams, a replay of last year's playoffs, the possibility of John Lackey, who comes in with a 10-something ERA, making a mess all over himself on the hill in Fenway, etc. So is it the Marlins-Nats or Astros-Phillies for the toggle game? I go with Astros-Phils because of Roy Oswalt.
AP
Roy Oswalt deserves a lot more credit than he gets for the Astros' success.
• Oswalt is all elbows and angles, whipping through his delivery like a young tree bent over in a stiff wind. He finishes his curveball with a wide, comic step to the right of the hill, the way a sumo wrestler might enter a ring. And when he throws gas, the end of it is a post-pitch crouch to the left side of the mound that reminds you of Spiderman crawling up a skyscraper window. He doesn't look like much just standing there at 6 feet, 180, but he's full of drama and he makes guys buckle at the knees.
And by the way, are we watching this guy often or closely enough? Under the shadow of Clemens' historic stuff, have we noticed Oswalt putting together another quietly terrific season? Have we paid attention to the 2.84 ERA and 1.17 WHIP? Do we have to say this guy is maybe the least-talked-about great pitcher in baseball? I think we do. I think we need to take it upon ourselves to mention him more often, to work him into casual conversation, to come up with fresh, potent terms to describe his efforts, to say to the next person who asks how we're doing: "I'm fine, thanks, but not as fine as Mr. Roy Oswalt, whose work down in Houston is positively pointillist." Things like that.
• Check the Marlins-Nationals game, see some guy named Rasner is making his big-league debut. Astros-Phillies is definitely the call.
• Johnny Damon, whose every move at the plate is kind of a loose-limbed Zen testimonial, quietly scorches a grounder to short in the first inning. Orlando Cabrera Mr. Bojangles it, easy as you please, with a crossover move, left-to-right, and backhands the ball on a one-hop that should have eaten him up, then rises, throws Jesus out at first, and shuffles back to his position like he's just going out for a walk. Cabrera's been a disappointment for the Angels at the plate, but he's not short on moxie and flow, and he's committed just five errors all year. The Angels are a very good defensive club (second in the league in errors at this point). And while it's Vlad's swashbuckling arm we think of first, at the end of the day we ought to be thinking about Cabrera's been-there swagger and style as the tone-setter for Anaheim, kind of the way he was for Boston against the Yankees last fall.
• Wakefield on the hill for Boston tonight. He strikes out Chone Figgins to start the game. How exactly do Red Sox fans survive this guy. Every pitch fluttering up there with a mind of its own? Every slow-mo replay a testimony to how close he's come to getting mashed? Has any knuckleballer ever had more riding on him than Wakefield does (and did last fall)? Are people gathering in groups to hold hands when he pitches? Don't get me wrong, he's good -- he's remarkable some nights, in fact -- but the ulcer factor, it's like Jeff Weaver times 10. I can't bear to watch.
• Beer run. My girls are out at a pre-school potluck, no doubt talking trash about how Daddy's "working" tonight. But it is work: the jumping from channel to channel, the tracking of Glendon Rusch blowing down Cardinals hitters on the real-time gamecast on the laptop, the crazed search for a bottle opener. A man can get rattled.
• Lackey has a runner on in the first and second, and two on, thanks to an error, in the third, but a double-play saves him. He's obsessively spitting sad little spitballs between pitches, trying not to be as nervous as he is, trying to ignore the fact that these guys have owned him in the past. I hate to see him looking so alone out there, so I start spitting too. Did I mention the girls are out of the house?
• Young Astros center fielder Willy Taveras belly-flopped to catch a David Bell looper in the third inning of the Astros game. Web Gem stuff; utter disregard at the takeoff for the laws of physics and for the sentence they were about to pronounce on his body. It's unlikely that there are more of these kinds of plays come September, but they do take on a different kind of resonance in the late fall. You read more into them, you imagine they come from some hungrier, more dedicated place. I've got no research to back me up, of course, but I swear Taveras was a half-beat quicker to the jump on this ball than he would have been in April -- and I believe, because the calendar tells me it's true, that he was good for 3/8 of an inch more on his reach than he'd ever been before.
• Dinner is left-over mac-and-cheese, and some sort of lemon soda thing I find in the back of the pantry. The soda's a mistake. It's at war with the beer almost instantly. I feel like a Red Sox fan watching Wakefield -- who, by the way, has just given up a double to Vlad Guerrero. And if I didn't feel like I needed to sit down and breathe deep and turn off the set for a minute, just to get my bearings, I'd be standing up at this point, saying to nobody in particular: "Vladimir Guerrero is my hero. Vladimir Guerrero does NOT get cheated. Vladimir Guerrero takes big bites out of life and swallows them whole!" As it is, I just choke down a bite of mac-and-cheese and watch Wakefield fool Darin Erstad and Bengie Molina to end the threat.
• Glendon Rusch has a pefect game going. I wish I still cared, even a little, about the Cubs. They'd become the toggle game, for sure. As it is, they're the TV-in-the-office game now. I see them with one eye and half an ear. I see enough to think Glendon Rusch doesn't exactly look like a perfect game pitcher, now does he? And then I think, if the baseball gods once blessed David Wells, they could shine on any of us.
• Lackey's tried twice now to pick Manny Ramirez off third. He's just messing with him, I think. Beautiful. Make him dive back. Make him dance that club-footed dance.
Andruw Jones has had a monster year for the Braves, keeping them in the pennant chase.
• Why I like the Braves (despite my better judgment, and unless they're playing the Dodgers): Gamesmanship. Furcal gets on in the first, and Marcus Giles, who's hitting .302 and with real power of late, runs up to bunt right-off. They do this kind of stuff every time they face a premier pitcher. They show bunt, they take extra pitches, they step out a lot, and they dance a little more than usual off the bag. They're all about getting in the good guys' heads, all about trying to mess with them. What's the old line from Warren Spahn? "Hitting is timing and pitching is upsetting timing"? Well, for the Braves -- and I truly think this has been a hidden component of their 13-year run -- hitting is about upsetting timing. You could see it again in the sixth, when Giles, pressing Pedro, ran and scored (the third run) from second on a swinging bunt by Julio Franco. It was a smart, opportunistic move in the moment, but it was really of-a-piece with their whole up-in-your-grill approach to facing a guy like Martinez.
• Bathroom run. If I were serious about this, I'd be hooked up to a catheter. Come back to find Lackey walking David Ortiz to load the bases. Completely unfair question that comes to me while watching him walk three and cap things off with a wild pitch to go down 2-0 here: Have the Angels ever completely gotten over 1986?
• Headache brewing … too many toggles, too much empathizing and spitting. More beer clearly the answer.
• Why I like Mike Scioscia: After Lackey's fifth, after Lackey righted himself and got Nixon and Bill Mueller to ground out, Scioscia, managing for the long haul, managing with an eye toward a division series start right back here in Boston in a few weeks, sends Lackey back out to pitch the sixth. Lackey gets them 1-2-3 and Scioscia avoids holding his pitcher's psyche in his hands like so many pieces of a broken vase.
• Did I mention Pedro and Smoltz are going on at the same time? Rusch has been booted from the office TV, perfect game brewing and all. Smoltz is struggling in the early innings -- lots of pitches, lots of time for Pete Van Wieren to go off on Andruw Jones and the MVP race. Van Wieren couldn't stop talking about a column Ken Rosenthal had written suggesting Jones' batting average with runners in scoring position might be the one weakness in his MVP resume. "If you want to find something negative you can always find something wrong with someone," Van Wieren kept saying. (I'm paraphrasing.) "In this day and age, when there are so many numbers available to us, you can say something bad about everyone." (More paraphrasing.) I like that Van Wieren likes his guy. And I like that he's up in arms about anyone running him down. Really, I do. But it's not a stretch to challenge Jones' MVP candidacy. Forget batting average with runners in scoring position; just put his OPS (.941) up against Mr. Pujols' (1.047). Factor in that Pujols matches Jones' lead in home runs and RBI with considerable leads in batting average, stolen bases, hits and doubles. And then consider that both men play Gold Glove defense, and both men have been stalwarts for clubs hit by injuries to key players (Chipper Jones in one case and Larry Walker, Reggie Sanders and Scott Rolen in the other), and at the very least you have a tight race.
• While I'm looking up Pujols' numbers the Angels have tied things up. Orlando Tone-Setter Cabrera did something mean and nasty to a Wakefield duck and then something else happened, which I missed while watching Oswalt bend himself in knots again, to make it 2-2. But I'm back in time to see Big Papi strike out against Brendan Donnelly, which inspires two thoughts: How did that happen? And, what exactly is Big Papi thinking with that chin-beard? This is not the beard of a slugger. It is the beard of a philosopher, of a chess master, of a man who smokes a pipe and wears patches on his elbow. I love Big Papi. My little girl loves Big Papi. We all love Big Papi. But after Lukas Haas' incredibly ill-advised goatee, is this not the least task-appropriate beard in all of pop culture right now?
• Score tied at 1 in the ninth in Philadelphia now. Billy Wagner facing Jason Lane, one out, and Eric Bruntlett (pinch-runner for Lance Berkman) is on first. Wagner's a lefty with a decent move to first. He throws over on Bruntlett twice, to let him know he's thinking about him. Bruntlett's like, "That's nice, but I'm going just as soon as you start concentrating on my buddy Jason there." He steals second. Then he waits for another gap and steals third. That's right: Eric Bruntlett runs Billy Wagner and the Phillies into the ground. Meanwhile Jason Lane is fighting off pitches, and eventually turns the eighth pitch of the at-bat into a base hit to center and an Astros lead. Call it the Dave Roberts effect. Call it the difference between being in the hunt for a playoff spot and being the hunter. Call it one-and-a-half games up on Philadelphia (and one up on Florida) in the wild card standings at the end of the night. This is an absurd sort of extrapolation -- I know it is -- but when the Astros win the wild card, this moment, with Eric Bruntlett standing on third brushing dirt off the front of his jersey and every member of the Houston squad dancing with glee in the dugout, will be the reason why.
• Watch David Wright set up in the box. The bat's a lightning rod on a barn roof, reaching for some charge in the night sky. Watch his impossibly long, sweet swing. Who do you see? It's Alex and Albert, right?
• Back to Boston and Trot Nixon drawing a walk off Kelvim Escobar. For years Craig Biggio has been the undisputed king of pine tar helmet muck, but Trot Nixon is making a serious bid for the crown. Trot's working in some glisten and doing some things with texture and topography the likes of which I've never seen before. I can't tell if I'm looking at a helmet, fake vomit from a joke shop, or a seventh-grader's science fair reproduction of the Kilauea lava flow.
• David Eckstein ruins Rusch's perfect game, completely the unlikely hero and unlikely hitter exacta.
• Headache full-blown now. I have cucumber slices over my eyes. I'm watching games through the translucent mucous between the seeds.
• Even with one eye on the Mets-Braves game I can tell Pedro ain't quite right. He's still brilliant and bold. He still flicks balls up and in and down and away the way James Dean flicked cigarette butts, all tortured genius and unbelievable cool. But he ain't quite right. Rafael Furcal is pulling his stuff, yanking it actually. That ain't quite right. He hits 91 on the gun -- once. That ain't quite right. By the time it's all said and done, he strikes out two in six innings. That ain't quite right, either. In his last six starts he's logged strikeout totals of 4-5-4-6-6-2. Is it fatigue? Is there an injury? He's not going to say, which is part of what we love about him. But you have to wonder, if the Mets did manage to get in, what would he have left? Then again, if you remember what he did in '99 in the division series against Cleveland, when he was patched together with staples and chewing gum, maybe you don't.
• Back to Boston, where we find Scot Shields auditioning for the part of Donnie Moore. Scot Shields is a terrific pitcher. He's been dynamite all year -- 84 strikeouts in 80 innings, a 2.93 ERA, a 2.07 groundball-flyball ratio, and a .214 BAA. I like Scot Shields. I like his compact delivery, the fierceness of which is all out of whack with his small frame and unassuming face. I say all this because Scot Shields has no chance in the ninth against Ortiz. He's roadkill. I swear, I say this out loud. I tell the dog, the dog who refuses to clear my mac-and-cheese bowl and won't get me an aspirin, the dog who clearly is an Angels fan. He ignores me. Shields is an extra in the continuing epic that is Papi, I say. Groan, he says. Sure enough … boom. Four jackpot home runs in the regular season now, and three more in the playoffs? This is Reggie territory. This is legendary stuff, even outside of Boston. Speaking of which, please tell me there are chemists and taste-testers at work as we speak on a Big Papi chocolate bar. Seriously. Tell me that wouldn't fly off the shelves.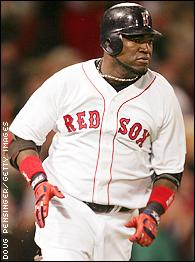 Getty Images
The most feared hitter in baseball?
• By the way, completely unfair question that comes to me while watching Ortiz flick his bat toward the on-deck circle the way Paul Bunyan might toss his axe onto a mountain of split and stacked wood: Have the Angels ever completely gotten over 2004?
• Headache leading to dizzy spells now. I should be in my pajamas. I wonder, will my wife understand if I bring the set and my computer and another bowl of mac-and-cheese into bed to watch the Giants and Dodgers go at it? The dog, a border collie with a face like a magic 8 ball, says "outlook doubtful."
• Delightful shots of Barry in the dugout at Dodger Stadium. Not since Charles Grodin last squirmed in the Letterman guest chair has someone so convincingly feigned disinterest.
• Dodgers season in a nutshell, Part 1: Up 1-0 with one out and nobody on in the sixth, Jayson Werth, diving for a ball he had no chance of catching (seriously, Screech beds Kelly before Werth gets this ball), plays a single into a triple. Jason Repko, backing Werth up, throws the ball to third and hits Snow in the leg -- which had no effect on the action, but jacked up the comic value by a good 4 percent. And then moments later, pitcher Brad Penny takes some kind of weird, Travis Bickle sort of offense to Snow leading off third, walks off the mound and marches right toward him, shouting some bizarre nonsense and pounding his right leg, like "You see this leg, you see this? Don't make me come over there and take it off at the hip and beat you about the head with it." Snow just stares back at him, chewing his gum, and vaguely recalling an article he once read about a fluid in the brains of Dobermans that, when released by an intense flow of adrenaline, causes them to attack and kill their masters. So now Pedro Feliz, who is in an 0-for-a-fortnight slump, is at the plate all inspired, and the next thing you know there's a moonshot double flying over Werth's head and the game is tied. The Dodgers don't hit much, it's true. But they don't help themselves much either.
• Randy Winn drives in Angel Chavez with a squeeze in the top of the seventh. He had to dive down and out to reach the pitch. Great bunt. Sweet call. Put the Giants up 2-1, which not only set things up for the very predictable meltdown of LaTroy Hawkins in the eighth inning, but also added a little bit more of the requisite nyuk-nyuk vibe to the game. The squeeze is a slap in the face. Only the steal of home says, "We don't like you, we don't respect you, and we never will" more clearly than the squeeze.
• Dodgers season in a nutshell, Part 2: Bottom of the 10th, 2-2. Werth strikes out swinging. Jason Grabowski strikes out swinging. Oscar Robles singles. Jeff Kent says "enough of this" and hits a ball deep, deep into the night. Kent is the only real hitter on the club. He's the only hitter the Giants have any reason to worry about whatsoever. Conventional wisdom says you have to pitch to him there; can't put the winning run on second, but you know Felipe is kicking himself right now for not flouting conventional wisdom. That said, Kent's ball flying up and into the seats, and his coming 'round to a home plate full of teammates jumping up and down (their own nyuk-nyuk gesture, by the way) was a moment just as loaded with the weakness of the rest of the lineup as it was with the power in his bat. It was a great end to a game that was, well, not so great. Of course, that kind of stuff only matters when you're thinking about well-played defense, and legitimate shots at the postseason, and games back of the Padres and stuff. When you're thinking on a grander scale, about the way every Dodger win shortens the life of every Giant fan, and about the way every Giant squeeze raises the blood pressure of every member of the Dodger faithful, than it was a truly great game. Complete with plenty of nyuk-nyuk.
• Must sleep. Dog has my place on the bed. I curl up on the couch and spit a little Lackey spitball on the floor, knowing he owns me. But still, I feel good. I feel washed in the blood, sweat and tears of September. I feel ready, oddly enough, to do it all again tomorrow.
Eric Neel is a columnist for Page 2.