By Eric Neel
Page 2
Twenty-two years ago, on Dec. 13, 1983, the Detroit Pistons beat the Denver Nuggets 186-184 in triple overtime. It was, and remains, the highest-scoring game in NBA history.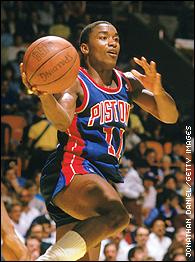 AP
Before they were the Bad Boys, Isiah and the Pistons were a high-scoring machine.
186-184. 370 total points.
The numbers don't seem real. They're not just out of the past, they're altogether alien. They simply don't compute. The 2005-06 Phoenix Suns, everybody's high-octane darlings, lead the league right now, averaging 103 points per game. The Portland Trail Blazers bring up the rear at 85.9.
But it happened. I've seen footage. The league has a photo of the official scorebook at NBA.com. The New York Times has commemorated the game in its "This Day in Sports" series. And Nuggets general manager Kiki Vandeweghe tells me he was there.
Vandeweghe scored 51 points that night. Alex English had 47. In all, an NBA-record four players scored over 40 points and 12 players (six Pistons, six Nuggets) had double figures, including Isiah Thomas (47), John Long (41), Kelly Tripucka (35) and Dan Issel (28). The halftime score was 74-74. Jeff Van Gundy would have passed out. The game, played at the high altitude of Denver's McNichols Sports Arena, lasted 3 hours, 11 minutes. The teams took a combined 251 shots and hit on 142 of them (56.6 percent). The Pistons shot 60 free throws, the Nuggets 57. There were a record 93 assists in the game; Isiah had 17 of them. There were 113 rebounds, though, remarkably, only English and Bill Laimbeer managed double-digit boards, with 12 apiece.
The game film is a blur; Detroit's Vinnie Johnson doing a goofy pirouette jumper at one end, English flashing his signature baseline fadeaway at the other, and Isiah and Denver's Mike Evans pushing it from circle to circle in between. The teams were playing just the way Nuggets head coach Doug Moe liked it: fast. The 1984 Nuggets led the league with a pace factor (i.e., possessions per 48 minutes for a team and its opponent) of 110.5, and Detroit posted a pace factor of 103.8 that year (today's Suns, by comparison, crank it up to 95.1).
"At that time, if you go to Denver you know you're going to be in for a scoring match," says Tripucka. "They didn't run a lot of plays, they just kept running. We knew we had to play a certain way with them."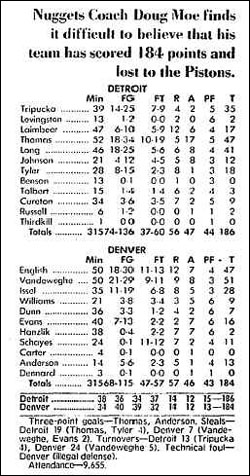 Moe, the one-time undisputed king of golf-shirt chic, wanted things loose. Whereas the Larry Browns and Rick Carlisles of the world treat each possession like a Faberge egg, Moe thought of them more like Skittles; they're great, and you can never have enough of them, but they aren't precious or anything. "You have to let go," he told me recently. "Get more chances with the ball, play at a different pace than most of the other teams."
Though it often made for some ugly numbers for what Moe likes to describe, with a mocking sneer in his voice, as "so-called" defense (the '84 Nuggets gave up 112.6 points per 100 possessions), the combination of the thin Denver air and a fast-on-the-floor pace was a Nuggets tradition once upon a time. Since 1982, the top six (and seven out of the top 10) pace factors in the NBA have been recorded by Denver squads. In that same span, five of the top six field-goal-attempt averages (the sixth belonged to the '85 Pistons) and five out of the top six points-per-game averages (the sixth belonged to the '84 Spurs) also belong to Nuggets teams.
"We always felt we could use the altitude to our advantage," Vandeweghe says. "But I don't think Doug knew anything about pace numbers or anything like that. It was an attitude thing with him."
English describes ball under Moe in more reverent terms. "It was basketball at its purest," he says. "Free-flowing, with the pressure off the players." At a time when the iconic face of coaching in America was Bobby Knight's red-cheeked rant at some poor kid unfortunate enough to miss a teammate coming off a back-screen, Moe, more like a bandleader, was letting his guys find a groove. "Everyone knew what their roles were," English says. "But no one was limited or afraid to try things." Even now, Vandeweghe chuckles just thinking about how much fun it was: "Doug never criticized a shot."
Confidence is a beautiful thing. Un-self-conscious confidence is sublime. Vandeweghe averaged 33.6 points per 40 minutes in 1984. English hit for 30.2, and Dan Issel was good for 29.0.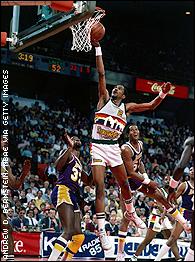 AP
Alex English averaged 25 points or more per game eight times in his career.
And never mind the "Bad Boys" -- the 1984 Pistons, in their first season under Chuck Daly, were nearly as potent as the Nuggets. "Outscore the other team," Laimbeer wrote in a recent Basketball Digest piece. "That's what our team was back then." Detroit had six players post Player Efficiency Ratings (PER) over 14.0 that year. They always had five on the floor who could fill it up. Terry Tyler (been a while since you thought about him, eh?), Long, Laimbeer, Johnson, Thomas and Tripucka were all good for 18-plus points per 40.
"We knew it was going to be a tough game," English says. "They had that young upstart named Isiah Thomas, and Vinnie was always tough to defend, and people forget how good John Long was; he was a truly great scorer."
Long is one of those guys who has fallen through the cracks over time. He played for 14 years in the league, most of them with the Pistons, and all of them with a shooter's eye. He shot a career 46.7 percent from the field. According to the good folks at basketball-reference.com (whose database is a gift straight from the basketball gods), he compares (at age) to Xavier McDaniel, Kevin Grevey and Antawn Jamison. I see the Jamison thing, or maybe Michael Redd, or … you know, it's hard to think of another analog. Straight scorers are hard to come by these days; ask the Cavs.
More than Long, though, Vandeweghe says the old-time Piston who folks tend to sleep on now is Tripucka. I asked him whether they were scheming to stop Isiah that night, who by 1984 was filling stat sheets with 21.3 ppg, 11.1 apg and 4.0 rpg, but he said they were more worried about Tripucka.
| | | |
| --- | --- | --- |
| Year | W-L | PPG (rank) |
| 81-82 | 46-36 | 126.5 (1st) |
| 82-83 | 45-37 | 123.2 (1st) |
| 83-84 | 38-44 | 123.7 (1st) |
| 84-85 | 52-30 | 120.0 (1st) |
| 85-86 | 47-35 | 114.8 (4th) |
| 86-87 | 37-45 | 116.7 (4th) |
| 87-88 | 54-28 | 116.7 (1st) |
| 88-89 | 44-38 | 118.0 (2nd) |
| 89-90 | 43-39 | 114.6 (3rd) |
"Isiah was obviously a great player and tremendous competitor and everything," he says. "But I think when we played those Pistons, Tripucka was our focus. He was a great player, he could score all night and from all over." With a scorer's casual confidence, Tripucka explains that scoring just was never that hard for him. "I just got out and ran," he says. "Isiah would get me the ball on the wing, I'd get to the hole, get to the line, and hit a few jumpers and the next thing I knew I had 20-something points." Tripucka averaged 26.0 points per 40 minutes in 1984, tops on a team that scored 117.1 points per game.
So both teams could score a little. And they knew, playing against each other, especially in Denver, the ticker would be rolling early and often. But they didn't expect anything like 186-184. "Everybody was just flowing," English remembers. "It seemed like nobody could miss a shot." At the end of the first quarter, Detroit was up 38-34. It was tied at 74 at the half. Denver was up 113-108 after three quarters. And Isiah tipped in a Bill Laimbeer free-throw miss as the clock expired to send the game into overtime, tied at 145.
The players were feeding off each other, even across team lines. It was a collective unconscious thing: Everyone thought of themselves as scorers in the act of scoring. "You hear people talk about a zone for individual players," Vandeweghe says. "That night, for both teams, whatever it was, we were in it."
Laimbeer recalled how tight it was: "Neither team could pull away. It was just up and down the court all night, but it was a two-point game or a four-point game almost the whole way." Teams push and inspire each other. Guys on both sides feel as if they're almost collaborating on something with their opponents, and feel most definitely as if they're taking part in a shared experience, a phenomenon they'd be afraid to ruin, a transcendence they know they'd never be able to explain to anyone who wasn't on the floor with them. "We were running as fast as we could," Tripucka says, about to lay out the classic Zone Koan. "But the way the points were coming, and the way people were shooting, the way we were all shooting, I swear it felt slow out there."
In his autobiography, "Second Wind," Bill Russell described rare nights when two teams can achieve something truly special:
"Every so often a Celtic game would heat up so that it would became more than a physical or even mental game, and would be magical. That feeling is difficult to describe, and I certainly never talked about it when I was playing. When it happened I could feel my play rise to a new level. It came rarely, and would last anywhere from five minutes to a whole quarter. Three or four plays were not enough to get it going. It would surround not only me and the other Celtics but also the players on the other team, and even the referees. To me, the key was that both teams had to be playing at their peaks. … It never started with a hot streak by a single player, or with a breakdown of one team's defense. It usually began when three or four of the 10 guys on the floor would heat up; they would be the catalysts, and they were almost always the stars in the league. … The feeling would spread to the other guys, and we'd all levitate. Then the game would just take off, and there'd be a natural ebb and flow that reminded you of how rhythmic and musical basketball is supposed to be. I'd find myself thinking, 'This is it. I want this to keep going,' and I'd actually be rooting for the other team. When their players made spectacular moves, I wanted their shots to go into the bucket; that's how pumped up I'd be. I'd be out there talking to the other Celtics, encouraging them and pushing myself harder, but at the same time part of me would be pulling for the other players too."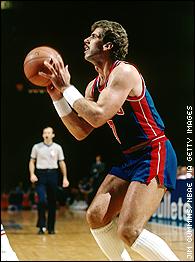 AP
Kelly Tripucka averaged 21.3 per game in the '83-84 season.
Tripucka, English, Vandeweghe, Laimbeer -- they all echo Russell in talking about the 186-184 game. It wasn't just an outcome; it was a happening, an event, a "levitation." "At first, you're just playing," Tripucka says. "But somewhere along the way you get a sense of it. You feel it coming on." At that point, it's not so much a matter of what you will do, or even of who will win, but of where the game will take you. "I remember when Isiah tipped that ball in at the end of regulation time," Vandeweghe says. "And I just thought, 'Here we go. Now what?'"
"Now what" was, of course, three high-scoring overtimes, including the second, in which Tripucka scored all 12 Pistons points, and, eventually, a Detroit victory and a bucketful of records. Remarkable as the night was, the participants were sure the records would be broken. "We had no doubt," English says. "Back then, everyone scored a lot of points." It's true. Only three teams in the NBA averaged less than 100 points in 1984 (today only five teams average as many as 100). The Pistons scored 130-plus nine other times that season. And the Nuggets, who averaged 122.7, posted more than 130 points 24 other times.
"It was a different game then," says Tripucka, who scouts for the Knicks now. "There's no question we were better shooters, better all-around players, and we were team-oriented. Guys now are too individually oriented. Everything's isolations and one-on-ones. And teams now have a couple of guys who can really score, but we had four or five, and so did the Nuggets." The recent encouraging adventures of the Suns notwithstanding, the difference between then and now might be a style thing as much as anything. The Nuggets and Pistons were dedicated to an approach that didn't favor one or two players. "I don't think defenses today could stop the high-powered offense we were running back then," English says. "Nobody knew what we were doing. We were a hard team to scout. We could come from so many angles."
NBA's top offensive teams, 1983-84
1. Denver Nuggets: 123.7 ppg
K. Vandeweghe, 29.4; A. English, 26.4; D. Issel, 19.8; R. Williams, 10.2
2. San Antonio Spurs: 120.3 ppg
G. Gervin, 25.9; M. Mitchell, 23.3; A. Gilmore, 15.3; G. Banks, 13.1
3. Detroit Pistons: 117.1 ppg
I. Thomas, 21.3; K. Tripucka, 21.3; B. Laimbeer, 17.3; J. Long, 16.3
4. Los Angeles Lakers: 115.6 ppg
K. Abdul-Jabbar, 21.5; M. Johnson, 17.6; J. Wilkes, 17.3; J. Worthy, 14.5
5. Utah Jazz: 115.0 ppg
A. Dantley, 30.6; D. Griffith, 20.0; J. Drew, 17.7; R. Green, 13.2
Fans of today's game will rightfully make the point that contemporary defenses are a much nastier beast than their back-in-the-day counterparts. Defenders are bigger, quicker, more aggressive and incredibly well-informed thanks to sophisticated scouting techniques and technology. "It's no comparison," Hubie Brown told me a while back. "Defense today is tougher and smarter than it's ever been." But funny as it sounds, both Vandeweghe and Tripucka insist there was defense going on that night in Denver. "Believe it or not," Vandeweghe says, "Doug focused a lot on defense. We were contesting shots all over the place that night." Tripucka remembers it the same way: "I'm not going to buy that it's just defenses now that make the difference. It wasn't like an All-Star game that night. We were pushing through screens, getting hands in guys' faces, it was just a night where shooters were hitting shots no matter what you did."
I don't know if I'm buying the revisionist-history take on '80s-era defense. The Celtics (105.6) and Lakers (111.8) played for the title in 1984 each giving up more than 100 points per game on the season; hard to imagine you could get away with that now (last year the Spurs allowed just 88.4). But I will say, even if it wasn't defense that made the difference, the score of the highest-scoring game in NBA history actually could have been higher. Much higher.
For starters, there were four, count 'em, four 3-point field goal attempts in the game (each team shot 1-for-2). The 3-point shot had been introduced in the league in 1979, but even freewheeling teams like the Nuggets and Pistons were hesitant to incorporate it (the Nuggets made just 77 3-pointers all season and the Pistons just 32). "It was a shot you took to try to come back when you were down," Tripucka says. "It wasn't a part of anybody's offense. Our feeling was, why not move the ball and move your feet and get a good shot from 15 feet? We were playing old-school basketball, I guess." The average number of 3-pointers made in the NBA so far this season is 6.16 per team. Even if we assign the average to these two above-average shooting teams, we get 36.96 points on 3s, which is roughly 12.3 more points than were scored in the record-setting game. And I don't, for a minute, think these two clubs would manage just the average number of attempts or conversions.
And even if we forget the 3-pointer, the final score could have been higher (or maybe the game would have ended earlier!) had the Pistons not stunk up the joint from the free-throw line. They were just 37-for-60 from the stripe (62 percent).
Vandeweghe remembers a lot of mistakes down the stretch, actually. "We were exhausted," he says. "The score could have been higher but there were a lot of easy shots missed late in the game. We were spent."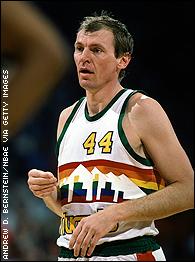 AP
At 6-foot-9, Dan Issel qualified as the Nuggets' "big" man.
Call it fatigue, call it hunger, but by the end of the game, Tripucka's mind was wandering a bit when the ball would stop. "It was a road game for us, and I remember looking up at the clock during timeouts and it was getting late and I was wondering whether we were going to be able to get dinner out after the game. I thought maybe we could take the scorebook and show it to the guy through the restaurant window and maybe he'd open up for us."
Vandeweghe and English say they didn't think much about the game when it was over. It was different for Tripucka. Winning makes a difference, even on a night when everybody's "elevating." "I felt bad for those guys," he says. "It had been such a great game. And in the locker room, afterwards, knowing we'd won it, man, a shower never felt better."
So was it a once-in-a-lifetime thing? Will the record ever be broken? Will the Suns and Mavs go crazy some night? "There's such a difference now in style of play, in focus … I do think our two teams were a kind of perfect storm; we had such good scorers," Vandeweghe says. "It could happen but it's going to take a very special night."
Tripucka isn't nearly as conciliatory when it comes to the present-day ballers. "I think it's one of those records that will never be broken," he says. "I put it up there with Wilt Chamberlain scoring 100 points and DiMaggio's hitting streak. I think it'll last my lifetime and beyond. I just can't see it being broken."
As a basketball fan, it's exciting to talk to these guys. If you can forgive the hyperbole, I imagine it's something like being in the company of an astronaut, actually. They've been to some rarified, exhilarating place I'll never go, and they put on a show the likes of which I'll more than likely never have the chance to see. Tripucka laughed when I called him to ask about the game the other day -- he asked, "Is it ever going to go away?" -- but even he had to admit there was an enduring, quasi-romantic appeal about it, about the heights it reached. "People love hearing about it," he said. "I know I'll be talking about it again next year."
More than 9,600 people saw the game in person 22 years ago. For the rest of us, who've seen the present-day Pistons hold a week's worth of opponents under 70, it's a mind-blowing myth, a thing to be wondered at. It's not that we want that game or that style back (after all, the '84 Pistons were knocked out in the conference semis and the Nuggets finished with a losing record and were bounced in the first round of the playoffs).
It's just that we like knowing, we need to know, that under the right conditions, that kind of "magic" was possible.
Eric Neel is a columnist for Page 2.