By Eric Neel
Page 2
It's crunch time. With just under two weeks to play, the Detroit Tigers are a game up on the Minnesota Twins in the race for the American League Central division crown, and the Twins are four games ahead of the Chicago White Sox in the wild card race. Who takes the division? Can the Sox make a late charge for the wild card? Like Tom Cruise, the fortnight is ripe for analysis.
So you're going to hear a lot of breakdowns and predictions in the next couple weeks. You're going to get some RISP-close-and-late tidbits, some middle-relief inherited-runners-ERA insights, and some head-to-head matchup recaps. In other words, you're going to be inundated with baseball stuff; on the field, between the lines and first pitch to last.
But not by me.
I want to talk about the other stuff. I figure a race this tight doesn't actually hinge on hits and pitches, anyway -- it hinges on good luck, on a smile from the gods, on what sort of juice, what kind of magic each club brings to the mix. The difference between a seeing-eye grounder and a ball that dies in a slick fielder's glove is not talent, I say. It's mojo.
So here now, the intangibles that set each team apart, the AL Central Crunch Time Mojo Index …
DETROIT TIGERS
THE GOOD
• A man named Pudge. It's an old-time name, something sturdy, something lifted up out of an iron forge. A Pudge does not wilt.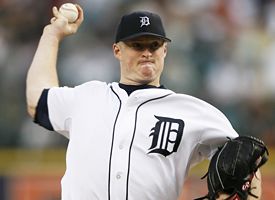 Leon Halip/WireImage.com
Jeremy Bonderman is just one of several young stars who've been pivotal to Detroit's success.
• Youth. Jeremy Bonderman (23), Justin Verlander (23), Joel Zumaya (21), Curtis Granderson (25) and Marcus Thames (29) have been at the heart of the Tigers' run this year. As youngsters, they might lack experience and be prone to nerves, but as youngsters who command wicked stuff and terrific pop, they also have the inviolable sort of confidence that sees only possibilities and opportunities spread out for years to come. Older, more experienced players bring regrets and mortal worries to the moment. They clench up. The kids think they'll live forever. They play loose. Fearless.
• Jim Leyland. He went toe-to-toe with young Barry and walked away with the slugger's stones in a ziplock bag. He smokes 7,000 cigarettes a day and never seems worse for the wear. He won a World Series with a Marlins team that had never had a winning record. He has a team that lost 119 games in '03 in position to win the division. The man could broker a peace between the Dixie Chicks and POTUS and I wouldn't be surprised. He's a walking amulet. There's nothing he can't do.
• Duds. The Detroit home whites are (Yankees and Dodgers included) the best-looking uniforms in all of baseball. You can argue this point, but I'm afraid it is an empirical fact; something arrived at by scientists at the Vera Wang Clinic of Cool in Paris, France. So, you can argue this point, but you will be on the wide-legged-pants, burlap-sack-skirt side of science if you do.
• Willie Horton in bronze. The Tigers have statues of Al Kaline, Hank Greenberg and The SOB (among others) outside Comerica Park, too, but the Horton statue is special. Willie was a very good player (325 home runs, twice in the top 10 in MVP voting), but he wasn't a Hall of Famer. He wasn't Kaline, Greenberg or Cobb. He's not thought of much by Joe Fan outside Detroit. He's immortalized at the ballpark because he's a hometown guy, because he went into the city streets to discourage rioting, because he led the team to glory in '68, and because they just love him in Detroit and always will. It's a nice thing. It's the right thing. It's the sort of thing that can make a difference when your club is playing its last six games of the regular season at home.
THE BAD
• Cutting Dmitri Young. No doubt there's some backstory here, but if they did cut him loose for "lack of production," as they claimed at the time, this suggests some profound bad judgment on their part. No. 1, the man was hitting .292 and slugging .504 in the second half. No. 2, and much more important, they denied themselves the juju boost that comes with every funky braid dangling down Dmitri's back. Why you would want to do that I just don't know.
• Acquiring Neifi Perez. Forget for the moment that the man is a career .268/.298/.376 hitter, and just think about this: He has come over from the Cubs. Now, imagine the damned, fatalistic, abandon-hope-all-ye-who-enter-here stank he carries with him, would you please? It gives you chills, no?
MINNESOTA TWINS
THE GOOD
• A guy named Boof. Boof Bonser. It doesn't hurt that he has posted a sub-4 ERA and a handful of wins since coming back from Triple-A, but even if he threw grapefruits in batting practice, he'd be worth it. If we had a metric for names -- say, VORN (value over replacement name) -- and that metric took into account how much fun the name is to say (both at home and away), and how the name somehow managed to be worthy of both ridicule and respect at the same time, and how the name used alliteration to good effect -- Boof Bonser would score roughly 82.7 on that metric, putting him head and shoulders above his next nearest competitor, Coco Crisp of the Red Sox at 63.9.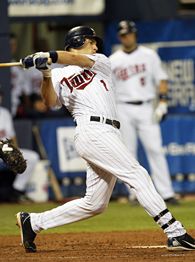 Ron LeBlanc/WireImage.com
Joe Mauer's sweet swing has him on top of the AL batting title race at the moment.
• Joe Mauer's swing. So sweet it distracts us from how "Honeymoon in Vegas" his burns are. And the sweetness of the swing is its own virtue, regardless of the balls it puts into play. The swing echoes other great swings, of Williams, of Sam Snead, of John Henry. And it stands on its own, like some testimony to the sublime, like some impossible ideal.
• Brad Radke's heart. He's on the shelf right now, trying to nurse a bum shoulder back in time for the last weekend of the season -- and, he hopes, the playoffs. But even if he doesn't make it back, he already has given the club a tremendous lift with the way he has pitched this season -- because the way he has pitched this season is with a bum shoulder and a whole truckload of want-to. For two years, he has been winging it with a torn labrum, and he recently discovered there was a stress fracture in there, too. And all he did was keep pitching, keep working it, keep -- as he told Jim Caple earlier this month -- "hump[ing] it up." As my friend Dave likes to say, "That's some man work right there." That's the sort of man work that says to everyone in the clubhouse, without Radke ever speaking a word: "What about you? How hard are you willing to work to make this happen? What you got in the tank? I gave up being able to lift my kids up off the ground, what are you willing to give up to get us where we want to go?" More than mojo, this is a prime directive. Every player in a Twins uni is measuring himself by Radke right now, trying to be more like Brad.
• Kirby highlights. If I'm the big-board media coordinator at the Metrodome, I'm running tape of the catch at the wall and the walk-off off Charlie Liebrandt in Game 6 in '91 in a continuous loop. In fact, if I'm the big-board media coordinator at the Metrodome, I'm making sure that loop runs 24 hours a day, seven days a week.
THE BAD
• The Blyleven thing. So Bert said it. So what? That's how people talk when they blow it. That's how we all talk. The baseball gods are not prudes. The shifting winds of fortune do not alight upon sticks firmly planted up butts. The Twins' management and network came off like fearful post-Janet weenies on this thing, and the only weenies the gods like are the ones they get off the grill just before first pitch.
• The Liriano situation. I don't know what to make of it, really, but I know there's some serious punkstunkclunk mojo at work in this here Liriano thing. He looks like a Cy, then he suffers a mysterious pain, then it goes away, then he pitches three gorgeous comeback innings, then he can't lift his arm from his side and has to come out of the game early, then they take an MRI and see nothing wrong? Nothing wrong? That's some black magic, woman. That's some bad moon rising. What's the root of it? I can't be sure, but here's my theory: It's payback for the Pierzynski trade. You remember: They dumped A.J. on the Giants (where he was later rather famously diagnosed as a clubhouse cancer), and got Joe Nathan, Young Mr. Liriano and the aforementioned Boof Bonser. It was, perhaps, the most lopsided trade since Aaron Spelling dealt Kate Jackson for Shelley Hack. And here's my thinking: The trade was so lopsided (even though we didn't realize it at the time) that the Twins had to be punished for taking it. They had to be punished for not calling it off on principle, for not saying to Brian Sabean, "Dude, that's sweet, really, and it's looking mighty fine to us tonight, but we'll hate ourselves in the morning for taking advantage like this. We can't do it. It just isn't right." They had to be punished for not walking away. And they were never going to know when they'd be punished, or how, but they were going to be punished. And now it comes, in the form of a phantom pain that haunts Liriano's elbow and terrorizes Ron Gardenhire's dream life.
CHICAGO WHITE SOX
THE GOOD
• Ain't none. They used it up winning the thing last year.
Four straight complete-game pitching performances in the Series? No major injuries down the stretch? Brad Lidge gets lit up by Scott Podsednik?
What, you think that was all strategy, all skill?
That was good mojo. A ton of it.
And now, what they're left with is the bad.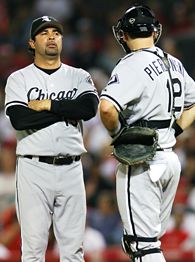 Kirby Lee/WireImage.com
Ozzie and A.J. aren't the darlings they were last season.
Last year, the candid Ozzie bit was charming. This year, it slipped over into crass homophobia and a painful series of self-defense Jay Mariotti columns no one wanted to read.
Last year, the Sox were working against the drought-curse-schneidamadoodle, which meant they had everyone who had a pulse and lived in the continental United States throwing their hopes and wishes behind the White Sox. But who gets jacked up about adopting the defending world champs?
The "A.J.'s a crazy, wild-card prankster tough who gives them an edgy edge" source? Gone with a Michael Barrett right hook and the birth of the "A.J.'s a peace-loving, mind-his-own-business, stay-out-of-trouble guy who gives them, well, pretty much nothing at all these days" scenario.
I could tell you the heartwarming Jim Thome comeback is good for some juice, and it is -- but you'd guess right off that such a thing is probably negated by the fact that they had Mr. Thomas and let him go. You'd know that Frank was a pain and that he made life hard for Ozzie and GM Kenny Williams. Here's what else you'd know: When healthy, he's an inexpensive, ridiculously smart, powerful hitter perfectly suited to the DH role (12 home runs in 105 ABs last year). And you'd also know this: He was the franchise when the franchise was nothing, and Chicago owed him another shot. The powers that be should have been magnanimous, you'd say. They should have said, "We can't pay you big-ticket, but we want you to stay around; you're the White Sox, we get that, it means something to us." And you know what they said instead? They (well, Williams, anyway) said he was an idiot and they said he was selfish, and they said it to reporters, with all sorts of Blylevian terms thrown in for ill effect. And it shouldn't have gone down like that. It should have gone down the way it did in Oakland. The A's didn't pay Frank big moola, they just paid him some respect. And, you'd tell me, they have been justly rewarded with a nice big, roomy lead over the fading Angels.
I could tell you this wildly improbable Jermaine Dye MVPish season is cause for some sort of viral optimism. But I couldn't leave out the way Ozzie benching that kid for not plunking a batter and dressing down Jon Garland in front of God and everybody else sucked the life out of the crew.
Nah, the Sox, they're dead. The numbers might say otherwise. The numbers might say there are games left to play.
But the mojo, she don't lie.
Eric Neel is a columnist for ESPN.com and Page 2. Sound off to Page 2 here.