By Eric Neel
Page 2
Dear T,
When you went to bed I didn't figure there'd be much to tell.
The Dodgers were down 4-2 and Penny was laboring. When you said, "Tell me what happens in the morning, Daddy," I thought, "I already know what happens, T." We lose. We go down 1½ games in the division with 12 to play, and you and I have a talk about how it's just not possible to win every game, no matter how much you want it, and the talk is for me as much as it is for you.
Shows what I know.
That's not what happened at all.
What happened was one of the six best Dodgers games I've ever seen -- right up there with the R.J. Reynolds squeeze game, the Rick Monday walk-off game, Game 4 of the 1988 NLCS, Steve Finley's grand slam game two years ago, and the night Gibson went deep off Eckersley in the first game of the World Series. Remind me to tell you about those games some day, but for now, I'll tell you about this one, because you asked me to, and because I can't believe it happened.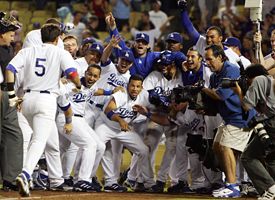 Jeff Gross/Getty Images
Put this one down as one of the greatest Dodgers games ever played.
Rafael Furcal hit a home run to start off the bottom of the third inning, and the Dodgers tied it 4-4 on back-to-back doubles from Jeff Kent and J.D. Drew. When J.D. kind of inside-outed his ball down the left field line, and it moved like a batted Wiffle ball, or like those dragonflies that dart around the backyard, with some funny sideways in it, kicking off into the crowd, I thought immediately of how you'd been chanting his name the first time he came up, pounding your fist on the arm of the sofa, and I wondered if maybe your magic had just taken a while to reach his bat.
The game got quiet for a while after that. Brett Tomko came in for Penny to start the sixth and looked good for an inning, and then it was Beimel, the guy who wears No. 97, who got out of a jam in the seventh thanks to a double play.
But when Broxton pitched the eighth, things started to get away from us. He gave up a thwack of a Josh Barfield double to right-center, a lot like the one Piazza hit over Lofton's head to left-center in the first inning -- remember, the one that made you go "oooh"? Anyway, the Padres scored two runs in the inning, so it was 6-4.
We got to 6-5 (after Marlon Anderson tripled and Betemit singled him home) and Vin said: "Boy is this a game, huh? And the crowd is loving it. From depression to euphoria and all the stops in between. It's not Monday night here. No way, it is Mardi Gras, it is New Year's Eve." I love when he talks like that, like the game never stops tickling him.
But they put up three more runs in the top of the ninth off Takashi Saito, the guy whose funky pitching motion you like (and I like too … or I did until the ninth inning tonight, anyway). One of them was on a wild pitch. It was torture, like that time you had to give a blood sample at the doctor's, remember?
I got up then -- had to walk it off -- and went to mom's office to tell her the bad news. She expressed the usual condolences and kept working, so I trudged back to the TV room, prepared to go down with the ship.
But then Kent hit a home run to start the bottom of the ninth inning, and I brightened just a little. 9-6. If you're going down, go down swinging.
Then Drew rips one right after him. It was a 2-1 count. He just hit the snot out of it, T, deep into the right field bleachers. And it's 9-7, and I'm getting a little juiced now, right? Down two, but with nobody out. The Padres bring in Hoffman, so I'm not confident, but I'm hopeful.
I hustle back to mom and tell her what's happened. She's raising an optimistic eyebrow now. "Too bad T's missing it," she says. And she's right.
I wanted to wake you. I stood in your doorway, but decided to hold off until there was really something to talk about. And then, hand to God, Russell Martin hits the first pitch from Hoffman over the wall in left field. Back-to-back-to-back! 9-8!
When I was your age, or maybe a little older, I remember a back-to-back-to-back night from Steve Garvey, Ron Cey and Jimmy Wynn. I watched that game with my papa. We laughed and danced. It was, for a long time, my favorite baseball story because it seemed so out of this world, so unbelievably cool. It felt like that tonight, too. If he was still alive, I'd have called him for a dance, but instead I was back in your doorway, ready to take you for a sleepy spin, when mom called out from the office to ask what had happened.
She got excited and nervous at the news, the way she does, wishing for something great and worrying that we might be let down. But I was all in now. I hurried back to the set.
When Anderson came up, and there was still nobody out, I thought we were going to catch them, T, I really did. (Marlon had a gi-normous game, by the way; 5-for-5, two home runs.) But I didn't think for even a second that it would be another home run.
Which is exactly what it was. On the first pitch. Deep to right. Four home runs in the ninth inning! Four in a row.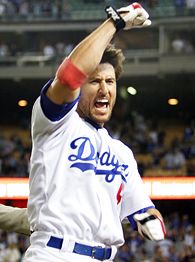 Jeff Gross/Getty Images
Do you believe what you just saw?
Vin (and you can tell he's flabbergasted, even though he's seen most everything) says, "This is why baseball is such a wonderful game. You just never know what you're going to see."
I've certainly never seen anything like it. No one has. Not in 30 years anyway. The last time it happened was with the Twins in 1964, before mom and I were born. (And, of course, that didn't happen in the ninth inning to tie a game.) The fans in the parking lot at Dodger Stadium who'd left to head home, thinking the game was over before it was over, were scrambling back into the ballpark. They wanted to be a part of history. The ones who were still in the stands were crazy loud. Do you know what "apoplectic" means?
They were apoplectic.
This kind of game would be great in April, but in September, with only half a game separating the two teams, with the division title at stake, it was epic. You could see it on the faces of the kids in the stands. This was a night they'd remember forever, and they knew it.
I figured four dingers and a tie ball game was officially something to talk about, so I slipped into your room and whispered to you, "They've come back, T. Four home runs in the ninth inning. You won't believe it." You stirred, but didn't wake.
A comeback like that, in one crazy rush, makes you feel invincible, you know? You feel sure your club will win. But they stalled out at 9-9, Sweets, and they struggled with Aaron Sele on the mound in the 10th inning. He gave up a double to Brian Giles and a single to Josh Bard, and just like that we were down again, 10-9.
I can tell you now, after it's over, that back-and-forth is what makes a game great. I can tell you, now that it's over, that ebb-and-flow is how this game deserved to go. I can tell you it made a kind of poetic sense that the Padres found a way to take the lead again. But that's not how I felt about it when it happened. When it happened I felt like throwing up. Seriously. To come all the way back, and to do it on four homers, and then to lose it? When San Diego regained the lead I felt like I'd fallen off a wall, like I'd gone down hard with a tray full of ice cream sundaes the way Fancy Nancy does in that book you like so much.
And then, incredibly …
We get to the bottom of the 10th inning down 10-9, but Hoffman's done, see, so they have to go to Rudy Seanez. And he can't throw strikes. He walks Kenny Lofton. When he does, Vin says something about the Dodgers having "a rabbit" on the basepaths, anticipating a steal.
But this isn't the sort of game to be won with a stolen base and a single, right? This is home run derby night.
And sure enough, up comes Nomar, and Seanez gets behind, three balls and one strike, and then he grooves a fastball low and … pow. Gone. Out into the screaming crowd in the left field pavilion seats.
I'm laughing out loud as he runs the bases. And dancing, too. And so is mom. I'm singing out my list of all-time Dodgers games and shaking my head like a bobblehead. We waltz into your room and sidle up to your top bunk and I just say, "We got 'em, T."
I want to tell you more, but like me, you're lost in a dream.
So I've set it down here. So we'll both feel like nothing can stop us now. So we'll both have it to point to when the boys are celebrating the division crown. So we'll both have it to remember years down the line. So we'll both know, when the morning comes, that it was real.
Eric Neel is a columnist for ESPN.com and Page 2. Sound off to Page 2 here.