It's best not to rely on your eyes. They lie. They're vulnerable to the leanings of your heart. They rush you to judgment.
The smart play is to wait for numbers, to be a cool analyst of hard facts, to play it straight and sober.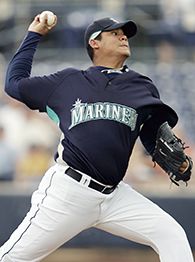 AP Photo/Elaine Thompson
The Mariners may struggle, but Hernandez will still be worth watching.
But I'm not that bright. I'm prone instead to enthusiasms and impressions, to feelings and possibilities. I must confess: I eyeball. So I begin this season absolutely certain "King Felix" Hernandez is going to kick some serious tail in 2007.
I watched the 20-year-old King, who Monday becomes the youngest Opening Day starter since Dwight Gooden in 1985, pitch against the Angels in Peoria, Ariz., last week. And he knocked me out. He wasn't perfect (four earned runs in six innings), but he looked great.
You've no doubt heard that he came to camp 20 pounds lighter (226 pounds) this year. But the difference isn't just that he's healthier, fitter, easier on his 6-foot-3 frame. The difference is he's grown into himself. Gone are the baby-boy cheeks, and the prepubescent hip handles. This isn't the pudgy prodigy; this is the man. With cheekbones and a sense of purpose.
The core of successful pitching is stuff and command. But another smaller, but maybe just as important, part of it is looking the part -- coming off like you're bad and you know it. Think Dave Stewart's curled cap bill. Think Roger Clemens' black glove to the face.
Hernandez was cuddly last year -- clearly talented, but clearly young. Tune in this afternoon and you'll see someone more mature, more focused. Someone lean and hungry. Losing the extra weight was a leadership move. On a team that's going to get whomped a whole lot this year -- a team that's going to struggle just to offer the kid league-average run support -- the youngster said, "That's all right. Give me the ball. Give me the reins. We'll weather this thing. Let's get to it."
His stuff and command look good, too. Just two walks in 20 innings this spring, and they both came in the first of his five starts. In the game I saw, he was dealing that devious, mobile fastball of his, and handing out groundouts like candy. The ball skids and swivels on a low, mean trajectory. Even notorious bad-ball masher Vladimir Guererro looked flummoxed by it, striking out looking in the first inning and flying out weakly in his next two at-bats.
Nine of Hernandez's 18 recorded outs were on ground balls. And five of those nine were sorry comebackers to the King himself. There are outs, and then there are outs. These were demoralizing, head-scratching, I-hope-nobody-saw-what-just-happened-to-me outs. They were take-your-medicine-and-shut-up outs.
I was sitting in the first row -- behind home plate, just a few seats toward the Angels' dugout along the first-base side -- and I could see the Angels hitters' faces as they walked back to the dugout after making outs. They were strange faces. Pained smiles somewhere between wonder and anger. Gary Matthews Jr., who hit two of those comebackers and then struck out swinging his third time up, looked up to the sky for guidance, like he'd rather have been answering questions about HGH than stepping back into the box against Hernandez. Hitters fail all the time, that's the game, but these guys looked messed up when they went down.
And the King knew it, too. When he walked off the hill at the end of six innings of work, Hernandez strolled over to Mariners manager Mike Hargrove grinning, slapping his glove on his thigh. He was in his element, comfortable in his own skin. Hargrove sat next to him, asking him how he felt, and the kid kept smiling and nodding, ready to roll, ready for more.
Hernandez disappointed last year, when the King Felix hype machine was at a fever pitch. And the Mariners are likely to be terrible this year, so (beyond rumblings about Ichiro's contract issues) there isn't really any reason to talk about them. The King is flying beneath the radar right now, free and clear of expectations and attention.
This sets up perfectly for him. We're not focused on him now, but he's right where he needs to be -- not yet 21, but emerging from the bumps and bruises of last season with more confidence rather than less, with more sense of what he's doing out there. I can't say if it will show up in wins and losses. And I can't be sure there won't be dips and struggles along the way. But Hernandez is going to do some serious, wonderful damage this year.
He's going to make us pay attention. He's going to make a whole lot of hitters grimace the way Vlad and Sarge Jr. did last week. He's going to be something to see. Of that I am certain.
Eric Neel is a columnist for ESPN.com. Sound off to Page 2 here.