LOS ANGELES -- It was great to see Barry in LA this week. The Dodgers -- the team of my heart, the team of my youth -- got pounded for three straight games. But still, it was great.
I'm not supposed to say that. I'm supposed to say Barry turns my stomach, makes my skin crawl. I'm supposed to say he's no Henry Aaron (which, of course, he isn't). But the truth is, I'm bummed he won't be back here until after the All-Star break. I wish he'd be here in Chavez Ravine, wearing the road greys and a spiteful grin, the night he sits on 755.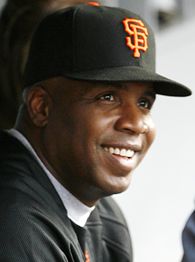 AP Photo/Michael A. Mariant
Barry gets a chuckle out of the fans in LA.
I'm sick of the hand-wringing ambivalence about all this. I couldn't care less whether the commissioner or the all-time home run king come out to the park. Bonds is going to break the record. Soon. By 15, 20 home runs, maybe more. Is that as it should be? Is that as we'd like it to be? Doesn't matter. It is what it is, and will be for a good long time to come. And we ought to get over it.
At the same time, the delusional, pseudo-nationalistic "Barry! Barry! He's our man!" fervor on display at AT&T every night the Giants play at home is enough to make a guy want to yak up his garlic fries. Barry can pretend "Game of Shadows" never happened. But the rest of us, even those with season tickets by the Bay, have to live in the real world, appear credible to our kids and our creditors, and be straight with our spouses and preachers and such.
Barry in LA takes care of both these problems. When Barry's in LA there is neither ambivalence nor delusion. Instead, when the Giants come to Dodger Stadium the place is perfectly pitched between roiling bile and enduring respect.
In the second inning Tuesday night, prompted by nothing in particular, the folks in the left-field pavilions started up a "Barry sucks!" chant. It was silly. He was just standing there in left, waiting on a pitch and a swing, doing nothing at all -- and they were hammering him. Later, in the midst of a storm of bouncing beach balls, the pavilions coughed up an inflatable bottle of HGH that looked a whole lot like an inflatable bottle of ketchup. (The bottle was quickly removed from the field.)
On Thursday night the sellout crowd booed him during batting practice and rained down boos on him again as soon as he stepped to the on-deck circle. No stone unturned, no opportunity missed. Some of it gets nasty and wrong -- I saw guys wearing Bonds T-shirts shouted out of their seats -- but none of it feels cheap.
The chants … the inflatables … the intensely local invective … it all flows from an ancient well, from a deeply rooted Dodgers-Giants feud. Like Beatrice and Benedict in "Much Ado," Barry and the Dodgers' faithful know each other very well. Their animosity is steeped and seasoned. So when the crowd comes down on Bonds in this suspicion-tainted moment, it's not a new thing. It's not something that comes from reading headlines or going the way of popular sentiment. It's something already mapped in their Angeleno DNA.
Their hatred isn't just tied to whether and what he's used. And it isn't strictly bound up with whether and when he passes Hank. It's woven into a sturdier fabric. It's first and foremost because he's a freakin' Giant! It's an extension of what they feel for Will Clark and Willie McCovey and Barry's dad and Willie Mays.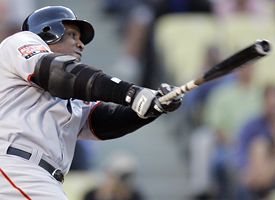 AP Photo/Mark J. Terrill
There's that home run stroke.
And Barry seems to get that. He wasn't talking much before the games this week -- but he wasn't tight, either, offering up praises for Alex Rodriguez and whatnot. And he was, as always, smiling and jawing with the fans in the stands, and laughing as he poked balls into the bleachers during BP. He has said many times that he likes it here -- likes the unabashed quality of the exchange. And in a strange way, even as the fans despise him, there's a measure of familiarity, comfort and respect in their relationship with him.
You could hear that in the transition from boos to aaaaahs when he hit No. 741 Wednesday night. It was a breathless undertow, a grudging but soulful admiration in step with the one-hand, "take that" follow-through with which he finished his swing. It was as if the whole joint said, "Gotta give you that," all at once. And you could hear it, too, when the boos rained down in his defense Thursday night -- as LA manager Grady Little, tired of watching Bonds handle Jonathan Broxton's heat and wary of another pulled Brad Penny fastball, intentionally walked him in the sixth.
Bonds is what he is -- the good and the bad. A symbol of damn-the-torpedoes greed and hubris. An abrasive, no-quarter heir to the king's throne. And a ridiculously talented, singularly focused performer capable -- even at age 43, even under a cloud of suspicion -- of the most insane sorts of rocket launches. He's not just someone to worry about over here. He's not just someone to revile. And he's not just someone to blindly celebrate. He's the whole soup stirred together, the complete mess, the carnival come to town.
Barring injury, he's going to break the all-time home run record somewhere else. Maybe Milwaukee, New York or San Diego. Who knows? Wherever it happens, there'll be some ringing wrong note about it for me, like a dropped pot lid clanging on the floor.
Wherever it happens, whenever it happens, I'll think back to this week in Los Angeles. When Bonds was cloaked in history and in his element. When even with all that's wrong, he looked, and felt, somehow right.
Eric Neel is a columnist for ESPN.com. Sound off to Page 2 here.