I hate the Celtics. I hate the green. I hate Bill Russell's mannered little goatee. I hate Red's cigar. I hate Bird's mullet. I hate the leprechaun. I hate the stupid floor. I hate Don Nelson and his lucky bounce. I hate M.L. Carr and his towel. And I hate Danny Ainge and his pout most of all.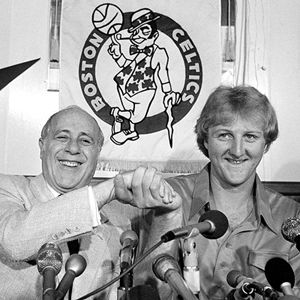 AP Photo
If you're a true Lakers fan, this picture has to make you sick to your stomach . . .
My grandfather hated them before me. They were arrogant, he said. They stunk of smug champagne celebrations and street parades. Rooting for them, he said, was worse than rooting for the Yankees, worse than rooting for Goliath. He wanted me to pick an underdog, some team forged in hard luck and kissed by just a glimmer of hope, some team you could really pull for, some team that needed you.
I chose the 1974-75 Lakers, the first team I was old enough to follow heart and soul. A terrible team. Worst in the Western Conference. The Lakers started Elmore Smith at center and backed him up with an aging Zelmo Beatty. Even the next year, when they got Kareem from the Bucks, they were a sub-.500 team. But I loved them. I loved Gail Goodrich, his hair bouncing in front of his eyes as he dribbled fast and mean to the right corner of the floor. I loved Lucius Allen, who came over in a midseason trade, with his easy, unhurried way under the bucket.
And the more I loved them, the more I professed that love to my grandfather, the more we hated the Celtics, who lurked out there in the ether, in the night, a dark force against which to define ourselves, a sinister yin to our righteous yang. Long before the Lakers and Celtics of Magic and Bird were dueling for control of the 1980s, despising the Celtics was an automatic reflex for me, no different than breathing in and out, or blinking my eyes. Long before we kicked their butts in '87, it was constitutive, it was who I was, a feature listed alongside height and weight, alongside religious and political affiliation.
I mention all this as prelude to a new and most disturbing development in my life, a thing I'm having trouble typing, having trouble admitting to myself let alone anyone else, and that is this: I actually like this Celtics team, the one that's tearing up the league through the first three weeks of the season. I don't mean I like the Celtics' chances to come out of the East. I mean I like them. I find them appealing. I find myself anticipating their "SportsCenter" highlights, not with Schadenfreude-filled malice as I always have, hoping for a glimpse of their failures, but with something like anticipation, even excitement, at the prospect of their triumphs.
Things started off innocently enough. I saw the "Big Three" on the cover of Sports Illustrated and ESPN The Magazine and wanted to hurl. I heard the giddy preseason predictions of a return to Boston glory and wanted to laugh. Things as they ever were. My house in order.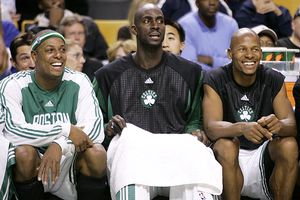 AP Photo/Charles Krupa
. . . but for many reasons this picture might evoke completely different emotions.
Then on Friday, Nov. 9, in a hotel bar in Berkeley, Calif., I caught the tail end of their 23-point dismantling of Atlanta, a night when Kevin Garnett went for 27 points, 19 rebounds, six assists and three blocks, and was still jumping and running hard, and dunking with a nasty grin, eight minutes into the fourth quarter, and I thought to myself, against the grain of everything I can ever remember thinking before: The Celtics are fun.
And the more I watch, the more troubling my thoughts have become. The Celtics play passionate ball, I think. They play move-the-ball ball, I admit. They're aggressive to the hole. They defend. They play as if every game matters. They play all four quarters. Garnett, Paul Pierce and Ray Allen -- the three-headed monster -- seem, in everything they do, to realize that they've been given this wildly improbable, incredibly rare gift from the basketball gods, and they seem, in everything they've done so far, determined not to anger the gods, not to piss this great good fortune away.
How can I not like that? How can I not, as a basketball fan, find that incredibly enjoyable to watch?
And so it is that I find myself thinking Pierce and his tenacious, funky, earthbound way to the basket, to free space, is somehow charming, and his 10 years in the league, toiling mostly for bad teams, are somehow in light of this team playing the way it is now, admirable. So it is that I find myself thinking Ray Allen, whom I was certain was ripe for an ugly, injury-plagued decline, looks downright purty, his low-trajectory jump shot sailing on a summer breeze and skipping over the ocean like a stone. So it is that Garnett, whom I've always enjoyed for his style and spirit, has become someone I'm seriously pulling for. To win games and stuff.
When the Lakers lost to Boston last week in a hail of boos and "Beat L.A." chants, I was miserable, angry, alone in my office, not cleared, as my wife said, "for human contact." But the feeling didn't linger as it should have, didn't ruin my weekend the way I wanted it to. I couldn't quite hold a grudge against these Celtics.
I hate myself for that, for not hating them quite enough, for feeling the hate slowly ebb out of me. I can't bear to think of what Gail Goodrich would think of me now.
I hate myself for playing back Saturday night's last-second Allen 3-pointer to beat Charlotte. Three times. I hate myself for setting the DVR to record Tuesday's game against Cleveland. And the Thursday game against the Knicks, too. I hate myself for thinking, even if the Lakers don't get there to meet them, that it would be pretty cool if this team can sustain its energy, stay healthy and make the Finals.
No, it's worse than that. It's not simply a matter of self-loathing. That would be easy enough to weather. Hell, I'm a writer; self-loathing is part of the job. It's not that I hate myself.
It's that when I watch these Celtics do their thing, with a smile on my face, I don't even know who I am.
Eric Neel is a columnist for Page 2. You can reach him here.