You look at Will Ferrell in short shorts and you think of the American Basketball Association as a quaint relic, a goofy little experiment lost to history.
THE ABA REVISITED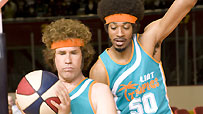 • Lukas:
Remember the ABA
• Alipour:
Being "Semi-Pro"
• Neel:
The ABA spirit lives on
• H-O-R-S-E!:
Bill Walton faces Will Ferrell

But don't believe it. The ABA was a wellspring, not an artifact. And its spirit and style live on.
For in the ABAginning there was Doc. And Doc begat Michael. And Michael begat Kobe. And Kobe begat LeBron and his brethren. And so it goes. And so it shall go. Forever and ever, amen.
And let's not forget that it was the ABA that gave us the 3-point shot. While it's true that this unduly extended the careers of Chris Ford and Mike Dunleavy, it also brought about a heartwarming mid-'80s Lloyd Free renaissance, gave us Larry Bird asking "Who's gonna finish up second," allowed Reggie Miller to rip the heart out of Spike Lee's chest, made Big Shot Bob's serendipitous dagger in the 2002 Western Conference finals possible and is now the stuff of some incredible dueling banjo YouTube work from Jason Kapono and Richard Hamilton.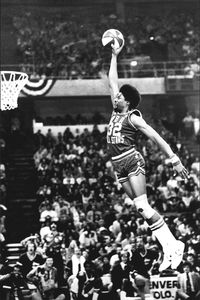 NBAE via Getty Images
Dr. J paved the way for the high-flyers of today.
And let me ask you this: You think we're looking at Gerald Green blowing out a cupcake candle on the back of a rim without David Thompson going 360 along the baseline at the 1976 ABA All-Star Game? You think we get Superman Howard in a cape without the ABA -- without Doc's hair blowing back as he runs the length of the court for that first free-throw-line liftoff?
As Artis Gilmore once told me, Doc's slam, that's the moment, the birth of dunkitude, the moment when "we all became entangled in what he was going to do." The ABA's embrace of something different -- of some revolutionary something in the game, some expressive quality come up from the playgrounds, and most definitely from deep inside the individual athlete as artist -- let loose an energy, a potential. And it's not something that died off just because the league is dead and gone. Everybody who dunks in the current-day slam dunk contest does so with the inspiration and the pressure of those who've come before. They're extending a tradition -- the way every young saxophonist is thinking, if only on the lower frequencies, about Charlie Parker and John Coltrane, every time he sets out on some new solo.
And it's not just about dunk contests. The whole ABA thing -- from the uniforms to the hairstyles to the style of play -- embodied a certain crucial, irrepressible joy. The ABA was fun. I appreciate the elegance of the passing game and the nobility of "no I in team" as much as the next guy, but the game I love is the one that makes me shake my head in wonder at what guys are capable of, the one that has to do with execution and expression.
I loved Rick Barry shooting from way too far out.
I loved Marvin Barnes dropping rhymes on Julius Erving:
There once was a doctor named Erving,
Whose slam dunks were especially unnerving,
But when Marvin gets movin',
And the crowd gets to groovin',
For the Doctor a hospital bed they'll be reserving
I loved Spencer Haywood saying "There is no better forward than I am" and then backing it up with 30 points and 19.5 rebounds a night (in 1969-1970).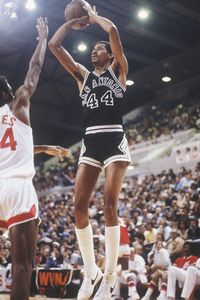 Focus on Sport/Getty Images
The Iceman was one of the ABA's signature superstars.
And I most definitely, most devotedly, loved George Gervin and the finger-rolllllllll.
The ABA sanctioned swagger and swerve, and brought it to the NBA, where it still resides. Take a look at the old Sports Illustrated merger-season cover from back in 1976. Dr. J -- all 'fro and signature knee pads, all casual, big-pawed, exuberant cool -- he's still with us. His flavor -- the league's flavor -- they didn't just give us Big Ben Wallace's 'do, Iverson's arm sleeve and LeBron's headband. They gave us the fire, the spirit, that distinguishes today's NBA from every other major sport -- a game in which style counts, not because it affects the outcomes of games, but because it has so much to do with our feeling for the game, for where it's been and where it's going.
In the NFL we root for teams, and penalize players who are too expressive. In the NBA our attachment to teams is bolstered, sometimes anchored, by the way guys play -- by the way they carry themselves, by the extra height they go for on a dunk, by their willingness, their crazy capacity, to be both effective and creative. The conventional wisdom regarding our adoration of Michael Jordan is we revere him because he was the greatest winner of all time. Bubkus. We revere him because he was the greatest winner of all time who also just happened to be the most amazingly creative, fearless, cutthroat player of all time. We revere him because he had a whole lot of ABA in him.
Ditto for Kobe. Same for LeBron. And, it seems, you can add young Mr. Howard to that list as well.
So you can have Will Ferrell in his tighties. I've got these guys. And every night, when I watch them play, they take me back to where I want to be -- just as they're taking me forward to some place I can't quite picture yet.
Editor's note: Thanks to RememberTheABA.com for the Marvin Barnes poem and the Spencer Haywood quote.
Eric Neel is a senior writer for ESPN.com and ESPN The Magazine. You can reach him here.