LOS ANGELES -- Dodgers manager Joe Torre stepped out onto the makeshift field at the Los Angeles Coliseum on Saturday night and looked out at the temporary right field fence. "That's too close, it was further out back then," he said, reflecting on games he played in the Coliseum in 1961, before Dodger Stadium was complete. "I can still picture it. It was wild. It was enormous out to right-center. Man, this place brings back memories."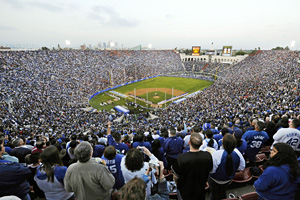 AP Photo/Kevork Djansezian
The Los Angeles Coliseum hosted a very unique baseball game Saturday night.
He wasn't kidding. Brings them back and creates them, too. On a night filled with nostalgia for Torre, Tommy Lasorda, Vin Scully and the old-time Dodger faithful in the stands, I couldn't help but think of the memories I was collecting.
I'll remember Torre walking down the tunnel toward the field (the same tunnel USC football players march down on fall Saturdays, the same tunnel above which Scully and Jerry Doggett sat, in a wooden box somehow anchored to the stone walls, calling the first Dodgers game here 50 years ago), arm-in-arm with Red Sox first baseman Sean Casey and starting pitcher Tim Wakefield. Old rivals. Old friends. Laughing together at the fun strangeness of this old-new place.
I'll remember the crowd behind the batting cage -- players, club officials, reporters, photographers, Jonathan Silvermans -- 20 times the size of the cage crowd for a regular-season game. Everyone lingering, inching down the line and toward the grass. It was the sort of place you wanted to be, even when nothing was happening.
I'll remember my friend Rob Neyer, in town from Portland, Ore., sitting on a concrete bench in Section 32, miles down the right-field line, first looking down at a strip of medical tape on the ground with his seat number written on it, then squinting into the setting sun, barely able to see the players on the field, and saying, "This is fantastic. I'm so glad I made the trip."
I'll remember Matt Kemp launching balls over the 60-foot-high net playing the part of a left-field fence during batting practice and telling me afterward that he "felt like a superhero or something, like [he] had special powers."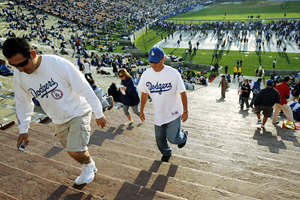 AP Photo/Kevork Djansezian
Dodgers fans poured into the Coliseum stands.
I'll remember Dodger blue in a room that's usually so USC red. This wasn't corporate-client night or even season ticket-holder night, it was the bleachers crowd (they call them the "pavilions" at Dodger Stadium) writ large; regular folk, families, working-class, and out en masse. There were 115,300 fans in the Coliseum on Saturday night, and "fans" is the word; these were the die-hards, booing every Red Sox hitter as he was introduced, and cheering wildly at a jumbotron glimpse of Fernando Valenzuela in the broadcast booth.
I'll remember Scully, thrown ever so slightly off his game by a standing ovation from that crowd, saying, "Aw, come on, it's only me."
I'll remember Kareem Abdul-Jabbar bouncing his ceremonial first pitch, then asking for the ball back and sweetly skyhooking it to the catcher instead.
I'll remember eating a baked sweet potato as the night cooled down. (They sold them in the food stands out on the Coliseum concourse.) Sprinkled with brown sugar. Steaming. Gloriously nonsensical, and surprisingly apropos. Maybe the best ballpark meal of my life.
I'll remember Casey giggling as he pointed out to the peristyle end of the stadium, out through the arches, beneath the Olympic flame. "Look at this place," he said. "If you don't smile being here, if you don't feel like you felt playing your first Little League game, you're crazy."
I'll remember former Los Angeles councilwoman Roz Wyman telling me about the night the Dodgers clinched the 1959 National League pennant: "Vinny said, 'And we go to Chicago!,' and people all over the city honked their horns and banged on pots and pans in their living rooms, and for the first time I felt like our city was a part of things, was really in the mix in this country."
I'll remember Andruw Jones, set up as a rover behind second base (the Dodgers put left fielder Andre Ethier in deep center field, and let shortstop Rafael Furcal cover left), covering second base on a Jacoby Ellsbury steal attempt. The throw went 2-8, from Russell Martin to Jones. Second baseman Jeff Kent, barely moving from his spot between first and second base, just laughed as Jones bent down for the ball.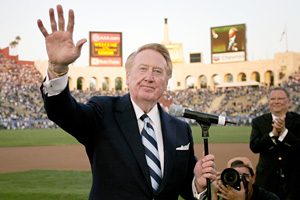 AP Photo/Branimir Kvartuc
Vin Scully, of course, was part of the festivities.
I'll remember my buddies Wes and Dave, sitting along the first-base line, telling me about their plans to navigate the traffic and the crowds to get to the game on time. "We talked about a tandem bike and there was some discussion of skateboards, but in the end …," and at this point they both lifted their feet up off the floor and showed me their kicks, "… in the end, it was running shoes."
I'll remember the first few innings, when the light danced off the colorful clothes and flashing cameras of the fans in the stands, and the players couldn't find their depth trying to track thrown balls across the infield. Every routine play was an adventure.
I'll remember the party in the parking lots, and on the streets and on the museum grounds surrounding the Coliseum, before and after the game. I'll remember little kids dressed in blue playing catch. And their papas, dressed to match, in Nomar Garciaparra jerseys and Jackie Robinson jerseys, carrying cases of Negro Modelo, one on each shoulder, as if they were headed to a family reunion or a three-day binge. And I'll remember one crazy girl in a Red Sox jersey, too young to be tough but old enough to know better, cruising through the blue crush on her bicycle, all carnival-brave and wild.
I'll remember right-handed Sox catcher Kevin Cash lifting a ball like he was using a pitching wedge, the first home run of the night. And I'll remember left-handed Dodgers first baseman James Loney, inside-outing a ball up and over in the seventh inning, just the way Dodgers left fielder Wally Moon did 50 times between 1958 and 1961, bringing the night full circle.
In the end, I'll remember a night to remember, a night when the game felt wacky and charming. It wasn't pure baseball. But it was pretty close, while it lasted, to pure fun.
Eric Neel is a senior writer for ESPN.com and ESPN The Magazine. You can reach him here.