In Nike's new Tiger Woods commercial entitled "Never," Earl Woods' recorded voice plays over clips of his son, as a boy and as a man, practicing his legendary swing. Full of gravitas and pathos, it's at once the voice of the guru who raised the greatest golfer who has ever lived and the voice of the absent father who died of cancer a little more than two years ago.
While Tiger starts and stops his swings, Earl explains the way he often intentionally distracted his son in order to make him stronger, sometimes dropping a bag full of clubs when Tiger was at the top of his backswing.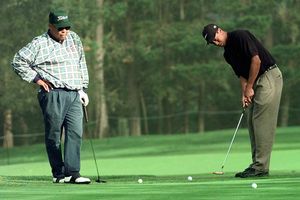 AP Photo/Eric Risberg
By 1998 at the AT&T Pebble Beach National Pro-Am, Earl no longer needed to drop his bag to test Tiger's concentration.
"I'd say, 'Tiger, I promise you,'" Earl says as we look upon his son's unmistakably steely gaze, "'that you'll never meet another person as mentally tough as you in your entire life.' And he hasn't. And he never will." The spot, debuting during this weekend's broadcast of the U.S. Open at Torrey Pines and available now on
Nike's Web site
, draws its power from its simplicity, an uncluttered combination of words and pictures with a subtle percussive, echoing score laid underneath. Though Earl's presence feels somewhat miraculous, it does not feel especially engineered. He's showing you his home movies. You're in his company, listening to his memories. "We wanted to trim this story of this one part of their relationship down to the bare essentials," said Eric Samsel of Wieden+Kennedy, the advertising firm that produced the commercial. "This is Earl's advice to his son. This is Earl saying he believes in him, even now." They put the piece together using clips from last year's British Open, and from videos that Tiger's family has collected over the years. W+K and Tiger go way back; the firm produced the famous "Hello, World" commercial when Woods began his professional career in 1996. "We have a lot of footage lying around here," Samsel said. "And he's been part of the public consciousness for so long that we can draw on a rich history of images." The Earl Woods voice track is cribbed from Tiger Woods' authorized three-disc DVD collection. It comes from a conversation in that collection when Tiger and Earl are remembering his early days playing out of his age group, and feeling somewhat intimidated by the older players, on the junior circuit. The thematic heart of the ad is Woods' single-minded focus, the characteristic that, even more than his strength, creativity and skill, sets him apart from and above his PGA peers. We're given a glimpse of the roots of that focus through an anecdote that, like the legend of George Washington and the cherry tree, explains some part of the command and virtue of the larger-than-life hero we admire. Something almost supernatural gets grounded in something basic, in the playful, testing, loving relationship between a father and his son.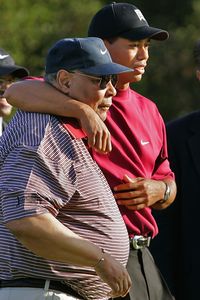 AP Photo/Mark J. Terrill
Another exhibit in the body of evidence that Earl Woods made Tiger tough enough: this hug after Tiger won the Target World Challenge in 2004.
"We were drawn to this story, particularly around Father's Day, because it explored something we felt would be familiar to all parents, to any father who has played with his son or daughter," Samsel said. "We hoped it would resonate and people would see themselves in it." The play for that emotional connection and the emphasis on Woods' toughness is not without its risks for Woods and for Nike. The corollary to my warm feeling for the richness of the relationship Tiger and Earl shared is my uncomfortable feeling that maybe it should remain private, that Earl should remain in Tiger's memory rather than coming to occupy a ghost-like presence in mine -- that whatever comfort his voice provides now for his son shouldn't be put in the service of selling shoes, golf balls and a brand. (The spot ends with a black screen and white letters reminding us, once again, to "Just Do It.") Call it the Nat-and-Natalie-Cole Concern. And even beyond the prospect of lingering post-capitalist ambivalence on the part of their audience, Woods and Nike also run the risk of challenging TV-Tiger to man up, to live up to the very height of his mythical capacity for mental toughness, at a moment in which real-world Tiger is hurting, still working his way back from knee surgery after the Masters in April, not at all sure of what he's got. Reporters in San Diego are asking Woods about his chances to win the Open this week, but the unfailingly confident king of golf is tempering expectations, saying "There's a long way to go before that happens," and talking about just "getting into the flow of a round." Has the ad set Tiger and Nike up as too proud for what will likely happen this weekend? Has it made them vulnerable to the limits of his injured frame and what may be a struggle to even make the cut? "I don't think so," said Rob Walker, contributing writer for The New York Times Magazine and author of the recently released "Buying In: The Secret Dialogue Between What We Buy and Who We Are." "There is a risk in using a clip like this, but Nike has consistently taken risks. It's part of their thing." "Just Do It" is not just an imperative to press on, no matter the obstacles. It's not just a tough-guy mantra. It's not just a champion's slogan. "It's part of a broader message not strictly tied to winning at all," Walker said. "It's about achievement on a very personal level."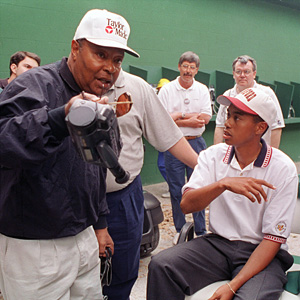 AP Photo/Amy Sancetta
Earl and Tiger were tough enough together to take on Augusta in '95, back when Tiger was still an amateur.
In that way, the inclusion of Earl's voice, precisely because it is something intimate, feels appropriate. Like the use of Lance Armstrong's news conference announcing he had cancer in a Nike ad of days gone by, it offers the star up as someone not only human but ultimately fragile -- vulnerable to disease and death like the rest of us, fueled by cherished memories like the rest of us -- and that fragility strengthens our sense of connection and underscores the remarkable quality of the athlete's ability to perform at the highest level. Further, the real possibility that Woods won't win a major tournament he enters (a possibility that under normal circumstances feels so remote as to be nonsensical) might actually amplify whatever it is he does achieve, on a bum knee, on Father's Day weekend, on one of the toughest, longest courses in the world. "If he does well, even if he just puts forth a game effort, the whole narrative of the tournament is 'Wow, what mental toughness,'" Walker said. "The ad and Tiger will become part of the narrative of the tournament even if he doesn't compete for the title." The crossover, the chance that the spot might be more resonant because Tiger is at less than his best, is accidental. "We started cutting the commercial well before there was any talk of surgery," Samsel said. "I think the injury has just meant that toughness and focus mean even more than we imagined at the beginning." The clubs Earl Woods threw to the ground have been replaced by pain in Tiger's knee. The voice of Earl Woods has been replaced by Tiger's own, reminding himself, telling us, how he can clear this hurdle. We marvel at what great athletes can do in a vacuum, but we are thrilled by what they can do in a moment of crisis or adversity. Every shot Tiger takes this weekend will register for those who have seen the ad as a rehearsal of what has made him, what has made him thrilling to watch, regardless of whether it ends up on the green or in the bunker. "Nike has always tried to have ads that have talk value the morning after," Walker said. "Maybe he plays poorly or comes up short. Maybe they're wrong about what he can do. But my guess is that they'd rather be wrong and interesting than boring and right." Tiger? Nike? Boring? Never.
Eric Neel is a senior writer for ESPN.com and ESPN The Magazine. You can reach him here.