ESPN.com illustration
Some years fade over time. Some events slip from memory, replaced by fresh thrills and new dramas.
1978 HIGHLIGHTS
No. 5 Notre Dame crushes No. 1 Texas 38-10 in Cotton Bowl to win national title. … Jack Givens scores 41 points as Kentucky beats Duke 94-88 in NCAA title game. … Islanders' Mike Bossy scores 53 goals as rookie. … David Thompson scores 73 in final game but George Gervin scores 63 to win NBA scoring crown, 27.2 to 27.1 points per game. … Powerful Canadiens finish 59-10-11, roll to third straight Stanley Cup title. … Affirmed narrowly outduels Alydar three times in horse racing's greatest Triple Crown series. … Celtics select draft-eligible junior Larry Bird with sixth pick (he returns to college, but Celtics retain rights). … Argentina beats the Netherlands 3-1 in the World Cup final as Mario Kempes scores twice in extra time. … Pete Rose hits in NL-record 44 consecutive games. … LPGA rookie Nancy Lopez wins nine tournaments, including five in a row. … Ron Guidry goes 25-3, 1.78 for Yankees. … Bucky Dent's home run over the Green Monster. … George Brett hits three home runs in ALCS game. … Injury sub Brian Doyle hits .438 and Dent .417 as Yankees beat Dodgers 4-2 in World Series. … NFL moves to 16-game schedule, Steelers go 14-2. … Billy Sims wins Heisman. … Rookie Earl Campbell leads NFL in rushing.
But 1978 and the Triple Crown duel between Affirmed and Alydar grow brighter and more unforgettable every year.
It was tremendous theater at the time. Alydar, a stalker, came from the back of the pack to challenge Affirmed before losing the Kentucky Derby by a length and a half. In the Preakness Stakes three weeks later, Affirmed held off a hard-charging Alydar by less than half a length. And finally in the Belmont Stakes, running neck and neck for the final seven furlongs and taking turns at the lead, they went to the wire, where Affirmed won by a nose.
I'm no horse racing fan, but I was captivated in 1978. Everyone was. I remember maybe a dozen men at the liquor store down the block from where I lived huddled together watching the Preakness on a small black-and-white TV behind the counter and yelling as Alydar came strong down the stretch. I remember my mother, who had never been to the track in her life, deciding to host a Belmont party at our house, complete with big hats and tall drinks. I remember Walter Cronkite telling me all about the horses and their riders on the evening news. When you watched these horses run you were taking part in a phenomenon, you were tapped into a movement.
Affirmed and Alydar gave us an intoxicating dose of pure, unrelenting competition. Over the course of three races, in less than 10 total minutes, each of them was challenged and each of them dug down for untapped reserves of strength and determination. It didn't matter that they were horses and not athletes; for six weeks in the early summer of 1978 they were the essence of sport. They were answers to the fundamental questions: How far can you reach? How fast can you go? How much pressure can you stand? How much heart can you muster?
There were other great moments in 1978. Leon Spinks, toothless grin and all, took down Muhammad Ali in a shocker. An upstart Duke team (that's right kids, in the old days Duke was the underdog) challenged mighty Kentucky for the NCAA basketball championship. An unlikely Seattle SuperSonics team fell in seven close games to the Washington Bullets in the NBA Finals. The Oakland Raiders' Kenny Stabler holy-rolled a ball to Pete Banaszak, who scooped it to Dave Casper for the winning touchdown in a wild late-season game against the San Diego Chargers. And little man Bucky Dent hit a ball over the Green Monster in a one-game playoff against the Red Sox to put the Yankees on the road to a World Series title.
But none of these events rose to the level of Affirmed versus Alydar. They were fluky and fun, charming but not significant. Affirmed versus Alydar was epic; two competitors at the height of their form going head-to-head. Even as it unfolded it felt as though it belonged to another time, as though it were part of some legendary chronology that included foes like Russell and Chamberlain and Ali and Frazier, and would come to include those like Borg and McEnroe and Brady and Manning. It stood out against the backdrop of the rest of the year in sports and took on added significance because it felt so singular, splendid and rare in 1978.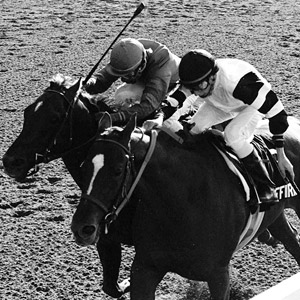 AP Photo/File
Affirmed and Alydar certainly weren't separated by much.
Thirty years later, that feeling is stronger than ever. Racing seasons come and go, and we still don't have another Triple Crown winner. From Spectacular Bid to Big Brown, as other horses have come tantalizingly close but fallen short, Affirmed's accomplishment and Alydar's bold threat to it become more and more impressive. Their showdown is infused now not just with nostalgia for a great series of races back in '78, but with the dashed hopes of every trainer, owner and bettor who has felt sure their horse would repeat the feat in the years since.
And beyond the world of horse racing their races have, with each passing year, become a touchstone of the whole idea of real rivalry and true drama. When we say we wish someone would challenge Tiger Woods, we are saying we long for what it was like when Alydar gave Affirmed everything he had. When we hoped all season long last year that the Patriots would be locked in a tight battle, having to prove they were not only gifted but gritty, we were remembering what it was like when those two horses were center stage.
There have been captivating boxing matches since 1978 (Leonard-Hearns, Hearns-Hagler, Bowe-Holyfield, Vazquez-Marquez, etc.). There have been outstanding and dramatic World Series played since 1978 (1986, 1991, 2001 and 2002, for example). There have been great Super Bowls (XIII, XXIII, XXV, XXXIV, XXXVI, XLII). There have been legendary NBA Finals matchups (1980, 1984, 1985, 1993, 1998). There has been Tiger where once there were Jack and Tom. There have been Andre, Pete, Roger and now Rafa, where once there were Connors, Borg and McEnroe. Sport renews itself. Time passes. One year, no matter how exciting, is more or less as memorable as another.
But in horse racing, it's worth remembering, time has stopped. Then, now and still, there is only Affirmed versus Alydar.
And that means whatever sport you love, if you're a fan, on some level, there is only 1978.
Page 2's Most Memorable Sports Years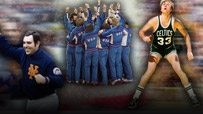 With 2008 already full of amazing moments, Page 2 is looking back at the greatest years in sports history.
THE YEARS
•
Jonah Keri on 1961: The year of the dynasty
•
Jim Caple on 1968: A year of unrest
•
Jim Baker on 1969: New York, New York
•
David Schoenfield on 1972: AL in trouble
•
Eric Neel on 1978: Greatest duel ever
•
Mary Buckheit on 1980: A miracle
•
Mike Philbrick on 1984: Bridging the gap
•
Paul Lukas on 1986: Three great weeks
•
DJ Gallo on 1994: The good old days
•
Scoop Jackson on 1998: Still resonates
•
Kieran Darcy on 2001: Darkness, and light
•
Patrick Hruby on 2004: End of exuberance
VOTE
•
PollCenter: Best year ever -- '80, '86, '98, '01 or '08?
ESPN Top Headlines