Commentary
A candid interview with Mike Schmidt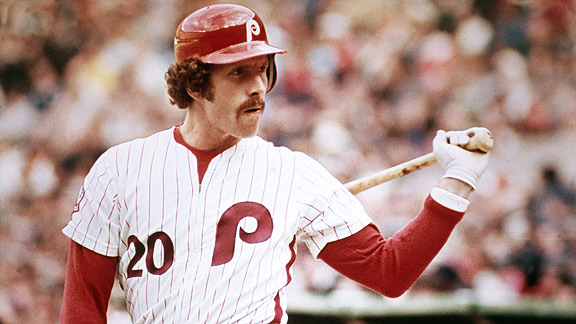 MLB Photos/Getty ImagesMike Schmidt shared with Page 2 his thoughts on Philly fans and the attitudes of today's players.
Mike Schmidt is arguably the greatest third baseman in baseball history. He's almost certainly the best player in Philadelphia Phillies history.
Schmidt was the National League MVP in 1980, '81 and '86. He won 10 Gold Gloves and six Silver Slugger awards. He was a 12-time All-Star who led the NL in home runs eight times. He was voted into the Hall of Fame in his first year of eligibility, 1995, having been named on 96.5 percent of the ballots.
So when Page 2 got the opportunity to interview Schmidt on his recent trip to ESPN, we couldn't wait to talk to him about mustaches, the attitudes of today's players, Philadelphia fans and the possibility of him managing at some point in the future.
Here's what transpired:
Page 2: You're the proud owner of one of the most classic baseball mustaches ever. What are your top three mustaches in baseball history?
Schmidt: Probably [Rollie] Fingers No. 1. [Goose] Gossage is in there. Robin Yount had a mustache off and on a lot. How about Al Hrabosky, the Mad Hungarian? He had a kung fu. [Editor's note: Did you mean a Fu Manchu?] Right, Fu Manchu. Did I say kung fu?
[+] Enlarge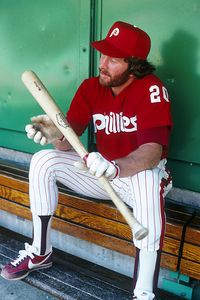 Focus on Sport/Getty ImagesIn addition to his trademark 'stache, Schmidt rocked a full beard in this 1980 photograph.
Was it ever difficult to reconcile your strong religious faith in a sport where many players had reputations for womanizing and hard partying?
That's just part of the battle. That was one of the most comfortable things about leaving baseball was to leave the environment. It's very much like a rock star existence -- the nightlife, the hotels, lack of privacy. ... There's a lot of temptations out there. It was nice getting away from it.
You managed one season in the minor leagues. Would you ever entertain the idea of managing again?
Let me put it this way: I would have, but I think my window of energy for that position is almost totally closed. I'm 61 now, and I'm comfortable in my lifestyle. ... I don't yearn for the limelight on a regular basis. I get a kick out of it every so often. I go to Philly and go to a game, and they make a big deal about me. That's fun for a couple of days, and I can go back to my own private life. Being a manager means seven straight months of that over and over again. I'm not cut out for that kind of pressure in my life. Ten years ago, maybe, but not anymore.
Your longtime teammate, and fellow Hall of Famer, Steve Carlton was a strange bird -- even by left-handed standards. What's the most bizarre thing you ever heard him say or saw him do?
I saw him get hit in the cheek with a line drive one time, and it never even fazed him. He just threw the ball to first base, got back up on the mound and waited for the next hitter. He also became an authority on wine. He taught me what little I know about enjoying wine, drinking it, what meals it pairs with. ... He had a workout regimen that you wouldn't believe. The only guy I've seen surpass it is Roy Halladay. He had a guy named Gus Hoefling who trained him every day like he was a cagefighter. Some of the things he did were beyond belief back in the day.
Does Philadelphia deserve the reputation of having some of the toughest fans in sports?
Yeah, yeah. Now, I don't think it has carried over significantly since they moved to the new stadium. You still hear a chorus of boos every now and then, but the environment is much, much more positive now than it was back in the Vet Stadium days. You do see it when certain players, who may have said something back in the day or may have an issue with the Philly fans. They didn't know whether to boo or cheer Jayson Werth when he came back. Scott Rolen still carries a little bit of an aura of negativism when he comes back to town. It's not nearly what it used to be -- and still is in a football environment.
Could you estimate how many times you were booed in Philly?
No, no, no, no, no, no. I wouldn't call it a daily occurrence, because there were days you'd get a single the first time up, and you made all the plays, and you were leading in the ballgame, and you didn't strike out with the bases loaded and it was sort of a carefree game. On the opposite side of that, there were periods where everybody knew you were 0-for your last 20 at-bats, and you'd kind of been leaving the runner on second base pretty regularly and the Phillies weren't scoring, a guy like me in the middle of the batting order could be the brunt of negativism from the crowd. There was an attachment to the player back then that related to salary, much more so than today. ... It carried a lot of weight when you were the highest-paid player in the game and you were striking out with the game on the line.
When you see the stands at Citizens Bank Park, you see a lot of smiles. You see a family-friendly atmosphere. You see passionate people that are passionate about their team. They're very tolerant for this team, because this team has done a lot for them the last five or six years and continues to be in first place. I really think they're becoming the Boston Red Sox fans of the National League. I think you could call it Phillie Nation, like Red Sox Nation. There are very few people who don't have a player's jersey on. Those people love this team. It would really have to go bad for them to turn on the team. They could turn the town around, too, because now the kids that are at the ballpark aren't seeing that antagonistic personality coming from the stands. Dad isn't standing up booing from the top of his lungs -- like that guy's dad was.
[+] Enlarge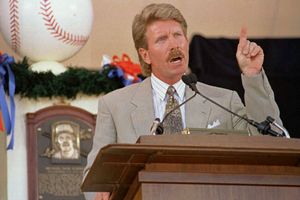 Mark D. Phillips/Getty ImagesMike Schmidt says he has an idea for a new process to elect future Hall of Famers.
You once said "Pete Rose is the most likable arrogant person I've ever met." How would you have handled it if he had ever been your manager?
I [would've] had no problems. I almost went to the Reds my last year. I had the opportunity to be a free agent for a month, and I almost went to the Reds. He would've been my manager, and it would've been fun playing for him.
You played in the 1970 College World Series, and your Ohio University team actually defeated the USC team that went on to win the championship. What's your most distinct memory of that tournament?
We played the opening game of the tournament against Southern Cal, and they were No. 1 in the country at the time. I think we might have gotten up to No. 4 in the country. We had a pretty strong team. ... Basically, they played a lot more games than we did. ... [Northern teams] go in as underdogs most of the time, which we did, and we ended up beating them 4-1. I'll never forget I signed my first autograph that night on the way to the bus.
There's a statue of you at Citizens Bank Park. We're there any details on the monument that they didn't get quite right?
They've got my old teeth. Yeah, I think I have six upper teeth in the statue. I can't believe I let them build that statue with my old teeth.
[Editor's note: Here's a photo of Schmidt's "new" teeth.]
In your opinion, what's the biggest problem with the major leagues today?
[+] Enlarge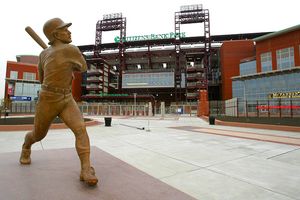 Doug Pensinger/Getty ImagesSchmidt was honored with a statue at Citizens Bank Park, but the artists didn't replicate every detail.
There are exceptions to this, but I think in general the players are not motivated as much to attain a higher level of play. I think it's the amount of money the players are making and the security the players have causes a lack of accountability. I think too many players who could be better than they are and could eventually become great won't [become great] because they signed long-term, mega-money contracts. ... [They're treated like] celebrities and mega-stars, and their career batting average is .248 and very mediocre to below average in terms of statistics over the course of their careers. But if you looked at their total salary over that period of time, you'd probably see close to $80 million. I think that's the reason they never reach for the stars, so to speak. They never reach for higher goals. They're never really accountable for themselves on a daily basis. I think that in itself holds down a great majority of young men playing the game today.
What do you think about the current state of pitching? How does it compare to when you played?
Much stronger. I think right now, pitching [is as good as it has been] since the [Bob] Gibson era, when they lowered the mound. ... I think we're in the era now where we probably have more high-end pitchers than maybe any time in history. By that, I mean Lincecums, Halladays, Lees, Mariano Riveras, CC Sabathias. There's probably 25 to 30 guys that have Nolan Ryan, Tom Seaver kind of stuff right now. Now whether they'll project over their careers to be those kind of guys with Hall of Fame careers, that's a different story. But right now, I think there's a higher percentage of great arms and great pitchers with great stuff than there's ever been.
If you had the chance to select the walk-up music to your at-bats, what song would you have picked?
The theme from "[The] Andy Griffith [Show]." It's the ring on my phone. It's a little bit of country and a little bit of comedy.
What's your favorite baseball movie?
Probably "The Natural" or "Field of Dreams." ... I still think there's a really, really great baseball movie yet to be made.
What has been lacking in baseball movies to this point?
Probably realism. Frank DeFord wrote a book ["The Entitled"] not too long ago, about a minor league manager that made it to the big leagues. It was very real, unlike the movies I mentioned. They hold your interest, and they're entertaining, but I don't think they were real. ... The performance enhancing-drugs era seems to me to have a movie in there somewhere.
How do you spend your free time these days?
Well, that's all of my time. ... I do a lot of business traveling and take advantage of my celebrity, so to speak, from my career. I've got a little granddaughter, so we take a lot of time going to see her and watching her grow up. I play my share of golf, and I have a boat up in Rhode Island where we're living right now.
Are you more proud of your 10 Gold Gloves or your eight NL home run crowns?
The latter. Gold Gloves are nice to have people mention. They're basically saying you're a pretty good defensive player along with everything else. But I was about the offensive side. The defensive side, I knew was part of the game and all that, but not something that I really worked on. Also, as the incumbent Gold Glove winner, it's kind of hard to unseat you.
Thomas Neumann is an editor for Page 2.