Commentary
Vancouver evokes infamous sports riots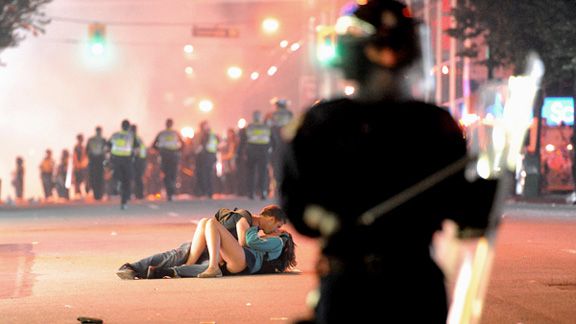 Rich Lam/Getty ImagesA couple appears to be preparing to make love, not war, in an ironic image from the Vancouver riots.
The city of Vancouver put its worst foot forward on Wednesday, rioting into the night after the Canucks' loss to the Boston Bruins in Game 7 of the Stanley Cup finals.
Nearly 100 people were arrested and almost 150 injured in a widespread disturbance that included the burning of 15 cars and vandalism of approximately 50 businesses. Total damages are expected to run well into the millions of dollars.
In addition to widespread vandalism and massive fires, the Associated Press reported that "rivers of poured-out alcohol, broken glass and trash made navigating the streets treacherous" in Vancouver.
Stay classy, British Columbia.
If all that wasn't bad enough, consider that Vancouver also rioted after the Canucks' Game 7 loss to the Rangers in the 1994 Stanley Cup finals -- a game that was played in New York.
However, Vancouver is hardly the first city to erode into disorder after a major sporting event. That's why Page 2 advises you to put on your riot gear and grab a couple of canisters of tear gas as we head into the fray to compile a list of the most infamous sports disturbances in history ... and we promise not to make any jokes about these guys.
Montreal: 1955, 1986 and 1993
On March 17, 1955, Canadiens fans were up in arms over the suspension of star winger Maurice Richard for punching a linesman during an especially nasty fight with Bruins defenseman Hal Laycoe in Boston four days earlier.
During the ensuing game at the Montreal Forum, fans pelted NHL president Clarence Campbell with food during a game against Detroit, and the venue was evacuated after tear gas was released inside the building. Angry spectators then spilled into the streets, creating mayhem and vandalization to the tune of an estimated $500,000 damage in a 15-block area, according to the CBC. There were at least 60 arrests and 37 injuries. Richard himself eventually pleaded for civility in a radio broadcast.
Canadiens fans also rioted after Montreal won the Stanley Cup in 1986 and 1993. The former disturbance caused more than $2 million in property damages, and the latter of caused $2.5 million in damages as 168 people were arrested and 115 injured. Most recently, 16 fans were arrested when cars were torched and shops vandalized to the tune of $500,000 in damage after the Habs beat the Bruins in the first round of the 2008 playoffs.
[+] Enlarge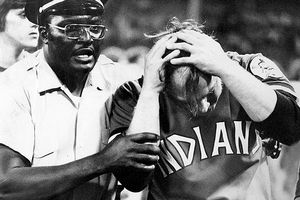 AP Photo/Cleveland Press/Paul TepleyIndians reliever Tom Hilgendorf leaves the field after being hit with a chair on 10-Cent Beer Night.
Cleveland: 1974
Somehow it must have seemed like a good idea at the time, but in retrospect, the Indians could have anticipated trouble when they held 10-Cent Beer Night on June 4, 1974, during a game against Texas. Random acts of ridiculousness, such as firecracker and bottle throwing, eventually gave way to hundreds of drunks storming the field, stealing the bases and getting involved in countless fights -- several involving players -- in the ninth inning. Not surprisingly, the Indians forfeited the game. Said Rangers manager Billy Martin, "That was the closest you're ever going to be to seeing someone get killed in this game of baseball."
Chicago: 1979, 1992 and 1993
Speaking of ill-conceived baseball promotions, the White Sox hatched another one of the greats for a doubleheader against Detroit on July 12, 1979. Fans were admitted for 98 cents if they brought a disco record, and the cache of albums was to be exploded on the field between games. After the Tigers won the first game, the large bin of "music" was detonated. Then part of the overflow crowd stormed the field, stole the bases, vandalized the batting cage and playing surface -- in addition to creating your garden-variety mayhem. As you might expect, the White Sox forfeited the second game.
In 1992, more than 1,000 people were arrested in what The Washington Post called "an ugly orgy of violence and looting" after the Bulls defeated the Portland Trail Blazers in the NBA Finals. Fortunately, no one was killed. Nearly 100 police officers were injured and an estimated $10 million in damages was committed as disorder abounded throughout the city. This all occurred even though Chicago police had sent out more than 1,300 additional officers to deal with the expected trouble. In '93, three people were killed and more than 700 arrested in a melee that erupted after the Bulls won their third consecutive NBA title.
[+] Enlarge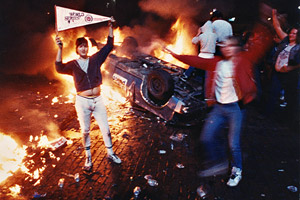 AP Photo/Robert KozloffKenneth Helms became the poster boy for American sports violence when he posed with a Tigers pennant during the 1984 World Series riot in Detroit.
Detroit: 1984 and 1990
In the aftermath of the Tigers' victory in the 1984 World Series, one man was murdered, three rapes were reported, more than 40 fans were arrested and at least 100 were injured in a shameful episode that is perhaps the most infamous American sports riot. Cars were torched, and Tiger Stadium was vandalized. A memorable image of Detroit fan Kenneth "Bubba" Helms holding a Tigers pennant aloft while standing in front of a burning car was captured by an Associated Press photographer, ultimately cementing Helms' status as the poster boy for sports rioting in this country.
Six years later, a worse -- albeit less memorable -- event took place when seven people were killed, hundreds injured and 140 arrested in the Detroit area after the Pistons won their second NBA championship. Not to be forgotten, Tigers fans also rioted after the team won the 1968 World Series.
Los Angeles: 2000, 2009 and 2010
When the Lakers captured the NBA title in 2000, unruly fans took to the streets around Staples Center and proceeded to vandalize property, set bonfires and destroy four vehicles -- including two police cruisers -- in a riot that produced at least 11 arrests and 12 injuries.
Lakers center Shaquille O'Neal later presented a check for $42,893 to the Los Angeles Police Department to replace one of the cruisers.
Similar episodes occurred after the Lakers won the 2009 and 2010 championships. At least 25 people were arrested in 2009, and at least 38 people were arrested in 2010, with extensive property damage reported each year.
Denver: 1996, 1998 and 1999
Denver's worst riot occurred after the Broncos won their first Super Bowl in January 1998, when approximately 10,000 fans congregated and some overturned cars, looted and vandalized dozens of buildings. Dozens of people were arrested, and total damages were estimated in the millions of dollars.
Twenty people were arrested and an estimated $160,000 in damages was committed during a smaller incident involving about 1,000 fans when the Broncos won their second Super Bowl the next year. After the Avalanche won the 2001 Stanley Cup, at least 63 fans were arrested, but property damage was lower than preceding Denver uprisings. Avalanche fans also rioted after the team won its first Stanley Cup in 1996.
[+] Enlarge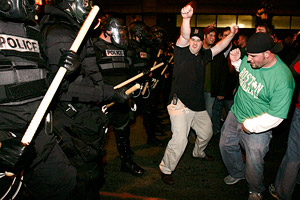 AP Photo/Michael DwyerFans enjoy the Boston's 2004 World Series victory in a turnout that fortunately didn't produce a fatality.
Boston: 2004, 2005, 2007 and 2008
Three fans died in recent Boston sports riots -- one after the Patriots' Super Bowl win in February 2004, another after the Red Sox won the 2004 AL pennant and a third after the Celtics won the 2008 NBA crown.
At least 37 arrests were made as fans burned cars and threw bottles at police after the Red Sox won the 2007 World Series. Police arrested at least 20 fans after the Red Sox won the 2004 World Series, and fans also rioted after the Pats won the Super Bowl in February 2005.
Soccer: in perpetuity
This item isn't meant to make light of the issue of soccer violence around the world. In truth, North American sports violence at its worst pales in comparison to its global soccer counterpart.
Arguably, the worst incident occurred on May 24, 1964, at an Olympic qualifier between Peru and Argentina in Lima, Peru. Shortly after a late goal that would have sent Peru to the 1964 Summer Games in Tokyo was disallowed, disorder erupted and hundreds of fans were trampled in the ensuing stampede. Riots then broke out on the streets of Lima. The final toll was staggering, with 318 fatalities and more than 500 others severely injured.
At a 2001 match in Ghana, 126 people were killed in an incident that came on the heels of three other African soccer disasters in the previous month.
In a 1989 match in Sheffield, England, 96 people were killed in a stampede into the stadium, and more than 80 people were trampled to death at a World Cup qualifier in Guatemala in 1996. Unfortunately, the list goes on and on.
Dishonorable mention
• In January 2003, looters and rioters took over the better part of 50 blocks along International Avenue in Oakland, Calif., after the Raiders lost to the Buccaneers in Super Bowl XXXVII. The San Francisco Chronicle reported that lawbreakers taunted police, burned cars, threw bottles, ransacked a McDonald's restaurant, vandalized other businesses and chanted, "Raiders rule. F--- the police." Hannibal Willis, a member of the rap group Hazardous Materials, told the Chronicle, "We lost, and that bothers a lot of the young people out here. A lot of them are real Raider friends. I ain't gonna lie -- if we had won, we would have done the same thing, but milder."
• At least 23 University of Connecticut fans were arrested in Storrs, Conn., for a variety of alleged offenses -- including breach of peace and inciting a riot -- after the Huskies beat Butler on April 4, 2011, to win the NCAA men's basketball championship. After the Huskies won the 2004 men's title, 23 students were arrested and 37 injured in incidents in Storrs.
• March 23-24, 2000: Students at several campuses incited violence during the round of 16 in the NCAA tournament. At Purdue, hundreds of fans damaged property and started fires after the Boilermakers' win over Gonzaga. At Iowa State, thousands of fans damaged cars and tore down light poles -- one suffered a head injury when he jumped into a lake -- after the Cyclones' win over UCLA. Finally, some fans among a throng of hundreds hurled bottles at police at Wisconsin-Oshkosh in celebration of its parent school, Wisconsin, beating LSU.
• In 2002, at least 17 people were arrested and 24 injured at the University of Maryland after the Terrapins won the NCAA men's basketball tournament. The previous year, Terps supporters caused $500,000 in damages after a Final Four loss to Duke.
• Eleven arrests were made when University of Minnesota fans set approximately 65 fires and caused a disturbance that caused approximately $250,000 in campus damages after the Gophers beat New Hampshire to win the 2003 NCAA hockey championship. For good measure, New Hampshire fans also rioted in the campus town of Durham. Lest we forget, Gophers fans caused almost $40,000 in damages after Minnesota won the 2002 national title.
• Eleven people were arrested and two police officers were injured when UMass students rioted on the Amherst, Mass., campus following the Minutemen's loss to Appalachian State in the 2006 Division I-AA football championship. Spectators reportedly threw items ranging from rocks to bicycles at police.
• Michigan State students have rioted numerous times in East Lansing in recent decades, most notably after NCAA tournament losses in 1999, 2003 and 2005. The worst of these came in '99, when 132 people were arrested and $250,000 in vandalism damage was incurred.
• Keeping it in the Big Ten, Ohio State students have rioted several times in Columbus over the years. The most dubious instance occurred after the Buckeyes beat archrival Michigan in football in 2002, when more than 100 fires were set and 48 people were arrested in a riot that caused an estimated $400,000 in damages.
• West Virginia students and fans in Morgantown have rioted repeatedly in recent years after big wins in football and basketball and also after the death of Osama bin Laden earlier this year.
• At least 21 people were charged with crimes in the aftermath of a riot in State College, Pa., after Penn State won its football game at Ohio State in 2008. Early estimates of property damage were in the $10,000 range.
• More than 100 people were arrested in Pittsburgh after the Steelers won the Super Bowl in February 2009 as unruly fans overturned cars and set fires. A similar event happened after the Steelers won the Super Bowl three years earlier.
• Phillies fans got a bit overexuberant when their team won its first World Series in 28 years in 2008, with 76 fans arrested and at least a dozen injured in a disturbance that included the requisite looting and vandalism.
Did we overlook a notable moment of sports disorder? Post it to the comments section below.
Thomas Neumann is an editor for Page 2.