Just when you think the Duke men's basketball program is looking kind of sympathetic … sure enough, some static flares up.
Things got ugly between Duke and UNC in Chapel Hill on Sunday.
Did Gerald Henderson intentionally go after Tyler Hansbrough during Sunday's game against North Carolina? Or did Hansbrough recklessly slam his nose into Henderson's elbow? We're not going to get into that debate here, but whether you're a Duke supporter or a Duke basher, there's no doubting the polarizing influence of Mike Krzyzewski and his acolytes on the basketball landscape.
The championships … the arrogance … the rivalry with UNC … the accolades … the crib sheets for derisive cheers … the commercials … the drama …
Steve Wojciechowski, rushing across the court after Duke's 1998 victory over North Carolina, looking for his coach. The coach catching his player's eyes and finding him through a rush of fans streaming on the court to celebrate. Ultimately, the two embrace with tears running down their cheeks, in celebration of the accomplishment and the relationship between coach and player.
This isn't a promo for a Lifetime channel movie of the week. It's a direct quote from the Duke media guide … and a perfect example of why so many fans love to hate Duke.
With all this in mind, Page 2 would like to present the definitive list of the 10 Most-Hated Dukies.
Note to Duke fans: We're just having a little fun here. It's not personal. After all, you have to be good to get on this list. This is by no means part of any vast anti-Duke conspiracy at the Worldwide Leader. Just think of yourselves as the Yankees or Notre Dame of college basketball.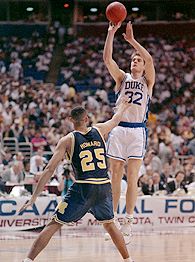 Jonathan Daniel/Getty Images
Christian Laettner is the top villain
in the history of the Dukie Nation.
1. Christian Laettner (1988-92)
Résumé:
Three-time All-America selection (1990, '91, '92); 1992 Wooden Award winner; played on four Final Four teams, which included Duke's first two national championships.
Why he's hated:
Stepped on the chest of Kentucky's Aminu Timberlake during a 1992 NCAA Tournament regional final, then famously nailed the winning shot after receiving a three-quarter-court pass from Grant Hill.
Oddity:
He was selected over Shaquille O'Neal for the only collegiate spot on the 1992 Dream Team, which seems a wee bit silly in retrospect.
2. J.J. Redick (2002-06)
Résumé: Two-time All-America selection (2004, '05); No. 11 selection in the 2006 NBA draft (Orlando).
Why he's hated: Redick is one of the cockiest Dukies, and his frequent game-winning heroics deflated opposing fans throughout the ACC.
Oddity: Redick thinks he's a poet, but we tend to disagree.
3. Steve Wojciechowski (1994-98)
Résumé: National defensive player of the year (1998).
Why he's hated: Did someone say floor slapping? Yep. It's the floor slapping. There is no getting around the fact that it was seriously aggravating.
Oddity: Can you imagine Wojo getting into LeBron James and Carmelo Anthony about playing defense? It happened at the Team USA workouts this past summer. Result: a pride-swelling bronze medal at the world championships.
4. Chris Collins (1993-96)
Résumé: Duke assistant since 2001; first-team All-ACC freshman ('93); second-team All-ACC ('96).
Why he's hated: Collins, son of former NBA player and coach Doug Collins, will be remembered for his overcelebrations after making shots. As with Wojo, his return as an assistant coach has boosted his shelf life indefinitely.
Oddity: How did the WNBA Detroit Shock ever let him get away? (He was an assistant in 1998.)
5. Brian Davis (1988-92)
Résumé: All-ACC tournament (1992); team captain ('92).
Why he's hated: Close friend of Laettner's -- more than enough reason to be ranked this high.
Oddity: He and Laettner are part of a group that paid $33 million for D.C. United, the MLS franchise. And we thought Mike Krzyzewski prepared his players to make wise decisions in the real world.
6. Mike Krzyzewski (head coach, 1980-present)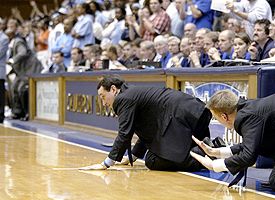 Craig Jones/Getty Images
Floor slapping prepares young men for the real world -- not just for basketball.
Résumé:
Enshrined in the Basketball Hall of Fame in 2001; 775 career victories (702 at Duke); three national championships and 10 Final Four appearances.
Why he's hated:
The perception of him being smug disguised as being serious; recruiting inroads disguised as commercial endorsements; success -- no matter your alma mater, he probably has defeated it at some point.
Oddities:
The
coincidental
timing of his leave of absence (exhaustion, back injury) and a 2-14 ACC record under Pete Gaudet in 1995 … the alleged rat resemblance … the whole episode of discussions with the Lakers.
7. Danny Ferry (1985-89)
Résumé: Naismith Award winner (1989); two-time All-America selection (1988, '89); No. 2 overall pick in 1989 NBA draft (Los Angeles Clippers).
Why he's hated: For breaking the barrier of no Krzyzewski pupils winning an NBA championship ring (San Antonio, 2003).
Oddity: A Krzyzewski pupil has won an NBA championship ring?!?!?
8. Bobby Hurley (1989-93)
Résumé: Two-time All-America selection (1992, '93); No. 7 overall pick in the 1993 NBA draft (Sacramento).
Why he's hated: He looks like someone you could take to the cleaners in a pickup game, but wound up becoming the NCAA career assists leader.
Oddity: Dead ringer for Emilio Estevez.
9. Shavlik Randolph (2002-05)
Résumé: Entered the NBA draft with a year of eligibility remaining, only to go undrafted.
Why he's hated: Bitter feelings still remain over the recruiting battle for his collegiate services. He spurned NC State, where he was a ball boy as a kid and his grandfather was an All-American in the 1950s.
Oddity: The amount of publicity his "Don't bring your gayness on me" comments generated. Ummm. This is Shav Randolph -- he of seven career NBA starts. More wisdom and insight from Shav can be found here.
10. Gerald Henderson (2006-present)
Résumé: Son of former NBA player of same name; possesses sharp elbows.
Why he's hated: No. 10 with a bullet … even if you live in a cave, we figure you've seen the clip from Sunday's game.
Oddity: That Coach K used the Isiah Thomas excuse of the opponent keeping its starters in the game long after the outcome was decided.
Honorable mention:

Grant Hill, Elton Brand, Jay Williams: They brought an air of coolness to a predominantly dorky program, temporarily making it more difficult to make fun of the team.
Quin Snyder: It's somewhat ironic that a three-time All-ACC academic team selection ultimately was accused of academic fraud as coach of Missouri. Did we mention the hair?
Greg Paulus and Josh McRoberts: Only time will tell, but these guys are off to a brilliant start in the hated department.
Corey Maggette and William Avery: We hardly knew ye, and we barely had a chance to hate ye.
Mike Dunleavy Jr.: He earned All-America honors in 2002 and occasionally caused temporary blindness in spectators with his severe whiteness.
Eric Meek: Prototypical awkward, nerdy Dukie.
Mark Alarie, Tommy Amaker and Johnny Dawkins: This group helped return Duke to glory with a Final Four trip in 1986. Without the groundbreaking work of this trio, none of the subsequent decades of hatred would have been possible. Thanks, fellas.
Shane Battier: Our memories are apparently too short. We initially omitted him from the list, but many of you were kind enough to point out that he might have flopped once or twice over the years.
Thomas Neumann is an editor for Page 2. Sound off to Page 2 here.