Happy anniversary to Red Wings, Avalanche

A simmering rivalry bubbled over in a game for the ages 10 years ago.
On March 26, 1997, while the Colorado Avalanche and the Detroit Red Wings were positioning themselves for the upcoming NHL playoffs, bad blood from the previous postseason boiled into unadulterated fury at Joe Louis Arena. The teams combined for nine fights, 11 goals, 39 penalties, 148 penalty minutes, one hat trick, one "turtle" and two Stanley Cup champion goalies duking it out in an overtime thriller.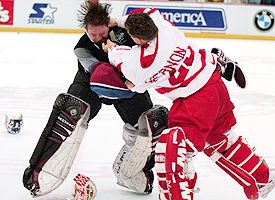 AP Photo/Tom Pidgeon
Patrick Roy and Mike Vernon tussle in a bout hockey fans aren't likely to forget.
The
box score
alone is suitable for framing.
Upstart Colorado had extended Detroit's Stanley Cup drought to 41 years in a hard-fought Western Conference finals series in '96. The Red Wings had won an NHL-record 62 games that season, but it was the Avalanche that went on to hoist the Cup in its first season in Colorado.
In particular, the Red Wings still were fuming over the devastating hit Colorado's Claude Lemieux delivered to Kris Draper in the decisive Game 6. Lemieux checked Draper from behind into the boards, and Draper needed reconstructive surgery after suffering a fractured jaw, a broken nose, a concussion and severe lacerations.
The teams had met three times in the 1996-97 season previous to March 26 -- all Colorado victories, in what was quickly becoming a one-sided matchup. The Red Wings came into the fourth meeting with something to prove.
Adding to the hype, The Detroit News published a mock "Wanted" poster of Lemieux leading up to the game.
Less than five minutes after the puck dropped, with the Avs already leading 1-0, Detroit's Jamie Pushor and Colorado bruiser Brent Severyn dropped the gloves. Then midway through the first period, Colorado's Rene Corbet and Detroit's Kirk Maltby tangled in a second undercard bout.
With 1:38 left in the opening period, all hell broke loose.
Detroit's Igor Larionov and Colorado's Peter Forsberg, both future Hall of Famers, started the friction away from the play. Then Red Wings tough guy Darren McCarty got even for the hit on Draper, punching and kneeing the daylights out of an unsuspecting Lemieux, who struck the now-famous "turtle" pose.
McCarty denied sucker-punching Lemieux and said that the attack wasn't premeditated.
"No, it just sort of happened," McCarty told The Denver Post after the game. "Guys just square off. You gotta get a partner, eh? He was the closest one to me. I didn't really realize it was him. … I didn't hit him from behind. It was face-to-face."
Patrick Roy, the greatest goalie in NHL history, charged hard after McCarty, only to be intercepted by a flying Brendan Shanahan, another future Hall of Famer.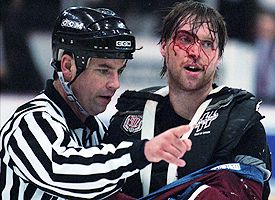 AP Photo/Tom Pidgeon
After tangling with Vernon, a bloodied Roy is led to the bench by linesman Dan Schachte.
Detroit goalie Mike Vernon also got in the mix, and before long the main event was under way as Vernon and Roy traded shots at center ice in a legendary scrap. The two netminders, who ultimately would combine for six Stanley Cup championships, went toe to toe, with the smaller Vernon ending up on top of Roy as the crowd of 19,983 roared in approval.
All this happened in the first period.
Four seconds into the second period, Shanahan and Colorado defenseman Adam Foote renewed acquaintances. Things got chippy again a few minutes later when Severyn and Detroit's Aaron Ward squared off, while Colorado's Mike Keane traded punches with Tomas Holmstrom of the Red Wings.
A few more minutes passed before McCarty and Colorado's Adam Deadmarsh decided to tangle. Then midway through the second period, Pushor and Colorado's Uwe Krupp faced off in what turned out to be the final fight of the game.
At that point, the Avs led 3-2, and Colorado took a 4-3 advantage into the second intermission.
Valeri Kamensky scored his third goal of the game early in the third period to put Colorado ahead 5-3, a lead that seemed nearly bulletproof with Roy in net. But Martin Lapointe scored 8:27 into the third to give Detroit hope, and Shanahan netted an unlikely tying goal 36 seconds later with a shot from behind the net off Roy's left leg.
Despite outshooting the Avalanche 46-19 in regulation, the Red Wings were fortunate to force overtime.
Thirty-nine seconds into the extra period, McCarty, who easily could have been ejected over the Lemieux incident, slammed home a pass from Shanahan to lift Detroit to a 6-5 victory. Not only did the goal give the Red Wings a needed measure of success in the budding rivalry, but it turned out to be the beginning of what became Detroit's march to its first Stanley Cup championship in 42 years.
Avalanche coach Marc Crawford, who reportedly elbowed Ward and a Detroit News columnist and tried to barge into the officials' dressing room after the game, saw things a bit differently.
"I think that team has no heart," Crawford was quoted in the Detroit Free Press. "Detroit had the opportunity to do that in our building, but they didn't. … I think they showed their true colors tonight. Everyone is gutless on that team, and I'd love to see them in the playoffs."
They did meet in the Western Conference finals, and this time the Red Wings won in six games. After postseason heartbreaks in 1994, '95 and '96, the Red Wings finally developed a swagger on March 26, 1997, one that would carry them to three championships in six seasons.
In a 2004 poll on the Red Wings' Web site, fans overwhelmingly voted this ultra-memorable game their favorite in the team's recent history, ahead of overtime playoff thrillers and Stanley Cup-clinching victories.
Good choice, Hockeytown.
Thomas Neumann is an editor for Page 2. You can contact him here.