It's not a stretch to say that these are the glory days of flopping in the NBA.
The tactic was a heated topic of debate in many playoff series this season, including Spurs-Suns, Spurs-Jazz, Cavaliers-Pistons, Pistons-Bulls and Bulls-Heat.
Even 325-pound Shaquille O'Neal took a couple tumbles after collisions with far lighter players this postseason.
"We're all floppers," Bulls forward P.J. Brown said last month. "We're all out there flopping. Some of us are better actors than others."
"Flopping is an art," former All-Star Dominique Wilkins told Page 2's Patrick Hruby last year. "You have to go home and practice it in the mirror. I don't fault guys for it. Especially against great big guys. It's a smart move. For an older veteran, it can be the only advantage you have."
Beginning Thursday night, two of the game's pre-eminent divers -- San Antonio's Manu Ginobili and Cleveland's Anderson Varejao -- will showcase their skills on the game's grandest stage as the NBA Finals tip off. Just for the occasion, Page 2 decided to rank the game's greatest flop artists: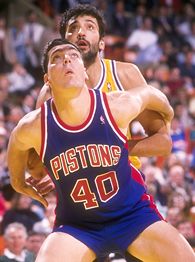 Mike Powell/Getty Images
In the pantheon of floppers, Bill Laimbeer is king of the jungle, barely nudging out Vlade Divac.
1. Bill Laimbeer
A cornerstone of the famed "Bad Boys" championship teams in Detroit, Laimbeer was vilified around the league for his aggressive play, head games and the trademark "Laimbeer flop." He was the most hated player in the league during his heyday. Legendary Celtics broadcaster Johnny Most dubbed him, simply, "The Flopper."
A sampling of memorable Laimbeer moments:
• Accused by Chris Webber on Nov. 28, 1993 of flopping on a rebound attempt 70 seconds into the game, then sticking his leg out and causing Webber to sprain his ankle and leave the game -- the only scoreless regular-season appearance of Webber's career.
• The Mavericks reportedly once used clips of Laimbeer flops as an instructional tool.
• Accused by Portland's Kevin Duckworth of flopping throughout the 1990 NBA Finals.
• His flopping performances in nearly every playoff matchup against Robert Parish and the Celtics in the mid-to-late 1980s are legendary.
During the 1989 Eastern Conference finals against Chicago, Laimbeer somewhat acknowledged his use of flopping but said he had moved on.
"You can't pin that on me now," Laimbeer told the Washington Post. "You don't hear about me flopping. Now I'm just a dirty player. What happened was, instead of me falling back and trying to draw the foul, I just started hitting people. It's not malicious or dirty, it's just that now there's a collision instead of me falling."
2. Vlade Divac
Divac was the forefather of the European flop movement, a man ahead of his time. He entered the NBA in 1989 as a horrible defender, and his Lakers teammates -- most notably Magic Johnson -- demanded improvement. "Most of the time, I flopped because I wasn't strong enough to stand up against everybody who was so physical," Divac told the Orange County Register in 1995, referring to his early NBA career.
The Lakers benefited from Divac's flops through the 1995-96 season, after which he was traded to the Hornets for the rights to Kobe Bryant. But they soon found the tables turned when Divac joined the Sacramento Kings in 1998. Who could forget the images of Divac's body flying to and fro in a flopping fiesta in the 2002 Western Conference finals? "I don't know what is flopping," Divac said in a 2002 ESPN.com article by Marc Stein. "I think Derek Fisher does a better job of that than I do. It's taking a charge. It's for the refs to decide. … I'm going to play like I've been playing my whole career."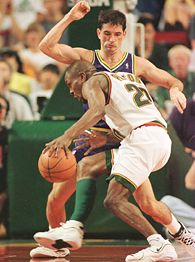 Otto Greule/Getty Images
John Stockton terrorized the Western Conference for nearly two decades with his crafty flops. Note that his feet aren't set
as he braces for impact.
3. John Stockton
He's severely underrated in the flopping department, perhaps due to his choirboy appearance and playing late games for so many years in a small market. But anyone who watched more than a little Western Conference hoops in the 1990s knows the flop was a staple in Stockton's bag of tricks.
"He's one of the great floppers in the league," longtime NBA analyst Steve Jones told the Salt Lake Tribune in 2001. "He knows how to get into a guy's head."
Even Divac tried to defer to Stockton in the art of the flop: "John's the best," Divac told a Sacramento radio station in 2003. "They told me I'm the Oscar winner for flopping, but hey, everything goes to John!"
Interesting how Stockton didn't seem to get nearly as many calls in his favor, though, when the Bulls came calling in the 1997 and '98 Finals.
4. Reggie Miller
Miller is unquestionably the greatest offensive flopper in NBA history, and also the most vocal member of this list.
He spent almost as much time lobbying the officials as he did feigning victimization. Miller perfected the art of drawing contact in midair -- sometimes with an extra little kick at the end of a jumper -- and often found his way to the floor despite barely being grazed.
Said former NBA guard Rex Chapman during a 2004 TNT telecast: "Reggie is, without a doubt, now that John Stockton has retired, the best flopper in the game."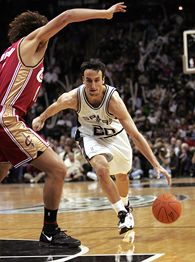 Stephen Dunn/Getty Images
This year's NBA Finals will likely determine the best active flopper: the Spurs' Manu Ginobili or the Cavs' Anderson Varejao.
5. Dennis Rodman
A supporting cog to Laimbeer in the annoyance department for two NBA champions in Detroit, Rodman went on to win three more rings with the Bulls -- thanks in part to the skills he learned from Laimbeer. But Rodman didn't think of himself as a flopper during his days in Detroit.
"Laimbeer and Rick Mahorn are the Bad Boys, and it seems like I get lumped in there, too, because I do all these antics that people get teed off about," Rodman told the Washington Post in 1989. "I bet if I were on another team, people wouldn't do that to me or feel that way about me."
Rodman eventually mastered Laimbeer's head games and the art of calling timeout while falling out of bounds with the ball. He also developed into quite an actor … and we're not talking about "Double Team." By the time he played for the ABA's Tijuana Dragons in 2005, however, his skills had diminished slightly.
6. Manu Ginobili
The fifth-year Spurs guard has long been accused of flopping, but the criticism intensified exponentially during this season's playoff run. The list of people who have recently accused Ginobili of flopping includes Ray Allen, Cuttino Mobley, George Karl and Tony Kornheiser.
In 2005, Allen was quoted in the San Francisco Chronicle as saying Ginobili's "hair goes all wild, and it looks like someone just murdered him. Those fouls aren't that hard."
The Spurs' hometown newspaper even felt compelled to probe Manu's flopping reputation. Could he be mentoring his Argentinian countryman, Fabricio Oberto, in the ways of the flop the way Laimbeer did for Rodman? Stay tuned.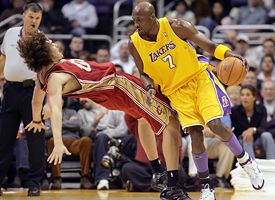 Jeff Gross/Getty Images
Timber! Varejao hits the deck against Lakers forward Lamar Odom.
7. Anderson Varejao
Ginobili has the reputation, but Varejao has the stats.
Varejao led the NBA in drawing offensive fouls this season
-- with more than triple Ginobili's total. Varejao might have even made a tacit admission to flopping last week.
"My team just tries to be in good position all night, to take a charge," Varejao was quoted in the Detroit Free Press. "Maybe sometimes I exaggerate on the charge."
So who is the biggest flopper currently playing in the NBA, Ginobili or Varejao? This Finals series will answer the question once and for all. For the record, Cavs star LeBron James doesn't think Varejao is a flopper.
"He's taking physical charges," James told the Cleveland Plain Dealer earlier this season, with a straight face. "He doesn't flop at all."
But if you see the Brazilian go flying during the Finals, keep in mind that it ought to be difficult to move him -- he's 6-foot-10, 240 pounds, and he's no sissy.
8. Danny Ainge
Just to clarify: We're talking only about on-court flopping here. Flopping in the front office doesn't count. Nevertheless, not to be totally outdone by Laimbeer in the flopping department, the Celtics had their own representative among the NBA's elite.
Ainge could be just as demonstrative as -- and far whinier than -- Laimbeer in trying to sell a foul to referees. Just like Laimbeer had a flopping sidekick in Rodman, Ainge had Jerry Sichting. After winning two championships and playing for the better part of eight years in Boston, Ainge kept the dive alive during flops stops in Sacramento, Portland and Phoenix.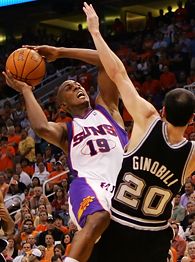 Lisa Blumenfeld/Getty Images
Was this an example of that rare occurance … the double-flop?
9. Raja Bell
Bell is a rising star in the flopping ranks -- and a successful one at that, considering his first selection to the NBA All-Defensive team this season.
He led the NBA in offensive fouls drawn in 2005-06
and ranked fourth this season.
"What he does, he plays you real tight and he holds on to you, and when you try to get him off, the minute you throw him off, he flops," Sonics guard Ray Allen told the Arizona Republic. "It's his game."
With moves like these, Bell is making a strong push for the "best active flopper."
10. Robert Horry
Besides hitting all those famous, game-winning shots, Horry also has a healthy reputation for flopping. Of course, he denies it.
"Apparently, one of the guys with a reputation for flopping is me," Horry told the Orange County Register just prior to the flop-filled 2002 Western Conference finals. "At least, one referee called the block on me because he said I do it all the time. … What they need are taller refs. When the guard sets the pick and knocks you out of bounds, the ref can't see it."
You can deny it all you want Robert, but the proof is in the pudding.
Honorable mention
Shane Battier -- He's perhaps the most prominent of the Duke flopping fraternity, but even Battier never, ever flopped this badly.
Andrew Bogut -- The only No. 1 overall draft pick in this group, Bogut is a long way from scaling the summit of Mt. Divac in the pantheon of low-post floppers. But he's off to a good start.
Bruce Bowen -- For many seasons, Bowen was accused of being a flopper. Now he's accused of being a dirty player. Bowen has also been named to the All-Defensive first team each of the past four seasons. You make the call.
Sam Cassell -- He's still the best offensive flopper in the game today, although Dwyane Wade made quite a push for that claim with this move.
Reggie Evans -- When he's not … uh, inappropriately touching opponents, he's getting in his flops. "Reggie Evans would definitely get best actor in the league," former Rockets coach Jeff Van Gundy told the Houston Chronicle. "I am so sick of watching that guy flop I can't stand it. It is an absolute disgrace what he does."
World B. Free -- Reggie Miller may have perfected the "get the defender in the air and jump into him" strategy, but Lloyd, er, World B., originally brought the strategy into vogue.
Derek Fisher -- Contrary to what Divac said, Fish doesn't do a better job at flopping than Vlade. But Fisher has flopped with regularity throughout his career, in part to make up for a speed disadvantage against many opposing guards.
Richard Hamilton -- Rip has taken the torch from Reggie Miller in the "creating contact in midair" department. Hamilton might hit the deck even more often than Reggie did. (Reggie never needed a mask.)
Karl Malone -- Malone is the No. 2 scorer in NBA history and a first-ballot Hall of Famer. He also hit the floor with alarming regularity for a 260-pound, muscle-bound power forward. Malone parlayed his acting ability into a pro wrestling payday in 1998, teaming with Diamond Dallas Page against Hollywood Hogan and Dennis Rodman. It's also nice to see he intends to be a mentor for future floppers at his alma mater, Louisiana Tech.
Andres Nocioni -- No word on whether Nocioni works on his technique with his countrymen, Ginobili and Oberto, but it's interesting that Argentina has apparently become a hotbed for this tactic of late. "[Nocioni] flops a lot," Pistons forward Antonio McDyess told the Chicago Tribune last month. "He just annoys you."
Thomas Neumann is an editor for Page 2. You can contact him here.