Six years ago, consumer advocate Ralph Nader sent a letter to NBA commissioner David Stern asking him to review the officiating in the now-infamous Game 6 of the Western Conference finals between the Lakers and the Kings.
He was lampooned by some for his foray into the sports arena and skewered by Lakers fans, who questioned whether he's a Kings fan, which he's not.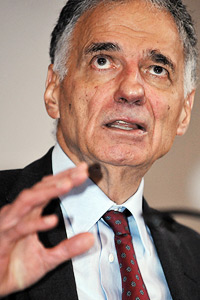 AP Photo/MJ Schear
Ralph Nader wants fans to be able to enjoy the "sanctuary" of sports without having doubts about its legitimacy.
The Lakers subsequently won Game 7 and their third consecutive championship, and the controversy gradually quieted.
Then came Tuesday's allegations, in a court filing by disgraced former referee Tim Donaghy, that two of the three referees who worked that Kings-Lakers game altered its outcome.
Now, Nader says he feels vindicated.
"There were some suspicions that the referees that were chosen were company men," Nader said. "[Stern] doesn't have to say anything. He doesn't even have to wink in their direction. They know an extra game means more revenue."
The Lakers shot 27 free throws in the fourth quarter to nine by the visiting Kings, and LA won by four.
"The Sacramento Kings were one win away from the NBA Finals," Nader said. "That cost them their season."
Nader currently is running for president for the fourth time, this time as an independent. He readily admits there are far more important issues in America than NBA officiating, but he sees it as a relevant consumer issue in that many fans see sports as a sanctuary and deserve to believe in its legitimacy. Nader still would like to see the NBA's officiating practices put under a microscope -- by an independent, objective entity.
"There should be a non-partisan commission and an independent review," Nader said. "David Stern has a conflict of interest."
Nader said he did speak to Stern in 2002 about reviewing the Kings-Lakers game, but he simply got lip service from the commissioner.
"He was a bit standoffish," Nader said. "He said they'd look into it, but it was really a whitewash."
Nader pointed to Sunday's Game 2 of the NBA Finals, in which the Celtics shot 38 free throws to the Lakers' 10, as another incident that raises conspiracy suspicions among fans. Further, Nader said NBA policies contribute to an environment in which an officiating cover-up could flourish -- specifically the league's practice of fining players and coaches who speak out about officiating.
"You have a corporate dictatorship," Nader said. "Players are muzzled and can be fined upwards of $100,000 [if they speak up about officiating]. It's a closed system. We need some sort of voice … otherwise, cover-ups remain cover-ups. There's no deterrent."
Nader said the NBA could alleviate some fans' suspicions by revealing the specific criteria the NBA uses to select referees for playoff games and allowing players to speak out about officiating once the season is over. He also thinks it would be a good idea for the league to use an independent body to oversee officiating.
Nader advocates lifting sports antitrust exemptions and urges fans to organize and speak out if they truly want to see their concerns addressed. He founded League of Fans to try to do just that, he said. The larger and louder the voice, the better.
"It's hard to crack a corporate dictatorship," Nader said.
Thomas Neumann is an editor for Page 2. You can contact him here.
TIM DONAGHY SCANDAL
Former NBA referee Tim Donaghy pled guilty to federal felony conspiracy charges alleging that he passed along inside information on NBA games.
Donaghy also alleges that referees helped alter the outcomes of games during the '02 and '05 postseasons.

He was sentenced to 15 months in prison in July.
News
•
Phoenix prosecutor wants federal files
•
Donaghy's father says NBA must share the blame
•
NBA's disclosure of own probe of officials on hold
•
Adviser: Donaghy 'couldn't stop' gambling
•
Two ex-classmates of Donaghy get prison time
•
Report: Donaghy made calls to fellow ref
•
NY prosecutors: Ref 'central' to NBA bet scandal
•
NBA's restitution case vs. Donaghy questioned
•
Donaghy lawyer: NBA trying to vilify ex-ref
•
NBA ups Donaghy restitution figure to $1.4M
•
Referee from alleged fixed game to work Game 5
•
Ex-referee denies improper officiating claim
•
Kings lament Donaghy's claims from 2002
•
Report: Federal agents ask ex-ref about Bavetta
•
NBA ref responds to Donaghy's 2002 claim
•
2002 playoff game at heart of allegations
•
Stern allows some forms of gambling among refs
•
NBA refutes report of refs disciplined
•
Ex-ref Donaghy forfeits cash as part of plea deal
•
Stern defends refs, vows to wait before punishing
•
Ex-prosecutor counseled refs during FBI probe
•
Attorney to lead review of NBA refs
•
Report: Donaghy to talk about other refs
•
Donaghy could face state charges
•
Donaghy pleads guilty to felony charges
|
Docs
•
Donaghy to plead guilty on betting charges
•
Lawyer: Donaghy classmate expects indictment
•
Congressman requests discussion with Stern
•
Stern: Donaghy only referee believed to have bet
•
Transcript of Stern's news conference
•
Police called to Donaghy's home
•
Report: Feds believe ref will cooperate
•
Reports: NBA referee bet on games
•
Mayor: Scandal won't hurt Vegas' NBA dream
Stats
•
Donaghy's 2006-'07 game log
•
Donaghy's 2005-'06 game log
Analysis
•
Munson: What happens on judgment day?
•
Munson: Prison or no prison for Donaghy?
•
Neumann: Nader feels vindicated
•
Hill: NBA not helping their own case
•
Stein: NBA has no quick fix for fixing charges
•
Smith: Season shaken by Donaghy nightmare
•
Munson: Donaghy's claims troubling for NBA
•
Adande: Shine brighter spotlight on refs
•
Sheridan: What next, Commissioner Stern?

•
Munson: Q&A about Tim Donaghy and the law
•
Sheridan: 10 Q&A on the scandal
•
Sheridan: Even Stern uncertain about latest crisis
•
Stein: Donaghy questions and answers
•
Drehs: Expert finds funny numbers
•
Broussard: Refs say it's isolated incident

•
Katz: College officials fear lasting backlash
•
Jackson: Sad, not shocked
•
Drehs: Q&A with gambling expert
•
Sheridan: Three big questions
•
Simmons: One man out, one league in trouble
•
Stein: Players react
•
Sheridan: Team USA players react

•
Stein: Official nightmare for Stern
•
Sheridan: The Donaghy file
•
Adande: NBA's image takes another hit
•
Jones: More bad news for the NBA
•
TrueHoop: Two unproven beliefs remain so
•
TrueHoop: Here's an early NBA fixer
TrueHoop
•
Betting expert: There's more to this story
•
Observations on the Donaghy documents
•
No specific mention of game-fixing
•
Donaghy treated for gambling addiction
•
Reaction to Donaghy's guilty pleas
•
Donaghy details from the Justice Department
•
Donaghy surrenders; what it all means
SportsNation
•
Vote: Your reaction
More
•
NHL: Frei: Keeping eyes open
•
Soccer: European scandal awaits resolution
Community
•
Fan reaction puts Stern in hot seat
ESPN Top Headlines