Commentary
Orange crushed by Earl Campbell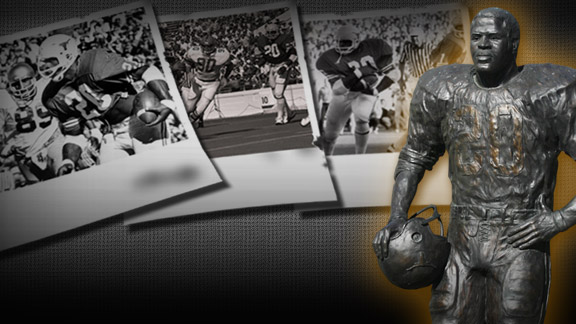 ESPN.com Illustration
Editor's note: This is the first installment of an occasional Page 2 series entitled "Behind the Highlights," which will examine the details of compelling, obscure, breathtaking and stupefying video clips, as told by the figures in and around the action.
The story begins with a YouTube clip. It's six seconds long.
Texas running back Earl Campbell takes the pitch to the right side of the line, sidesteps a collision and heads around the right end. He follows a textbook block from his wide receiver at the opponent's 10-yard line and sets his sights on the end zone.
Then it gets good.
Only a lone safety stands between Campbell and the goal line. He's taking long, swift strides and gaining a head of steam. The safety darts toward the sideline and prepares to engage the breakaway halfback just inside the 5. Campbell has a significant size advantage on the defender.
Impact occurs at the 4. Campbell explodes on the valiant but undersized defensive back, who is lifted, taken for a ride and thrown all the way into the end zone. The touchdown that immediately follows is anticlimactic by comparison.
The clip is played over and over and over in hopes of learning the details around the play. When did it take place? Which team was the opponent? Who's the unlucky player on the wrong end of that hit … and did he survive?
Page 2 set out to answer these questions. We tracked down the figures in and around the play and asked them to tell the story.
---
Fred Akers was embarking on his first season as coach at Texas in 1977. Akers had been an assistant in Austin for nine seasons under the legendary Darrell Royal, and after serving as head coach at Wyoming for two seasons, he returned to succeed his retiring mentor. Akers benefited greatly from having one of the most talented players in the nation in Campbell.
AKERS: "I've never seen a running back like Earl. He had everything that you needed. He had the speed, the quickness, tremendous leg strength. He didn't offer you much of a target. He was so flexible, he could bend over, and all you're gonna hit -- as a linebacker or defensive back -- all you're gonna hit are those big ol' forearms and knees. He didn't give ya much room to hurt him. I tell ya what, he's the only guy I've seen that I would've bet could've skipped college and gone from high school to the NFL."
THE STORY BEHIND THE STORY
Finding accurate details about this extraordinary highlight proved difficult.
The presence of the track around the field coupled with dark Texas jerseys indicate the game was in Austin. Another clue is the apparent length of the touchdown run: 16 yards. But the colors of the defense's uniforms are nearly impossible to make out. The handful of jersey numbers that can be made out are of little use, because rosters from this era are difficult to find.
Inquires were made to all corners of the country via phone and e-mail. Leads trickled in, only to unravel.
It might be Colorado State … or SMU … or Texas Tech … or TCU … or Virginia. Yet one by one, information discrepancies erased nearly every lead.
Finally, the crucial nugget turned up several weeks into the search. Page 2's Paul Lukas received a tip from Uni Watch blog reader Susan Freeman, whose father identified the year of the clip as 1977 -- the only season Texas ran the I-formation with Campbell.
That narrowed the search down to six home games on the Longhorns' schedule that season. After cross-referencing those opponents with uniform databases, we concluded the visiting team was almost certainly Texas Tech or Rice.
Soon afterward, Longhorns football historian Bill Little provided the final piece of the puzzle.
"The play came at 13:55 in the second quarter of the Rice game," Little wrote. "The Rice player was their strong safety, Mike Downs. According to the very thorough play-by-play typist (who happened to be me …), it was a 16-yard run, Downs hit Earl at the 3 and Campbell carried him into the end zone. Johnny 'Ham' Jones threw the clearing block. The touchdown made the score 21-0."
Pay dirt.
-- Thomas Neumann
Campbell was a bruising 22-year-old senior halfback in '77, a 5-foot-11 human bowling ball with 36-inch thighs and 4.6 speed. "The Tyler Rose" weighed 220 that season, down from the 245 he'd played at in previous years. Campbell was motivated to rebound from an injury-plagued junior season after earning All-America honors in '75 and rushing for more than 2,000 total yards in his first two seasons at Texas. Akers installed a pro-style I-formation to help Campbell bounce back and take advantage of his physical running style and determination.
CAMPBELL: "Coming up as a kid, I played middle linebacker and I was very bow-legged, and I wanted to be like the legendary Dick Butkus. After I got to be a running back, it carried over, knowing how they tackle and all that. I learned from different guys I played with, too. The key was probably three people: The good Lord, the offensive linemen I played with and great fullbacks that could block very well."
Michael Downs was a 6-1, 170-pound freshman safety from Dallas. Four games into his collegiate career, he already was seeing significant playing time on a young Rice defense despite not starting. Downs was recruited by Texas and even made an official visit to Austin as a high school senior. He wound up not receiving a scholarship offer from the Longhorns and instead committed to Rice, where he could get both a good education and immediate playing time.
Texas and Rice met in the fourth week of the '77 season. The No. 8 Longhorns were coming off a bye after routing Boston College and Virginia by a combined score of 112-0. Rice entered the game 1-2 after being roughed up 77-0 at LSU the previous week.
DOWNS: "The thing I remember [in preparing for Texas] was the emphasis on everybody getting to [Campbell] and gang-tackling. … I guess that really was the key, because Rice was notorious for being undersized football-wise. So the more guys we could get to him, the better our chances were to get him down."
Rickey Thomas teamed with Downs in the Owls' secondary. Thomas was a freshman cornerback from Beaumont, Texas, and was making his first career start in the Texas game.
THOMAS: "We were freshmen. We were just happy to be playing as freshmen. That tells you something about the state of Rice football at that point. Out of 22 starters that year, probably we had six or seven freshmen starting on that team. You don't often see that in major college football."
Campbell took the pitch from quarterback Jon Aune and headed to his right, sidestepping a collision when fullback Johnny "Ham" Jones cleared out a penetrating linebacker at the 20. Campbell then followed the block of flanker Mike Lockett, who cleared out Thomas at the 10, leaving Downs as the last man to beat.
By the time the powerful Campbell got to the 5, he was in fifth gear. Still, Downs displayed no hesitation as he sprinted toward the ball carrier in hopes of making the tackle … BOOM!
AKERS: "That was a classic, I'll tell ya. That poor safety, he came up and challenged him. … Earl kind of pitched him up on his back and just ran into the end zone with him hanging off. It happened so suddenly. It was on a corner sweep, and he got out there around that corner so quick. He ran right by the corner, and the safety came over, and it looked like he had a chance to make a decent play. But it was one of those plays where everybody in the stands went 'Ooooooh' at the same time."
CAMPBELL: "I remember that 'Ham' Jones and the offensive linemen had got me past the line of scrimmage. I always felt like, and I paid a price for it, that it didn't seem right for one guy to bring me down. When I saw that guy, I just decided he wasn't going to bring me down. He was standing too high, anyway. He was in perfect position for a good stiff-arm, and I got up under him."
[+] Enlarge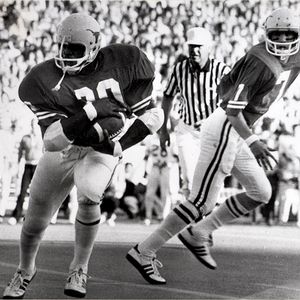 University of TexasEarl Campbell scored 19 touchdowns and rumbled
for 1,744 rushing yards -- he led the nation in both categories -- en route to the Heisman Trophy in '77.
DOWNS: "I saw him clearly. I saw him coming up. Actually, the cornerback [Thomas], who was a freshman as well, on that left corner -- and I joke about it with him now -- he let the wide receiver block him, and not just block him, but he went to the ground, and I was kind of left to try and make the stop."
THOMAS: "[Lockett] actually knocked me flat. It was an outside blast play, I mean a quick pitch. … It was off tackle. … [Campbell] got to the outside, and by then, the wide receiver had taken me out of the play. … I've seen it on film a million times that next year. [The coaches] would play it 20 times in a row. They played it over and over when we played Texas the next year."
CAMPBELL: "The other thing is 'Ham' Jones, the fullback. All the things I've done, he's the one that doesn't get any credit. The offensive line gets credit, but he doesn't. … 'Ham' Jones was the main man."
What was going through Downs' mind at the moment he was staring down that runaway train?
DOWNS: "I wouldn't say it was fearless, but I knew it was my job, and so I was just trying to do my job. … It wasn't enjoyable, obviously, but you know, I got right back up. Matter of fact, later in the game, I think they ran a dive or draw play, and Earl came right up the middle. I remember tackling him one-on-one on that play, so it was a little redemption. But I don't think anybody noticed it. Everybody noticed the sweep."
BEHIND THE HIGHLIGHTS
Do you have a suggested video clip for Page 2's "Behind the Highlights" series? Click here to make your nomination.
One might suspect the collision would be unforgettable to those who witnessed it. In some minds it has even taken on mythical proportions: Campbell as the Paul Bunyan of the bygone Southwest Conference.
AKERS: "I've never seen that. He didn't just run over the young man. He carried him for a good 15 or 20 yards. That was a very memorable play."
Not everybody remembers, though. Homer Rice was in his second season as coach and athletic director at Rice in '77. He subsequently became coach of the Cincinnati Bengals and longtime athletic director at Georgia Tech.
RICE: "No, I really don't [remember it]. I've had too many plays in my lifetime. I'm 82 years old. I couldn't pick out one play."
Later in the same game, Texas kicker Russell Erxleben set an NCAA record, later tied, by booting a 67-yard field goal. (At the time, it was permissible to kick field goals off tees.) Texas went on to win easily, 72-15, and moved up to No. 5 in the AP national poll. The Longhorns beat No. 2 Oklahoma the following week, earned a No. 1 ranking by the eighth week of the season and eventually reached the Cotton Bowl as Southwest Conference champions. It was there that Notre Dame, led by the duo of Joe Montana and Vagas Ferguson, upset Texas 38-10 to win the national championship.
---
Campbell went on to rush for 1,744 yards and win the Heisman Trophy in '77 before being selected No. 1 overall in the NFL draft by the Houston Oilers. He was named NFL Rookie of the Year in '78 and NFL MVP in '79 en route to enshrinement in the Pro Football Hall of Fame. Campbell has suffered from severe back problems in recent years, which he said are "95 percent" football-related. He has experienced some relief since undergoing corrective spinal surgery in 2008. Campbell currently lives in Austin and is involved in a number of business ventures there.
[+] Enlarge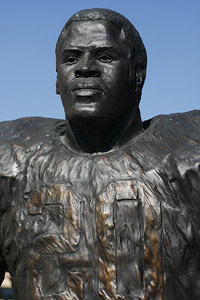 Tom Hauck/Getty ImagesCampbell was immortalized with
this statue at Darrell K Royal-
Texas Memorial Stadium in 2006.
Akers coached the Longhorns through the 1986 season, compiling an 86-31-2 record, including a Cotton Bowl victory and No. 2 ranking in '81. He went on to coach Purdue from 1987 to '90. He's now retired and lives in central Texas.
Downs graduated from Rice in '81 and made the Dallas Cowboys' roster that summer as an undrafted free agent. He played free safety in the NFL for nine seasons, eight of them for the Cowboys. He recorded 35 career interceptions, scored three defensive touchdowns and went to the playoffs four times. These days, he works in real estate in Dallas.
Thomas, who also graduated in four years from Rice, is a transportation manager for the Houston Independent School District.
Rice finished 1-10 in '77 but improved to 5-6 by 1980, when Downs and Thomas were seniors. The Owls' first win that season was a 17-7 decision against LSU, the team that had beaten them by 77 points three years earlier.
Although the Campbell-Downs collision occurred before the proliferation of sports media and long before the emergence of the Internet, it's still somewhat surprising the clip has remained relatively obscure. After all, Campbell went on to become an NFL superstar, and Downs also enjoyed a successful career at the next level. Yet the play lives on only in the form of a grainy clip posted in cyberspace, beckoning fans to relive that Oct. 1, 1977, collision at Memorial Stadium.
Of course, there are a few people out there who don't need YouTube to remember the play.
DOWNS: "I met a guy who played at Oklahoma. I think he was a defensive back as well. I met him four or five years ago, just by happenstance. He told me 'I remember this play,' because I think Oklahoma was playing them the next week, and so they were looking at film from our earlier game. So he told me that he remembered me getting run over by Earl, from watching the film. I was like, 'Man that was like 20, 25 years ago, and the first time you meet me, the first thing that comes out of your mouth is that play.' We laughed about it."
---
Additional reporting provided by Richard Durrett of ESPN Dallas.
Thanks to the following individuals for research assistance: John Banks of ESPN.com, John Bianco of University of Texas sports information, Kirk Bohls of the Austin American-Statesman, Susan Freeman, Zak Gilbert of Colorado State University sports information, Marcus Goss, John Hirn of coloradoaggies.com, Bill Little of the University of Texas' athletic department, Paul Lukas of ESPN.com and the Uni Watch blog, Richard Pennington, David Schoenfield of ESPN.com, Jim Sigmon of University of Texas media production services and Dave Wilson of The Beaumont Enterprise.
Thomas Neumann is an editor for Page 2.