Commentary
Jim Kelly talks football, life, wrestling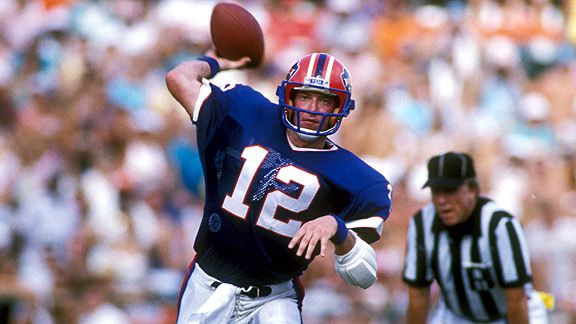 Al Messerschmidt/Getty ImagesJim Kelly set franchise records of 35,467 passing yards and 237 touchdowns in 11 years with the Bills.
Jim Kelly is unquestionably one of the finest quarterbacks in football history.
He starred at every stop of his playing career, from East Brady High in Pennsylvania to the University of Miami to the USFL's Houston Gamblers to the NFL's Buffalo Bills.
Kelly famously piloted the Bills to four consecutive Super Bowl berths en route to being elected to the Pro Football Hall of Fame in 2002, his first year of eligibility. But Kelly isn't merely satisfied with his gridiron feats, which also include throwing for 320 touchdowns and more than 45,000 yards as a professional.
He and wife Jill continue to bring attention to the fight against Krabbe disease, the affliction that took the life of their son, Hunter, at age 8 in 2005. Additionally, he's working with Depend to promote awareness of prostate cancer and prevention.
On a recent visit to ESPN, Kelly spoke to Page 2 about the future of the Bills in Buffalo, the legacy of his son, his days in the high-flying USFL, being a sports dad, music, pro wrestling (?) and much more.
You could live any number of places, but you still choose to live in the Buffalo area. What keeps you there?
There's a number of reasons. I hope you've got enough ink in that pen. No. 1, my son is laid to rest there. No. 2, my wife is from there. No. 3, I love it there. No. 4, I have a beautiful log lodge out in the woods with a lot of land to hunt, and there's great hunting in western New York. Plus, I still am employed by the Buffalo Bills. But, to be honest with you, I really like it."
But on draft day in 1983, you weren't exactly hoping to go to Buffalo, were you?
No way. Matter of fact, I cried the day I was drafted by Buffalo. Well, I didn't cry. I had tears in my eyes. Let's get that straight. No, I didn't want to go. I didn't think Ralph Wilson was going to bring in the people it took to build a championship team there. So, I went to the USFL for two years. To be honest, I was very, very, very close to signing; if it wasn't for a secretary interrupting our meeting, I would've been a Buffalo Bill in 1983. She interrupted the meeting, and it was Bruce Allen, George Allen's son, [on the phone] and he told my agent, "Tell Jim, do not sign anything; we've got a deal he cannot refuse." They got it authorized that I could play for any team I wanted in the USFL.
Why on earth would a Bills secretary come in and interrupt that meeting?
That's the biggest question. I don't even know who it was, to be honest with you, to this day. But that was one where a lot of people were really ticked off.
It's been reported that you might have interest at some point in being part of an ownership group to purchase the Bills from the Wilson family. What's the status of that?
It's in limbo, because Mr. Wilson is still the owner of the Bills. He's still alive and kicking, thank God. He's a guy who's had that franchise for over 50 years, and he's had people come to him wanting to buy it and move it somewhere else. But he's been loyal to western New York, and if that day comes when he decides, "It's time for me to relinquish the ownership," then I do have people in line that will want to purchase the team and keep it in western New York. Because I do not entertain any offers from anybody looking to move the Buffalo Bills from western New York. I just won't do it. I'll do whatever it takes to keep them in Buffalo.
You lost your son, Hunter, five years ago to Krabbe disease. Why was it important to your family to start the Hunter's Hope Foundation and establish a legacy for him?
[+] Enlarge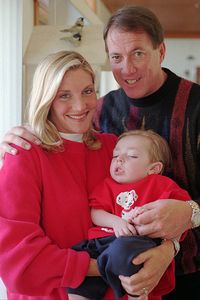 AP Photo/Don HeupelKelly and wife Jill pose with their son, Hunter, in this 1999 picture taken at their Buffalo-area home.
We set up the foundation to find treatment and [a] cure for my son's disease. Through that process, we found out that every state in this country is different on the amount of diseases they test for. ... Unfortunately, thousands and thousands of babies die every single year in the United States, and thousands more become permanently disabled because they're born in the wrong state. Maybe the neighboring state tests for 45 diseases, but their state tests for eight. So we're lobbying for all the states to get to par to test for the maximum number of treatable diseases. ... Give these kids a chance. It's not that much of an expense. As a matter of fact, over a period of time, it's a savings."
Has your wife's new book, "Without a Word," been a cathartic experience for your family?
It's titled "Without a Word" because my son, even though he never spoke a word, impacted so many lives. It taught us a lot about never giving up, never quitting. My son never did. Even with the struggles you go through in a marriage with a special-needs child, we worked through it. I was able to sit down with my oldest daughter and explain to her some of the things I did that I wasn't proud of. But the most important thing right there was the forgiveness of my wife and the forgiveness of the good Lord. ... I can honestly say I love my wife more today than the day we married. We just want to let people know that if you need help, seek it. I'm humble enough to admit I made my mistakes. We sought help and sought counseling, and it helped big time."
Do your daughters play sports?
Yes. Both of them play basketball and softball. Matter of fact, I coach my oldest daughter. I'm one of the assistants in basketball. I go to practices and try to help out. ... I was a pretty good basketball player, and I know how to coach, whether it's football or basketball. And now she finally understands that daddy does know what he's talking about because her coaches are telling her the same stuff I just told her about a month before.
Is it more difficult being a sports dad considering you had physical gifts and played at such a high level?
It might have been if my son was healthy and was playing football. But since I have daughters and I'm coaching basketball, I'd say no. I just know that I don't just help my daughter, I help the other kids around her, too."
What athletes would you pay to watch compete in their prime?
Kareem Abdul-Jabbar. Larry Bird. Jerry West. I've watched Gretzky many times -- that was always pretty special. ... Cal Ripken Jr. ... "Pistol" Pete Maravich. [As kids,] we used to cut Clorox bottles out and staple them to the doorway. We used rolled-up socks as our basketball, and the Clorox bottle was our hoop ... and I was always "Pistol" Pete Maravich.
We heard you're a wrestling fan. Who's your favorite wrestler of all time?
Bruno Sanmartino. That's back when I watched [as a kid]. But also "Diamond" Dallas Page and Andre the Giant, because I got to know those guys. And who doesn't like Ric Flair, right? Randy "Macho Man" Savage -- I got in the ring with him once and threw him down [demonstrates elbow move] and came down with a 'wah-boom.' It wasn't a great one, but I got him down. ... I met Andre the Giant. The guy shook my hand, and his frickin hand was the biggest hand I've ever seen in my life. What is he, 7-4? He weighed about 500 pounds or something? Biggest human being I've ever seen -- and he had that voice.
Ever have any desire to get in the ring with Andre?
None. I didn't want to be put in the helicopter spin and body-slammed five rows back.
Is it true you wanted to attend Penn State, but they only wanted you as a linebacker?
[+] Enlarge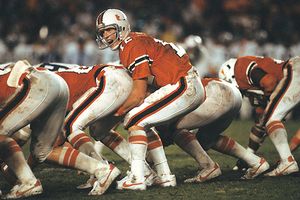 Ronald C. Modra/Sports Imagery/Getty ImagesKelly grew up dreaming of playing quarterback at Penn State. Instead, he wound up leading Miami past the Nittany Lions in his first collegiate start.
I went to their camp my junior and senior years [in high school]. Where I'm from, you're either Pitt or Penn State, and I'd always been a big Penn State fan. My parents and grandparents wanted me to go to Notre Dame, but I really wanted to play for Penn State. Then, just before national signing day, they called and said they'd already signed two all-state quarterbacks but they'd still give me a full ride if I wanted to come there as a linebacker. And I was being recruited as a linebacker, too, out of high school. But, mostly, everybody knew that I wanted to play quarterback. So, of course, I said, "Thanks, but no thanks." Then I went down to the University of Miami, and my first start my freshman year was at Penn State, and coach [Howard Schnellenberger] didn't tell me I was starting until about three hours before the game. First thing I did was I threw up. ... But we upset Penn State.
What did you think of the renegade image Miami football took on under Jimmy Johnson?
I didn't like it, but it is what it is. It was too cocky for me. ... Act like you've been there before. You play the game of football with respect. Respect the game. That's how I was brought up.
In terms of shaping your game -- and also financially -- did going to the Houston Gamblers and the USFL help you or hurt you in the long run?
Oh, it helped me, big time. As far as the passing game, I threw about 40, 50 times a game. It was a blast. Mouse Davis really taught me the passing game, and he worked on my footwork. In order to be in the run 'n' shoot offense, you had to have quick feet. When I came out of college, I had blown my shoulder out -- never played my senior year except for three games. A lot of teams, I mean Buffalo took a chance drafting me, because here's a quarterback that had three metal rods sticking out of my arm. I was told I'd never throw the ball again. That's a big chance. But Mouse stayed with me. He worked on my footwork and got me ready to play, and 83 touchdowns and 10,000 yards in two years."
Toward the end of the USFL, you were in line to play for the New Jersey Generals. What would it have been like to work for Donald Trump?
It would've been awesome. ... Herschel Walker as my running back? Then I had my receivers [from Houston] and had a couple more receivers. That was a dream team right there. Herschel Walker in my backfield and running the run 'n' shoot offense. We would definitely been able to compete with the NFL, but unfortunately, we lost -- well, we won, but we really lost -- the lawsuit against the NFL. The rest is history.
If you hadn't become a professional athlete, what line of work would you have chosen?
[+] Enlarge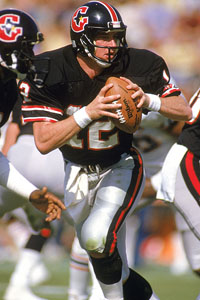 Andrew D. Bernstein/Getty ImagesKelly cut his teeth in Mouse Davis' original run 'n' shoot offense with the USFL's Houston Gamblers.
Bartender. ... No, just kidding. I own my own company, and I graduated with a business management degree. ... I don't know. Thank God I never had to go in that direction.
What kind of music is on your iPod?
Country and classic rock.
What are some of your favorite artists?
Tim McGraw and Montgomery Gentry. You might run out of ink on the classic rock -- Journey, Foreigner, Kansas, Boston, Doobie Brothers, Van Halen, Meat Loaf.
Who was your most underrated teammate?
Darryl Talley. By far. Darryl Talley should be in the Hall of Fame right now. ... He helped make Bruce Smith what Bruce Smith was, even though Bruce Smith was one of the great defensive players ever. Dan Marino said Darryl Talley was one of the best players he ever played against.
Western Pennsylvania has produced so many great quarterbacks -- yourself, Johnny Unitas, Joe Montana and Dan Marino, to name a few. What does that say about the culture there? Or is it just something in the water?
It's the Iron City beer our mothers and fathers were drinking when they conceived us. ... To be honest, it's the work ethic that was instilled in us by our parents. I know Dan's father. I know Joe Montana's father very, very well. I know that they got to where they are because of work ethic.
You've done television work previously. Any thoughts of doing that again?
I did color for NBC [in 1997]. Then I did it two years at ESPN in studio on "NFL Countdown." The sad part about that was that was the time of my son being very sick and having marital problems and all that. I had so many things being thrown my way, so many pressures from home that I couldn't focus. It was unfortunate, because I loved doing it. But I just could not do what they were asking me to do. It was bad timing for me. Where I should've been was at home.
Any desire to get back into it?
No. I don't miss it at all. You have to work at it. It's a job. At this point in my life, I have so many priorities that are ahead of that: my son's foundation, I still work with the Bills, I love to hunt, I travel the country.
Tell us about working with Depend to increase awareness of prostate cancer and prevention.
I'm at the magic age of 50, when you really have to start thinking about things like [prostate cancer]. It's not only treatable, it's beatable if caught early enough. Too many guys wait until symptoms show. Don't wait. One in six men will be diagnosed with prostate cancer in their lifetime, which in itself is stunning. It's even more prevalent in African-Americans and Hispanics. When you take a physical and they check your cholesterol levels, add a PSA test to it. It's just bloodwork. It's simple and easy to do.
For more information on the Depend campaign for prostate cancer awareness, visit www.dependpca.com.
For more information on the Hunter's Hope Foundation to raise awareness and funds to cure Krabbe leukodystrophy, visit www.huntershope.org.
Thomas Neumann is an editor for Page 2.