Commentary
Page 2 runs routes with Antonio Gates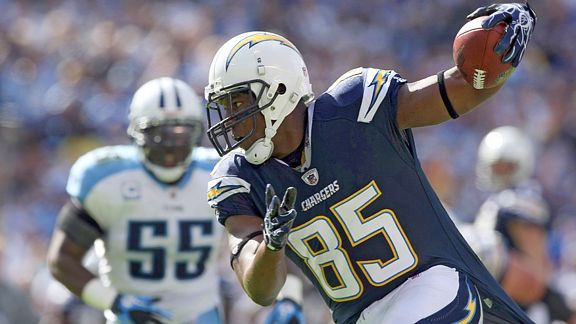 Donald Miralle/Getty ImagesAntonio Gates has 69 touchdowns since 2003. Hall of Famer Kellen Winslow had 45 in nine seasons.
Antonio Gates is one of the most talented athletes ever to play tight end in the NFL.
Much has been written about the fact that he played college basketball instead of college football and helped lead Kent State to the Elite Eight in the 2002 NCAA tournament.
Although his 6-foot-4 frame was too small to turn the heads of NBA scouts, his superb footwork, soft hands and natural ability famously landed him a job with the San Diego Chargers in 2003.
So although we can't update you on his nagging foot injury, we can tell you he played point guard at times on his AAU team ... and that he wanted to play football for Nick Saban and basketball for Tom Izzo at Michigan State.
Gates visited ESPN recently, and Page 2 asked him about playing the point in a power forward's body, his musical tastes, his perceived feud with former teammate LaDainian Tomlinson and more.
Here's what transpired:
Page 2: Your children live back in your hometown of Detroit. How difficult is it not to have as much time with them as you would like?
Gates: There are some things you won't get back. You know, when my son rode his first bike and when my daughter rode her first bike. Taking 'em to school, dropping 'em off. My son started playing Pop Warner football this year. Those are the moments I miss the most. ... They watch every game. I speak to 'em on the phone, and sometimes I punish 'em from a distance. ... But missing 'em growing up, like the first time their teeth come out. Those are the things you won't get back."
Where's the better place to spend time in San Diego -- Gaslamp Quarter or Pacific Beach?
They're both wonderful places. You can't go wrong either way. Me personally, downtown is more of a city, and I'm more of a city kid. So, the beaches are still wonderful. You can't go wrong with the beaches, but I've never been crazy about getting into the water.
You made some statements before the season that were perceived to be critical of LaDainian Tomlinson. So hypothetically, if you see LT pulled over on the side of Interstate 15 with a flat tire, do you stop to help?
Absolutely. Yeah, man. I wouldn't even think twice about it. The thing is, people took a question that was asked generally like, 'Where was the problem?' But we lost five guys from last year's roster. I was answering a broad question, a general question, and they took it and applied it just toward LT. But LT wasn't the only person we lost. We lost Jamal [Williams]. We lost Kassim [Osgood]. We lost [Antonio] Cromartie, and I was just saying that guys were unhappy. ... Somehow, [the media] found a way to deliver it to LT as if, "Gates and Philip [Rivers] are happy you're gone." ... He's happy. I'm happy for him, and the reality is that we were a part of a legacy that will never be broken regardless of what the media say or how they try to come between us. ... We've been through a lot of battles together.
Fair enough. But what if he's on the side of I-15 with a flat tire and he's wearing shorts, and you can see that big ol' New York Jets tattoo. Are you still stopping?
[+] Enlarge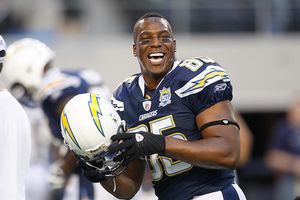 Ronald Martinez/Getty ImagesSince Gates joined the Chargers in 2003, the team has missed the playoffs just twice -- in '03 and '05.
Yeah. I wouldn't say that the Jets have anything to do with our relationship or what we've done. ... I can't change what happened in '05, '06, '07, '08. We were part of something, and that's the reality of it.
Obviously, a lot has been made of the fact that you were a fine college basketball player. But we heard you played point guard in AAU. Can that be right?
Yeah, I was a distributor. I wasn't a selfish guy. ... Put me at the point, it allows us to say, "OK, your [power forward] has to come out and guard me." And now, I can get in the lane and create like a point guard. So it kind of suits us better to have me creating at the top of the key, against a guy 6-9 who I'm quicker and faster than. It puts my team in a better position to win the game.
That's where the whole point guard thing comes from. I was playing the 4 initially, but the fact that I could play the point [means] that 4 who was checking me is actually coming all the way to the top of the key, moving him out of the paint area. I'm in the lane creating and making the right reads and being able to pass to the point guard or the 2-guard for a 3.
So, it creates an advantage, and that's what tight end is about. Same thing. They put me in a position to create an advantage. Whether or not [a defender] is smaller or bigger, it doesn't even matter.
What was it like to be recruited by Nick Saban to play football at Michigan State?
The Michigan State-Michigan [rivalry] is always a battle to get the best players coming out of Michigan. ... At the time, I just felt that Michigan State was the better fit for me, obviously, with the assurance that I was going to be able to play basketball, which was a commitment I wanted.
So Coach Saban said you could also play basketball?
Yeah. Now, when I look back on it and his reasoning for doing and saying things that were true, not true, whatever, but my mind is that I couldn't comprehend all that -- playing basketball, football and school. It would've been difficult. So now I'm able to see it, but at 16 years old -- I was just turning 17 -- it was difficult for me to understand that after he told me I could play basketball. And that was my love. That was the reality of it. I was in love with basketball.
[+] Enlarge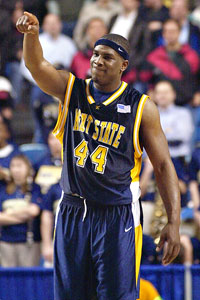 AP Photo/Ed ReinkeGates averaged 16.0 points and 8.1 rebounds as Kent State made
it to the 2002 NCAA Elite Eight.
Football was something I did so natural, I never really cared. I stepped foot on the football field, and it was like, "That's the best player." It was one of those things that was so natural that I didn't go to practice. I didn't do the offseason stuff, and I would walk out and catch the first two or three [passes] and take it to the house. And it was like, "Wow, and he missed all those days -- just imagine if he applied himself." And that's where the football thing started rolling. I was like, "Whatever." I was in the gym, shooting basketballs everyday, working on my game.
So was Tom Izzo cool with you playing both sports?
At the time, Nick Saban was [the coach with the most clout] on campus. If Nick Saban wasn't going to have me ... well, you know, Nick was pretty powerful down there.
Who are your favorite NBA players to watch and why?
One thing about the NBA, I respect the fact that you have to have the ability to make it. But the way they play, I don't see them playing crazy hard. So I pay a little bit more attention to college basketball, because that's where it's not about money, it's about the passion for the game.
Football is the same way. It's about the passion. But you don't understand, football is different because you play every year for your job and for your paycheck. There's nothing guaranteed. ... Do [NBA players] play hard every single game? I'm not sure. But in the playoffs, they go pretty hard. I don't watch it as much as I used to, but I do respect because I played college basketball and I know how difficult it is to get to that level.
That's the pros and cons to it. You have to have this top-notch ability, first of all, to even get there. And then, if you get there, it's kind of like, "We've all got ability," so go one-on-one. Leave us alone, and everybody watch. Guys are so talented that they don't have to play as hard, because it's a one-on-one game now. I watch college because of the way they play. Kids play hard, and they're playing for a purpose.
What kind of music do you like to listen to?
I've always been a rap, R&B guy. Always. Somehow, the correlation between inner-city kids and rap has a significant relationship. When you hear rappers talk, they talk about inner-city stuff, growing up, what you've been through and poverty. That's something I can relate to. It always gets me motivated to how far I've come and where I'm going.
Who's one of your favorite artists?
Obviously, Jay-Z is an icon in the music business. He makes good music, but he's also got substance in his music and substance in his voice and choice of words. ... Some music has come to the point where you're just dancing and listening to the beat. I don't listen to that kind of music.
While we're on the subject of music, how about the song "San Diego Super Chargers"? Is it silly, or is it so silly that it's just awesome?
It gets stuck in my head. I can say that. ... Every time you hear it, it's like, "Oh, here it comes." I love it. It's a part of San Diego. You gotta know that song to be part of San Diego, man.
Thomas Neumann is an editor for Page 2.