Commentary
Waffle-throwing fan still supports Leafs
Joe Robb is a fan without an arena.
He's the man who has been banned from Toronto Maple Leafs home games for life after throwing waffles on the ice during the team's Dec. 20 loss to Atlanta. Charges have since been dropped, but Robb is still persona non grata at Air Canada Centre.
Robb, a 31-year-old construction worker from Oakville, Ontario, who describes himself as a lifelong Leafs supporter, said he would be disappointed if the team sticks by its decision to ban him from home games. Nevertheless, he's sticking by his sentiments.
[+] Enlarge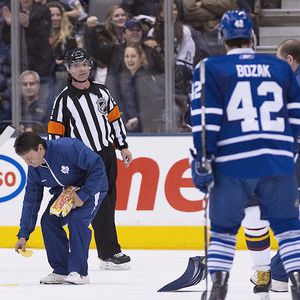 Nathan Denette/The Canadian PressMaple Leafs center Tyler Bozak watches as an arena worker retrieves waffles Joe Robb threw on Dec. 20.
"I just think I'm making a statement for all the diehard Leafs fans," Robb told Page 2. "I threw waffles to protest the organization as a whole. They don't respect the real, blue-collar fans. ... Forty-four years without a Stanley Cup. For a place that calls itself the Mecca, the center of the hockey universe, that's a joke."
So how many waffles did he throw? Two? Three?
"Eight," Robb said. "I threw the whole box."
Why waffles?
"Drop the 'W' and you've got 'awful,'" Robb said.
Let's be clear, Page 2 doesn't advocate or support the throwing, launching or otherwise projecting of foodstuffs onto playing surfaces by fans. Still, it's not as though Robb tackled a mascot or attacked a coach or stabbed another fan or tackled a child or deliberately vomited on a child or fell into the penalty box and fought Tie Domi.
Further, there's a long history of throwing stuff on the ice in the NHL -- whether it's octopi in Detroit, catfish in Nashville, plastic rats in Florida, Alberta beef in Edmonton or hats just about anywhere.
So should Robb really be facing a lifetime ban?
Page 2 asked Robb if he would be willing to apologize for his action if it meant being considered for reinstatement at Air Canada Centre. He didn't say no, but he isn't about to grovel, either.
"[The Leafs] should be apologizing to the fans," Robb said. "They throw crap on the ice every night."
To wit: Toronto hasn't won the Stanley Cup since 1967 and hasn't reached the Stanley Cup playoffs since 2004. The Leafs currently sit in 12th place in the Eastern Conference -- nine points out of the final playoff spot entering Tuesday's games.
Page 2 contacted the Maple Leafs several times to ask about Robb's status, but the team didn't comment on the matter. Robb said he also has been unsuccessful in attempts to contact the team but plans to write a letter to Leafs president Brian Burke to plead his case. He's unsure if the team will ever allow him back into Air Canada Centre.
"If not, I'm going," Robb said. "They're not going to stop me."
Considering Toronto's lack of recent success, some fans might wonder if the team did him a favor by excommunicating him, in essence making him a free agent.
Nope. Robb said he's sticking with the Leafs, spurning the efforts of a radio station that offered to fly him to Montreal and lavish him with gifts if he switched allegiances to the Canadiens.
"I would never go to another team," Robb said. "Hopefully, one day [the Leafs] will win the Stanley Cup ... and I'll be down at the parade."
Thomas Neumann is an editor for Page 2.